North Carolina Region: Quilling Workshop (Virtual)
Mar 26
2:00 PM - 4:00 PM
Learn the Art of Quilling
Join the North Carolina Region for a workshop with The Quilling Edge's Carolyn Edge, who will show us the basics of quilling and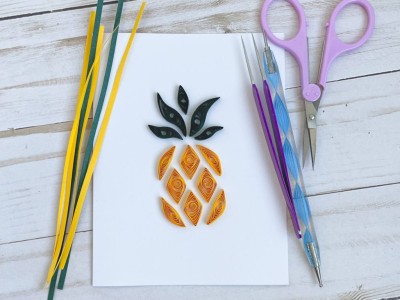 walk us through a project making the pineapple design shown here.
The art of quilling has been around for a very long time, and, in Austen's era, it was called "filigree," which may be familiar to you from Sense and Sensibility. In the novel, Lucy Steele works on a filigree basket for Lady Middleton's "poor little Annamaria." For added insights on paper quilling and the world of Austen, you can check out this blog post from the Jane Austen Summer Program. Pineapples, in the Regency era, were symbols of wealth and colonialism; to learn more about this, check out this excellent article from Persuasions On-Line written by one of our upcoming speakers, Damianne Scott.
For this workshop, there are some supplies you will need to either purchase or collect. This list, created by Carolyn, offers recommendations for supplies and supply kits that can easily be purchased online. (They are not easily found in stores.) Alternatively, you can refer to this blog post from Edge to learn how you can use objects you have at home for quilling supplies. We love a budget-friendly option!
Carolyn Edge is a paper quilling artist and full-time traveler. Originally from Texas, she now lives in a camper and has been traveling around the U.S. since summer 2021. She enjoys exploring paper quilling beyond traditional techniques, experimenting with materials and techniques to create her own unique style that brings a modern spin to the ancient art form. She pushes the boundaries with what's possible with the medium, such as quilling directly onto walls, quilling onto wine corks, mixing media with paint, and using different papers, like road maps and sheet music.
The event is for JASNA members only. Register now for this free event.
Accessibility: We have auto-captions available in the Zoom meeting. If you have accessibility needs we have not addressed here, please let us know.