Northern California Region: Valentine's Day Celebration (Virtual)
Feb 14
6:30 PM - 8:00 PM
Valentine's Day Celebration
Celebrate Valentine's Day by joining fellow Janeites in exploring the romance of Jane Austen's novels.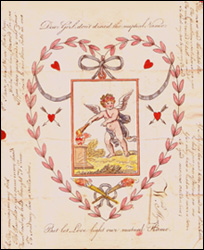 The evening's entertainment will consist of three parts:
A short presentation by Anne Krause on how Valentine's Day was celebrated in the Regency.
Group discussion of several love poems by some of Austen's favorite poets, including Cowper, Byron, and one by Jane herself.
Group discussion sharing romantic moments and passages in Austen's novels, beginning with a brief but deep dive into Captain Wentworth's "half-agony, half-hope" letter.
Click here for copies of the poems.
Register now for this free event.