San Diego Region: A Life of Her Own Book Discussion (Virtual)
Mar 12
2:00 PM - 4:00 PM
Get to Know Margaret Dashwood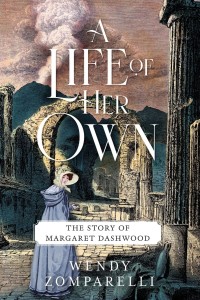 Wendy Zomparelli, author of A Life of Her Own: The Story of Margaret Dashwood, will discuss her book.

This historical novel set in the 1820s traces the determination of a young Englishwoman to travel to Italy, despite her lack of funds and, even more requisite, male relatives as escorts. Her goal is to contribute to the exciting discoveries of the time, particularly in what we now call archaeology. But she learns that the road from London to Pompeii is difficult and dangerous for women, no matter how careful they may be.
RSVP for this Zoom event.