<![if !supportEmptyParas]>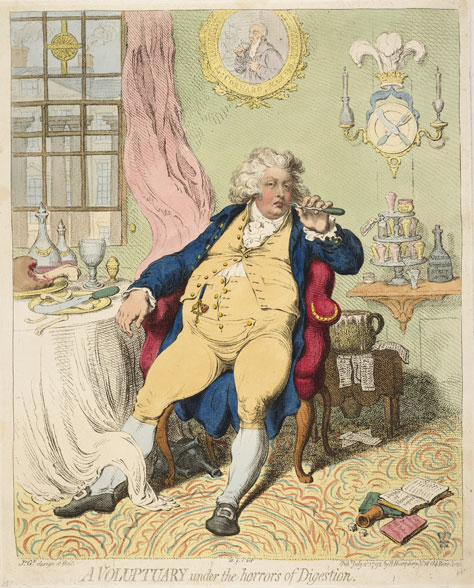 <![endif]>
James Gillray, A Voluptuary under the horrors of Digestion.
London, 1792.  By Permission of the British Museum.
<![if !supportEmptyParas]> <![endif]>
One of the central themes of Emma is that things are often not at all what they seem.1  Human intentions, in particular, are frequently misconstrued in the novel, especially when the person in question takes pains to keep his or her real feelings a secret.  Add to this concern the myriad of games, riddles, charades, acrostics, anagrams, puns, and double-entendres in the novel, and the attentive reader soon learns to be continually on guard.  In fact, she learns to be suspicious.  Indeed, the word suspect (or its derivations) is a constant refrain throughout the novel, occurring in the vast majority of the chapters.2  Might there be something suspect going on throughout the novel, even from the very outset, and even in respect to the intentions of the author herself?  
<![if !supportEmptyParas]> <![endif]>
I've often wondered, for example, how Jane Austen could have stomached dedicating Emma to the self-indulgent, profligate, rotund buffoon extraordinaire, George Augustus Frederick, Prince of Wales and, from 1811 to 1820, Prince Regent, prior to becoming King George IV.3  We know that Austen "hate[d]" the Prince Regent but could "hardly forgive" his wife, Princess Caroline, "for calling herself 'attached & affectionate' to a Man whom she must detest" (16 February 1813).  In an 1814 scathing, personal letter to her husband, which was afterwards made public, Caroline repeatedly addressed her husband as "His Royal Highness."  Whether this was done deferentially or mockingly one can only surmise, but it is interesting to note that in Austen's short dedication of Emma to the Prince she too employed the title "His Royal Highness" three times.  Exaggerated deference is of course a tool of satire, used to insinuate that something fishy is going on.
<![if !supportEmptyParas]> <![endif]>
What must Jane Austen have felt when James Stanier Clarke, the Mr. Collins-like  royal librarian, conveyed to her His Royal Highness's "permission" to dedicate her next work to him?  Could she have done it with a straight face?  I think not, or at least if she did, it must have been because she knew that she, and her attentive readers, would eventually have the last laugh. 
<![if !supportEmptyParas]> <![endif]>
The conventional wisdom is that Austen tried to squirm out of the tribute to the Prince.  Was it "incumbent on [her] to shew her sense of the Honour" by dedicating her forthcoming novel to His Royal Highness? she asked Clarke.  "It is certainly not incumbent on you" to do so, he responded, "but if you wish to do the Regent that honour either now or at any future period, I am happy to send you that permission which need not require any more trouble or solicitation on your Part" (16 November 1815).  
<![if !supportEmptyParas]> <![endif]>
The entire affair of the dedication seems to have been a matter of chance.  Here's how the episode unfolded:  According to her sister, Cassandra, Austen began writing Emma 21 January 1814 and completed it 29 March 1815.   In August or September 1815 she turned the manuscript in to her publisher, John Murray of London.  Revisions (apparently minor) were made in the ensuing months, and the novel was published in December.  Prior to this date, in early October, Austen arrived in London to stay with her brother Henry at his residence in Hans Place.  In mid-October he fell ill, and a doctor was consulted.  Henry's condition was serious enough to require a second opinion, and another physician, Dr. Baillie, who just happened to be the Prince Regent's physician, was called in.  During his visit at Hans Place, Dr. Baillie mentioned to Jane Austen that the Prince was a great admirer of her novels and that he had a set of them in each of his lodgings.  The Prince's librarian, James Stanier Clarke, would call upon her, he said.  Shortly thereafter Clarke invited Jane Austen to the Prince's august residence at Carlton House.  She paid the visit on 13 November 1815, at which time Clarke told her that she was at liberty to dedicate her next novel to the Prince Regent.  After much apparent hand-wringing and reluctance, Austen decided to dedicate Emma to the Prince Regent.  Since the novel was already in press at this time, she wrote her publisher and added the perfectly proper dedication (Austen-Leigh 118).  Henry recovered.  There seems to have been no more to the episode than this. 
<![if !supportEmptyParas]> <![endif]>
But, of course, things are not always what they seem, or as others try to make them appear.  Seeking to establish his good repute, the Prince Regent proclaimed himself "The First Gentleman of Europe."4   Interestingly, one of the questions explored in Emma is what constitutes a true gentleman.  Austen surely laughed at the Prince's self-appointed title, being well aware of his deserved reputation as a gambler, a glutton, a spendthrift, and an adulterer (reputed to have fathered numerous illegitimate children by a number of women).  As the long-running "king" of the English tabloids, he was ferociously caricatured and skewered throughout his long public career, from the grotesque images of Gillray, like the one shown at the beginning of this article, published in 1792, to the particularly imaginative one by Cruikshank in May 1812.5  It was a tricky business for the lampooners, though, as Leigh and John Hunt, the editors of the Examiner, discovered when they were prosecuted, heavily fined, and jailed for two years for their public attack on the Prince in March of 1812. 
<![if !supportEmptyParas]> <![endif]>
I believe that Jane Austen got in on the game too.  But she was careful and cagey and seems not to have in the least aroused the suspicions of the Prince, who continued to admire and bestow his praise on her work after Emma was published.  If he read past the novel's dedication, he did not take Emma's warning that "'such extreme and perpetual cautiousness of word and manner . . . is apt to suggest suspicions of there being something to conceal'" (203).   
<![if !supportEmptyParas]> <![endif]>
One of Austen's gibes aimed at the Prince involved his extravagant urban scheme for the part of London now called the West End.  In chapter 12 of Emma the gentlemanly Mr. Knightley, in an attempt to turn a conversation between his brother and Mr. Woodhouse away from its dangerous path about the merits of vacationing in Southend versus Cromer, interrupts and changes the subject: 
<![if !supportEmptyParas]> <![endif]>
"True, true," cried Mr. Knightley, with most ready interposition—"very true.  That's a consideration indeed.—But John, as to what I was telling you of my idea of moving the path to Langham, of turning it more to the right that it may not cut through the home meadows, I cannot conceive any difficulty.  I should not attempt it, if it were to be the means of inconvenience to the Highbury people, but if you call to mind exactly the present line of the path. . . ."  (106-07)
<![if !supportEmptyParas]> <![endif]>
Of the two resorts, Southend was the much less fashionable, and, as it happens, the place the Prince sent his despised wife, Caroline, to get her out of his way, particularly when he was engaged with his long-time paramour and possibly legitimate first wife, the actress Maria Fitzherbert, at the tonier resort of Brighton.  But the primary linkage to the Prince in this seemingly innocuous passage from Emma turns not on a battle of watering holes, but on the name "Langham," coupled with plans for improvements to transportation. 
During breaks from his notorious peccadilloes, the Prince Regent found time to spend vast sums of royal money on redesigning portions of London.  In 1811 Marylebone Park became the Crown's property, and the Prince employed the architect John Nash to "improve" it.  Nash's original plan was to construct a grand processional route that would connect the Prince's residence at Carlton House at one end of what would become Regent Street, to a new summer villa for him at the other end, running through Regent's Square (now Piccadilly Circus) and Oxford Street.  This plan required demolishing hundreds of houses, mostly of mechanics and tradesman, but also including Foley House, owned and occupied by Lord Foley.  At the time, Nash was employed by Lord Foley on a building project at Witley.  Foley had accumulated a significant debt to the architect for this project and was generally in financial straits, due to his grandson's gambling habit.  When the New Street plan was made public in June 1812, it caused immediate controversy in Parliament.  In an attempt to preserve Portland Place, the Duke of Portland made an offer to Lord Foley for his property, which, if successful, would have scuttled Nash's plan.  Nash quickly and at great risk offered a significantly higher purchase price, which Lord Foley accepted.  He then sold a portion of the land to Sir James Langham, M.P., upon which Langham planned to build a house; by the terms of the sales agreement, Nash would serve as his architect.  Nash also sold the part of the land needed for the planned New Street to the Crown. 
Nash was not, however, able to complete the processional path as designed.  Two major problems cropped up.  First, homes on the east side of Cavendish Square would have to be torn down to make way for the new route, and the residents vociferously objected.  Nash was thus forced to redesign it, moving the path further to the east and creating an abrupt kink or "wiggle" in the street. 
| | |
| --- | --- |
| Langham Place à | |
The "Wiggle" at Langham Place. 
The green line represents Nash's proposed route.  The broken red line, further to the east, is the actual route Nash had to build in order to accommodate the residents of Cavendish Square and Sir James Langham.  The short connecting path, Langham Place, was thus needed to link Regent Street to Portland Place.  By Permission of Mike Todd.
<![if !supportEmptyParas]> <![endif]>
Second, this alteration meant that new buildings would be situated dangerously close to Langham's property, some of which would back up to within yards of his windows and ruin his prospect (Sommerson 83).  To avoid this inconvenience, Langham had to purchase additional land from Nash.  The price Nash required for the parcel of land is unknown, but, according to John Summerson, "the transaction is said to have been embittered by a furious row between Langham and his architect" due to sub-par structural work on the unfinished dwelling (83).  In 1815, Langham fired Nash and hired another architect.  According to Mike Todd, Nash—in retaliation for having been fired—declared his intent to build houses on the land he owned adjacent to, and in fact right in front of, Langham's property.  To prevent Nash's retaliation, Langham bought the property and then refused Nash permission to pave a straight route from Regent's Park to the new villa to complete his grand scheme.  And "this is why," Todd writes, "there is now a kink in the road (at Langham Place), and why Regent Street south of Oxford Circus bends slight to the east."  Thus, Portland Place runs south from Regent's Park but twists and becomes Regent Street.  At the "wiggle" is a short connecting road called, fittingly, Langham Place.
<![if !supportEmptyParas]> <![endif]>
If the Prince Regent and his architect originally neglected to consider the residents of Cavendish Square, the true gentleman Mr. Knightley did not need a protest from nearby residents in order to respect their interests and welfare.  In the conversation with his brother he suggested "'moving the path to Langham'" and "'turning it more to the right'" so "'that it may not cut through the home meadows'" or "'be the means of inconvenience'" to his neighbors.  It is often the case in Austen's novels that the seemingly banal details of everyday life are the setting for demonstrating human character, for better or worse.  In this example, though, Austen is pointing to a public brouhaha and not-so-minor matter in the lives of the people who resided in the vicinity of the Prince's quarters.
<![if !supportEmptyParas]> <![endif]>
All of the events leading to and including the Nash-Langham row occurred prior to or while Austen was writing Emma.  Some of it was public knowledge, but Austen had other and closer sources privy to the operation.  Her brother Henry was a business association of Henry Sanford, who resided in Piccadilly and was a cousin by half-blood and friend to Sir James Langham.  Henry Austen was also himself acquainted with Langham and may have, with his sister's knowledge, consulted him in 1813 regarding some particular information she desired regarding hedgerows (Le Faye 228).  On 30 November 1814, when Austen was intensely at work on Emma, she wrote to her niece Fanny Knight about a particularly delightful guest who would join them that evening:
<![if !supportEmptyParas]> <![endif]>
Mr Sanford is to join us at dinner, which will be a comfort, and in the eveng while your Uncle & Miss Eliza play chess, he shall tell me comical things & I will laugh at them, which will be a pleasure to both.  (30 November 1814) 
<![if !supportEmptyParas]> <![endif]>
It is highly likely that some of the "comical things" that Sanford drolly reported to Austen for her amusement had to do with the squabbles between Nash and Langham and the residents of Cavendish Square.  In any event, both Sanford and Langham were readers of Austen's novels.  In her record of reactions to Mansfield Park in 1814 (while she was at work on Emma) she recorded that "Sir James Langham & Mr H. Sanford, having been told that it was much inferior to P. & P.—began it expecting to dislike it, but were very soon extremely pleased with it—& I beleive, did not think it at all inferior—" (Minor Works 434).6 
<![if !supportEmptyParas]> <![endif]>
If Austen made this cheeky but veiled critique of the Prince's planned scheme for Regent Street prior to any knowledge that she might be invited to dedicate Emma to him, then the encounter with his surgeon, the invitation to Carlton House, and the permission to dedicate the novel to the Prince Regent would seem to constitute an uncanny coincidence at the hands of Fortuna.  One can hardly believe it; it is all too pat.  Could it have been the case that she revised the novel after it went to the publishers but before it was printed?  Or could she have somehow orchestrated the invitation for the dedication?  I know of no extant evidence that would solve this riddle.  So, for now, I must settle with being suspicious.  
<![if !supportEmptyParas]> <![endif]>
What I do know, however, is that embedded in Emma there are more previously undetected barbs and innuendoes aimed squarely at the irresistibly large target of the Prince, and like the  gibe at the "Langham" scheme, they are not particularly flattering to England's future king.  An insinuation concerning the Prince's extramarital affairs occurs, for instance, in Austen's naming of the teachers at Mrs. Goddard's boarding school.  Among the women rumored to have been mistresses of the Prince were Maria Fitzherbert, mentioned above, and John Nash's wife, Mary Ann Nash (neé Bradley).7  There were also whispers that both of these women had children sired by him.  At Brighton, where Mrs. Fitzherbert and the Prince lived vicariously as husband and wife (and which was dramatically and extravagantly remodeled by John Nash), she was addressed by some as "Mrs. Prince."  Two of Mrs. Goddard's teachers are appositely named Miss Nash and Miss Prince.8
<![if !supportEmptyParas]> <![endif]>
            Another barb occurs in conjunction with the al fresco events.  If Mrs. Elton, the self-proclaimed "Lady Patroness" of Highbury society, were to have her way, Mr. Knightley's midsummer's eve strawberry party, like the Box Hill outing the next day, would be entirely under her direction.  In perfectly picturesque fashion, she would have them be a "'sort of gipsy party,'" with the ladies wearing large bonnets and little baskets hanging on their arms, and everyone coming on donkeys to enjoy a picnic out of doors (355).9  Mrs. Elton's scheme is very much like an actual party held in honor of the Prince Regent's birthday on 12 August 1811, recorded in the Sussex Weekly Advertiser, replete with hats, baskets, a cold picnic, and donkeys.  It too was "a gipsey party," though it did not take place on Box Hill.  Instead, it occurred at Bexhill:
<![if !supportEmptyParas]> <![endif]>
The Prince Regent's birth day was this year celebrated by the principal inhabitants of Bexhill, in rather a novel manner, by forming themselves into a GIPSEY PARTY.  Early in the morning all was bustle—donkies, carts, old wigs, cloaks, hats, &c. &c. were put in requisition, and about eleven o'clock the party, (nearly all in some appropriate character) moved in procession, attended by a great concourse of spectators, to Coden Down, about three miles off, where tents were immediately pitched; an elegant cold PIC NIC collation, from the baskets of the party, was set forth on the grass, and very heartily partaken of. . . . [W]hen the whole party retired, very much gratified with the novel diversion, [they] unanimously agree[d that] the anniversary of their beloved Prince's Birth-day shall be FOREVER celebrated at Bexhill, in a similar manner.10
<![if !supportEmptyParas]> <![endif]>
The most subtle (and most satirical) allusion to the Prince Regent is to be found in the second charade proffered in chapter 9 of Emma, which constitutes "'a motto to the chapter'" and a "'prologue to the play'" (74; see Sheehan, passim).  The word "play" here has a double meaning, for Emma is a play on Shakespeare's play, A Midsummer Night's Dream, which is quoted in this chapter, and the novel is also full of game-playing.  The second charade is literally a game, but with it Austen is also playing games with her readers and especially with her dedicatee.  Emma gives one answer to the charade, but there is, I believe, a second answer as well, hinted at but not openly disclosed in the text.  This charade reads:
<![if !supportEmptyParas]> <![endif]>
My first displays the wealth and pomp of kings,
Lords of the earth! their luxury and ease.
Another view of man, my second brings,
Behold him there, the monarch of the seas!
<![if !supportEmptyParas]> <![endif]>
But, ah! united, what reverse we have!
Man's boasted power and freedom, all are flown;
Lord of the earth and sea, he bends a slave,
And woman, lovely woman, reigns alone.11  (71)
<![if !supportEmptyParas]> <![endif]>
As you may recall, Harriet struggles in vain to try to solve this charade.  Harriet's guesses are rather literal, and Emma mocks her for her simplicity.  Emma, of course, knows the answer straight away, glibly offering up the solution of court and ship, or courtship.  
Emma's answer is a perfectly logical and fitting response to the charade's puzzle.  For nearly two centuries readers have accepted Emma's solution to the charade as the solution.  She never second-guesses herself, or even seems to think of second guesses, and so we do not either, at least not this early in the novel.  We might want to remind ourselves, though, of what we come to learn later in the novel—that is, to be wary of trusting too much in Emma or in her overweening self-confidence.  Perhaps Emma may have missed something that Harriet has seen in the charade and is too quick to dismiss Harriet's guesses, or at least her more literal approach to solving the charade.   For unlike Emma, Harriet (before she is "educated" by Emma) does not overlook what is right before her eyes.
<![if !supportEmptyParas]> <![endif]>
In addition, the eighteenth century notion of "wit" generally involved the employment of double meanings, or at least "two ideas."   As Leigh Hunt remarked in an essay on "Wit and Humour," "wit is the clash and reconcilement of incongruities; the meeting of extremes round the corner; the flashing of artificial light from one object to another, disclosing some unexpected resemblance or connection . . ." (8-9).  You may bring together as many ideas as you can pleasantly assemble, he continued, "but a single one is nothing."  Wit requires at least "two ideas."  It is like "couples are to marriages; and the union is happy in proportion to the agreeableness of the offspring . . ." (130-31).
Harriet's guesses include "'kingdom'" and "'Neptune'" and "'trident'" and "'mermaid'" and "'shark,'" and Emma scolds her for her naiveté:  "'Where would be the use of his bringing us a charade made by a friend upon a mermaid or a shark?'" (72-73).  But Harriet's literal approach might not be so misguided after all; it might in fact lead us somewhere quite interesting, perhaps even to a more clever solution than the one offered by Emma.  Like Harriet, though, we are forewarned by Emma:  we should not "'appear to affix more meaning, or even quite all the meaning which may be affixed'" to the charade (77).
<![if !supportEmptyParas]> <![endif]>
Even quite all the meaning?  This surely is a direct hint to the readers that there is more to this charade than is disclosed in the text.  In the spirit of the novel, however, I will refrain from offering my second solution to the charade here, and instead invite readers to consider it anew and solve it for themselves, at least for a fortnight or two.  Here are three navigational hints for the second solution:  first, it is related to the dedication; second, the charade is not only a riddle, it also has within it an acrostic (or two) that is an anagram; and third, this anagrammed acrostic spells the name of a person who, like Austen, had a less than exalted opinion of the novel's dedicatee.
<![if !supportEmptyParas]> <![endif]>
Had Austen been present at the Box Hill gathering and been challenged to say one thing very clever, two things moderately clever, or three things very dull indeed, Emma might well have chided her, "Ah! ma'am, but there may be a difficulty.  Pardon me, Miss Austen—but you too will be limited as to number—only two very clever things at once!"  
<![if !supportEmptyParas]> <![endif]>
Note from the Editor: Colleen Sheehan's suggested second solution to the charade is available at Persuasions On-Line from 21 January 2007, the anniversary of Emma's commencement. Before you read it, have fun solving the riddle yourself! You may email your solution or comments to the author.
NOTES
<![if !supportEmptyParas]> <![endif]>
1.  The author is grateful to Arnie Perlstein for his insightful and very helpful comments and suggestions on an earlier draft of this essay as well as for tracking down the connections among the Austens, Henry Sanford and Sir James Langham.  She also wishes to thank John A. Doody and Katherine Olsen for their comments on the draft and Andrew Bausch for his generous assistance in researching some of the themes of this article.  The author wishes to express her gratitude to Mike Todd for his kind permission to reprint the map of the "Wiggle" at Langham Place. 
2.  The word "suspect" or its derivations (e.g., suspects, suspected, suspecting, suspicion(s), (un)suspicious) is used in 40 of the 55 chapters of Emma, and often numerous times within a given chapter, significantly more often, I suspect, than it appears in other Austen novels.
<![if !supportEmptyParas]> <![endif]>
3.  Strictly speaking, the years of 1811 to 1820 constitute the Regency period, the time during which the Prince Regent ruled the United Kingdom because of the mental incapacity of his father, George III.  Sometimes, however, the "Regency period" is used to refer to a broader time frame, i.e., between the Georgian and the Victorian eras, or even as expansive as the years 1780 to 1830.   
<![if !supportEmptyParas]> <![endif]>
4. Deirdre Le Faye offers this brief but insightful summary of the character and reputation of the Prince Regent: "The Prince was tall, fair and handsome, universally agreed to be charming, witty and intelligent, and in later life became a patron of literature, music and the arts; he was also irresponsible and deceitful, gluttonous and drunken, squandering his princely allowance on fine clothes, expensive mistresses and grandiose building projects at Carlton House in London and his seaside residence, the Pavilion at Brighton. In his youth, he was nicknamed 'The First Gentleman of Europe,' but as years of over-eating led to gross obesity, cartoonists would depict him" rather differently (44).
5.  See, for example, George Cruikshank's portrayal of the Prince in The Scourge May 1812: 345.
<![if !supportEmptyParas]> <![endif]>
6. We know too that Sanford later read Emma and "was very much pleased" with the novel. While he was "delighted with Miss Bates," he considered "Mrs Elton the best-drawn Character in the Book" (Minor Works 437).
<![if !supportEmptyParas]> <![endif]>
7.  Allinson writes that John Nash was "reputed to be a favourite of the Prince Regent following a convenient marriage to the Prince's mistress (which brought Nash instant career success as well as an instant family)" (62).  E. A. Smith thinks this rumor was ill-founded (242).  Summerson takes a middle course; we do not have evidence either way, he argues, doubting that any of the Pennethorne children were the fruit of "this obscure passion" (151-52).
<![if !supportEmptyParas]> <![endif]>
8.  Had "Mrs. Prince" and Mrs. Nash had daughters, they may well have been sent away to some respectable but not particularly prestigious boarding school in the countryside, just as Harriet Smith was, and they may also have stayed on as mentors and then as teachers.
As for Harriet Smith, "the natural daughter of somebody," the mystery of her parentage is resolved in the last chapter of the novel.  Born 23 June 1796 (Midsummer's Eve), her nondescript surname leads one to suspect that it may not be her real name.  On the other hand, it is interesting to note that Smythe was the maiden name of Maria Fitzherbert.  Harriet's parentage is revealed on August 12th, the birthday of the Prince Regent.  
9.  The Prince Regent was a particular lover of strawberries, especially those to be found in the fields of the Lady Victoria Tylney Long Wellesley at Bolney Lodge (Barry 125).  Bolney Lodge, located between London and Brighton, was a favorite haunt of the Prince Regent, where, according to local legend, he often rendezvoused with Mrs. Fitzherbert.
<![if !supportEmptyParas]> <![endif]>
10.  http://freepages.genealogy.rootsweb.com/~dutillieul/ZOtherPapers/SWAAug261811.html
<![if !supportEmptyParas]> <![endif]>
11.  This last line may have been a play on a passage from William Cowper's 1782 poem "The Progress of Error," which reads:
<![if !supportEmptyParas]> <![endif]>
Pleasure admitted in undue degree
Enslaves the will, nor leaves the judgment free.  
'Tis not alone the grape's enticing juice
Unnerves the moral powers, and mars their use;
Ambition, avarice, and the lust of fame,
And woman, lovely woman, does the same.  (269-74)
<![if !supportEmptyParas]> <![endif]>
Certainly this passage could have been applied later to the Prince Regent and his notorious lust for fame and physical pleasure.  His wife Caroline, too, was widely rumored to have committed adultery. 
<![if !supportEmptyParas]> <![endif]>
            The line "And woman, lovely woman, reigns alone" in Austen's charade could also refer to the relationship between the Prince and Mrs. Fitzherbert, who, it was commonly believed, had a disproportionate amount of power over the Prince.  More likely, though, it refers to the marchioness of Hertford, a new mistress with whom the Prince took up at the start of his Regency, and who "was thought to be influencing his politics" (Patten 103).  The reign of women over the Hanoverian men was nothing new.  The Prince Regent's grandfather, King George II, also infamous for his infidelities, was nonetheless dominated by his wife, Princess Caroline of Anspach.  She seems to have decided that if she could not stop his philandering, she would at least choose his mistresses for him—and that they would be less attractive than herself.  In this matter and in many things, Princess Caroline of Anspach ruled her husband, so much so that there was a well known little rhyme during his "reign" that went as follows:
<![if !supportEmptyParas]> <![endif]>
You may strut dapper George, but 'twill all be in vain,
We all know 'tis Queen Caroline, not you, that reign.  (Van Orden).
<![if !supportEmptyParas]> <![endif]>
<![if !supportEmptyParas]> <![endif]>
Works Cited
<![if !supportEmptyParas]> <![endif]>
Allinson, Kenneth.  London's Contemporary Architecture: A Visitor's Guide. 3rd ed.  Oxford: Architectural Press, 2003.
Austen, Jane. The Novels of Jane Austen. Ed. R. W. Chapman. 3rd ed. Oxford: OUP, 1933-1969.
_____.  Minor Works.  Ed. R. W. Chapman.  Rev. ed.  Oxford: OUP, 1965. Vol. 6 of The Works of Jane Austen.
_____. Jane Austen's Letters. Ed. Deirdre Le Faye.  3rd ed.  Oxford: OUP, 1995.
Austen-Leigh, James Edward.  A Memoir of Jane Austen.  1871.  Ed. R. W. Chapman.  Oxford: Clarendon, 1926.
Barry, Octavia.  The Lady Victoria Tylney Long Wellesley: A Memoir.  London: Skeffington, 1899. 
Cowper, William.  The Complete Poetical Works of William Cowper.  Ed. H. S. Milford.  London: Fronde, 1905.
Hunt, James Henry Leigh.  Wit and Humour, Selected from the English Poets.  London: Smith, 1890.
Le Faye, Deirdre. Jane Austen: The World of Her Novels. New York: Abrams, 2002.
Patten, Robert L.  George Cruikshank's Life, Times, and Art. Vol. 1.  Rutgers: Rutgers UP, 1992.
Sheehan, Colleen A. "The Riddles of Emma," Persuasions 22 (2000): 50-61.
Smith, E. A.  George IV.  New Haven: Yale UP, 2001.
Summerson, John.  The Life and Work of John Nash, Architect.  Cambridge: MIT Press, 1980.
Todd, Mike. "Langham Place Takes Shape."  Broadcasting House: A Potted History.  2002.  24 Nov. 2006 <http://www.miketodd.net/other/bhhistory/bh_1811.htm>.
Van Orden, Tori. "Happy Princesses of Wales—A Royal Oxymoron, Part II."  The Royal Scribe 14 June 2004.  24 Nov. 2006 <http://www.etoile.co.uk/Columns/RoyalScribe/040614.html>.
<![if !supportEmptyParas]> <![endif]>
Back to Persuasions On-Line Table of Contents

Return to Home Page