| | |
| --- | --- |
| PERSUASIONS ON-LINE | V.28, NO.2 (Spring 2008) |
From the Polar Seas to Australasia: Jane Austen, "English culture," and Regency Orientalism

Rhodri Windsor Liscombe

Rhodri Windsor Liscombe, F.S.A. (email: rhodri@interchange.ubc.ca) is Head of the Department of Art History, Visual Art and Theory at the University of British Columbia. A Courtauld Institute graduate, his major publications include William Wilkins, 1778-1839, "Altogether American": Robert Mills, Architect and Engineer, and "The New Spirit": Modern Architecture in Vancouver 1938-1963 (recipient of the Vancouver Book Prize).
Jane Austen's fiction won recognition during the Regency, at the period of the constitution of Great Britain, through the 1800 Act of Union, and the emergence of imperial power in the aftermath of the Napoleonic Wars. The seeming conflict between the relatively confined scenes and spaces of her narratives on the one hand and the distant places and practices that underpinned the relative comfort of the society she describes has become a matter of greater scholarly interest since the devolution of British Empire. Austen was aware of the relationships between the domestic and the foreign and conscious of the new national or, perhaps more properly stated, patriotic consciousness. This new consciousness, especially of the English aspect of Britishness, is most clearly articulated in Emma, published in 1815. Alongside her other novels, including Mansfield Park and Sanditon, which introduce the colonial domain, Emma became a particularly potent example of national cultural effort—comparable in eventual influence with the projection of the British military and economic system consolidated through the Napoleonic Wars.
<![if !supportEmptyParas]> <![endif]>
Austen's picture of English social order and scenery came to exemplify the supposed pre-eminence of British culture during Empire (here defined as operating fully between 1837-1957), but also, with the advent of postcolonial conditions, the texting out of the harsher realities of the British imperial system. This latter revisionist reading of British culture and regime gathered momentum and even critical hegemony after the publication of Edward Said's Orientalism in 1978. The popular film and television adaptations of Emma, while testifying to the continuing impact of Austen's fiction, also eliminate the harsher realities of British culture. Consequently this essay seeks to reposition Austen's fiction and especially her brief definition of English culture in Emma within both Austen's own historical context and much later Orientalist discourse by examining the latent Orientalism (and global interactions that influenced culture and aesthetics) during the period in which Austen was writing.
<![if !supportEmptyParas]> <![endif]>
The interconnection between economic/strategic and cultural/literary power, examined in the Orientalist and Postcolonial discourses, operated in Austen's personal life through the service of her brothers Francis and Charles in the Royal Navy, the paramount institutional agent of Empire.1 Emma was published in December 1815, six months after the final military event of the Napoleonic Wars, the Battle of Waterloo, was fought. The novel's narrative, however, was confined to locations in England and to a patently perceived if not always overtly defined sequence of built environments. These environments parallel the ordered structure—or narrative architecture—of her storytelling as they perform a comparable function of articulation and assertion of cultural identity and value. As Stephen Clarke has demonstrated, buildings and the built and natural environment are essential attributes of Austen's literary craft.2 Real estate and the income from resource extraction and agricultural, urban, and industrial development that real estate yielded extended directly into the transfer of dynastic advantage through the social ritual of courtship and marriage so central to Austen's narrative. Furthermore, the majority of the architecture described briefly in Austen's fiction reflects the local adaptation of imported design models.
<![if !supportEmptyParas]> <![endif]>
The acquisitive appropriations accompanying such interchange became increasingly manifest and exotic in Austen's lifetime. To a considerable extent, such appropriation reflected the potent if less patently acknowledged impact of colonial enterprise upon British economy and society. The limited reference to the colonial component within British economy and polity—with the partial exception of Mansfield Park and Sanditon—has contributed to the Orientalist interpretation of Austen's writings as well as contemporary British culture. Such interpretation of Austen reflects most of the main lines of argument in Orientalist discourse. These can be summarized in terms of four areas of concern. First, and most generally, Orientalism is defined by the imitation or depiction of Eastern (chiefly East and South Asian, but including African, cultures) by Western (European or North Atlantic) artists or craftspeople. This phenomenon is typified in the realm of antiquarian enterprise by James Stuart's depiction of Nicholas Revett dressed in Oriental garb studying the "Theatre of Dionysus Athens" in preparation for their celebrated folio volume The Antiquities of Athens 1762-1816.  
<![if !supportEmptyParas]> <![endif]>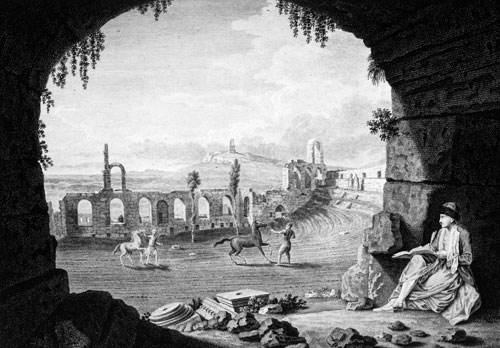 Nicholas Revett sketching "Theatre of Dionysus Athens" c. 1760
from The Antiquities of Athens vol. 2 (1789)
Second, Orientalism has come to refer to the feminization of the East, not least through stress upon the exotic and erotic nature of such societies and especially their women, and, third, to the processes of cultural stereotyping and related ethnic subjugation, often described as "othering," exercised through knowledge no less than political or economic regime. Fourth—and most pervasive in critical inquiry—Orientalism defines the embedding in cultural production of the unequal spatial distribution of economic, military and political power. Austen, as noted, only indirectly addressed matters of British overseas power and national politics, but her novels certainly became central to the exportation of British pedagogical and popular cultural authority from the mid-nineteenth century.
<![if !supportEmptyParas]> <![endif]>
A reading of Austen's description of "English culture" in Emma set within the context of Regency design suggests, however, the existence of a preliminary, less imperialist, phase of Orientalist sensibility. This proto-Orientalism was more associated with the cultural opportunism generated by antiquarianism and enabled by commercial expansion than with the strategic and cultural projection of British power. 
<![if !supportEmptyParas]> <![endif]>
By the beginning in 1815 of the Regent's Park scheme for redeveloping London, new and conflicted social practices had already begun to emerge.3 The New Street and related redevelopment of fashionable London stimulated a new type of print media that modernized and popularized the production of (less obviously commercial) antiquarian books on ancient, medieval, and overseas design.
<![if !supportEmptyParas]> <![endif]>

East Side Regent Street, London, John Nash architect, 1820-22
from Metropolitan Improvement (1827)

Egyptian Hall, Piccadilly, London, P. F. Robinson architect, 1811
from Metropolitan Improvements (1827)
<![if !supportEmptyParas]> <![endif]>
Each depended on an instrumental and commercial understanding, or appreciation, of the historical object as source of various species of material and symbolic capital and on a conviction of the relevance of both the past and the distant to contemporary practice.4 And those bibliographic combinations of visual and textual data derived from, but also increasingly exercised, the expanding reach of British initiative. The new geographies of economic activity and cultural acquisition, plus individual and collective identity-making, are nicely summarized in the dedication Thomas Shepherd wrote to King George IV for Metropolitan Improvements, or London in the Nineteenth Century:
<![if !supportEmptyParas]> <![endif]>
Industry and a daring spirit of commercial enterprise have characterized the British nation from the time of Tacitus to the present day; when the influence of our princely merchants, and the spirit of nautical discovery, which signalize your Majesty's reign, have extended the fostering influence of our laws, customs and language and planted the British standard, from the icy regions of the Polar Seas to the verge of terra incognita of Australasia. (v) 
<![if !supportEmptyParas]> <![endif]>
The transition toward the harsher, more directly political or governmental type of Orientalism was evidently gathering force prior to its codification in the Victorian era.
<![if !supportEmptyParas]> <![endif]>
Although the metropolis was a recurrent scene of Austen's observation—running parallel to the frankly commercial media operating in Rudolf Ackermann's The Repository of Arts, Literature, Fashion & C (1809-1828)—her description of English culture in Emma regarded its rural environs. The passage occurs amid the narration of important dispositions of individual relationships during a visit to Mr. Knightley's Donwell Abbey (the day before the contentious picnic at Box Hill in southern England), and with respect to Abbey-Mill Farm. Interestingly, her word picture compares with the landscape engraved in the design for a "Drawing Room Window Curtain" in the March 1815 issue of Ackermann's Repository: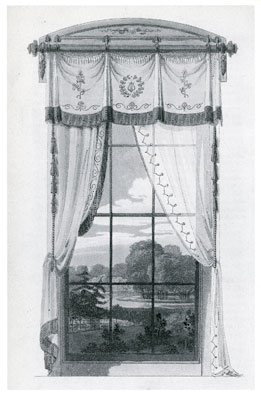 "Drawing Room Window Curtain"
from The Repository of Arts, Literature, Fashions & C (March 1815), plate 12
<![if !supportEmptyParas]> <![endif]>
It was a sweet view—sweet to the eye and the mind. English verdure, English culture, English comfort, seen under a sun bright, without being oppressive. . . . It might be safely viewed with all its appendages of prosperity and beauty, its rich pastures, spreading flocks, orchard in blossom, and light column of smoke ascending. (360)
<![if !supportEmptyParas]> <![endif]>
The passage chiefly concerns natural (agri)culture rather than the creative cultural production or design examined in this essay, but the level of interdependence remained significant in the Regency period. Similarly, while the passage is superficially bereft of Orientalism, it engages with later nineteenth-century celebrations of British properties of geography and creativity. Austen's few sentences in Emma summon up a privileged, bucolic ideal of a modern British society removed from uglier scenes of resource extraction, industrialization, urbanization, and expanding overseas commercial and racial exploitation.5 
<![if !supportEmptyParas]> <![endif]>
Such filtering out of the wider practices affecting the appearance of particular scenes has, rightly, become a part of current critical discourses.6 Austen's Picturesque word-picture of agrarian stability—itself based partly on imported pictorial and literary modes—anticipates the pictorial representation of peaceable and plentiful English topographical and social culture by John Constable.7 In 1821 Constable exhibited "The Haywain" at the Royal Academy, depicting a smoking chimney on its main architectural feature (Willy Lot's cottage) but omitting any visible indication of the ongoing social unrest in contemporary England.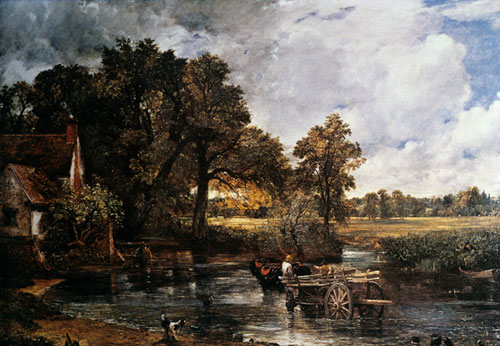 John Constable's "The Haywain"
exhibited at the Royal Academy (1821)
<![if !supportEmptyParas]>
In concert with Emma and Austen's other novels, "The Haywain" and Constable's major landscape paintings became iconic images of Britishness and thereby involved in the later Victorian official and popular projection of the British regime.  
<![if !supportEmptyParas]> <![endif]>
That regime rested upon many less attractive places and practices. Those unquiet sites and disquieting systems did, as noted, infiltrate Austen's fiction. Nevertheless their relative insignificance has caused recent academic scrutiny to convict her of negative Orientalist tendencies and even of imperialist collusion.8 This paper will seek to modify such postcolonial critique by considering the caste of Orientalist sensibility at work during the Regency with particular respect to such contemporary constructions of English culture as written by Austen in Emma. 
<![if !supportEmptyParas]> <![endif]>
The precise temporal definition of the Regency remains the political arrangement of the Prince of Wales's regency 1811-1820 (prior to his coronation as King George IV), but this paper accepts its customary extension of 1800-1837, the period spanning the Napoleonic Wars and the ascension to the throne of Queen Victoria.9 That longer period enables a broader analysis of the range and operation of imported cultural materials and models in British design. It presents a picture of more random than truly concerted appropriation, in which the exotic is not so much an agenda of othering, or culturally expressed political subjugation, as of aestheticized commercial opportunism. In the increasingly technological frame of social and cultural activity associated with the later modern era, the imprint of such eclecticism is most evident in the furnishings of everyday life. The intermixture of acquisitive antiquarianism and elegant utility is especially evident in Regency furniture: as in those "Drawing Room Chairs" shown in George Smith's A Collection of Design for Household Furniture and Interior Decoration (1808), or "Pocock's Reclining Patent Chair" illustrated in the March 1813 issue of Ackermann's Repository. 


(Top) "Pocock's Reclining Patent Chair"
from The Repository of Arts, Literature, Fashions & C (March 1813)
plate 19

(Left) "Drawing Room Chairs"
from A Collection of Designs for Household Furniture and Interior Decoration (1808)
<![if !supportEmptyParas]> <![endif]>
Each publication represents the opening up of new spaces for economic advantage that mobilize historical data, contemporary technique, and idiosyncratic imagery to establish the currency of fashion. 
<![if !supportEmptyParas]> <![endif]>
This proto-imperialist Orientalism corresponds with the constrained acknowledgement by Austen of colonialist racial exploitation and erasure in Sanditon and most particularly in Mansfield Park. More recent scholars have variously followed the geographical movements between the national and colonial domain made by Sir Thomas Bertram in Mansfield Park as well as the social transposition Jane Austen herself effected between the racial subjugation of African slaves and the gender subservience of women in British society.10 Their approach acknowledges the complexity of the emergent imperial socio-cultural landscape and the validity of literally unpacking the temporal frame of Orientalism. 
<![if !supportEmptyParas]> <![endif]>
As John Nash, the most prominent (if notorious) Regency architect, exercised license in his adaptation of historical architectural iconography, the more intellectually attuned Jane Austen selected only a limited set of themes, issues and scenes to portray. For example, she, like John Constable, chose not to address the massive (and equally massively disadvantaged) underbelly of British society. One disregarded component was the ranks of the British Army and Navy, who endured harsh daily regime in establishing national transoceanic commercial hegemony and global imperial regulation. Nor did Austen precede Charles Dickens and Charles Kingsley, among others, in exposing the especial exploitation of British children in the industrial, agrarian, and urban economy. 
<![if !supportEmptyParas]> <![endif]>
            In turning to the multicultural constituents of Regency architecture and art, it is also worth noting the existence of a vein of anxiety about or criticism of emergent British imperialism in the Regency. The deficiencies of the British East India Company—including to some extent deficiencies in matters of social exploitation—had entered public debate with the impeachment of Warren Hastings in 1787.11 In the major canvas he exhibited at the Royal Academy in 1815, "Dido Building Carthage," Constable's great rival, J. M. W. Turner, alluded to likely degeneration through imperial hubris.12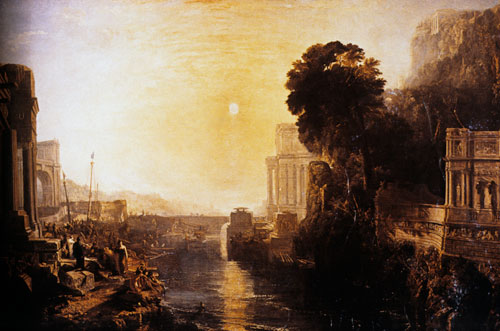 J. M. W. Turner's "Dido Building Carthage in the Rise of the Carthaginian Empire"
exhibited at the Royal Academy (1815)
Looking backward in 1847-1848, William Thackeray set much of his novel—or narrative social satire—Vanity Fair around 1815 and the Battle of Waterloo. Arguably the most disparaged and pathetic character in the book is Joseph Sedley, the visiting Indian Nabob. What is more, the scene of his greatest humiliation is Vauxhall Gardens at London, built with Chinese and Gothic styled structures from 1751.13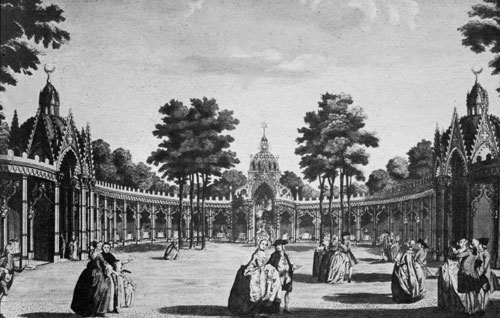 "A View of the Chinese Pavilions and Boxes" at Vauxhall Gardens, London (1751)
<![if !supportEmptyParas]> <![endif]>
Imported material culture and cultural artifacts were, of course, circulating extensively through Regency society as much as sugar from the Caribbean, spices from South and East Asia, and raw materials from former and continuing North American colonies. Those properties formed part of a weakly regulated interchange of goods that was not yet either truly hegemonic or dominant. The cultural praxis in 1815 still equated with the Pagoda William Chambers had erected at Kew Gardens (1757-1782).14 The structure was an outcome of Chambers's service in the Swedish East India Company and associated with a still amateur acquisition of botanic knowledge, albeit intended for instrumental application in the growing British world. Yet it also reflected admission of the superior technologies and techniques encountered in the Asias especially. The Pagoda thus indicated cultural dependence even if it heralded a long future of appropriation of Chinese things and practices involving imperial economic and cultural subjugations.

Kew Gardens with Pagoda
William Chambers, architect (1757-1782)

Royal Pavilion, or Prince of Wales's Marine Villa, Brighton
(c. 1853)
<![if !supportEmptyParas]> <![endif]>
The Pagoda also anticipated the demonstration at the Prince Regent's Pavilion, or Marine Villa, at Brighton of the exotic dimension of British overseas trading.15 That trading corresponded with expeditions to acquire knowledge both antiquarian and scientific, with the former often resulting in the trade in antique relics. Further levels of instrumental value were the use of antiquities or historical artifacts in cultural institutions for their associations with prestige or to enhance design expertise for manufactured goods.
<![if !supportEmptyParas]> <![endif]>
Chambers's usual architectural practice represented a parallel commodification of cultural exchange, an antiquarian as opposed to an Orientalist strain. It derived from design paradigms inherited from Renaissance and Baroque Italy and France—ones that were imported, culturally and climatically alien, ancient Mediterranean, and classically inspired. In fact, the core architectural idiom of Georgian and Regency Britain, the background of Jane Austen's work, was Palladianism, a synthesis of imported formal and ornamental motifs chiefly drawn from the built and published designs of the north Italian Renaissance architect Andrea Palladio.


Wrotham Park, Middlesex
Isaac Ware, architect (1754)
<![if !supportEmptyParas]> <![endif]>
The Palladian type influenced many buildings of British economic, institutional or governmental order at home and overseas.16 Cultural borrowing preceded cultural appropriation that would later be deployed to legitimate colonial appropriation.
<![if !supportEmptyParas]> <![endif]>
The rate of cultural imitation was speeded up by British antiquarian endeavor, one not confined to the ancient classical world but, by Austen's lifetime, embracing South and East Asia.17 Jupp and Holland's Palladian-cum-neoclassical East India House in London (1796-1799) matched monumental architecture built in its sphere of influence and the growth of dilettante and touristic illustration of Indian antiquities.18 These illustrations may have performed primarily as visual diversion and cultural novelty, but, along with the more scholarly illustrated folios on Roman and Greek architecture, they helped generate more scientific study as well as influence fashionable taste.

Thomas and William Daniell's "The Jummah Musjed, Delhi"
from Oriental Scenery (1797)

"Indian Room"
from Thomas Hope's Household Furniture & Interior Decoration (1807)
<![if !supportEmptyParas]> <![endif]><![if !supportEmptyParas]> <![endif]>
This investigation of other cultures admittedly was imbricated with the processes of knowledge and power (later theorized by Michel Foucault), and it contributed to the institutional inscription of Empire through museums and art galleries.19 This kind of alliance of amateur antiquarianism and connoisseurship with social privilege was nicely scripted in Emma: prior to the visit to Donwell Abbey, George Knightley arranges for Mr. Woodhouse to have access to his "[b]ooks of engravings, drawers of medals, cameos, corals, shells, and every other family collection within his cabinets" (362). Such private ownership of bits of the material and creative domains equated with private ownership of landed estates and public control of distant lands: the feudal social order growing forward into the ordering of the modern, latterly imperial world.20
<![if !supportEmptyParas]> <![endif]>
These frameworks of cultural, economic, and political opportunism became epitomized architecturally in a series of Regency edifices. While some adapt exotic historical design, from the Gothic to the Mughal, the majority are in the Classic or Greek Revival mode.21 Together they confirm that a fundamental constituent of modernity—namely, the interactive processes of capitalist, commercial, and colonial expansion—was the practical application of historical precedent to manage and articulate new techniques and organizations. John Soane's Bank of England, constructed from 1788 to 1824, used quite differently-purposed ancient Roman and Greek designs to provide diverse and densely located spaces for innovatory financial services.22 In bald terms, Soane's architecture situated, and thereby stabilized, new practice in traditional garb.

East front of the Bank of England, London
John Soane, architect (1788-1824)
from Metropolitan Improvements (1827)

North West front of the Bank of England, London
John Soane, architect (1788-1824)
from Metropolitan Improvements (1827)
<![if !supportEmptyParas]> <![endif]>
The symbolic meaning associated with the Classical Orders—encompassing structural form and surface decoration—was redirected to assert the integrity and durability of novel systems of credit and investment; Soane also adapted Renaissance conventions for the headquarters of the most remarkable engine of British strategic and financial puissance, the National Debt Redemption Office on Whitehall (1817-1831). The example of two more Classic Revival buildings will suffice. One is the campus-plan college, scaled and detailed in the style of a Greek temple, that the scholar-architect William Wilkins built in 1806-1807 for military and civil cadets of the East India Company at Haileybury.23 The reference to fifth-century B.C. Athenian architecture was intended to attach ideal values as well as cultural capital both to the task of training functionaries and to their regulatory role in the subcontinent.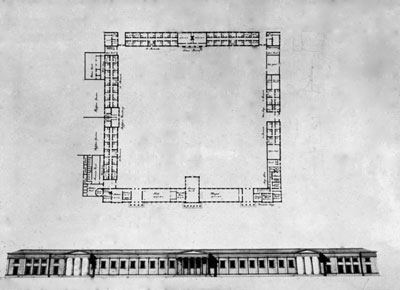 Plan and elevation, East India College, Haileybury
William Wilkins, architect (1806)
<![if !supportEmptyParas]> <![endif]>
The legitimating force of imitated culture was most manifest in the British Museum (1818-1826), designed by another antiquarian architect, Sir Robert Smirke.24 A major public function of the British Museum was the display of the architectural and sculptural relics removed by Lord Elgin from Athens and environs as objects of study to enhance British art and manufacture design. These antiquities had become available for transport largely as a result of the British alliance with the Ottoman Empire against the French invasion of the modern Egypt and Palestine.25 They had been transported by the Royal Navy and purchased by the British government in 1816, partly as proof of its growing presumption of material and cultural superiority; through this kind of acquisition, imitation is giving way to the forms of appropriation examined in the Postcolonial aspect of Orientalist critique. The hubris of this appropriation, however, was underscored by the incomplete success of British arms in the War of 1812 (recalling the disastrous loss of the American colonies three decades earlier), the escalating economic and social distress following the cessation of the Napoleonic conflict, and the scandals attending the Royal Family and especially the Prince Regent.
<![if !supportEmptyParas]> <![endif]>
The Prince, not unlike William Beckford before him, employed architecture to project an independent identity.26 Beckford, son of a successful London entrepreneur and the author of the exotic Gothic novel Vathek (1786), had commissioned James Wyatt (1796-1806) to fabricate a country mansion, Fonthill Abbey, in Wiltshire, including space to exhibit his bibliographic and antiquarian collections.27 Its architecture and plan played on ecclesiastical and secular medieval precedent in contradistinction to the prevailing late Palladian or Classic Revival taste and fashion. Its planning and spatial organization courted sublime effect through a picturesque visuality in the application of a still historically and culturally distanced Gothic motif.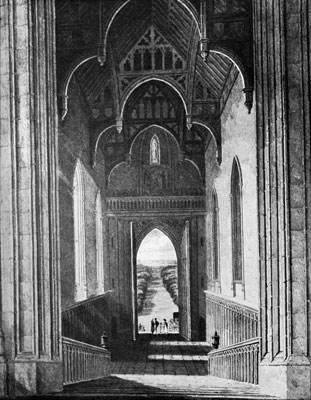 Staircase, Fonthill Abbey, Wiltshire
James Wyatt, architect (1796-1806)
<![if !supportEmptyParas]> <![endif]>
The contrary cultural gambit was greatly more evident in the lavish Indo-Saracenic bungalow that the Prince hired John Nash in 1815 to conjure over and through the simple French-style neoclassical villa built in the 1790s to the designs of Henry Holland. The Brighton Pavilion far surpassed such previous sallies into ancient Indian architectural culture as Sezincote, Gloucestershire, designed in 1804-1805 by Samuel Cockerell for a retired senior official of the East India Company.28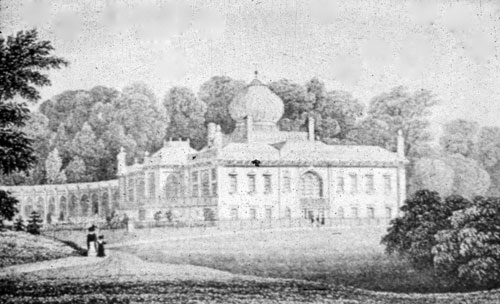 Sezincote, Gloucestershire
S. P. Cockerell, architect (1805)
<![if !supportEmptyParas]> <![endif]>
By the completion of the Pavilion in 1818, Nash had embarked, with the Prince Regent's interest, in the remarkable and eventually comprehensive Regent's Park urban redevelopment scheme for London.29 The scheme and Nash's architectural palette displayed the cultural goods of British overseas commerce while instituting a remarkable system of goods and services for modern urban living. His street facades borrowed licentiously from many historical sources, chiefly ancient Classical. Those borrowings represented a commerce of taste or, more properly, of fashion in support of new forms of commercial practice and commodification of everyday life.30 Historical motif, extracted from antiquarian publications and bibliographic commerce, operated as a visual mechanism of selling—whether of insurance as in the Neo-Palladian County Fire Office, or temporary accommodation as in the Neo-Greek Piccadilly Hotel (each on Piccadilly Circus, 1818-1819), or women's hosiery and apparel in the eclectic Classical Swan and Edgar's store (on Regent's Street, 1819-1821).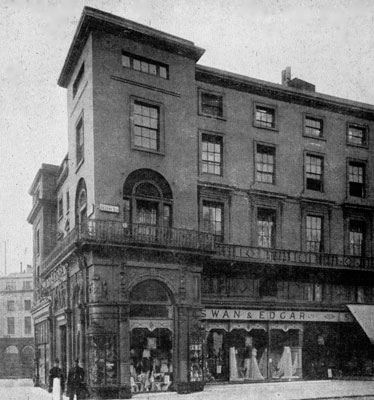 Swan and Edgar Shop, Regent Street, London (1819-20)
from Thomas Edwards's Good and Bad Manners in Architecture (1924; 1948)
Nash's magpie-like appropriation of antiquarian cultural capital to aggrandize the capital city mirrored the opportunistic caste of British economic and political enterprise during the Regency period. His design was less grounded academically than many of his peers, but it nonetheless replicated the breadth of geo-cultural origin and instrumental use of historical tradition in Regency architecture.
<![if !supportEmptyParas]> <![endif]>
Jane Austen's literary production was considerably more sophisticated than Nash's architectural production but similarly was molded and enabled by Britain's evolving colonial enterprise. The cultural appropriations that accompanied British appropriation of overseas resources and markets compounded during Austen's working life as a writer in the Regency. Nevertheless the process of appropriation had not yet become a concerted othering of non-native cultures or a project to secure British imperial interest.31 That kind of appropriation would eventuate during the reign of Queen Victoria and consolidate after the Indian Mutiny, or Rebellion, of 1857.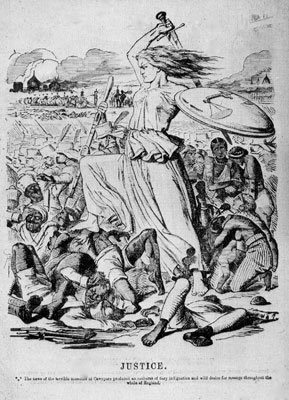 "Justice"
from Punch (12 Sept. 1857)
<![if !supportEmptyParas]> <![endif]>
The novels of Jane Austen, relating a seemingly true narrative picture of "English verdure, English culture, English comfort," would come to constitute a major component of the cultural imperialism now generally identified as Orientalism.
<![if !supportEmptyParas]> <![endif]>
<![if !supportEmptyParas]> <![endif]>
NOTES
<![if !supportEmptyParas]> <![endif]>
1.  The Orientalist and Postcolonial discourses are defined by Edward Said in Orientalism and Culture and Imperialism, the former being reassessed by John MacKenzie in Orientalism: History Theory and the Arts and with respect to British architecture, by Mark Crinson in Empire Building. The Austen family's links to the Royal Navy are related by Brian Southam in Jane Austen and the Navy.
<![if !supportEmptyParas]> <![endif]>
2.  See Clarke's essays in Persuasions.
<![if !supportEmptyParas]> <![endif]>
3. These new practices are examined in relation to the development by Jane Rendell in The Pursuit of Pleasure.
<![if !supportEmptyParas]> <![endif]>
4.  The reconsideration of the instrumentality of culture owes much to Pierre Bourdieu's Field of Cultural Production.
<![if !supportEmptyParas]> <![endif]>
5.  The contrasts are analyzed from different social and artistic standpoints by Nigel Everett in The Tory View of Landscape and Ronald Paulson in Literary Landscapes.
<![if !supportEmptyParas]> <![endif]>
6.  A particularly relevant study is Moira Ferguson's Colonialism and Gender Relations.
<![if !supportEmptyParas]> <![endif]>
7.  A useful summary of the Picturesque appears in David Watkin's English Vision.
<![if !supportEmptyParas]> <![endif]>
8. This interpretation has been argued by Kuldip Kuwahara in "Jane Austen's Mansfield Park" and by You-me Park and Rajeswari Sunder Rajan in The Postcolonial Jane Austen.
<![if !supportEmptyParas]> <![endif]>
9.  For the chronological and aesthetic description of the Regency see Paul Reilly's Regency Architecture, Donald Pilcher's Regency Style, David Watkin's Regency, and John Morley's Regency Design.
<![if !supportEmptyParas]> <![endif]>
10.  These themes are studied by Ferguson and by Jon Mee.
<![if !supportEmptyParas]> <![endif]>
11.  Public attitudes and the historical context are examined by Patrick Turnbull in Warren Hastings.
<![if !supportEmptyParas]> <![endif]>
12.  Turner's view of empire is discussed by John Gage.
<![if !supportEmptyParas]> <![endif]>
13.  The history of the Gardens is recounted by T. J. Edelstein and Brian Allen in Vauxhall Gardens.
<![if !supportEmptyParas]> <![endif]>
14. The Pagoda and its place in his design work are recounted by John Harris in Sir William Chambers.
<![if !supportEmptyParas]> <![endif]>
15.  For this commission, see John Morley's The Making of the Royal Pavilion.
<![if !supportEmptyParas]> <![endif]>
16. The transcontinental influence of Andreas Palladio's architecture and publication is summarized by John Harris in The Palladians.
<![if !supportEmptyParas]> <![endif]>
17.  This aspect of imperial exchange is studied by Thomas Metcalf in Imperial Connections.
<![if !supportEmptyParas]> <![endif]>
18.  Some of this endeavor, concentrated in South Asia, is reviewed by Mildred Archer in India Observed.
<![if !supportEmptyParas]> <![endif]>
19. Foucault's main study of this phenomenon is Discipline and Punish.
<![if !supportEmptyParas]> <![endif]>
20. The diverse operations and outcomes of antiquarianism receive attention in Stuart Piggott's Ruins in a Landscape.
<![if !supportEmptyParas]> <![endif]>
21.  An introduction to the Greek Revival in Britain is J. M. Crook's Greek Revival.
<![if !supportEmptyParas]> <![endif]>
22.  The relation between architecture and financial services is analyzed by Eva Schumann-Bacia in John Soane and the Bank of England.
<![if !supportEmptyParas]> <![endif]>
23.  The commission and Wilkins's architecture and scholarship are examined by Windsor Liscombe in William Wilkins, and with greater stress on design and social regulation, in "Deconstructing Wilkins."
<![if !supportEmptyParas]> <![endif]>
24.  See Crook's British Museum.
<![if !supportEmptyParas]> <![endif]>
25.  The strategic context is indicated by William St. Clair in Lord Elgin and the Marbles.
<![if !supportEmptyParas]> <![endif]>
26.  For the Prince Regent, see Hibbert's George IV.
<![if !supportEmptyParas]> <![endif]>
27.  The life and taste of Beckford are examined by Philip Hewart-Jaboor and Derek Ostergard in William Beckford.
<![if !supportEmptyParas]> <![endif]>
28.  The history of the house is recounted at www.Sezincote.co.uk.
<![if !supportEmptyParas]> <![endif]>
29.  The Regent's park scheme occupies a significant part of Sir John Summerson's critical biography, Life and Work of John Nash.
<![if !supportEmptyParas]> <![endif]>
30.  These new forms are set in context by Windsor Liscombe in "The Commodification of Civic Culture."
<![if !supportEmptyParas]> <![endif]>
31. See Said's Culture and Imperialism.
<![if !supportEmptyParas]> <![endif]>
WORKS CITED
<![if !supportEmptyParas]> <![endif]>
Archer, Mildred. India Observed: India as Viewed by British Artists 1760-1860. London: Victoria & Albert Museum/Trefoil, 1982.
Austen, Jane. Emma. Ed. R. W. Chapman. 3rd ed. Oxford: OUP, 1933.
Bourdieu, Pierre. Field of Cultural Production: Essays on Art and Literature. Ed. Randal Johnson. Cambridge: Polity P, 1993.
Brooks, Chris. The Gothic Revival. London: Phaidon, 1999.
Clarke, Stephen. "Abbeys Real and Imagined: Northanger, Fonthill and Aspects of Gothic Revival." Persuasions 20 (1998): 93-105.
_____. "AFine House Richly Furnished: Pemberley and the Visiting of Country Houses." Persuasions 22 (2000): 189-216.
_____. "What Smith did at Compton: Landscape Gardening, Humphrey Repton and Mansfield Park." Persuasions 21 (1999): 59-70.
Crinson, Mark. Empire Building. Orientalism and Victorian Architecture. London: Routledge, 1996.
Crook, J. M. Greek Revival: Neoclassical Attitudes in British Architecture 1760-1860. London: Murray, 1972.
_____. British Museum. London: Lane, 1972.
Edelstein, T. J., and Brian Allen. Vauxhall Gardens. New Haven: Yale Center for British Art, 1983.
Everett, Nigel. The Tory View of Landscape. New Haven: Yale UP, 1994.
Ferguson, Moira. Colonialism and Gender Relations from Mary Wollstonecraft to Jamaica Kincaid: East Caribbean Connections. New York: Columbia UP, 1993.
Foucault, Michel. Discipline and Punish: The Birth of the Prison. Trans. Alan Sheridan. New York: Vantage, 1995.
Gage, John. J. M. W. Turner: A Wonderful Range of Mind. New Haven: Yale UP, 1987.
Harris, John. The Palladians. New York: Rizzoli, 1982.
_____. Sir William Chambers: Knight of the Polar Star. London: Zwemmer, 1970.
Hewat-Jaboor, Philip, and Derek Ostergard. William Beckford 1760-1844: An Eye for the Magnificent. New Haven: Yale UP, 2001.
Hibbert, Christopher. George IV. London: Longman, 1972.
Kuwahara, Kuldip Kaur. "Jane Austen"s Mansfield Park, Property and the British Empire." Persuasions 17 (1995): 105-10.
MacKenzie, John. Orientalism: History, Theory and the Arts. Manchester: Manchester UP, 1992.
Mee, Jon. "Austen's Treacherous Ivory: Female Patriotism, Domestic Ideology and Empire." Postcolonial Jane Austen. Ed. You-me Park and Rajeswari Sunder Rajan. London: Routledge, 2000. 79-90.
Metcalf, Thomas. Imperial Connections: India and the Indian Ocean Area 1860-1920. Berkeley: U of California P, 2007.
Morley, John. The Making of the Royal Pavilion Brighton. London: Sotheby, 1984.
_____. Regency Design 1790-1840. London: Zwemmer, 1993.
Park, You-me, and Rajeswari Sunder Rajan, eds. Postcolonial Jane Austen. London: Routledge, 2000.
Paulson, Ronald. Literary Landscapes: Turner and Constable. New Haven: Yale UP, 1982.
Piggott, Stuart. Ruins in a Landscape: Essays in Antiquarianism. Edinburgh: Edinburgh UP, 1976.
Pilcher, Donald. The Regency Style. London: Batsford, 1953.
Reilly, Paul. An Introduction to Regency Architecture. New York: Pellegrini, 1948.
Rendell, Jane. The Pursuit of Pleasure: Gender, Space and Architecture in Regency London. New Brunswick: Rutgers UP, 2000.
Said, Edward. Culture and Imperialism. New York: Knopf, 1993.
_____. Orientalism. New York: Pantheon, 1978. 
St. Clair, William. Lord Elgin and the Marbles. New York: Oxford UP, 1968.
Schumann-Bacia, Eva. John Soane and the Bank of England. London: Longman, 1989.
Shepherd, Thomas H., and James Elmes. Metropolitan Improvements, or London in the Nineteenth Century. London: Jones, 1827.
Southam, Brian. Jane Austen and the Navy. London: Hambledon, 2000.
Summerson, John. Life and Work of John Nash. Cambridge: MIT P, 1980.
Turnbull, Patrick. Warren Hastings. London: New English Library, 1975.
Watkin, David. English Vision: The Picturesque in Architecture, Landscape and Garden Design. New York: Harper, 1982.
_____. Regency: A Guide and Gazetteer. London: Barrie, 1982.
Windsor Liscombe, Rhodri. "The Commodification of Civic Culture in Early Nineteenth-Century London." London Journal 29.2 (2004): 17-32.
_____. "Deconstructing William Wilkins." The Age of Wilkins: The Architecture of Improvement. Ed. David Watkin and Rhodri Windsor Liscombe. Cambridge: Fitzwilliam Museum, 2000. 34-53.
_____. William Wilkins 1778-1859. Cambridge: CUP, 1980.
<![if !supportEmptyParas]> <![endif]>
Back to Persuasions On-Line Table of Contents

Return to Home Page