| | |
| --- | --- |
| PERSUASIONS ON-LINE | V.30, NO.1 (Winter 2009) |
Pemberley's Welcome, or An Historical Conjecture Upon Elizabeth Darcy's Wedding Journey

Kelly M. McDonald

<![if !supportEmptyParas]> <![endif]>

Kelly M. McDonald (email: smithandgosling@gmail.com), an independent scholar, is preparing a dual biography of sisters-in-law Emma Smith and Mary Gosling. Two articles on Emma's sister Fanny Smith (Mrs. Richard Seymour, of Kinwarton) appeared in the Warwickshire journal, Local Past. Read ongoing research posts at SmithandGosling.wordpress.com.
"Happy for all her maternal feelings was the day on which Mrs. Bennet got rid of her two most deserving daughters" (385). In this short sentence, Pride and Prejudice's narrator skims over the wedding and honeymoons of the sisters. To affix flesh to the bare bones of this happy-ever-after ending, let us delve into diaries penned by two women known to the Austens, neighbor Eliza Chute and her niece Emma Smith.
Steventon's neighborhood encompassed an estate called The Vyne. It lay in the parish (Sherborne St. John) served by the Rev. James Austen, Jane's eldest brother, who often dined there. In 1793, its owner William Chute, a Member of Parliament for Hampshire, married the daughter of another MP. His wife Eliza's diary covers their courtship and even notes the Austens' bridal visits. Eliza detailed her October wedding day as "white frost sunny unclouded sky may it be a happy omen I was married at St. Margaret's [London] at ½ after 9." Fifteen relatives returned from church for a wedding breakfast at her father's house; then the couple "set off at quarter before 12 stopped 20 minutes at Bagshot & arrived at the Vine ¼ after 5" (Chute). Days later, Eliza received a congratulatory letter from best friend Eliza Gosling, herself a new bride: "[M]uch did we rejoice in the fine weather as, it would render your Journey pleasant, and enable Mr Chute to shew the Vine to advantage which he must have been very desirous of doing, as first impressions we know, are difficult to be erased" (Gosling).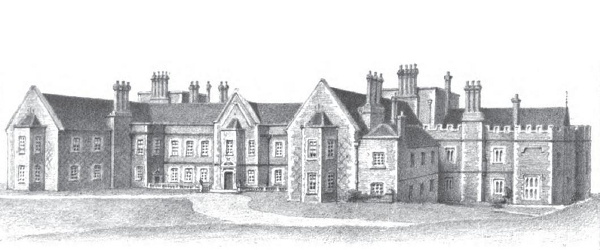 The Vyne. From A History of the Vyne in Hampshire by Chaloner W. Chute. London, 1888.
Sightseer Elizabeth Bennet had the advantage over many brides of landed gentlemen. Quite frequently the new wife saw her new home for the first time after the wedding. Mrs. Chute reveals nothing in the journal about her arrival at The Vyne, and her reply to Mrs. Gosling's letter has not survived. But twenty-two years later our other diarist witnessed the whirlwind arrival of the Scotswoman who married Eliza Chute's nephew—the heir to Castle Ashby, a substantial Northamptonshire estate.
Margaret Douglas Maclean Clephane was one of three fatherless sisters, wards of writer Walter Scott. On 24 July 1815 she married Spencer, Lord Compton, the only son of the Marquess of Northampton. Their wedding took place in Edinburgh, for the bride hailed from the distant island of Mull. As with the Chute wedding, the gathering was small, only a few Scottish relations and "one or two more friends" (Austen-Leigh 1). Compton had departed for Edinburgh on July 3rd (Austen-Leigh diary), and those unable to travel so far awaited the bridal party at Castle Ashby. Among those holding vigil was Spencer's cousin, thirteen-year-old Emma Smith (later the wife of Jane Austen's nephew, James Edward Austen-Leigh).1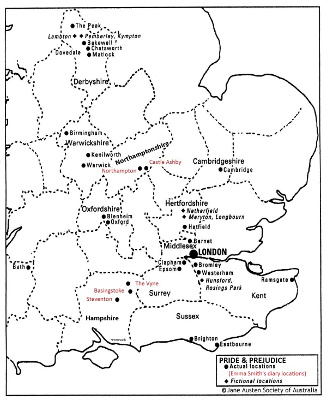 Based on Patrick Wilson's Where's Where in Jane Austen . . . and What Happens There.
Sydney: JASA, 2002. Click here to see a larger version.
Given the distance between Edinburgh and Northampton, the family surmised the Comptons "should most likely arrive at Ashby the 2nd of August" (Austen-Leigh 1).2 The prolonged wait produced a tense, yet playful, atmosphere:
we were all occupied in making up flowerpots, to the number of 32; when Berrard suddenly opened the door & announced Ld & Lady Compton, knives, scissors flowers, every thing was thrown away & off we all scampered immediately as soon as we got out of the room, Elizabeth perceived Berrard laugh, . . . & therefore we discovered it to be a trick of Uncle & Aunt N—'s. (Austen-Leigh 2).
In turn, Emma's elder brother Charles engineered a similar hoax. She summed up the evening: "& we all laughed very much at both the tricks notwithstanding our disappointment" (Austen-Leigh 3).
Ashby's family now turned to decorating the scene. "The following day Tuesday, on which they were to arrive we were occupied in sticking flags on the top of the house; and adorning the great hall . . . & in placing flowerpots in most of the rooms." In anticipation, the tenants (numbering about forty) "dined at Ashby at two o'clock," after which Lord Northampton "took us in to see them & they drank our health with 3 times 3" (Austen-Leigh 3-4).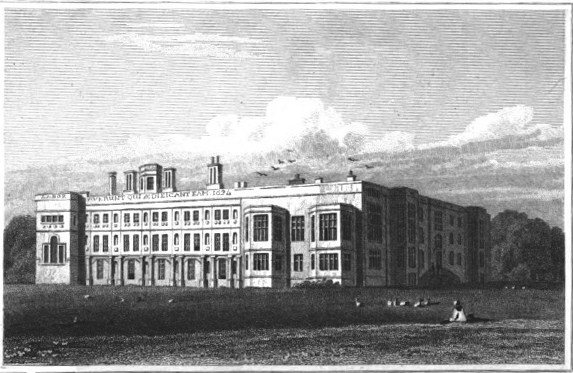 Castle Ashby, by J. P. Neale. Views of the Seats of Noblemen and Gentlemen,
in England, Wales, Scotland, and Ireland. Vol. 1. London, 1822.
Five o'clock came and went; the family dressed; another false alarm left "the farmers" all aflutter, after a futile scramble to the ramparts. Then "Mr Hyde soon after called out that the bells of Easton, (a village belonging to Uncle N— & distant a mile or 2 from Ashby) were ringing" (Austen-Leigh 5-6). The moment everyone anticipated had finally arrived: "[T]he house was crouded with spectators, namely Uncle & Aunt N— &c all the household, people from the village, & from about 2 or 3 miles round. The tennants . . . went to meet the carriage, as soon as it came in sight they cheered Ld & Lady Compton with might & main." The horses were unhitched and "between 25 & 30 took hold of the pole, & those that were too old so to do walked by the side of the carriage all huzzaing we on our parts were waving our handkerchiefs (which were also in use for another purpose)" (Austen-Leigh 6-7).
Upon reaching the door, out jumped Lord Compton, who was then in a position to hand out his bride. Lady Compton flew into the arms of her mother-in-law and burst into tears. "Uncle N— took her up the steps of the house & . . . into the drawing room where she was introduced to us all separately & when she kissed us all she then went up into her room where she was near fainting, but they gave her some wine & left her to dress" (Austen-Leigh 7-8). After her recovery, there was further exhibition of the bride. "The Tennants begged they might see her," so Compton ushered her to "the court," where everyone gathered. Glasses were handed around, and the toast raised, "'Ld & Lady Compton & welcome to Ashby' Compton thanked them & we went to dinner" (Austen-Leigh 8).
More company—in the form of friends, neighbors and distant well-wishers—now arrived. Family and guests gathered in Ashby's Great Hall at about nine o'clock, and an evening of dancing commenced. Emma's brother opened the ball with Spencer's sister Elizabeth. One poignant moment was Lady Compton's meeting "old Woolley." The man had served the household so long that he "had seen the arrival of the wives of three of the Lords; Lady C. shook hands with him & it delighted him very much" (Austen-Leigh 9).
The evening's look at the bride did not last long. "Lady Compton only danced down one or two couple, with Mr Hyde, but she was so fatigued that she went to bed about eleven." The groom "only danced once," and the lack of men meant Emma took two of her five turns partnered by girls (Austen-Leigh 9).
Among the called dances were the Recovery, Voulez vous dancer, . . . God save the King, & the Triumph &c, we danced one or two reels on the top of the gallery. We kept it up with great spirit till three & after we left it the servants went on dancing till 5: at the fullest time there were near 30 couple besides many spectators. That morning two oxen were killed to be distributed among the poor one was iminse [sic]; it was 7 feet high when a man stretched up his arm he could just reach the top of his neck. Our band of music consisted to two violi a violincello part of the time a triangle & part a flute. (Austen-Leigh 10)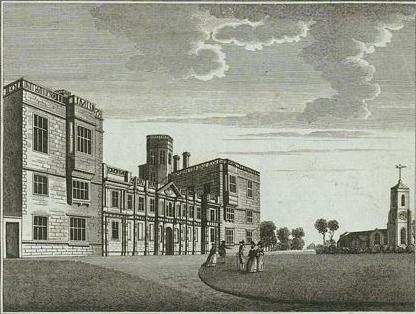 Castle Ashby (detail), by Moses Griffith. circa 1784.
From Ancestry Images (www.ancestryimages.com).
Wednesday's calendar of events proved far less eventful. Emma was among those who "took Lady Compton about the house & garden" (Austen-Leigh 11). Later, the bride "played on the harp & sung to us both which she does charmingly" (Austen-Leigh diary).3 "[S]he sung one of the Irish melodies, a Portuguese hym [sic], besides Gaelic songs." She also displayed "drawings of figures & Landscapes in pen & ink," which were judged "very pretty" (Austen-Leigh 11). These possibly illustrated the Lake District leg of her journey south, and perhaps "Scotch" relatives and scenery. When this contemplative evening came to an end, so did Emma's six weeks at Ashby. "It is needless to say how sorry we were to take our leave of Lady Compton that night, & how much she was liked & admired by all parties & the next morning we left dear Ashby & its still dearer inhabitants with great regret" (Austen-Leigh 12).

<![if !supportEmptyParas]> <![endif]>
How might the scenarios enacted by the Chutes of The Vyne and the Comptons of Castle Ashby suggest experiences for the Darcys of Pemberley?
Concerning the actual wedding, readers may presume that Darcy stayed at Netherfield with Bingley until the appointed day and was married in Longbourn's parish church;4 Mrs. Bennet's desire for a Special License5 was achieved; and Georgiana Darcy, despite writing with exuberance, did not trek from Derbyshire just to witness a ceremony whose "procedure would be over fairly quickly" (Jones 76). So the departure from Longbourn for the new spouses could have been as hasty as Eliza Chute's from London: just a wedding breakfast, followed by setting off. The foursome may have overnighted at Netherfield, where the Darcys then would leave the Bingleys to await their own visitors and houseguests.
Affluent couples did not always perform a grand-tour honeymoon; instead, a period of introducing the new relation to near relations often made up the "wedding journey" (observe the Chutes and Comptons). But if Austen introduced readers to most of Darcy's family, then Elizabeth had met them already. With Rosings off limits, the Darcys would have no need to veer south. As for London, "the Season" (February through March) seems a more likely time to visit; they could return with the Gardiners, expected at Pemberley for Christmas. With little reason to delay, if Darcy followed William Chute's lead, he would bring Elizabeth home to meet her household, her neighbors, the tenantry, as well as the parish poor coming under her care. Elizabeth, after all, "looked forward with delight to the time when they should be removed . . . to all the comfort and elegance of their family party at Pemberley" (384). Depending on their route, the road to Derbyshire may have retraced the course of Elizabeth's summer journey, which had ended in successfully uniting the pair.6
In lieu of parents, who besides Georgiana would await Mr. and Mrs. Darcy at Pemberley? We assume Colonel Fitzwilliam's eager participation, and hope he could convince cousin Anne de Bourgh, who, like the Collinses, might appreciate a separation from a livid Lady Catherine. What Retainer along the lines of "Old Woolley" might Pemberley have? With the narrator producing only Mrs. Reynolds and the gardener, readers have yet to meet most of its staff. Darcy's steward (whom readers only hear about) might marshal the early events, overseeing the provision of food and drink for the tenants and the distribution of oxen meat among the parish poor. Colonel Fitzwilliam and Georgiana could then go among the tenantry to drink to the health of the family. But are they the type to indulge in practical jokes?
How overwhelming Elizabeth's arrival would be if, like Lady Compton, she were given the royal treatment. Visualize the tumult, the jostling, the huzzaing. How quiet the room becomes, once they leave her with a fortifying glass of wine and time to dress. Too soon voices call, and she descends to the reception where a toast is raised. "Mr. and Mrs. Darcy & Welcome to Pemberley." She links arms with her new sister and goes in to dinner. The evening is long: friends, neighbors and distant well-wishers arrive, and dancing begins. She retires as quickly as manners allow.
Elizabeth has seen much of Pemberley already, but if the Derbyshire weather cooperates she might appreciate a walk; or, if cold enough, perhaps they might go skaiting. It is possible, given the time of year, that the Darcys would distribute clothing as well as food to the poor. Elizabeth's time for needlework before the wedding would have been occupied in gathering her trousseau, so Georgiana must have supplied her with the items to hand out. Jane Austen writes of one such distribution: "Of my charities to the poor since I came home, you shall have a faithful account. I have given a pr of Worsted Stockgs to Mary Hutchins, Dame Kew, Mary Steevens & Dame Staples; a shift to Hannah Staples, & a shawl to Betty Dawkins" (24-26 December 1798). On this second evening at home, their musical entertainment could team Georgiana on harp with Elizabeth on piano. The sketches Lady Compton exhibited were probably done while she and her husband traveled from Edinburgh to Castle Ashby. Unless Darcy harbors hidden talents, there will be no such souvenirs of the journey from Longbourn to exhibit at Pemberley.
Eliza Chute's history, which initiated this speculation, supplies its possible conclusion as well. Three days after her arrival at The Vyne, she welcomed her parents, three sisters, and brother-in-law to her new home. The Gardiners, holding that Yuletide invitation to Pemberley, might now arrive, perhaps with the Bennets in tow. Mr. Bennet "delight[s] in going to Pemberley, especially when he [is] least expected" (385), and the ladies in his life would surely not allow him to go unaccompanied by them. Kitty and Mary, therefore, sample their futures. And Mrs. Bennet? Her first sight of the Darcy estate must produce a second moment of silence rare to that woman; but that is another story.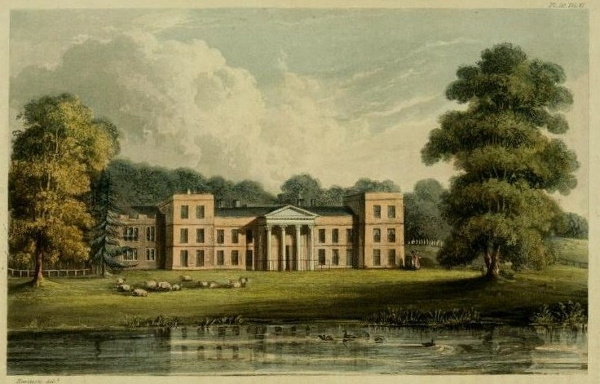 "The Vine, seat of Wm John Chute, esq."
Ackermann's Repository of Arts, Literature, Fashions, Manufactures &c, October 1825.
<![if !supportEmptyParas]> <![endif]>
<![if !supportEmptyParas]> <![endif]>
Notes
<![if !supportEmptyParas]> <![endif]>
1. There were four daughters of Joshua Smith of Erle Stoke Park, Wiltshire: Maria (Marchioness of Northampton; mother of Spencer Compton); Elizabeth (Mrs. William Chute of The Vyne, Hampshire); Augusta (Mrs. Charles Smith of Suttons, Essex; mother of Emma Smith); and Emma (unmarried). Emma Smith married James Edward Austen on 16 December 1828 [Jane Austen's birthday]; he assumed the name Austen-Leigh in 1837, after inheriting the estate of Jane's aunt, Mrs. Leigh-Perrot.
2. Emma mixed up her dates: Monday was July 31st; Tuesday, August 1st. The diary clearly states the Comptons arrived on Tuesday.
3. Sir Henry Raeburn depicts Lady Compton accompanying herself on this instrument. The Raeburn portraits can be viewed at www.bridgemanart.com; image IDs: Lady Compton (c1820): BAL 72308 ; Lord Compton (1821): BAL 72307.
4. "After [the Marriage Act of 1753], marriages could only be contracted in the Church of England by licence, or following the reading of banns in the parish church of both parties on three consecutive Sundays. One of the parties had to be resident in the parish where the wedding was to take place for at least three weeks" (Jones 77).
5. "Marrying by licence ensured a degree of privacy not possible through the very public calling of banns, but it was not a cheap option. The licence cost £2 6s 6d (just over £100 in today's money) and the church fees, for entering the marriage in the register and conducting the ceremony, about £4 (£200 today)" (Jones 76). By contrast, "Marrying by banns cost . . . about £3 (approximately £150 today)" (Jones 77).
6. For more on that trip, see McDonald's "Derbyshires Corresponding."
<![if !supportEmptyParas]> <![endif]>
<![if !supportEmptyParas]> <![endif]>
Works Cited
<![if !supportEmptyParas]> <![endif]>
Austen, Jane. Jane Austen's Letters. Ed. Deirdre Le Faye. 3rd ed. Oxford: OUP, 1997.
_____. Pride and Prejudice. Ed. R. W. Chapman. 3rd ed. Oxford: OUP, 1932.
Austen-Leigh, Emma. Diary, 1815 (23M93/87/1/1); the essay appears on blank pages at the beginning; unpaginated (my own count). Hampshire Record Office, Winchester, England.
Gosling, Eliza. Letter dated 17 October 1793 (23M93/70/3/27). Hampshire Record Office, Winchester, England.
Jones, Hazel. Jane Austen and Marriage. New York: Continuum, 2009.
McDonald, Kelly M. "Derbyshires Corresponding: Elizabeth Bennet and the Austen Tour of 1833." Persuasions 30 (2008): 149-58.