| | |
| --- | --- |
| PERSUASIONS ON-LINE | V.30, NO.1 (Winter 2009) |
The Closeness of Sisters: Imagining Cassandra and Jane

Juliette Wells

<![if !supportEmptyParas]> <![endif]>

Juliette Wells (email: wellsj@mville.edu), an associate professor of English at Manhattanville College, is working on a book for Continuum titled Everybody's Jane: Austen in the Popular Imagination. JASNA's 2009 "International Visitor," she is also the 2009-2010 Burke Jane Austen Scholar-in-Residence at Goucher College.
who would wonder about Cassandra Austen were it not for the fame of her younger sister? Not surprisingly, popular conceptions of Cassandra center on her relationship to Jane, a relationship that seems, for each of them, to have been the most enduring and intimate of her life.1 We know that the very young Jane insisted on not being parted from Cassandra when the latter was to go away to school (Le Faye 50). The Austen sisters' devotion to each other is evident, too, from their decision to share a bedroom in Chawton Cottage even when they had the option of sleeping separately.2 And, of course, Jane's frequent, chatty letters to Cassandra establish that the sisters were dedicated correspondents.
Indeed, the sisters' letters are at the heart of what we know—and will never know—about the bond they shared. As a testament to the intimacy between them, we have Cassandra's eloquent expression of grief after having been present at her sister's death, in which she calls Jane "the sun of my life, the gilder of every pleasure, the soother of every sorrow" (20 July 1817). Yet, of course, Cassandra's decision to destroy the majority of her sister's letters prevents us from being able to look more closely not only at their sisterhood but at all aspects of Jane's life and authorship.3
This absence of much concrete information about the lives of the Austen sisters leaves today's Austen fans, whose desire to imagine Jane Austen's life supports a veritable popular-culture industry, to wonder what Jane and Cassandra's relationship was really like. Recent novels and films centered on Jane Austen's life, however, have tended to conjure romantic episodes for her rather than illuminate her relationship to Cassandra. This privileging of passion over sisterly devotion may well reflect a twenty-first-century audience's greater interest in love stories (or the supposedly greater interest ascribed to that audience by publishers and film producers). In another sense, though, we can hold Austen's novels responsible for reinforcing, through their comedic conclusions in marriage and the ensuing rearrangements of families, the idea that heterosexual partnerships ultimately take precedence over the bonds of sisterhood. Take, for example, Jane and Elizabeth Bennet, the most mutually devoted pair of sisters in all of Austen's novels. By the end of Pride and Prejudice, Jane and Elizabeth are thankful that their husbands' estates allow them to be "within thirty miles of each other" (427). Elizabeth will share Pemberley not with her beloved Jane but instead with Georgiana Darcy; as the narrator remarks rather dryly, these new sisters-in-law are fortunate in being "able to love each other, even as well as they intended" (430).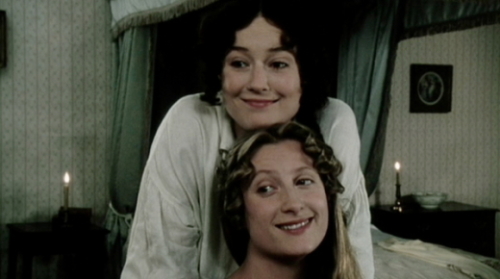 Figure 1.  Elizabeth Bennet (Jennifer Ehle) embraces Jane Bennet (Susannah Harker)
in Pride and Prejudice (1995).
Even more directly, Austen's novels tempt writers and filmmakers to fill in the gaps of her biography with material from her fiction. Whether elaborating known episodes of flirtation by Austen—such as with Tom Lefroy—or inventing wholly new encounters for her, present-day creators draw explicitly and implicitly on the fictional heroes Austen herself created. Likewise, representations of the attachment between Cassandra and Jane draw on Austen's depictions of sisters in her novels, principally the pairs on which she focuses in her first two published novels: Elinor and Marianne Dashwood of Sense and Sensibility and Jane and Elizabeth Bennet of Pride and Prejudice. Portrayals of Cassandra and Jane Austen in recent novels and films have attracted much less popular and critical notice than have the same sources' often provocative renderings of Jane Austen in love. Because of the primacy of the relationship between the real Austen sisters, however, these fictional and film versions of Cassandra and Jane deserve our attention, regardless of whether each source emphasizes Jane's romantic experience over her sisterly bond.
I will examine two films and four novels, all of which were commercially released in 2007 and 2008. (Two of the novels were republished in American editions from slightly earlier U.K. publication dates.) Thanks to the prominence of its star, Anne Hathaway, and the efforts of its studio, Miramax, Becoming Jane (2007) reached the widest audience of any of these sources, though the film was not notably successful in commercial terms. Directed by Julian Jarrold from a screenplay by Sarah Williams and Kevin Hood, Becoming Jane takes its inspiration from Jon Spence's inventive Becoming Jane Austen (2003). Like Spence's biography, Becoming Jane elaborates on the episode of Austen's young womanhood in which she flirted with Tom Lefroy. Cassandra, played by Anna Maxwell Martin, serves as a decidedly plain contrast to her radiant, passionate sister. The last years of Austen's life are the focus of Miss Austen Regrets (2008), a television film directed by Jeremy Lovering from a screenplay by Gwyneth Hughes, for which Austen's letters are a primary, though uncredited, source. Miss Austen Regrets tantalizes fans of Austen film adaptations by featuring, as Jane and Cassandra, two actors who played roles in the two mid-1990s versions of Emma. To the delight of anyone who has pondered the similarities between Jane Fairfax and Jane Austen, Olivia Williams—the Jane Fairfax of Diarmuid Lawrence's Emma (1996)—appears in Miss Austen Regrets as Jane Austen, while Greta Scacchi—Mrs. Weston in Douglas McGrath's Emma (1996)—appears as Cassandra.
Of the four novels, Jill Pitkeathley's Cassandra & Jane (2008; originally published in the U.K. in 2004) focuses most fully on the sisters' bond, as its title suggests. Narrated by Cassandra, this novel treats sisterhood psychologically in a way informed, explains Pitkeathley in an appendix, by her own profession: "Trained as a counsellor myself, I am used to casting light on people's character through their relationships with others. For Jane Austen, there was no closer relationship than that with her elder sister, Cassandra" (261). In the other novels, Cassandra appears as a supporting player to her more talented—and in many cases more passionate—sister Jane. In spite of its title, Veronica Bennett's Cassandra's Sister: Growing Up Jane Austen (2007; originally published in the U.K. in 2006, and marketed in both countries as a young-adult novel), focuses primarily on the coming-of-age of "Jenny" Austen, in a third-person narrative that begins in Jenny's late teens, moves through a series of crushes and marriage proposals, and ends before she sees any of her writing in print. In Nancy Moser's Just Jane: A Novel of Jane Austen's Life (2007), a breezily narrated first-person account published by the Christian press Bethany House, Cassandra's main role is to urge Jane to focus on her writing. The fictional Cassandra is least developed in Syrie James's highly romantic The Lost Memoirs of Jane Austen (2008), which as its title indicates is narrated by Jane, and which centers on the encouragement, both amorous and literary, of an invented suitor, Mr. Ashford.4
In addition to drawing inspiration from Austen's writings—and, in the case of Becoming Jane, from Spence's biography—these fictional and cinematic portrayals of Cassandra and Jane offer a case study of the influence of recent, widely appreciated screen adaptations of Austen's novels. Sense and Sensibility (1995, directed by Ang Lee from a screenplay by Emma Thompson) and two versions of Pride and Prejudice (1995, directed by Simon Langton from a screenplay by Andrew Davies; and 2005, directed by Joe Wright from a screenplay by Deborah Moggach) have stocked the popular imagination with vivid images of Austen's fictional sisters.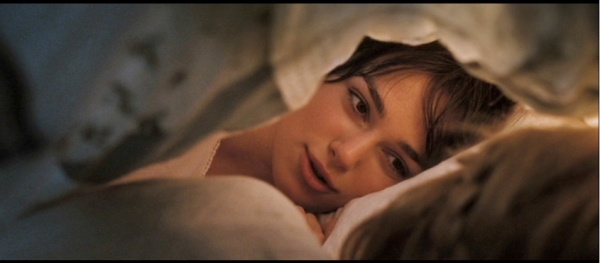 Figure 2.  Elizabeth Bennet (Keira Knightley) confides in Jane Bennet (Rosamund Pike)
in Pride & Prejudice (2005).
Of course, these on-screen glimpses of sisterly intimacy and emotion are already at one remove—and sometimes it is a considerable remove indeed—from Austen's depictions of sisters in her novels. Bearing in mind these cinematic representations of Austen's fictional sisters as we consider how novelists and filmmakers have portrayed Jane and Cassandra Austen reminds us of the extent to which popular conceptions of Austen are indebted to, and feed on, each other. The source texts for popular Austen-based material, in other words, are not only Austen's writings and the known facts of her life but also, crucially, prior reworkings of those writings and facts in the form of biography and film adaptations of her novels.5
I have argued elsewhere that Austen's appearances in contemporary fiction tend to purvey fantasies of her fulfillment—whether amorous, professional, or both—that simultaneously reveal and attempt to gratify the desire of present-day fans to conceive of their beloved author as having been personally satisfied.6 The novels and films that I will discuss in this essay reward readers and viewers in a different way, one that moves beyond the model of fan as friend-of-Austen that Mary Ann O'Farrell has persuasively articulated.7 Portrayals of Jane and Cassandra allow lovers of Austen to imagine themselves as participants in Austen's most intimate relationship: to imagine themselves, in other words, as her sister. What Cassandra says to Jane in these novels and films conveys, at least at one level, what fans would like to be able to say to Austen. Representations of the Austen sisters serve an additional purpose, too: of airing and addressing present-day readers' reactions to the real Cassandra Austen's guardianship of her sister's legacy. These novels and films, then, reveal not only what fans would like to say to Jane Austen but also what they would like to hear her say to Cassandra regarding the latter's role in limiting access to her sister's private life.8
The Austen Sisters on Screen
Both of the two recent "biopics" about Austen include scenes that stress the emotional connection between Cassandra and Jane Austen, who are in their twenties in Becoming Jane and late thirties/early forties in Miss Austen Regrets. These scenes of sisterly intimacy occupy comparatively little screen time, in contrast to each film's treatment of romantic episodes in Jane's life. Nevertheless, the actors in both films effectively convey, even in brief and separated scenes, the devoted relationship between the Austen sisters and their reliance on each other, in ways that are visually reminiscent of recent screen depictions of the Bennet and Dashwood sisters.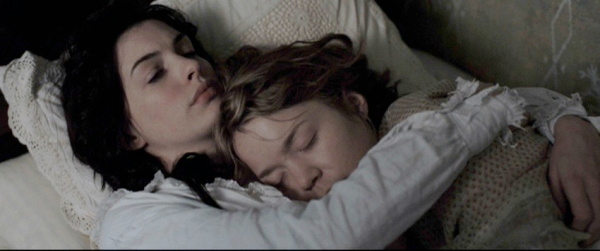 Figure 3.  Jane Austen (Anne Hathaway) comforts Cassandra Austen (Anna Maxwell Martin
in Becoming Jane (2007).
In Becoming Jane and Miss Austen Regrets, as in cinematic portrayals of the Bennet sisters, bedroom scenes (not in the sense that this phrase is usually employed) are crucial for conveying sisterly intimacy. Austen does establish in Pride and Prejudice that Elizabeth and Jane Bennet share a bedroom and that some of their most open and important discussions occur in this very private space. When Jane receives her troubling letter from Netherfield, for instance, she waits until Elizabeth and she are "upstairs" in "their own room" before sharing its contents (130). There, too, Elizabeth "open[s] her heart to Jane" about having accepted Darcy's proposal, which leads—after a few pages of reported dialogue—to "[a]ll [being] acknowledged, and half the night spent in conversation" (413, 415). Characteristically, however, Austen does not describe the physical closeness of Jane and Elizabeth, focusing instead on how, through dialogue, they compare impressions and help each other parse their reactions.
Both Simon Langton's and Joe Wright's versions of Pride and Prejudice, in contrast, visually depict the physical intimacy between Jane and Elizabeth, albeit to a different degree in each adaptation. The distinction between Langton's and Wright's approaches comes across vividly in the respective scenes in which Jane and Elizabeth discuss Bingley's interest in Jane, and hers in him, after the dance in the assembly room (the conversation that takes place in Chapter Four of Austen's novel). In Langton's miniseries, the camera shows Jane at her dressing table, with her face and Elizabeth's reflected in its triple mirror; eventually, Elizabeth comes to stand directly behind Jane and embraces her, resting her own chin on top of Jane's head (see Fig. 1). At the conclusion of the dialogue, Elizabeth exits the room and bids good night to her mother and younger sisters, before closing the door to what is apparently her own bedroom. In contrast, Wright's film stages the same conversation in Elizabeth and Jane's shared bed, with alternating closeups of their candlelit faces under the covers as they confide their reactions to the dance (see Fig. 2). Several subsequent scenes of Wright's film, too, show Elizabeth and Jane in the same bed—until Elizabeth, unable to sleep after Lady Catherine's nighttime visit to Longbourn, leaves Jane alone in bed and sits with a candle, obviously pondering her own future with Darcy.
© 2005 Focus Features
The suggestion, while subtle, is clear: marriage, for either of these sisters, will change the nature of their connection.
Like Wright's Pride & Prejudice, Becoming Jane stresses sisterly intimacy by depicting Cassandra and Jane in their shared bed. Most poignantly, Jane (played by Anne Hathaway) holds the sleeping Cassandra (Anna Maxwell Martin) shortly after the scene in which Cassandra sobs out her grief at the death of her fiancé (see Fig. 3). As when the preoccupied Elizabeth leaves Jane sleeping alone in Wright's film, Becoming Jane's Jane Austen leaves Cassandra alone in bed twice: the first time to write, and the second to pack up for her own elopement with Tom Lefroy.
On the earlier occasion, which immediately follows the embrace in bed I have just mentioned, the director Julian Jarrold conveys both Jane's commitment to literary composition and the power of Cassandra's interest in her sister's creations. Cassandra, still lying down and looking very somber, asks Jane what she is writing; as Jane explains ("It is the tale of a young woman—two young women—better than their circumstances"), we see Cassandra beginning to smile, then to sit up.
© 2007 Blueprint Pictures
As she and Jane converse, evidently about First Impressions, they gaze intensely at each other until Jane, in response to a question from Cassandra, declares that her fictional sisters will "both make triumphant happy endings . . . . [t]o very rich men." At that point Cassandra laughs wryly, and Jane looks at her and then away. Both women are aware, evidently, of the gulf between their own recent experiences of love and those taking place in Jane's novel-in-progress. We see too, however, the sisters' joint interest in Jane's writing, and the power of that writing to distract them both, at least in part, from their own disappointments and anguish.
In the later bedroom scene, we see Cassandra lying in bed, as before, while Jane, fully dressed, organizes her belongings. Cassandra reproaches Jane: "You'll lose everything—family, place . . . for what? A lifetime of drudgery on a pittance? [She pushes off the bedcovers, as if to stand up.] A child every year, no means to lighten the load. [She stands.] How will you write, Jane?"
© 2007 Blueprint Pictures
Thanks to the force with which Anna Maxwell Martin delivers these lines, Cassandra's warning lingers, even though the scene ends with her giving her sister her own money and pearls to help with the intended marriage. Here, as in the previous scene, the dialogue between Jane and Cassandra reminds the viewer of how different their lives are from those of the fictional Bennet sisters, even as the bedroom setting and the actors' physical placement suggest a parallel with Elizabeth and Jane.
With one significant exception, which occurs close to the end of Jane's life, Miss Austen Regrets depicts the Austen sisters' closeness as emotional rather than corporeal. In contrast to Becoming Jane, Cassandra and Jane are separated for most of Miss Austen Regrets: while Cassandra remains at Chawton Cottage, often glimpsed taking care of domestic chores, Jane travels repeatedly to Godmersham and also spends time in London. There, at their brother Henry's house, we see Jane chatting in bed with her niece Fanny Knight, who is portrayed by Imogen Poot as a starry-eyed, giddy young girl bent on love and marriage.
Though Cassandra and Jane share little screen time in Miss Austen Regrets, this film does establish that Cassandra not only appreciates Jane's writing, as in Becoming Jane, but actively facilitates it. Three brief scenes underline these acts of Cassandra's, as well as highlighting the two sisters' very different daily tasks. In the first, Jane reads a passage from Persuasion to Cassandra, who weeps over it while gutting a chicken. "I don't know how you can sit there with dry eyes," says Cassandra (played by Greta Scacchi). "I never weep over anything that might make me some money," replies Jane (Olivia Williams), with a glint in her eye. In the second, Jane works on her manuscript of Persuasion while Cassandra comes in to set the table. Shortly after that, in the aftermath of an insult to Jane from Mrs. Austen (who calls her younger daughter "hardly a woman at all"), Cassandra assures Jane that she is "happy too." "Stuck here, looking after Mother, and me?" presses Jane. "Well, someone has to do it," Cassandra replies, apparently without any rancor.
Two more extended and emotionally intense scenes in Miss Austen Regrets depict Cassandra's role with respect to Jane's authorship. In the film's final scene, which takes place in 1820, Greta Scacchi speaks the sentiments of grief from Cassandra Austen's July 1817 letter ("She was the sun of my life . . .") while, to the outrage of the just-married Fanny Knight, pushing Jane's letters into the fire. "You still believe there's a secret love story to uncover?" Cassandra asks Fanny, with gentle but unmistakable mockery.
© 2007 Blueprint Pictures
Here, as throughout this film, Fanny's interest in the romantic episodes of her Aunt Jane's life stands in for the curiosity of present-day audiences more generally. Accordingly, Scacchi's Cassandra rebukes any viewer whose thoughts, upon seeing Austen's letters destroyed, fly to the possibility of lost romantic secrets rather than lost insights into her creative process.
Miss Austen Regrets takes a more audacious step by indicating that Jane's writing career has not only been furthered by Cassandra's willing support but also been made possible, unintentionally, by Cassandra's influence upon Jane's decision regarding the marriage proposal from Harris Bigg-Wither. This intervention of Cassandra's, wholly invented for the film, is briefly evident in the rushed opening sequence at Manydown, when Cassandra, serious-faced, asks her sister, "Are you sure?" while the Bigg sisters are visibly thrilled at Jane's (initial) acceptance. Just a few minutes before the film's conclusion, Cassandra returns, self-reproachfully, to this episode, while bathing the very ill Jane:
Cassandra: It's all my fault. If I'd stayed silent—if I hadn't persuaded you—if I hadn't nagged and nagged you to change your mind—I made you refuse him.
Jane: You made me see the choice for what it was.
Cassandra: Because of me, you chose loneliness and poverty.
Jane: Because of you, I chose freedom.
Cassandra: I didn't do it for you, Jane.
Jane: I know.
Cassandra [weeping]: I'm so ashamed.
Jane [reaching out]: Cassy.
[Fanny, who has been watching through the open door, turns away as the sisters embrace.]
Jane: Everything that I am, and everything that I have achieved, I owe to you, and to the life we have made here. To the love that we have together. This life I have? It's what I needed. It's what God intended for me. I'm so much happier than I thought I'd be. So much happier!—than I deserve to be.
© 2007 Blueprint Pictures
Throughout Miss Austen Regrets, we have seen Jane flirt gleefully and sometimes also passionately with a range of men, comment appreciatively on their handsomeness, and react with disappointment and pain when her interest is not returned. On no other occasion in this film, however, does Jane give voice to sentiments remotely comparable to these. The primary relationship of Jane's life was with Cassandra, this film firmly declares, and it is she whom we have to thank for Jane's literary accomplishments.9
The Austen Sisters in Fiction
Unlike Becoming Jane and Miss Austen Regrets, which allude, as I have shown, to Pride and Prejudice and its film versions, recent fiction featuring Cassandra and Jane Austen demonstrates primarily the influence of Sense and Sensibility, as refracted through Ang Lee's film adaptation. Overwhelmingly, these novels present Jane and Cassandra Austen as analogous in temperament to Marianne and Elinor Dashwood, respectively—as those temperaments are presented in Lee's film rather than Austen's novel. As many critics have noted, Emma Thompson's screenplay, together with her performance as Elinor and that of Kate Winslet as Marianne, brings the Dashwood sisters much closer along the sense/sensibility axis than does Austen.10 Not only does Lee's film downplay Marianne's resolve, after her recovery, to imitate her sister's restraint, but Thompson's Elinor suffers several emotional outbursts at key points of the drama.11 The feelings of Austen's Elinor, in contrast, remain in check even under—perhaps especially under—great stress.12
The appealing emotionality of Kate Winslet's screen incarnation of Marianne particularly contributes to the fictional portrayals of Jane Austen in these novels, which suggest too, in loosely Romantic terms, that Jane's disposition is inextricable from her creativity and thus should not be faulted. Mrs. Austen in Veronica Bennett's young-adult novel Cassandra's Sister, for instance, "often advise[s] Jenny to curb her sensibility, though Cassandra, ready as ever to defend her sister, always retorted that without it, Jenny would scarcely be Jenny" (28). While Austen's Elinor Dashwood may attempt to shield Marianne from the consequences of her emotional excesses, she would never defend or excuse her sister's behavior as Bennett's Cassandra does here. Investing her version of Jane Austen with a "combination of an energetic imagination and a sympathetic nature [that] made her agitated sometimes" (16), Bennett creates a character who manifests a volatility similar to Marianne's, but for very different reasons. By the same token, Austen's establishing description of Marianne as "sensible and clever; but eager in every thing; . . . generous, amiable, interesting: . . . every thing but prudent" (SS 7) is a poor fit with Bennett's version of Jane Austen, who does behave with prudence when agreeing with Cassandra to burn her letters about Tom Lefroy (131-33). By depicting Jane and Cassandra collaborating within Jane's lifetime on the destruction of potentially incriminating letters, of course, Bennett also encourages us to see Jane herself as concerned to protect her own reputation through shaping her archives.
The charm of the film version of Marianne, as opposed to the more cautionary example of Austen's Marianne, is notable, too, in the versions of Jane Austen created by the other three novelists. The Jane of Jill Pitkeathley's psychologically complex Cassandra & Jane, for instance, is irreverent and craves adventure: Cassandra depicts her as "constantly restless, seeking new experience and railing against our condition," while describing herself as "always accepting, docile she [Jane] might even put it" (156). Jane of Syrie James's romance The Lost Memoirs of Jane Austen, asked by her (invented) suitor Mr. Ashford which Dashwood sister is "based on" herself, responds: "If I were to fall in love . . . I would want to act as Marianne does" (138). Of all these novelists, the Christian writer Nancy Moser is the most careful, in Just Jane, to distinguish her own fictional versions of the Austen sisters from the sisters of Austen's novels: her Jane reflects that she herself "is not strong and wise like Lizzy Bennet, nor constant and loyal like Elinor Dashwood. . . .Yet through them I do release a part of myself. What I wish to be. What I am glad I am not" (211). Even Moser's version of Jane, however, states that she has "often wished" that Cassandra were more like Marianne, "at least to some degree. Cassandra is so controlled and inwards" (72). As all of these examples indicate, furthermore, merely mapping qualities of Marianne onto Jane and those of Elinor onto Cassandra implies an endorsement of Marianne's sensibility. A reader of these novels, after all, can be assumed to admire Austen greatly, even if this reader might be more inclined to invest emotionally with the supportive Cassandra rather than the talented, ambitious Jane.
In their interactions with each other, however, the Austen sisters of these novels resemble the Bennets much more than the Dashwoods. Like the mutually supportive Jane and Elizabeth Bennet, each Cassandra offers a listening ear both to comfort her sister's troubles as well as to appreciate and encourage her writing, which of course the Bennets do not have occasion to do. Moser's Jane, for instance, calls Cassandra her "confidante, advisor, sounding board" (26) and benefits from Cassandra's repeated exhortations to "write more" (261). Furthermore, like the Cassandra of Miss Austen Regrets, who undertakes domestic tasks so that her sister may compose, Moser's Cassandra tells Jane that she will "do [her] best to . . . make life work so you can work" (262). Veronica Bennett's teenage Austen sisters, too, share confidences without judgment, much as Jane and Elizabeth Bennet do in both the novel and film versions of Pride and Prejudice: in an extended post-ball discussion reminiscent of those in which Jane and Elizabeth engage, the narrator of Cassandra's Sister notes that Cassandra "never dismissed Jenny's hypothesizing, however odd she might secretly consider it. She willingly listened, understood, reasoned, and was satisfied" (73). Bennett's Cassandra also acts as a fierce advocate not only of Jane's composition but of her publication: Cassandra assures Jane that she is "a writer of rare gifts, who is capable of giving great joy" (153) and that First Impressions "must be sent to a publisher, I insist" (161). In contrast, the fairly peripheral Cassandra of James's The Lost Memoirs of Jane Austen supports her sister's desire for anonymity (250); in this romance novel, it is primarily Jane's suitor Mr. Ashford who urges her to write and publish, though Cassandra and the Bigg sisters do voice their appreciation for Jane's compositions (69).
Jill Pitkeathley's Cassandra & Jane stands out among all of these sources in its effort to convey Cassandra's distinct point of view and to invest her with a fully realized character, one that is not reducible to an amalgam of Elinor Dashwood and Jane Bennet. Not only does this Cassandra narrate, but she emphasizes throughout her own feelings and motives, even those that she finds shameful. Like the Cassandra of Miss Austen Regrets, Pitkeathley's Cassandra cautions Jane against marrying Harris Bigg-Wither, in part by stressing, as does Cassandra in Becoming Jane, the likelihood of repeated childbearing. Pitkeathley's Cassandra wonders if she acted out of "selfishness" (122): "Had I persuaded her wrongly?" Cassandra asks herself, and feels relief when Jane later denies Cassandra's having played Lady Russell's role: "No, indeed, Cass, I was not persuaded by you, but by my own feelings, which you helped me to acknowledge" (205). As Jane's response here makes plain, the relationship between the Austen sisters in Cassandra & Jane is essentially a therapeutic one—a characterization that risks seeming anachronistic unless we remember the extent to which Austen's Jane and Elizabeth Bennet, in their long private conversations, help each other make sense of their reactions and, to a degree, give voice to their feelings.
Cassandra & Jane explores new ground, too, in imagining an emotional relationship between Cassandra and Jane Austen that is more fraught than the rather idealized sisterly commitment depicted in the other sources. The final paean of Jane to Cassandra in Miss Austen Regrets—"Everything that I am, and everything that I have achieved, I owe to you, and to the life we have made here. To the love that we have together"—finds parallels, albeit more muted ones, in several other novels. Syrie James's Cassandra, for instance, ventures to Jane, once her rejection of Harris Bigg-Wither is certain, that "perhaps you and I were meant to spend our lives together" (79). Moser's Austen sisters make a pact, shortly before the Bigg-Wither proposal to "remain united. Forever" (171); afterwards, Jane wonders whether "sisterhood carries more fortitude than marriage" and decides that she is "willing to believe it, if need be" (202). Veronica Bennett's epilogue credits Cassandra with having "unstintingly bestowed upon her only sister" "support, good sense, and devotion" (230); earlier in this novel, however, Jane mocks a description (penned by their sister-in-law Elizabeth Knight) of "sisterly friendship" as "selfless, noble, and affectionate beyond all other" (169), while Cassandra finds this description "rather beautiful" (170).
In contrast, Pitkeathley establishes from the very beginning of her novel the complexity of her Cassandra's attitudes towards and actions regarding Jane. Cassandra has decided to burn many of Jane's letters, she tells the reader, for both their sakes, because "[t]he world must see ours as the perfect sister relationship, always loving, always tranquil" (xii). The inscription on Jane's grave in Winchester Cathedral, with its notorious omission of a reference to authorship, represents "how I want her to be remembered" (xiv), Cassandra states. Cassandra even wants to suppress the manuscript of The Watsons because she feels "afraid of what would be made of my feelings for Jane and hers for me if this part work were ever to be published" (149). By the end of Cassandra's narrative, she has worked through her feelings towards her sister to the extent that she can recognize that Jane "would have laughed at" their brother Henry's "Biographical Notice" of her, and that the idealized woman presented there "was not Jane, of course, but Henry understood that this was how she was to be remembered" (236).
Her insecurities and concern with propriety aside, Pitkeathley's Cassandra is exceptional too in the extent of her involvement in—not just support of—her sister's writing. Cassandra initially lacks confidence in her own literary opinion, although Jane assures her that "if you do not like what I write, I can be sure that no one else would judge it worthy, however clever I might think it" (29). Pitkeathley's Jane buoys Cassandra, too, by praising her own efforts: "She was always telling me what a brilliant artist I was," Cassandra recalls, "when in fact I have, and always had, a small talent" (24). Later, Cassandra assists more actively with Jane's composition, noting proudly that she "was able to help her [Jane] a good deal" with the revision of Elinor and Marianne by thinking through structural changes as well as by copying out "the parts she was to keep" (61). The sisters' private time comes to include brainstorming sessions—"We talked about her writings, what she might include, characters she might draw . . ." (83)—and discussions of possible titles, including a conversation in which Cassandra helps Jane settle on "Persuasion" (208-09). In interactions like these, Pitkeathley takes to a new level the intimacy between sisters that is a hallmark of all these imagined versions of the Austens, as of many of the films that have influenced them. Pitkeathley's characters do not proclaim their love for each other, as do Jane in Miss Austen Regrets and Elinor in Lee's Sense and Sensibility.13 Nor do Pitkeathley's sisters demonstrate their physical intimacy, as do the bed-sharing sisters in Wright's Pride & Prejudice and Becoming Jane. Rather, this Cassandra and Jane enjoy a form of creative interconnection, by which Pitkeathley invites us to consider Cassandra as a direct contributor to, not just a facilitator or encourager of, Austen's great work.
Conclusion
I noted, when discussing Miss Austen Regrets, that the curious, romantically inclined young Fanny Knight represents the twenty-first-century audience member who is more interested in Austen's loves than her novels. (Of course, Miss Austen Regrets, like all fictionalized treatments of Austen's life, indulges this desire even while reproving it.) In another sense, too, we can see all of these imagined versions of Cassandra as stand-ins for the present-day Austen fan. All these sources stress, in their different ways, Cassandra's love for Jane and commitment to her sister's contentment, whether presenting Cassandra as offering financial assistance for Jane's elopement (as in Becoming Jane); arguing for or against the merits of Harris Bigg-Wither (James's Cassandra makes the case that the match is "most desirable" [77], while the other Cassandras all oppose it); or urging her often reluctant sister to continue writing. As Cassandra reassures Jane of her talent or of the rightness of her decisions not to marry, Austen fans comfort themselves with believing that their beloved author was pleased with her life. As Cassandra makes possible Jane's writing time or (at least in Pitkeathley's version) exchanges ideas with Jane, Austen fans indulge in the fantasy that they could somehow contribute to the production of her works. Finally, as Cassandra and Jane, like the Dashwood and Bennet sisters, confirm their mutual affection, Austen fans offer up their own sisterly devotion to their beloved author and dream that it is requited.
Yet it is not just Cassandra but also Jane whose behavior, in all these cases, addresses fans' desires. When Pitkeathley's Jane praises her sister's smaller talents, the reader too feels approved of by Austen. At the end of Miss Austen Regrets, not only Cassandra but viewers too are relieved to hear Jane proclaim that she is "so much happier than I thought I'd be. So much happier!—than I deserve to be." When each Jane thanks Cassandra—or in some cases forgives her—for her advice and intervention, so too do Austen fans thank or forgive the historical Cassandra Austen for her role in limiting our access to her sister's life.
Veronica Bennett declares at the conclusion of Cassandra's Sister that "Jane would appreciate the irony that it is Cassandra, who, by keeping the facts from us, has given us what Jane herself so cherished—the power of imagination" (230). How we imagine Jane and Cassandra Austen reveals how we imagine ourselves, as Austen readers and Austen fans.
<![if !supportEmptyParas]> <![endif]>
<![if !supportEmptyParas]> <![endif]>
Notes
<![if !supportEmptyParas]> <![endif]>
All clips used in this essay satisfy the criteria for fair use established in Section 107 of the Copyright Law of the United States of America and Related Laws Contained in Title 17 of the United States Code.
<![if !supportEmptyParas]> <![endif]>
1.  Scholars have, notoriously, speculated about just how intimate were the relations between Jane and Cassandra, and, more broadly, about what it means to think about lesbianism and incest in the Austen context. See Sedgwick, Castle, and Haggerty.
<![if !supportEmptyParas]> <![endif]>
2. As Tomalin points out, the Austen sisters' shared bedroom is a "family tradition" rather than known fact (311 n. 4). The popular conception that the adult Cassandra and Jane shared a bed is also inaccurate: Mr. Austen bought not one but two beds for his daughters in 1794, at Ring Brothers in Basingstoke (Copeland 137).
<![if !supportEmptyParas]> <![endif]>
3.  Cassandra's role as an early editor of Jane's literary legacy has recently been explored by Sutherland and Harman.
<![if !supportEmptyParas]> <![endif]>
4.  Both the faux-memoir structure of The Lost Memoirs of Jane Austen and the role of the encouraging suitor recall Stephanie Barron's series of Austen mysteries, which I have analyzed in "Austen's Adventures in American Popular Fiction, 1996-2006."
<![if !supportEmptyParas]> <![endif]>
5.  On the tendency of Austen biographers to invent material in order to fill in gaps in her life, see Wiltshire, chapter one. The clearest testimony, among writers of Austen-based material, to finding inspiration from other popular works comes from Syrie James, author of The Lost Memoirs of Jane Austen: "I felt a great responsibility to remain true to Jane Austen's known history, and to represent her real-life friends and family members as accurately as possible. . . . I researched Jane Austen's life and her era extensively. I read countless biographies and scholarly works, reread Jane Austen's six novels and unfinished works, read every one of her surviving letters, and much of her juvenilia. I obsessively watched all her movies, not only the films but also the A&E and BBC versions . . . to familiarize myself with the customs, daily practices, and lifestyle of Jane's England" (n.p.).
<![if !supportEmptyParas]> <![endif]>
6.  See Wells, "Austen's Adventures."
<![if !supportEmptyParas]> <![endif]>
7.  "Imagining myself a friend of Jane Austen's," O'Farrell contends, "I imagine both of us in need. If I can 'truly' say I am a friend of hers, the intensification of that statement lies in my having proven myself, conjuring her with books and objects and syntactic echoes that I decide must satisfy her desire (I imagine it, too) for me" (58).
<![if !supportEmptyParas]> <![endif]>
8.  Beth Pattillo's recent novel Jane Austen Ruined My Life (2009) takes as its premise that Cassandra, rather than destroying Jane's letters, preserved them and placed them in the hands of a small, select group, who share them only with fellow initiates (all women). This fantasy not only redemptively transforms Cassandra's function as gatekeeper to her sister's legacy but also rewards the dedicated and right-thinking Austen fan with gloriously intimate access to her favorite author.
<![if !supportEmptyParas]> <![endif]>
9.  For a quite critical take on Miss Austen Regrets that includes an alternative reading of this scene, see Carroll.
<![if !supportEmptyParas]> <![endif]>
10.  For illuminating interpretations of Lee's Sense and Sensibility that stress ideas of sisterhood in the film, see Gay and Samuelian.
<![if !supportEmptyParas]> <![endif]>
11.  In dialogue drawn directly from Austen's novel, Marianne tells Elinor that she compares her own conduct "with what it ought to have been. I compare it with yours" (Thompson 189; SS 391). In the film, the scene ends here, although Thompson's published screenplay provides Marianne with a full statement—again, adapted closely from Austen's novel—of her regrets and intentions. "I will mend my ways!" she proclaims as part of this speech; "I shall no longer worry others nor torture myself. I am determined to enter on a course of serious study" (190). The absence of this material in the finished film, which implies that the scene was edited down in post-production, leaves viewers with a much diluted impression of Marianne's determination to learn from Elinor's example. For her part, Thompson's Elinor "explodes" (167) when reproached for having kept secret her knowledge of Lucy Steele's engagement; "starts to heave with dry sobs" (183) while keeping vigil for the very ill Marianne; and experiences an "emotional explosion" when learning that Edward Ferrars is not yet married (198).
<![if !supportEmptyParas]> <![endif]>
12.  In particular, the narrator of Sense and Sensibility declares that it is a "relief" to Elinor to keep the secret of Lucy Steele's engagement (161), and that Elinor celebrates Marianne's return to health with "fervent gratitude" but with "no outward demonstrations of joy, no words, no smiles" (356).
<![if !supportEmptyParas]> <![endif]>
13.  "I cannot do without you," the distraught Elinor tells her unconscious sister in Thompson's screenplay; "please, dearest, beloved Marianne, do not leave me alone" (184). Gay has pointed out the influence of dialogue from the film version of Howards End (1992), in which Thompson starred as one of the Schlegel sisters, upon the endearments that appear in her screenplay for Sense and Sensibility (91).
<![if !supportEmptyParas]> <![endif]>
<![if !supportEmptyParas]> <![endif]>
Works Cited
<![if !supportEmptyParas]> <![endif]>
Austen, Jane. The Cambridge Edition of the Works of Jane Austen. Ed. Janet Todd. Cambridge: CUP, 2005-2008.
_____. Jane Austen's Letters. Ed. Deirdre Le Faye. 3rd ed. New York: Oxford UP, 1995.
Becoming Jane. Dir. Julian Jarrold. Perf. Anne Hathaway and James McAvoy. 2007. DVD. Miramax, 2008.
Bennett, Veronica. Cassandra's Sister: Growing Up Jane Austen. 2006. Cambridge, MA: Candlewick, 2007.
Carroll, Laura. "Jane Austen's Abandoned Romances." Meanjin 67.2 (2009). <http://www.meanjin.com.au/editions/volume-67-number-2-2008/article/jane-austen-s-abandoned-romances/>
Castle, Terry. "Was Jane Austen Gay?" 1995. Boss Ladies Watch Out! Essays on Women, Sex, and Writing. New York: Routledge, 2002. 125-36.
Copeland, Edward. "The Austens and the Elliots: A Consumer's Guide to Persuasion." Jane Austen's Business. Ed. Juliet McMaster and Bruce Stovel. London: Macmillan, 1996. 136-53.
Gay, Penny. "Sense and Sensibility in a Postfeminist World: Sisterhood is Still Powerful." Jane Austen on Screen. Ed. Gina Macdonald and Andrew F. Macdonald. Cambridge: CUP, 2003. 90-110.
Haggerty, George E. Unnatural Affections: Women and Fiction in the Later 18th Century. Bloomington: U of Indiana P, 1998.
Harman, Claire. Jane's Fame: How Jane Austen Conquered the World. Edinburgh: Canongate, 2009.
James, Syrie. The Lost Memoirs of Jane Austen. New York: Avon, 2008.
Le Faye, Deirdre. Jane Austen: A Family Record. 2nd ed. Cambridge: CUP, 2004.
Miss Austen Regrets. Dir. Jeremy Lovering. Perf. Olivia Williams. DVD. BBC Films, 2008.
Moser, Nancy. Just Jane: A Novel of Jane Austen's Life. Bloomington, MN: Bethany House, 2007.
O'Farrell, Mary Ann. "Jane Austen's Friendship." Janeites: Austen's Disciples and Devotees. Ed. Deidre Lynch. Princeton: PUP, 2000. 45-62.
Pitkeathley, Jill. Cassandra & Jane: A Jane Austen Novel. 2004. New York: Harper, 2008.
Pride & Prejudice. Dir. Joe Wright. Perf. Keira Knightley and Matthew Macfadyen. 2005. DVD. Universal, 2006.
Pride and Prejudice. Dir. Simon Langton. Perf. Jennifer Ehle and Colin Firth. 1995. DVD. New Video, 2001.
Samuelian, Kristin Flieger. "'Piracy Is Our Only Option': Postfeminist Intervention in Sense and Sensibility." Jane Austen in Hollywood. Ed. Linda Troost and Sayre Greenfield. 2nd ed. Lexington: UP Kentucky, 2001. 148-58.
Sedgwick, Eve Kosofsky. "Jane Austen and the Masturbating Girl." 1989. Tendencies. Durham, NC: Duke UP, 1993. 109-26.
Sutherland, Kathryn. Jane Austen's Textual Lives: From Aeschylus to Bollywood. Oxford: OUP, 2005.
Thompson, Emma. The Sense and Sensibility Screenplay and Diaries: Bringing Jane Austen's Novel to Film. New York: Newmarket, 1995.
Tomalin, Claire. Jane Austen: A Life. New York: Knopf, 1997.
Wells, Juliette. "Austen's Adventures in American Popular Fiction, 1996-2006." Thinking through Jane: Jane Austen in Twentieth- and Twenty-First-Century Culture. Ed. Clare Hansen and Gillian Dow. (in preparation)
_____. "Shades of Austen in Ian McEwan's Atonement." New Directions in Austen Studies. Spec. issue of Persuasions On-Line 30.2 (forthcoming).
Wiltshire, John. Recreating Jane Austen. Cambridge: CUP, 2001.