| | |
| --- | --- |
| PERSUASIONS ON-LINE | V.31, NO.1 (Winter 2010) |
"People that marry can never part": An Intertextual Reading of Northanger Abbey

Ellen Moody

<![if !supportEmptyParas]> <![endif]>

Ellen Moody (email: ellen.moody@gmail.com) teaches at George Mason University. She's published on early modern to 18th-century women writers, film, translation, etext editions of Isabelle de Montolieu's Caroline de Lichtfield and Sophie Cottin's Amelie Mansfield, and a translation of Vittoria Colonna's and Veronica Gambara's poetry. Her present book project is a study of film adaptations of Austen.
As most readers of Northanger Abbey remember, on the way to the Tilney family home, Henry Tilney teases our heroine, Catherine Morland with a detailed loving parody of female gothic novels:
"But you must be aware that when a young lady is (by whatever means) introduced into a dwelling of this kind, she is always lodged apart from the rest of the family. While they snugly repair to their own end of the house, she is formally conducted by Dorothy the ancient housekeeper up a different staircase, and along many gloomy passages, into an apartment never used since some cousin or kin died in it about twenty years before. . . . [Y]ou listen to the sound of her receding footsteps as long as the last echo can reach you—and when, with fainting spirits, you attempt to fasten your door, you discover, with increased alarm, that it has no lock." (158-59).
Austen's Northanger Abbey contains innumerable gothic passages because it was Austen's aim to write a novel at once gothic and anti-gothic by converging imitations of ordinary life with persuasive allusive imitations of gothic conventions. It has frequently been assumed that principle sources for Northanger Abbey are Radcliffe and perhaps Lewis's The Monk, Sophia Lee's The Recess, and Charlotte Smith's Emmeline, Ethelinde, and Celestina. We will here read Northanger Abbey in the context of a different set of gothics: through the lens of French texts, real life cases, and lesser-known contemporary gothic and anti-gothic novels. My purpose is to reveal the importance of other sources for Northanger Abbey: to read it seriously within a fuller terrain of types of gothic; to insist on the truths told about women's and younger sons' lives in these gothics, and to suggest that far from an oddity in Austen's oeuvre, something left over from her juvenilia, Northanger Abbey is a book that fits into the patterns of her other mature novels.1
Gothic and anti-gothic texts function therapeutically. They enable readers, especially women, to experience distorted mirrors of their own lives. To see this therapeutic function and to recognize that such texts are imitated sympathetically in Northanger Abbey is to acknowledge the reality of daily events in women's lives analogous to the gothic. Gothic texts insist we become aware of what is often denied or erased from public discourse; they make visible the pivotal importance in women's lives of relationships between mothers and daughters, sisters and female friends.

Thus we begin with three French gothic novellas woven into Stéphanie-Félicité de Genlis's 1783 Adelaide and Theodore, or Letters on Education, an educational treatise that influenced Austen's Emma.2 Adelaide and Theodore contains an as yet unacknowledged central source for Northanger Abbey and is based on a real life case (often the source of gothics). Charlotte Smith's Montalbert (1795) is built on a mother-daughter relationship and reveals the damage women sustain from their vulnerability to hurt in the marital bond and from a loss of reputation. Like Smith's other novels, Montalbert influenced Austen and is a more subversive gothic than than her earlier ones (Fry 112-32). Anne Fuller's epistolary The Convent, or History of Sophia Nelson (1786), our third lens, genuinely anticipates Northanger Abbey, with its sly intermixing of "domestic social reality and nightmarish gothic irreality" (DeLamotte 165). We'll see through this blending that what is credited explicitly in The Convent, is validated in Austen too: to wit, that "the gothic romancer, however absurd she may seem, speaks truth" (DeLamotte 165). Like Northanger Abbey, Fuller's The Convent is an affectionate parody, whose use of a typical French Catholic Gothic tale provides another perspective on how contemporary readers might have responded to the gothic heroines of Austen's book, Mrs. Tilney and Eleanor Tilney and its younger son, Henry Tilney. Its closeness to Austen's book gives us ammunition against readings of Northanger Abbey that enlist it among books that are hostile to, deride, and lampoon the gothic, especially as practiced by women.3 All three, Adelaide and Theodore, Montalbert, and The Convent, make serious use of the gothic to heighten awareness of real, typical circumstances of women's lives in Austen's time.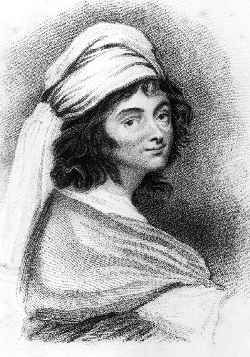 Madame de Genlis
We turn at the outset to the three gothic novellas in Adelaide and Theodore. I describe the first two briefly and will return to them as part of the terrain of Northanger Abbey when we come to Fuller's The Convent. The first is a female gothic about a young woman forced into a nunnery, Cecilia by name; she dies from grief and cruel treatment. A male gothic concerns a younger son, St. Andre, an outcast since he refused to be coerced into an occupation unsuited to his temperament and married Blanche, a woman of lower rank; St. Andre's father imprisons and separates Blanche from their baby and uses a lettre de cachet and his connections to ruin all St Andre's opportunities.4 Genlis's third novella, a female gothic, is based on a real incident and is one of Austen's primary sources.
That third narrative is the once famous The History of the Duchess of C**************, presented (naturally) in a translated manuscript. When she was very young, the Duchess was forced to marry a rich domineering, mean (in all senses of the word), avaricious Italian Duke, whom she disliked. He comes upon a letter in which she confides to a friend her dread of him and love for a young man she had been parted from. Enraged, the husband removes her and her baby to an isolated castle; he browbeats, shames, and terrifies her. If she tells him the name of her lover, he says he will forgive her; she suspects he will punish her anyway and have the man killed. In a long chilling scene he administers a drug that makes her seem to die; he has people visit her while dying, buries a wax figure in an elaborate monument, and then imprisons her. For nine years, the Duke stays up late into the night alone to bring her food (Adèle et Théodore 2:329-422; Adelaide and Theodore, 2:267-96).
More than half a century after writing this tale, Genlis said that, because live burial might already have seemed a cliché, she decided to imagine stroke by stroke what a woman might feel in a dungeon, alone, with no light, with one man in control—in modern terms, to be a hostage tortured by solitude, darkness, and helpless dependence. Intense loneliness, self-berating, and abjection in the wife, and some remorse on the part of the husband (whose "good opinion once lost is lost forever")5 are the emotional terrain brought to an end by the husband's sickness, death, and confession. When many years later the mother-governess Baroness d'Almane comes upon the Duchess, she is still in a shattered state. In her Memoirs, Genlis writes that there was such a woman, and "although the duchess [when Genlis met her] was only forty-six at the time, her air of suffering and the slowness of her speech and movements gave her the appearance of a woman of seventy" (Trouille, Wife-Abuse244-45).
This scenario of sickness, family members coming to seeing the dying wife, the pious monument, and realistic depiction of the Duke bringing food to his wife are all highly unusual. Other writers don't write the relentlessly realistic text Genlis achieves; none other but Austen's Northanger Abbey brings together and highlights precisely all these elements. The coincidence of nine years is a final detail suggesting Austen had in mind The History of the Duchess of C*********: Mrs. Tilney is said to have died nine years ago.6 For Catherine these same particulars she observes provide the proof, the clues "that Mrs. Tilney yet lived, shut up for causes unknown" (187-88)—together with, of course, the General's domineering character, unsocial habits (182), coldness about his wife's memory, and reluctance to allow his daughter and Catherine to explore the abbey and his wife's bedroom without him (177-81, 185-86, 190-91). Eleanor's admission, "'I was unfortunately from home.—Her illness was sudden and short; and, before I arrived it was all over'" (186), clinches the case.
Many readers seem to misremember Catherine's conviction. Eva Figes is typical when she writes that Catherine is "convinced . . . that General Tilney has been cruel to his wife, and in some way responsible for her death" (83). The faked death and imprisoned wife embarrass us. They should not. Marie Mancini's abduction and imprisonment in a castle in the Alps by her husband, is just one of numerous instances on record.7 Henry becomes intensely upset because (as he concedes) Catherine's suspicions bruise sore feelings and memories: nothing could be done in the Tilney household to alter the father's motives for the marriage and his behavior (68, 197). Henry is defending himself: "'During the progress of her disorder, Frederick and I (we were both at home [Henry's emphasis]) saw her repeatedly; and from our own observation can bear witness to her having received every possible attention which could spring from the affection of those about her, or which her situation in life could command.'" Henry's words understate the case, and yet listen to his gravitas: "'I will not pretend to say that while she lived, she might not often have had much to bear'" (197). Our narrator remarks that "it was not in [Mrs. Radcliffe's works] perhaps, that human nature, at least in the midland counties of England, was to be looked for. Of the Alps and Pyrenees, with their pine forests and their vices, they might give a faithful delineation; and Italy, Switzerland, and the South of France, might be as fruitful in horrors as they were there represented" (200, emphasis added).
The Duchess of C**********'s story is presented as a lesson taught to the Baroness d'Almane's daughters. The mark of a female gothic is the heroine's training, reading, and moral lessons, on which, however ironically, Northanger Abbey opens. Female gothics also recur repeatedly as an inset story, allowing for a depiction of female sexual awakening and trauma. That this story is based on a real case is important. Sarah Maza (among others) has recently argued that the most useful and persuasive explanations for the popularity of gothic novels in Austen's era are not to be found in their psychoanalytic realism but rather in the real life court cases and causes célèbres that they surprisingly often fictionalize. One notorious case we know that Austen read is that of the Marquise de Gange as told by Charlotte Smith: Smith takes us through the Marquise's entrance into the court world, educational program, long-drawn out imprisonment, and murder with impunity. Catherine is not a fool to believe in the background reality of her gothic romances, nor would many of her readers have thought her so.8
Baroness d'Almane draws two lessons from the story of the Duchess of C********. One, how dangerous is erotic love and enthrallment, how risky marriage. Pace Sedgwick's mockery, Austen's novels present us with spectacles of Girls and Boys Being Taught Lessons ("JA and the Masturbating Girl" 125-26). We are to take seriously James Morland's self-rueful letter to Catherine: "'Dearest Catherine, beware how you give your heart'" (202). So too Catherine's objection to Henry's witty assertion that a dance set is like marriage (they are "'so very different'") and her refusal to back down: "'People that marry can never part, but must go and keep house together'" (76-77). Catherine sees marriage from the perspective of the female who must obey and who will probably not be able to separate herself from an abusive husband.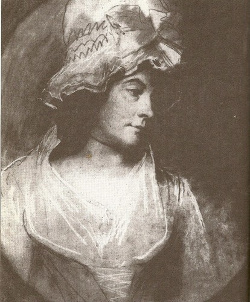 Charlotte Smith by by George Romney.
The Baroness's second lesson segues us into Charlotte Smith's Montalbert. The Baroness d'Almane insists that the Duchess's story also demonstrates that daughters must rely on their mother's love and judgment; she is herself a woman who seems to exist to home-school daughters rigorously (Robb 59-75, 103-28). Montalbert, Smith's one thoroughly gothic novel is also the only one to base its structure on a powerless, mostly absent mother and her lonely namesake daughter, congenial friends whose lives manifest a parallel story-design. These mother-daughter and female friendship patterns derive from Genlis's and Smith's different deprivations, but in Smith's story we find patterns Austen avails herself of.9
This time we have two heroines. Rosalie Montalbert, daughter of a proud aristocratic family, suffers under her father, Lord Montalbert's autocratic ruthless ways. In love with Mr. Ormesby, a man of sensibility but her tutor, she agrees to a secret engagement. Lord Montalbert discovers they are courting, so in accordance with ancien régime realities, he has the young man beaten up, imprisoned, and pressed. Transgressing most taboos in contemporary respectable fiction, Rosalie has had full sexual intercourse with Ormesby, becomes pregnant, and is nowhere blamed for this. Rather her father is blamed for forcibly marrying her to Mr. Vyvian, a cold mercenary tyrant. She gives birth to a baby girl, another Rosalie, whom Mrs. Vyvian brings up while claiming she is the daughter of a friend, Mrs. Lessington. The novel opens with this second Rosalie as Rosalie Lessington, who is now living uncomfortably with the Lessingtons who harass and harangue her in an effort to bully her into marrying a rich coarse young man. Rosalie 2 flees to her beloved dying mother-governess, Mrs. Vyvian, who tells of her own past and Rosalie 2's origins.
Then a parallel story ensues. Rosalie 2 falls in love with an Anglo-Italian Catholic young man, also called Lord Montalbert, Mrs. Vyvian's nephew, who more willingly endures the autocratic family in the person of a ruthless mother. Again a secret engagement, marriage, and pregnancy. This second Rosalie and Lord Montalbert flee to Sicily, where she gives birth. In order to appear unmarried, Lord Montalbert 2 leaves to socialize on the mainland; his friend the Count de Alozzi, deputed to take care of Rosalie 2, attempts to seduce her. With no one to turn to for help, Rosalie 2 writes her mother-in-law, who orders Rosalie imprisoned. Rescued by Francis Walsingham, a Colonel Brandon type, Rosalie 2 becomes the target of Lord Montalbert 2's suspicions. He repeats the violent, arbitrary behavior of Rosalie 1's father: he assumes she and Walsingham are lovers, writes and demands the child, his by right; and when he comes upon her, wrests it from her. Already made nervous by her experiences, Rosalie 2 is now now shattered and becomes distraught. After several twists and turns of story, Walsingham, by now in love with Rosalie 2, persuades her husband she has been egregiously wronged, exits the book, and Rosalie 2, husband, and baby are reunited off-stage. Rosalie 2 grieves that she cannot risk contacting Walsingham to thank him—much less (as the reader is led to wish) marry him as she is already married and, of course, loves and is obedient to her husband.
By reading the mother-daughter pair in Northanger Abbey as serious gothic against the full scrim of the adventures of the mother-daughter pair Montalbert, we see how Northanger Abbey fits into the patterns of Austen's other novels. Much more than Northanger Abbey is caught up here. In Sense and Sensibility we find Austen's two Elizas, mother and daughter, both with the same name, the first generation woman coerced into marriage with a man who marries her for her rank and money; both mother and daughter pregnant, all robbed of good unlived lives. Rosalie 2's situation also anticipates Austen's Jane Fairfax and, in her responsiveness to landscape and a near fatal illness when shattered by brutal indifference, Marianne Dashwood.10
In Northanger Abbey, the silenced and lost beloved mother, Mrs. Tilney, is plangently felt and central to the action (as is Lady Elliot's absence and replacement with the obtuse Lady Russell in Persuasion). While the General utters the invitation to Catherine to come stay at the Abbey as part of his scheme to secure Catherine's supposed inheritance for his younger son, Catherine's stay is also what Eleanor longs for: "'I know how much your heart is in it'" (139, 245). (The general tells a sincerer truth than he may realize.) Catherine's affectionate heart and sincerity will replace Mrs. Tilney's (206). On that drive into Northanger Abbey, Henry "rank[s]" Catherine's "kindness in thus becoming [Eleanor's] visitor "as real friendship, . . . as creating real gratitude" (157). Like Smith's Rosalie 2 when without her mother, Eleanor has been a social isolate at home "'since'" her mother's death (179-80). In our narrator's closing unfunny characterization of her life, her "habitual suffering" is caused by "the evils such a home as Northanger" (251, 250).
Smith's mother-daughter stories are shaped alternatively in mirroring narratives to make the repeated point that Smith's twin heroines' unhappy life has been caused by fathers, husbands and even brothers who treat them as property which exists for self- or family- aggrandizement, as household servants, and as easily seduced. Critics have frequently dismissed Austen's portrait of General Tilney as an exaggeration and have treated Eleanor Tilney's abjection as a minor aspect of the novel; further, modern readers (in my experience) seem embarrassed because of the supposed trivial nature of the events in Bath and at Northanger. In the context of Montalbert, the "corrosive" (Smith's frequent word), estranging nature of the General's prosaic, daily, irritable, unreasoning demands would be seen as commonplace, as for example when Eleanor Tilney is upset until she can (through Henry) explain that she was forced to mortify Catherine by having Catherine informed she and the General are not at home (94). Austen offers unobtrusive ironic interpretations of the General's abrupt, unexpected changes from apparent kind attachment to implacable hostility, of his appearing to think one way and behave in another (211, 233-34), but scenes from Montalbert offer more many more instances and mercenary disrespectful rationales: scenes of ill-tempered behavior by various husbands and fathers to our Rosalies, including explicitly refusing to listen to any talk from either of them, are common.
In Montalbert too trifles matter (e.g., 1:96; 2:98, 110, 3:199) and are a guide for trivia at Northanger. The first signs of Eleanor Tilney's intense distress on the night she must tell Catherine that she is to be ejected the next day are "silent," scarcely "moving" "something[s]":
it seemed as if some one was touching the very doorway—and in another moment a slight motion of the lock proved that some hand must be on it. [Catherine] trembled a little at the idea of any one's approaching so cautiously; but resolving not to be again overcome by trivial appearances . . . she stepped quietly forward. (222-23)
Then Eleanor: "'How shall I tell you!—Oh! how shall I tell you!'" (223). The whole scene so stays with Catherine that once home, Catherine "reproach[es]" herself that she had seemed to react coldly, and she overcomes her pride to disobey the injunction not to write and sends comfort to her friend (235-36). That scenes and actions in Northanger Abbey seem to be about trifles is precisely the point: for women trifles matter.11
Finally, when Northanger Abbey is read intertextually with Montalbert, we see both aligned with Austen's other posthumously published novel, Persuasion. In all three novels the issue is "the finding of the female self," fending off over-persuasion, bad advice, and bullying: the heroines must draw "boundaries" between what is rightly asked of them, what wrongly, and between their own judgments and desires. Sexual experience defines the fault line along which women are allowed to become functioning fulfilled members of a community. Smith openly empathizes with sexually transgressive heroines, and male promises and callousness are condemned.
This perspective on a young woman's experience growing up is broached in Northanger Abbey in the case of Isabella Thorpe. In the scene where Henry absolves the conduct of his older brother, Frederick, towards Isabella Thorpe by saying that had she "'had a heart to lose, . . . she would have met with a very different treatment,'" Catherine's response is meant to make us pay attention to the impunity guaranteed Frederick. Catherine's "bitterness" is derived as much from her "dislike" of Frederick, which she refuses to withdraw, as her feeling that she has been used by Isabella (218-19). Remembering Montalbert, rather than Smith's earlier chaste heroines, as we read Northanger Abbey enables us to recognize in both a story about a young adult female's painful induction into the power of adult males. When I read this scene intertextually against Smith's Montalbert, I remember Henry's earlier comment that Captain Tilney's "'mess-room will drink Isabella Thorpe for a fortnight'" (153), and think that Isabella Thorpe will not really laugh much about it, nor is Catherine laughing now.12

For the reader seeking to understand how Northanger Abbey was and can still be read, Anne Fuller's The Convent is a startling eye-opener. The Convent moves tactfully between and blends gothic and realistic sections. Fuller's heroine, Sophia Nelson, is modeled on Fielding's Sophia Western, and she is an admirer of "Miss Burney's" novels (Evelina and Cecilia) and Fielding's Tom Jones (1:263). Fuller's novel combines the epistolary form with a picaresque structure, light social satire written in conscious imitation of Burney (e.g., a masquerade, Convent 1:249-63), with three inset gothics which recall those of Genlis's Adelaide and Theodore. The longest, a female gothic, is an extensive tale set in France and featuring heroines coerced into becoming nuns. The many references within this inset gothic to France, French customs, and an ambivalent stance towards Catholicism, together with the frequent use of French slang and further references to French customs outside this inset story, connect The Convent to Genlis's Adelaide and Theodore. The Convent is one many texts showing the importance and fear or prejudice in England (and perhaps Ireland) of Catholic customs and intolerance, noticed in Northanger Abbey in Eleanor Tilney's possible allusion to the Gordon Riots of 1780 (113).13
The two shorter gothics in The Convent recall Genlis's Adelaide and Theodore: they are male gothics centering on the raw deal primogeniture handed younger sons, and they contain closely similar details showing the courage and futility of younger sons' rebellions. While a scrupulous hunt for specific references to Genlis herself or some version of her titles to her tales in The Convent turned up no documentable evidence, the story of Fuller's Comte St. Pierre, a younger son, who is degraded and imprisoned by a vengeful father when he refuses to enter orders and marries a young woman beneath his rank (1: 138-42, 177-88) and who then is hounded and harassed, is strikingly like that of Genlis's St. André (and anticipates that of Austen's Edward Ferrars, whose mother threatens not just to disinherit him but also to prevent any of her connections from helping him and to "'do all in her power to prevent his advancing'" in "'any profession'" [267]). Fuller's second short male gothic derives from English sources, most immediately Fielding's Tom Jones. This inset tale is about a younger son and has details directly like those of two subplots in Tom Jones, its central characters parallel antitypes of Jack Nightingale and Nancy Miller. Henry Dalton (wrongly he tell us) despised Fanny Alleyn for allowing sexual intercourse; when she became pregnant, he avoided marrying her, and she died; he now lives (like Fielding's Anderson) by thieving, threatening, roughing people up for money (Convent 2:81-107).
The seriousness with which these tales are intended may be seen in Fanny Alleyn's death and in what appears to be an unhappy ending for both younger sons, with St. Pierre living in impoverished isolation in a hut and his beloved living in a nunnery lost to him and to liberty until near the end of the book, when (like Genlis's Adelaide and Theodore), The Convent moves into a realm of benign providential rescue for all. A possible allusion to Richardson's Grandison is found here because the benevolent happily married saviors are a Marquis and Marquise de Lisson (I suggest Fuller alludes to Richardson's benign Lord and Lady L).
I read the story of Henry Tilney in terms of such male gothics featuring younger sons as a counterweight to the recent hostility towards Tilney in Austen criticism (e.g., Johnson 37-41; Heydt-Stevenson 112-15). Such tales recur throughout in eighteenth century novels; but since they rarely contain the supernatural (and do not resemble classic male gothics), they are rarely discussed.14 Younger sons provide Austen with a number of her heroes and have been the focus of a recent post-colonial study of Austen's novels (Stewart 11-39, 72-87). Colonel Brandon's story comes closest to classic or archetypal gothic tales; we also have the disadvantaged Edmund Bertram, the disinherited Edward Ferrars (an older son turned into a younger one), and younger sons making the best of their position: John Knightley, Frederick Wentworth—and Henry Tilney.
Henry is a younger son, for whom a domineering, impetuous father chose someone he simply "determined" (based on that "'rattle'" John Thorpe's delusions) would provide his younger son with a handsome legacy (50, 245). Until Henry braves his father's "furious . . . anger" (248), he obeys the General even if he already possesses his living; he only expects "eventually" to become "secure" through his mother "by marriage settlements" (249-50). To engage himself to Catherine, he breaks from the General "in an agitation of mind which many solitary hours were required to compose" and makes Woodston "his only home" (248, 250). Against the scrim of Genlis's and Fuller's male gothics, Henry's anxious courage and determined gallantry in keeping an implicit promise, together with his gallant companionship of his sister (contrasted to John Thorpe's carelessness and sneering), show him to be a particularly appealing younger son. We should recall that one of the poems Catherine learns as a girl is John Gay's "The Hare and many Friends" (14), a biting satire exposing the rarity of dependable gratitude."15
Fuller's long female gothic story in The Convent is pivotal to its plot-design; it contains both the educational program typical of female gothics and Eleanor Tilney types. It may be said to begin near the opening of the novel with a satire on reading romances: one of Sophia's cousins, Cassandra, immerses herself in long seventeenth-century French heroic romances, after one of which, La Calprenede's Cassandra (1642-49) she is named.16 Fuller's Cassandra pretends to feel and live according to the sentimental codes of heroic romances (1:84-85). A debate on what young women ought to read continues at a masquerade, where Sophia listens to and reports ironically on a tirade against women's education, where a domino attacks famous Roman heroines (Octavia, Cornelia), perhaps surprisingly, one modern French salonnière ("Ninon" [l'Enclos]), and ends with Madame de Graffigny, Catharine Macaulay, Elizabeth Carter, and Fanny Burney as women whom no (respectable) young woman should imitate or learn from (1:260-63).
The novel then does not so much reverse itself as demonstrate what in gothic romances, and in these women's lives, counts: Fuller looks to self-esteem and a young Englishwoman's sense she has a right to liberty of person, a self and body she may defend. In an effort to force Sophia to marry his foolish son, Sophia's uncle, Lord Woodville, has her abducted to a nunnery in northern France. Our first news of Sophia's imprisonment and isolation comes from Cassandra who, mercenary and envious of Sophia, treats the incident as a game just as she had been treating romances (2:18-19). Sophia had laughed at the melodrama of romances, but now that she is in the fearful duplicitous terrain of Genlis's nun's tale, Sophia experiences what being "confined for life" could be like; more, she finds herself at risk. She is pressured to take vows; calm, shaking off evil characters with the aplomb of Fielding's heroine towards Blifil, Sophia manages to send a letter home and, with the help of the hero and his friends, escape (2:217-18). Before this escape, though, Sophia meets other heroines who behave as nervously and abjectly as Eleanor Tilney does in front of her father. For example, Hortensia, facing intrigues, bullying, enforced poverty, and powerlessness resorts to a surface abjection, a self-protective carapace. Sophia learns a complex lesson found also in Genlis's Adelaide and Theodore: performative behaviors wherein a young woman misrepresents her motives (even lies) must not be condemned out of hand; they are elements in survival techniques (Robb 72-74).
The threat in these nun stories is not sexual but rather that under present custom and/or law a woman's life may be ruthlessly confiscated.17 This loss is the fate that threatens Eleanor Tilney. When Henry's admission of his father's character and motives at the close of the novel validates Catherine's conclusion "that in suspecting General Tilney of either murdering or shutting up his wife, she had scarcely sinned against his character, or magnified his cruelty" (247), we have our strongest confirmation that that the lavish gifts Mrs. Tilney received upon her marriage (68-69) came at a very high price.18

Jane Austen's Northanger Abbey is at once a gothic and anti-gothic novel; it both parodies and locates the gothic in ordinary life. I have stressed its graver gothic elements in order to demonstrate how by returning to the wider full terrain of the gothic in its own era, it may be read as a gothic today. As in the case of female gothics, from eighteenth century to modern day, Austen sends her heroine on several Psyche-like quests for knowledge (NA 168-70, 180-81 [thwarted], 190-92, 193-95; Williams 159-71): these quests function as therapeutic experience and emotional release. Austen's language throughout is plain, nothing jarringly over-prettied, and, except for Henry's parody, her gothic passages are part of the central realistic story, not another alongside or woven into it. Her debunking trivia provide awakening moments, her landscapes rejuvenation: "the steep woody hills rising behind [the Abbey] to give it shelter, were beautiful even in the leafless month of March" (177). An intense earnestness and personal engagement make vividly felt the interior life of the gothic as in this distraught remembering of the gothic's idyllic interlude:
Catherine was too wretched to be fearful. The journey in itself had no terrors for her; and she began it without either dreading its length, or feeling its solitariness. Leaning back in one corner of the carriage, in a violent burst of tears, she was conveyed some miles beyond the walls of the Abbey before she raised her head. . . . Unfortunately, the road she now travelled was the same which only ten days ago she had so happily passed along in going to and from Woodston; and, for fourteen miles, every bitter feeling was rendered more severe by the review of objects on which she had first looked under impressions so different. . . . [W]hen within the distance of five [miles], she passed the turning . . . and thought of Henry, so near, yet so unconscious, her grief and agitation were excessive. (230)
However, I do not mean to do Austen's book the injustice of ignoring her frequent distancing use of wit. Austen's jokes are more rejuvenating when seen in the context of female gothics taken seriously and seen as reflections of the real world still.19
This woman's book shows us a young girl coming of age through reading. Amid Austen's mockery, I can hear a reading girl's shared delight in reading with a friend:
"'Dearest creature! how much I am obliged to you; and when you have finished Udolpho, we will read the Italian together; and I have made out a list of ten or twelve more of the same kind for you."
"Have you, indeed! How glad I am!" (40)
After reading this book for more than fifty years, my favorite joke is still Austen's ironic mockery at Mrs. Allen's literalism: "How they could get through it all"—"the dirty work of the house"—when it was to be "done by two pair of female hands at the utmost" (184). Would that kitchen duties were the worst most of us have been troubled by. In Austen's uses of the gothic, as well as Genlis's, Smith's, and Fuller's, this much-maligned subgenre is not so distinguishable from the real after all.
Notes
1. See my "The Gothic Northanger Abbey: A Re-evaluation," delivered at the EC/ASECS conference at Georgetown University. Eric Rothstein's "The Lessons of Northanger Abbey" argues that the novel is fully mature, unified and consistent in texture and point of view.
2. See Susan Allen Ford's "Romance, Pedagogy and Power: Jane Austen Re-writes Madame de Genlis."
3. An instance of a contemporary book often wrongly aligned with Austen, which dismisses "the female complaint" is Eaton Stannard Barrett's The Heroine (1813); it's often quoted as an anti-gothic in the same breath as Austen's novel. Nothing could be more unlike Austen's book: Barrett's is a lampoon of Pamela. DeLamotte argues that Barrett's book shows anger against the gothic because it exposes and "violates the patriarchal order" (179). But see Austen's letter of 2 March 1814: "We have drank tea & I have torn through the 3d vol. of the Heroine, & do not think it falls off.—It is a delightful burlesque, particularly on the Radcliffe style."
4. Male gothics may be defined as gothics where the central figure is a wanderer, exile, or outcast; the figure is usually male and in conflict with a powerful father or brother figure. Female gothics center on imprisoned, degraded, and sexually transgressive figures, usually women; they enact a Psyche quest in which women's lives, children, and core personalities are threatened by powerful authoritarian figures (sometimes Bluebeard types, sometimes domineering mother, sister, or aunt figures). A complete exegesis of the differences between the gothic looked at along a gender fault line (which I briefly characterize here) may be found in Anne Williams's Art of Darkness: A Poetics of Gothic (38-48, 159-72); see Sedgwick's The Coherence of Gothic Conventions (37-97).
5. The passage in French reads: "quioqu'il ne manquât pas de politesse à certains égards, son ton étoit aussi tranchant qu'impérieux. Engorgueilli de sa naissance . . . il ne pensoit pas que rien dût jamais s'opposer à ses volontes, ou resister a ses desirs . . . il ne savoit ni vaincre ses passions, ni surmonter ses ressentimens; implacable par foiblesse & par vanité . . ." (2:339-40). The French text turns up other parallels to Pride and Prejudice, e.g., a visit to a beautiful chateau that anticipates Elizabeth's and the Gardiners' reaction to Pemberley (Adèle et Théodore 2:58-60; Adelaide and Theodore 2:186-88).
6. I owe this recognition of the coincidence of nine years to Gillian Dow, whose essay "Northanger Abbey, French Fiction, and the Affecting History of the Duchess of C***" is forthcoming in Persuasions 32.
7. See Elisabetta Graziosi, "Lettere da un Matrimonio Fallito: Maria Mancini al Marito Lorenzo Onofrio Colonna," and on the translation and dissemination of these memoirs, Elizabeth Goldsmith, "Publishing the Lives of Hortense and Marie Mancini." In Behind Closed Doors, Amanda Vickery remarks that "despotic husbands liked to play the gaoler, locking women in or out in campaigns of abuse" (43, 188-200). See also Maria Edgeworth's Castle Rackrent, with an introduction by Kathryn Kirkpatrick (esp. xviii-xix, 29-30).
8. Central texts for the argument and thinking behind this paper are Sarah Maza's Private Lives and Public Affairs: The Causes Célèbres of Prerevolutionary France (1-67) and Mary Trouille's Wife-Abuse in Eighteenth-Century France (84-91, 100-02). Des Essarts's Causes Célèbres are a primary source for many later redactions and translations. Trouille concentrates on women's vulnerability before law and custom; Maza, on the vast injustices, patronage corruption, and uses of torture and emotional abuse across the whole judicial system. Charlotte Smith's three-volume compilation, The Romance of Real Life, came from Causes Célèbres et interessantes (20 volumes [1743] or 24 volumes [1743-1770]) by Françoise de Pitaval (1673-1743). The Marquis de Sade's novella remains the most famous retelling of the Marquise de Ganges's case in print today; that English readers were still familiar with the Marquise de Ganges's life in the nineteenth-century can be seen in Elizabeth Gaskell's "French Life" (Uglow 473-74). Maza's thesis is that while Darnton's idea that pornography is one arm of the subversive important literature of the eighteenth century that led to revolution and reform may be right, another set of texts more central and more convincingly influential are these memoirs and court cases.
9. On Smith, the gothic and Montalbert, see Carrol L. Fry (45-46, 54-59, 112-32). Secondary literature on the many parallels between Austen and Smith has begun to be extensive; two places to begin are Lorraine Fletcher (303-17) and Jacqueline Labbe. There is an important mother-daughter pair in another later novel by Smith, The Young Philosopher, but the story is a subplot and the structure of the novel is not built upon it. See Eleanor Ty's Unsex'd Revolutionaries: Five Women Novelists of the 1790s (143-54).
10. For a stimulating if (to me) not entirely persuasive reading of Emma as a melancholy gothic with an absent mother, see Frances L. Restruccia. It's telling that the 1995 Amy Heckerling film Clueless insists on the absent mother as central: it includes on a wall of the house, a portrait of Cher's mother, which Cher contemplates at a couple of crucial moments late in the film. Recent essays on Austen have, understandably, located the gothic mostly in Mansfield Park, e.g., by Lynda Hall and Lisa Hopkins.
11. See DeLamotte (149-66), Northanger Abbey (85-87, 98-100), Johnson (35-41), and Montalbert (e.g., 21-31, 51-53, 75-92).
12. I would argue that Andrew Davies in the 2007 Granada/WBGH Northanger Abbey (produced by James Flynn and Keith Thompson, directed by Jon Jones, with Felicity Jones, Catherine Walker, and Carey Mulligan in the relevant roles) has more adequately read Austen's text when he has his Eleanor Tilney extend pity to the deluded Isabella Thorpe as weak because she is desperate. Davies's Eleanor frames Isabella thus: "Your friend has dealt with your brother very badly, but I fear she is out of her depths with mine" (script from Part 7). Rather than contextualizing Pride and Prejudice with other women's novels of the era, Jill Heydt-Stevenson bases her sympathy for Lydia Bennet on an array of deconstructive and philosophical arguments, but her point of view is one I am endorsing here (86-94).
13. For what we know of Anne Fuller, see Todd (133). She died in Cork, Ireland, and wrote two "straight" gothic romances, which combine gothic motifs with a romancing attempt at a historical novel in the manner of The Recess. These are Alan Fitz-Osborne (published 1786), set in the reign of Henry II, and The Son of Ethelwolf (1786), set in the reign of Alfred II. See also Graham-Smith, Tarr, DeJean, and—for a reading of Northanger Abbey that connects Eleanor Tilney's remarks, other political allusions to the continent, Catholicism, and other political issues of the era in Austen's novel—Robert Hopkins.
14. Male gothics used repeatedly as paradigms are Lewis's The Monk and Charles Robert Maturin's Melmoth the Wanderer (1820); see, e.g., Williams (105-20); Sedgwick (Coherence 9-36), and Howells (62-79, 131-58).
15. Readers sometimes focus on some of the tone Austen's narrators in the last chapters of the book as providing merely anti-romantic debunking jokes: e.g., "though Henry was now sincerely attached to her, . . . I must confess that his affection originated in nothing better than gratitude" (243). But "nothing better than" is a typical ironic Austen understatement: Northanger Abbey has demonstrated that gratitude is rare and precious, especially when acted upon.
16. La Calprenède's romance was Englished in 1667 by Charles Cotterell. These long romances are perhaps most familiar to modern readers through Charlotte Lennox's satire of them in her Female Quixote; or The Adventures of Arabella (1752). Austen read The Female Quixote when she was young and enjoyed rereading it, see her letter to Cassandra of 7-8 January 1807.
17. If, as I am supposing, Fuller was influenced by Genlis (as well as Graffigny) it's important to know that although Genlis is often presented as an arch-conservative, there is a school of thought which suggests this is not so: see Robb (passim), Krakeur (89-95), and Trouille's "Toward a New Appreciation."
18. Again I find Davies's reading of the novel in his film adaptation accurate: in the film's concluding episode Davies's Henry Tilney (JJ Feilds) attributes Mrs. Tilney's early death partly to the General's "vampirism," which "drained the life out of her" (Part 8).
19. A brilliant modern example of a gothic which makes Austen's method central to its text is Margaret Atwood's Lady Oracle (1976). Atwood has said she had Northanger Abbey in mind as an example of what she was doing; see J. R. Struthers's interview with Atwood.
Works Cited
Austen, Jane. Jane Austen's Letters. Ed. Deirdre Le Faye. 3rd ed. Oxford: OUP, 1995.
_____. The Novels of Jane Austen. Ed. R. W. Chapman. 3rd ed. Oxford: OUP, 1933-69.
Barrett, Eaton Stannard. The Heroine (1813). Introd. Michael Sadleir. New York: Stokes, 1927.
Burney, Fanny. Cecilia; or Memoirs of an Heiress. Ed. Margaret Anne Doody and Peter Sabor. London: Oxford UP, 1988.
De Jean, Joan. "Transnationalism and the Origins of the (French?) Novel." The Literary Channel: The Inter-national Invention of the Novel. Ed. Margaret Cohen and Carolyn Dever. Princeton: PUP, 2002. 37-72
DeLamotte, Eugenia. Perils of the Night: A Feminist Study of Nineteenth Century Gothic. Oxford: OUP, 1990.
Edgeworth, Maria. Castle Rackrent. Ed. George Watson. Introd. Kathryn Kirkpatrick. London: Oxford UP, 1995.
Fielding, Henry. The History of Tom Jones. Ed. R. P. C. Mutter. New York: Penguin, 1966.
Figes, Eva. Sex and Subterfuge: Women Writers to 1850. New York: Persea, 1982.
Fletcher, Lorraine. Charlotte Smith: A Critical Biography. London: Macmillan, 1998.
Ford, Susan Allen. "Romance, Pedagogy and Power: Jane Austen Re-writes Madame de Genlis." Persuasions 21 (1999): 172-87.
Fry, Carrol L. Charlotte Smith. New York: Twayne, 1996.
Fuller, Miss (Anne). The Convent: Or, the History of Sophia Nelson. In two volumes. ... By a young lady. London: [1786]. [Eighteenth Century Collections Online]
Genlis, Stéphanie-Félicité de. Adelaide and Theodore, or Letters on Education (1783). Ed. Gillian Dow. London: Pickering, 2007.
_____. Adèle et Théodore, ou Lettres sur l'Education. Paris, 1785.
Goldsmith, Elizabeth. "Publishing the Lives of Hortense and Marie Mancini." Going Public: Women and Publishing in Early Modern France. Ithaca: Cornell UP, 1995. 31-45.
Graham-Smith, Sheila. "The Awful Memorials of an Injured and Ill-Fated Nun: The Source of Catherine Morland's Gothic Fantasy." Persuasions 31 (2000): 199-200.
Graziosi, Elisabetta. "Lettere da un Matrimonio Fallito: Maria Mancini al Marito Lorenzo Onofrio Colonna." Per Lettera: La Scrittura Epistolare Femminile tra Archivio e Tipografia Secoli XV-XVII. Ed. Gabriella Zarri. Rome: Viella, 1999. 535-85.
Hall, Lynda. "Addressing Readerly Unease: Discovering the Gothic in Mansfield Park." Persuasions 28 (2006): 208-16.
Heydt-Stevenson, Jill. Unbecoming Conjunctions: Subversive Laughter, Embodied History. New York: Palgrave, 2008.
Hopkins, Lisa. "Putting the Gothic in: Clarissa, Sense and Sensibility, Mansfield Park, and The Time Machine." Screening the Gothic. Austin: U of Texas P, 2005. 36-52.
Hopkins, Robert. "General Tilney and Affairs of State: The Political Gothic of Northanger Abbey." Philological Quarterly 57.2 (1978): 214-24.
Howells, Carol Ann. Love, Mystery and Misery: Feeling in Gothic Fiction. London: Athlone Press, 1978.
Johnson, Claudia L. Jane Austen: Women, Politics and the Novel. Chicago: U of Chicago P, 1988.
Krakeur, Lester Gilbert. "A Forgotten Participant in the Attack on the Convent." Modern Language Notes 52.2 (1937): 89-95.
Labbe, Jacqueline. "Narrating Seduction: Charlotte Smith and Jane Austen." Charlotte Smith in British Romanticism. London: Pickering, 2008. 113-28.
_____. "What Happens at the Party: Jane Austen Converses with Charlotte Smith." Persuasions On-Line 30:2 (2010).
La Calprenède, Gauthier de Costes de. Cassandra: The Fam'd Romance. Trans. Charles Cotterell. London, 1667.
Maza, Sarah. Private Lives and Public Affairs: The Causes Celebres of Prerevolutionary France. Berkeley: U of California P, 1993.
Moody, Ellen. "The Gothic Northanger Abbey: A Re-evaluation." EC/ASECS. Georgetown University, Washington, D. C. 6-9 Nov. 2008. http://www.jimandellen.org/austen/gothicna.html
Northanger Abbey. Dir. Jon Jones. Writer Andrew Davies. Perf. Felicity Jones, JJ Field, Catherine Walker, Carey Mulligan. ITV/Grenada, 2007.
Restruccia, Frances L. "A Black Morning: Kristevan Melancholy in Jane Austen's Emma." American Imago 51.4 (1994): 447-70.
Richardson, Samuel. The History of Sir Charles Grandison. Ed. Jocelyn Harris. 3 vols. London: Oxford UP, 1972.
Robb, Bonnie Arden. Félicité de Genlis: Motherhood in the Margins. Newark: U of Delaware P, 2008.
Rothstein, Eric. "The Lessons of Northanger Abbey." University of Toronto Quarterly 44 (1974-75): 14-30.
Sade, Marquis de. La Marquise de Gange. Introd. Gilbert Lely. Paris: Bourgoin, 1971.
Sedgwick, Eve. The Coherence of Gothic Conventions. New York: Methuen, 1980.
_____. "Jane Austen and the Masturbating Girl." Tendencies. Durham: Duke UP, 1993. 109-29.
Smith, Charlotte. "The Marchioness de Ganges." The Romance of Real Life. 3 vols. London, 1787. 1:1-84.
_____. Montalbert (1795). Introd. Mary Anne Schofield. Delmar, NY: Scholars' Facsimiles, 1989.
Stewart, Maaja A. Domestic Realities and Imperial Fictions: Jane Austen's Novels in Eighteenth-Century Contexts. Athens: U of Georgia P, 1993.
Struthers, J. R. "An Interview with Margaret Atwood." Essays on Canadian Writing 6 (1977): 18-28.
Tarr, Mary Muriel. Catholicism in Gothic Fiction: A Study of the Nature and Function of Catholic Material in Gothic Fiction (1762-1820). Washington: Catholic U of America P, 1946.
Todd, Janet, ed. A Dictionary of American and British Women Writers. London: Metheun, 1987.
Trouille, Mary. "Toward a New Appreciation of Mme de Genlis: The Influence of Les Battuecas on George Sand's Political and Social Thought." The French Review 71 (1998):564-76.
_____. Wife-Abuse in Eighteenth-Century France. Oxford: Voltaire Foundation, 2009.
Ty, Eleanor. Unsex'd Revolutionaries: Five Women Novelists of the 1790s. Toronto: U of Toronto P, 1993.
Uglow, Jenny. Elizabeth Gaskell: A Habit of Stories. New York: Farrar, 1993.
Vickery, Amanda. Behind Closed Doors: At Home in Georgian England. New Haven: Yale UP, 2009.
Williams, Anne. Art of Darkness: A Poetics of Gothic. Chicago: U of Chicago P, 1995.