| | |
| --- | --- |
| PERSUASIONS ON-LINE | V.31, NO.1 (Winter 2010) |
"This roof was to be the roof of an abbey!" Touring Northanger Abbey and Other Enigmatic and Outrageous Country Houses

Sarah Parry

<![if !supportEmptyParas]> <![endif]>

Sarah Parry (email: sarah.parry@chawton.net) has worked at Chawton House Library for seven years and is now the Education Officer. She has also worked as a Guide at Blenheim Palace and for four years was a volunteer at Basildon Park, a National Trust property.
Historic house visiting is central to Jane Austen's Northanger Abbey. Catherine Morland can hardly believe her good fortune that she is to visit the Tilneys' country house, which has its origins in a medieval ecclesiastical building. Catherine's overactive imagination and the influence of gothic novels lead her astray, and her expectations of what she hopes to find at Northanger provide many of the comic moments of the novel.
In Northanger Abbey Jane Austen often portrays Catherine dreaming and wondering what she might encounter should she ever be lucky enough to visit an abbey for herself. On hearing that the Tilneys' home is indeed an abbey, Catherine muses on the probability of this happening.
With all the chances against her of house, hall, place, park, court, and cottage, Northanger turned up an abbey, and she was to be its inhabitant. Its long, damp passages, its narrow cells and ruined chapel, were to be within her daily reach, and she could not entirely subdue the hope of some traditional legends, some awful memorials of an injured and ill-fated nun. (141)
Catherine's excitement increases as the day of her departure draws nearer, and on the journey from Bath to Northanger Abbey she is mercilessly teased by Henry Tilney as to what she might expect to find there. Throughout the novel, Jane Austen has Catherine's and Isabella's imaginations driven by what they read in gothic novels, so by the time of Catherine's arrival at Northanger Abbey her expectations have been raised to such unrealistic levels that what is to follow must surely disappoint.
What might Catherine have reasonably expected to see? What buildings might have fulfilled her fantasy? Before setting forth on our quest for the perfect abbey to satisfy the imagination of Catherine, it will be helpful to look briefly at the type of building that the fictional Northanger Abbey might have represented.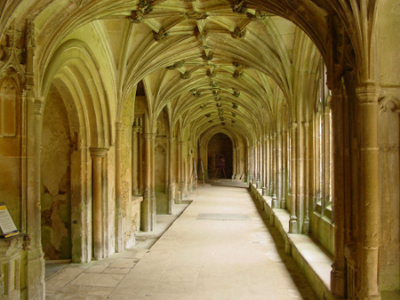 Cloisters at Lacock Abbey. Photograph: Sarah Parry.

In The History of England, Jane Austen reminds us that the importance of abbeys in the English landscape and their transformation into country houses can be laid at the door of Henry VIII. Of all that he did during his reign (1509-1547), and indeed his lifetime, Henry is probably most famous for having married six times. His first marriage to Katherine of Aragon produced a daughter, Mary, but the long hoped for male heir never arrived. Henry felt, in part, that he was being punished for marrying his brother's widow and set about freeing himself from Katherine so that he could marry Anne Boleyn. The Church did not share Henry's enthusiasm for divorce, and it was inevitable that Henry and the Pope would disagree. In a move guaranteed to cause chaos and uproar, Henry formally broke with the church in Rome and eventually established a new church, of which he made himself the head so that the divorce from Katherine and subsequent marriage to Anne could take place. As part of this upheaval, a program of assessing and closing the property and land of the old church began: such properties were stripped of their wealth, the monks and nuns turned out, and the buildings and lands sold.
As the young Jane Austen remarks, the only "vindication" of the "Crimes & Cruelties" of Henry VIII is "that his abolishing Religious Houses & leaving them to the ruinous depredations of time has been of infinite use to the landscape of England in general, which probably was a principal motive of his doing it" (Minor Works). Many of the ecclesiastical buildings were bought by people wishing to create for themselves an impressive country house. Northanger Abbey, Catherine learns from Eleanor Tilney, was "a richly-endowed convent at the time of the Reformation," which had "fallen into the hands of an ancestor of the Tilneys on its dissolution" (142). There are many such houses in England: for example, Newstead Abbey, in Nottinghamshire, at one time owned by the poet Lord Byron, and Woburn Abbey in Bedfordshire, which would have sorely disappointed Catherine because there isn't a cloister or ruined chapel in sight.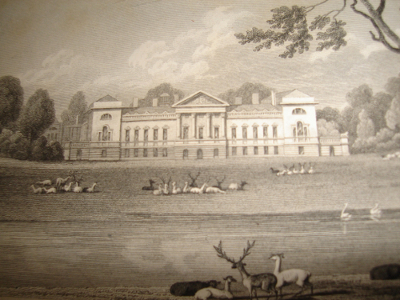 "Woburn Abbey, founded in 1145" by J. P. Neale.
Views of the Seats of Noblemen and Gentlemen.
Many of these "new" houses kept the title of "abbey" or "priory" in their names. Some owners simply built a new house attached to what was left of the ecclesiastical buildings while others reused existing buildings or ruins as part of their new plans. By adding to an existing building and/or ruin, owners sometimes created a house that was intrinsically quirky. These houses often developed into highly individualistic buildings. During the eighteenth century, however, Tudor architecture was beginning to be considered old-fashioned and undesirable, and many such houses were pulled down and replaced by new ones. From the early 1600s the most fashionable and richest members of society had begun to look towards the classical ideas of Palladio for their building inspiration, and by the late eighteenth century the vogue for this style had reached its zenith.
Jane Austen's third brother Edward, who had been adopted by wealthy relatives Thomas and Catherine Knight, inherited property that represented both of these tastes. When he inherited the Knight property, Edward made his home at Godmersham Park in Kent. The initial phase of this new house was built in 1732 by the first Thomas Knight on the site of an earlier Elizabethan building ("Godmersham Park"). Edward's other estates were Chawton in Hampshire and the smaller Steventon estate. Chawton House is a manor house and an example of late Elizabethan architecture with later, Jacobean features. It would certainly have been considered old-fashioned by Jane Austen's day. When Jane's niece Fanny Knight, Edward's eldest daughter, visited Chawton House for the first time in 1807, she commented on the visit in a letter to Miss Chapman:
This is a fine large old house, built long before Queen Elizabeth I believe, & here are such a number of old irregular passages &c &c that it is very entertaining to explore them, & often when I think myself miles away from one part of the house I find a passage or entrance close to it, & I don't know when I shall be quite mistress of all the intricate, & different ways. It is very curious to trace the genealogy of the Knights & all the old families that have possessed this estate, from the pictures of which there are quantities. . . . (Le Faye, Family Record 162)
Fanny's description—with its reference to "irregular passages" and unexpected and unusual routes through the house—has the slightly breathless tone of a heroine of a gothic novel. Although there was an earlier, medieval house on the site before the present house was built, the belief that the house was built "long before Queen Elizabeth" was a mistake. Those "irregular passages," characteristic of the gothic, still exist and are the result of successive owners using and reinterpreting the building in different ways. When it was first built the house would have had a definite route through it, which only the most important visitors could follow to its conclusion in the Great Chamber. Chawton House still has this capacity to disorientate new visitors: everyone gets lost on the first visit!
From the mid-eighteenth century onwards there was renewed interest in gothic architecture. This is the architecture of many of the great British cathedrals, and Salisbury Cathedral in Wiltshire is a magnificent example of the style. Jane Austen herself was no stranger to mysterious buildings. For a short time she was a pupil at Mrs. Latournelle's school in Reading, and part of that school building was the gateway of the ruined Reading Abbey.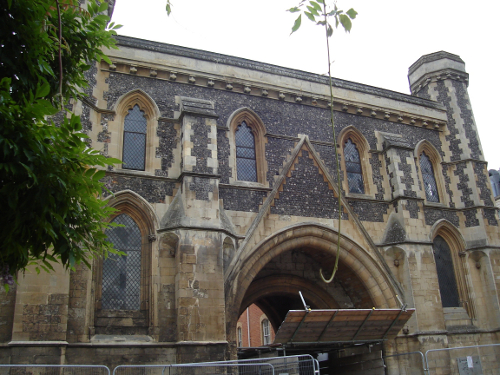 The gateway of Reading Abbey. Photograph: Sarah Parry.
In the late eighteenth century the abbey ruins would have been an obvious landmark in the town. Today, sadly, they are hidden away between modern office buildings and the prison, undergoing a major restoration program and currently inaccessible to the public. The gateway was heavily "restored" by the Victorians, but in the late eighteenth century the gateway and the other abbey ruins would have been perfect for exploration.
Elements of gothic architecture started to be used in secular buildings to great effect during the eighteenth century. Probably the most famous exponent of the eighteenth-century interest in Gothic Revival was Horace Walpole. Walpole created the gothic confection that is Strawberry Hill by adding to an existing building by the Thames near at Twickenham to create a villa decorated in a style that is known as Gothic Revival.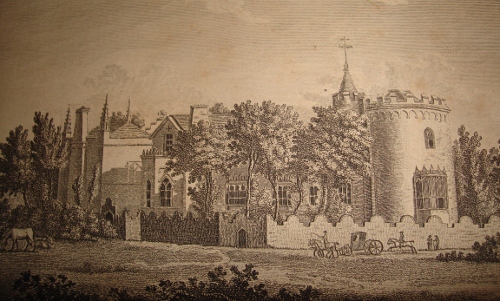 Strawberry Hill. A Description of the Villa of Horace Walpole.
As can be seen from this illustration, Strawberry Hill's revamp produced a result that was very different from the stricter and plainer Palladian style. The view of the Library (below) shows that virtually no surface was left undecorated or ornamented.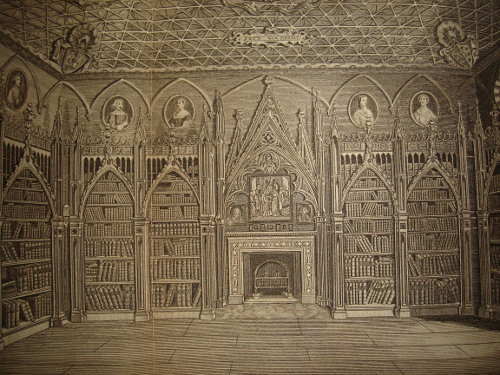 The Library. A Description of the Villa of Horace Walpole.
Strawberry Hill was created from an existing small house by the Thames in Twickenham, a village on the outskirts of London easily accessible from the capital by boat along the Thames, but only by those who could afford to do so. Close by are Richmond and Hampton and the most famous of all the area's historic buildings, Hampton Court Palace. During the eighteenth century, many villas were built along the banks of the Thames in the Richmond, Twickenham, and Hampton areas. Many of these villas were homes of the wealthy who wanted to move out of London to enjoy a more pastoral life. During the eighteenth century, residents included Alexander Pope, David Garrick, and the actress Catherine (Kitty) Clive. Throughout the eighteenth century and into the nineteenth century the area continued to be popular with artists and writers. In 1800 the exiled Duc d'Orleans moved to Twickenham and stayed until 1807 (Cherry).
The social cachet of this location is evident in Northanger Abbey. While on the one hand claiming that "'my wishes are so moderate, that the smallest income in nature would be enough for me'" Isabella Thorpe then declares, "'I would not settle in London for the universe. A cottage in some retired village would be extasy. There are some charming little villas about Richmond'" (119-20). There were indeed some "'charming little villas about Richmond,'" but at a price. The hard edged realism to the final sentence of Isabella's statement suggests that Isabella views marriage to a man whom she believes to be wealthy as nothing more than a passport to a world of increased social status, privilege, and wealth. Isabella is in danger in giving away too much about her true character as Richmond was a well known area. Had the comment been made in the presence of the Tilneys rather than Catherine, Isabella's scheming nature might have been confirmed sooner.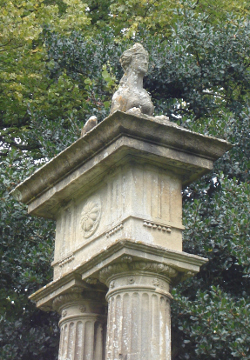 The Sphinx at Lacock Abbey.
Photograph: Sarah Parry.
But now let's "visit" two Abbeys that, I think, Catherine would have considered perfectly horrid and perfectly gothic and that most certainly do not disappoint.
Fourteen miles east of Bath, in the county of Wiltshire, is the village of Lacock. At one end of the village is Lacock Abbey, a country house created from a nunnery that had functioned for 300 years before falling victim to the Reformation. The property was sold to Sir William Sharington, who bought the abbey with the express wish of turning it into a country house (Garnett 2). It seems probable that much of the original building was still standing when Sharington bought the property (Garnett 2). Building a country house has always been an expensive occupation, so acquiring such buildings, which would have been impressive in their own right, added to the creation of the new owner's growing sense of importance even before any new building work began. Over the next 260 years different owners left their mark on Lacock Abbey. In 1754-55 an impressive Gothick style entrance hall was added by the then owner John Ivory Talbot (Garnett 4). By the end of the eighteenth century the property had, more or less, the appearance we see today. Approaching through the village, a visitor turns left through the gates and along the drive to Lacock Abbey and passes this curious feature installed in the garden in the mid-eighteenth century. The myth surrounding this sphinx is that at midnight (and, according to the version I was told, when there is a full moon!) the sphinx jumps down from her resting place and walks across the park to drink from the river.1 Wouldn't Catherine have been delighted!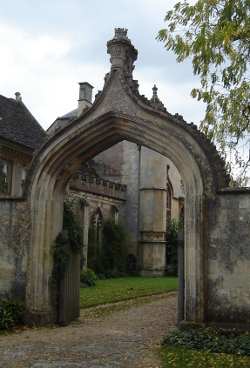 The entrance to Lacock Abbey.
Photograph: Sarah Parry.
While approaching Northanger, a "surprized" Catherine "pass[es] between lodges of a modern appearance, to find herself with such ease in the very precincts of the abbey, . . . without obstacle, alarm or solemnity of any kind" (161). The drive at Lacock Abbey, however, swings right and through this splendid Gothic Revival arch and delivers the visitor to the front door. This part of the building is a wonderful prelude for what is to follow.
When Catherine enters Northanger she feels that "it was delightful to be really in an abbey!—but she doubted, as she looked round the room, whether any thing within her observation, would have given her the consciousness" (161). In comparison, visitors arriving at Lacock Abbey for the first are "welcomed" by niches and shelves dotted around the walls of the room that house terracotta sculptures by Victor Alexander Sederbach. The pieces are an eclectic mix and include a representation of Ela, Countess of Salisbury and the Earl of Salisbury, who is shown holding a plan of Salisbury Cathedral, which he founded. There are also sculptures of two of their granddaughters who became nuns and lived at Lacock Abbey. Among the sculptures is one with the power to disconcert, probably a representation of King Death (Garnett 7). It is an unusual and disturbing object to find in the entrance hall of a country house.



The entrance hall at Lacock Abbey. Photograph: Sarah Parry.




King Death, in the entrance hall at Lacock Abbey.
Photograph: Sarah Parry.
Like all the rooms at Northanger Abbey, many of the rooms at Lacock are comfortably fitted up and in some cases in what Catherine would have termed a modern style—disappointing to our aspiring heroine. For example, the Blue Parlour and the South Gallery, are both very comfortable, elegant and stylish. So far, not a gloomy corridor or drafty chamber in sight.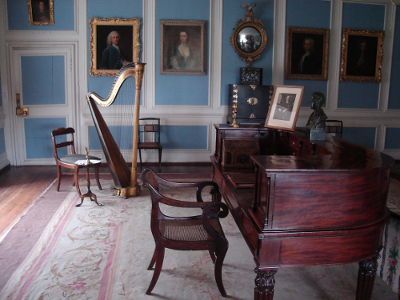 Blue Parlour at Lacock Abbey. Photograph: Sarah Parry.
But Catherine dreams of cloisters, and at Lacock Abbey we get cloisters that could have come straight from a gothic novel. These are cloisters of the remaining, original abbey buildings, and their function was to connect various parts of the Abbey. Off the cloisters are various rooms, such as The Chaplains' Room and the Sacristy. It was here that the vestments and plate used in masses would have been kept, and it is thought that on occasions, mass would have been said here (Garnett 30). The warming room was so called because at one time this was the only room with a fireplace and the nuns would come here to warm themselves (Garnett 31). These are indeed the type of rooms that Catherine dreamt of visiting.
Chaplainsí Room, Sacristy, and Warming Room at Lacock Abbey. Photographs: Sarah Parry.

While Lacock Abbey was a real abbey later reused as the basis for a country house, the next house on this "visit," though called an abbey, never was an abbey at all. It had a reputation for outrageousness and gothic fantasy that will probably never be surpassed.
| | |
| --- | --- |
| | Imagine a house with front doors that are 33 feet high. Those doors weigh a ton and are opened by a dwarf dressed in a gold-embroidered suit. |
| | Imagine a house that measures, north to south, 312 feet, the length of the nave and sanctuary of Westminster Abbey. |
| | Imagine a house that has a tower that is 276 feet high. The spire of Salisbury Cathedral, the tallest medieval spire in Europe, is 404 feet. |
| | Imagine a house that has a room that hidden behind a drawn curtain and doors that open only when the owner stamps his foot in command. |
| | Imagine a house decorated in a palate of rich, vibrant colors of crimson, purple, and gold. |
| | Imagine a house with an entrance hall with a magnificent hammer-beam roof and massive windows filled with stained glass. |
All these features could be found at Fonthill Abbey (Lees-Milne 59-74). It really existed and was probably the most outrageous gothic building ever created.
Fonthill Abbey was the dream of William Beckford, the author of the novel Vathek, in which a Caliph dreams of building a massive tower from which to survey the world. Beckford's father had made a massive fortune through his plantations in Jamaica, which were then inherited by his son. The Beckfords were a family of "new money"—that is, their wealth was made through trade. The Beckfords never really became accepted by the aristocracy whose wealth was "old money" accumulated and handed down through many generations of landownership and, usually, royal appointments at Court. William Beckford craved acceptance by the aristocracy, and he was also a snob, but in his personal life he fell foul of sexual scandal when his name was linked with William Courtenay, only son of the second Viscount Courtenay. No one is really clear as to what did or did not happen, but the rumors and stories about Beckford's alleged behavior with Courtenay were enough for society to shun him. He was considered dangerous (Frost).
Beckford's father had built himself a beautiful, eighteenth-century country house called Fonthill Splendens in Wiltshire. William Beckford grew tired of this house, and in 1790, to divert his imagination, he conceived the idea of building a folly in the grounds. In 1794 Beckford engaged the architect James Wyatt. As the folly grew (and grew), Beckford reached a point when he decided it would grow even more to become his new country house.2
Although Beckford's "abbey" evoked and even used the gothic, he was not interested in faithful recreation. Gothic architecture was a constantly changing style even during the medieval period. At Strawberry Hill, Walpole had been trying to follow in a correct gothic style as far as he could, but to achieve his effects he often used materials, such as papier mâché, that would not have been used by medieval builders. He wanted the house to look reasonably authentic. Beckford was not creating a house that kept to gothic ideals: he was building something deliberately theatrical. Working with Wyatt caused tensions for both men because Wyatt tried hard to keep to within rules and standards for gothic architecture, whereas Beckford didn't share that purpose: he wanted to build to impress. Beckford, it could be argued, had a gift for exaggeration that reached its peak with Fonthill Abbey.
After being shunned by society Beckford had increasingly become more and more of a recluse. His wife's death in childbirth was an event from which he never really recovered and this contributed to him cutting himself off from the world. At Fonthill physical evidence of this retreat from the world was the building of a huge wall around the estate. Of course, the rumors started: What was going on? Why so much secrecy? The truth was simply that Beckford hated blood sports and didn't want the local hunt coming onto his land (Frost). However, Beckford was not keen to encourage visitors to see the building, so wild stories, of course, continued to circulate.
Was Jane Austen aware of Fonthill Abbey? I think that she probably was. There was publicity: in 1800 Beckford invited the great hero of England, Nelson, to visit the work in progress that was Fonthill Abbey, and from 20 to 24 December 1800 the party, which included Emma Hamilton, stayed at Fonthill Splendens and visited the partly built Fonthill Abbey, a festivity that was reported in The Gentlemen's Magazine ("Letter" 206). In 1809 Jane, her sister Cassandra, and their widowed mother moved to the cottage that is now the Jane Austen House Museum, in Chawton. In 1795 and again from 1809 to March 1813, Edward Austen (later Knight) rented Chawton House to a Mr. Middleton, a widower (Le Faye, Chronology 173, 363, 441). Keeping house for him and looking after his children was Mr. Middleton's sister-in-law, Maria Beckford, a cousin of William Beckford. We know that Jane Austen met Maria Beckford, so it is not too fanciful to conjecture that they may have had a conversation that mentioned the building of Maria's cousin's house.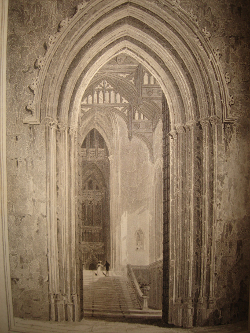 The Entrance Hall at Fonthill Abbey.
Views of the Seats of Noblemen and Gentlemen.
Vivid, tantalizing hints of what Fonthill Abbey was like remain. Although Beckford did all he could to dissuade anyone from visiting, the house was extremely well documented, and it is possible to "visit" based on information in the guide books and illustrations that were produced. The sixth edition of the John Rutter guide book of 1822 described the entrance hall as
built in the ancient baronial style, seventy eight-feet high, sixty-eight feet long, and twenty-eight feet wide. The oak roof appears particularly striking and is decorated with sixty-eight shields, emblazoned with various family quarterings.
The light is emitted by three gothic windows of painted glass, on the right hand; the compartments of which are copied from some very ancient specimens in Canterbury cathedral.
On the left are three recesses, hung with crimson curtains, to correspond with the windows; in the centre one is placed a marble statue of the late alderman Beckford, in his robes of office, as lord Mayor of London, holding in his right hand a copy of the Magna Charta. (27-28)
As if the Entrance hall weren't impressive enough one of the main features of the house was St Michael's Gallery. Rutter's description highlights its gothic features, particularly its windows that might appeal to Catherine Morland:
This apartment is fitted up in a unique and superlative style. The light is admitted by an oriel at the southern extremity, by two gothic windows on the eastern, and five on the western side. The upper compartments of the lattice are of painted glass representing various family arms. (59)
This passage is only a small part of the description of St Michael's Gallery. The guidebook goes on to list, as it does for other rooms such as the Music Gallery, the Great Octagon, the Lancaster or State Bedroom, and the objects and furniture contained there.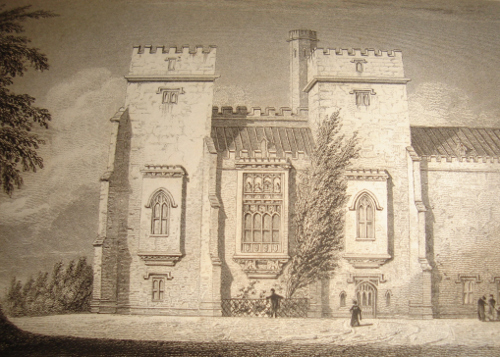 The East Oriel at Fonthill Abbey. Views of the Seats of Noblemen and Gentlemen.
Who could fail to be intrigued at the possibility that this house, it was said, would eventually have a room called the Revelation Chamber? This room was to have walls five feet thick and a floor covered in jasper, and on Beckford's death his coffin would be placed in the room for visitors to view through a grating (Lees-Milne 51). To enter into the world of Fonthill Abbey was surely to enter into the world of the gothic novel.
It was not long, however, before the house became the bane of Beckford's life. Built purely to amaze and to inspire awe, it was hideous to live in as a country house. It seems that convenience and modern requirements in country houses of that time had been ignored in the rush to create a house that was really a theatrical illusion. Parts of the house were so cold and difficult to access that they were virtually unusable. In one frustrated outburst Beckford declared, "Oh what a fatal abode! Here it smokes, there the wind blows in (and so would the rain if it were raining); every tower is a conveyor of rheumatism" (Lees-Milne 82).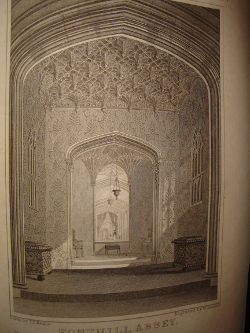 The Oratory at Fonthill Abbey.
Views of the Seats of Noblemen and Gentlemen.
The truth was that Fonthill Abbey was badly built, often using cheap materials. In 1822, tired of the project and needing money, Beckford put the entire Fonthill estate up for sale. There had been so much speculation, wonder, and conjecture about the house and its collection over the years that an incredible 72,000 people paid a guinea to buy the Fonthill sale catalogue (Lees-Milne 82), and visitors flocked to see the building and the collection. The estate was bought by John Farquhar, a man who made his money through the sale of gunpowder (Lees-Milne 83). Considering that here was a man who made his money in the pursuit of blowing things up, what happened next seems appropriate: on 21 December 1825 the tower collapsed (Lees-Milne 84). By some miracle no one was killed or badly hurt, and Beckford, when informed of the incident, sadly noted that he wished he could have seen it fall (Lees-Milne 85). This event was the beginning of the end for Fonthill Abbey. Today all that is left are a few small sections of the building and the gateway that led up to the first house, Fonthill Splendens.
Beckford retired to Bath and before long was dreaming of building again, albeit on a much smaller scale. He built a tower at the top of Lansdown Hill in Bath, and every morning he would walk up to it to rearrange items from his collection or read. When Beckford died in 1844, his coffin was placed in a granite sarcophagus, which in turn was placed on a small island within sight of the tower he created (Frost).
Perhaps, in hindsight, it is serendipitous that Fonthill Abbey, the most outrageous of the houses referred to in this essay, existed only for a brief period and seems almost to have appeared in a puff of smoke only to collapse in a pile of dust a few years later. This house was the gothic novel brought to life: it was built to impress on a theatrical scale and packed full of objects and experiences to delight, beguile, and bewitch visitors.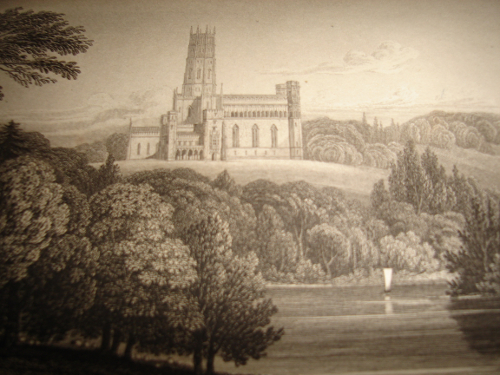 Fonthill Abbey from across the Lake. Views of the Seats of Noblemen and Gentlemen.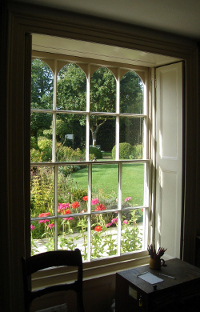 Jane Austen's House Museum.
The Gothic Revival style employed by Walpole and Beckford eventually filtered down in a much more simplified format to become a popular form of ornamentation. In the drawing room at what is now known as Jane Austen's House in Chawton, Edward Austen (later Knight) had a delicate and pretty window with a touch of gothic style fitted for the benefit of his sisters and mother. It was fashionable, and Edward could afford to add this decorative touch to the cottage.3
This domesticating of Gothick style to a level so reduced from its original intention may also have had its effect on the imagination of Catherine Morland. When the trip to see Henry's home at Woodston is proposed, Catherine wonders, "What was there [in Northanger] to interest or amuse her? She was tired of the woods and the shrubberies—always so smooth and so dry; and the Abbey in itself was no more to her now than any other house" (212). Henry's absence contributes to her seeing little now to please her in her surroundings at Northanger. When Henry shows Catherine at Woodston parsonage what is to be the drawing-room, a room several times defined as "pretty," her enthusiasm for gothic taste shows further signs of waning. The crowning moment of this shift comes as she sees "the windows reaching to the ground" (213-14). Perhaps it is at this moment that the cobwebs and intrigue of Catherine's love of gothic architecture give way to the freshness and openness of modern taste and style.
Notes
1. This version of the sphinx story was told to me by Alan Bird, Head Gardener at Chawton House Library. Alan was previously Gardener-in-Charge at Lacock Abbey.
2. I am extremely grateful to Dr. Amy Frost, Curator of the Beckford Tower Museum, for the bibliographical information on William Beckford. Dr. Frost also kindly provided me with images of Fonthill Abbey to use in my Breakout Session at JASNA's 2010 AGM in Portland and gave me permission to take photographs in the museum.
3. I would like to thank Louise West and Ann Channon at Jane Austen's House Museum for their help with taking photographs of the window in the Drawing Room.
Works Cited
Austen, Jane. The Works of Jane Austen. Ed. R. W. Chapman. 3rd ed. London: Oxford UP, 1933-69.
Cherry, Mike. "A Short History of Twickenham." Borough of Twickenham Local History Society. http://www.botlhs.co.uk/
Garnett, Oliver. Lacock Abbey. Swindon: National Trust, 2008.
"Godmersham Park: A Short History." Godmersham Park Kent, n.d.
Lees-Milne, James. William Beckford. 1976. London: Century, 1990.
Le Faye, Deirdre. A Chronology of Jane Austen and her Family. Cambridge: Cambridge UP, 2006.
_____. Jane Austen: A Family Record. 2nd ed. Cambridge: Cambridge UP, 2004.
"Letter from a Gentleman, present at the Festivities at Fonthill, to a correspondent in Town." The Gentleman's Magazine Mar.-Apr. 1801: 206-08, 297-98. http://beckford.c18.net/wbgentmag.html
Neale, J. P. Views of the Seats of Noblemen & Gentlemen, in England, Wales, Scotland and Ireland. From Drawings By J. P. Neale. London, 1818-29. 11 vols.
Rutter, John. A Description of Fonthill Abbey and Demesne, in the county of Wilts: including a list of its paintings, cabinets, &c. Shaftesbury: Rutter, 1822.
Walpole, Horace. A Description of the Villa of Horace Walpole, youngest son of Sir Horace Walpole Earl of Orford, at Strawberry-Hill, near Twickenham. With an inventory of the furniture, pictures, curiosities, &c. Strawberry Hill, 1774.