| | |
| --- | --- |
| PERSUASIONS ON-LINE | V.32, NO.1 (Winter 2011) |
London as Text: Teaching Jane Austen's "London" Novels In Situ

Laurie Kaplan

<![if !supportEmptyParas]> <![endif]>

Laurie Kaplan (email: lkaplan@gwu.edu), Professor of English and Academic Director of George Washington University's England Center, has published essays on Jane Austen, Tom Stoppard, Paul Scott, and women writers of the First World War. She is a former editor of Persuasions.
in Volume Two of Jane Austen's Pride and Prejudice, Mrs. Gardiner reminds Elizabeth how highly unlikely it would be for Jane Bennet's path to cross Mr. Bingley's while she is staying with her aunt and uncle in Cheapside, London. "'We live in so different a part of town, all our connections are so different,'" she tells Elizabeth, "'that it is very improbable they should meet at all'" (160). It is a long, long way (in both real and metaphorical terms) from Gracechurch Street to Mr. and Mrs. Hurst's house on Grosvenor Street. But how significant is that distance? If students set out to explore the streets and squares of Mayfair, for example, or Bloomsbury, what can they learn about Jane Austen's London, and how can they become better readers of the novels? Trekking through London might help us gain an understanding of late eighteenth- and early nineteenth-century realities: the architecture, the cityscape, the proximities and distances that influence the characters' behaviors, the possibilities for social interaction.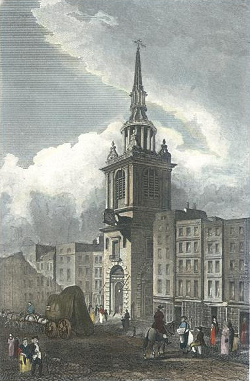 J. P. Neale, "Bow Church, Cheapside, London,"
The Beauties of England and Wales (1815).
Courtesy of ancestryimages.com
In a semester-long "Major Women Writers: Jane Austen" seminar at the Florida State University London Centre, I set out to work with the class to analyze Austen's novels through close readings underpinned by exploratory rambles through London. We hoped to see Jane Austen's London and, by extension, her England—or, what was left of it. The challenge, weather and traffic notwithstanding, was to find pockets of London where the buildings and the squares had kept their early nineteenth-century qualities so that we could see in our mind's eyes visual realities rather than the glossy pictures uncritically offered by films. To that end, I designed the course around a series of rambles in the parts of town Jane Austen depicted in Sense and Sensibility, Pride and Prejudice, and Emma—the three novels in which characters spend an extended period of time in London.1 From our outings and museum visits students could bring back to the seminar a particular view or a general idea that would enlighten our studies of the novels.
The composition of this seminar on Jane Austen ranged from sophomores to seniors, and the level of experience with close readings of the texts varied significantly. Most of the students, in fact, had never read Jane Austen's novels, but they had seen the films; one student had tried to read Emma and stopped even before the end of Volume One; one student had read all the novels in a semester-long course that focused on the films as well as the books. To study Austen's novels in London meant that we were all able to develop more of a sense of context and to sort out the filmic versions from the "reality" of place and space. We could explore ideas about distance and proximity: the distance from Mayfair, the neighborhood of the Dashwoods and Middletons, to Bartlett's Buildings in Holborn, the residence of the Steele sisters, for example, or from Mrs. Palmer's house on Hanover Square to Lady Middleton's on Conduit Street. From our assessment of space, we could talk about social codes, about how women of a certain class filled their days with shopping and visiting and their evenings with card parties and balls. We could move quickly beyond the love plots and into the wider, deeper meanings of the novels.

The museums of London provided an "out of the box" (i.e., away from the classroom) opportunity for the students to explore cultural contexts and to examine close-up the artifacts of Regency England. Museum holdings, ranging from archaeological antiquities to literary manuscripts to portraits of the great and the good, helped define the age of exploration and accumulation. Specimens that were collected by explorers and government officials, or that were gathered as the spoils of war, ended up either in London's museums or in the great houses founded upon wealth brought back from the colonies. To visit the museums and see paintings and porcelain was to gain an introduction to the treasures that filled places like Pemberley, Rosings, Netherfield, Donwell Abbey, and Hartfield.
To expand our view of what people in the past were interested in exploring and collecting, on the first day of the course we visited the Enlightenment Gallery at the British Museum, where I wanted the students to think about how the masters of the Enlightenment closely observed life around them and tried to order and understand the universe. Housed in what was once the King's Library, a room that was completed in 1828 to hold the library of George III, the Enlightenment exhibit now includes displays of books from the House of Commons library, antiquities and natural history specimens, and artifacts from the original collections of the British Museum, which was opened to the public in 1759. We were particularly interested in seeing the kinds of objects of interest that people gathered, or were inspired by, in the eighteenth century. What did wealthy young men bring back from their Grand Tours to the Continent? Where is Keats's Grecian urn?
The Enlightenment exhibit dovetails with the novels in a variety of ways, most specifically in Mr. Knightley's cabinet of curiosities. For Mr. Woodhouse's enjoyment during the strawberry picnic at Donwell Abbey, Mr. Knightley very kindly displays his "[b]ooks of engravings, drawers of medals, cameos, corals, [and] shells" (E 393). The Enlightenment exhibit also led to a classroom discussion about reason and imagination—about the Romantic response to over-rationalization and industrialization, for example, since many of the students were also studying the Romantics in another course. Hence, we could see how Austen dissects emotion/sentiment vs. reason/order as in the first chapter of Sense and Sensibility she begins to describe the characteristics of the Dashwood women.
The National Portrait Gallery and the British Library extended our connection with Jane Austen. The National Portrait Gallery helped to put faces of eighteenth- and nineteenth-century thinkers, poets, and writers together with famous names, but of course we were most interested in examining Cassandra's small portrait of Jane Austen. What was most striking to the students was the fact that Jane Austen's portrait is miniscule compared with the huge portraits of "great men" like Samuel Johnson and Handel; the portrait of Fanny Burney in her magnificent hat dwarfs the picture of Jane Austen. On our visit to the British Library to see Jane Austen's desk, we crowded around the young writer's own attempt (with illustrations by Cassandra) to encapsulate The History of England. (The students had visited Edinburgh, where the tour guides also championed Mary, Queen of Scots over Elizabeth I.) We also examined the manuscripts and early editions of writers who had a great influence on Austen—Johnson and Shakespeare—as well as authors whose own work was influenced by Austen—Virginia Woolf.

If museums gave us insight into the eighteenth-century rage to collect specimens and to furnish a landed gentleman's house with paintings and ancient specimens from foreign lands, then the map of London offered a different way to explore the spaces circumnavigated by Jane Austen's characters. Austen chose her neighborhoods carefully, and her precise attention to addresses, directions, and distances gives a sense of specificity to the novels. The author linked families with London's streets and squares: the Middletons and Conduit Street, Willoughby and Bond Street, the Gardiners and Gracechurch Street, and the John Knightleys and Brunswick Square. With our maps of London in hand, we set out to see some of the streets and squares that form the backbones of the novels. We wanted to see where Austen's characters shopped, socialized, and walked.
In Sense and Sensibility, Mayfair achieves a personality as strong as some of the characters, so, notwithstanding the ominous clouds and brisk winds, we set out on foot to see Mayfair. Maps in hand, we headed down busy, noisy, chaotic Oxford Street, turned onto quieter Regent Street, and then crossed onto Conduit Street, where the bustle of life changed radically to what can only be described as an elegant ennui. We were in Mayfair to contemplate the distances between and among the three or four fictional families who will meet again and again throughout their stay in this small area of London. Austen repeats the street names so often in Sense and Sensibility that the reader—and therefore the walker—gains familiarity with the connections, squares, and intersections that make up this urban village in the early nineteenth century.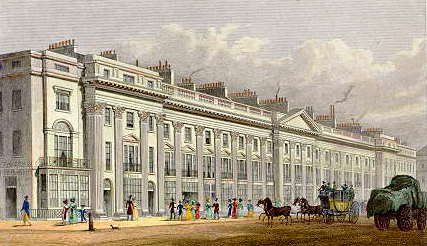 T. H. Shepherd, "Part of West Side of Regent Street,"
Metropolitan Improvements (1828). Courtesy of ancestryimages.com
To ground the students in the kind of urban changes that Jane Austen observed, I provided some information about this particular section of London.2 Throughout the eighteenth century, Mayfair, a notch in the larger village of London, had been expanding rapidly northwards, toward Marylebone. With this expansion, rigid and perplexing class hierarchies and social codes changed. There was more mixing of classes—people like Mrs. Jennings, whose wealth comes from trade, has a house quite near her two well-married daughters, the class-conscious John Dashwoods, and even the haughty Mrs. Ferrars. In this circumscribed area that comprises the environs of Berkeley Street (near Portman Square), Park Street, Conduit Street, Harley Street, Hanover Square, and Bond Street, Elinor and Marianne Dashwood suffer the anxieties of proximity. With so many relatives, so many invitations, and so much to do, the sisters have little time for reflection.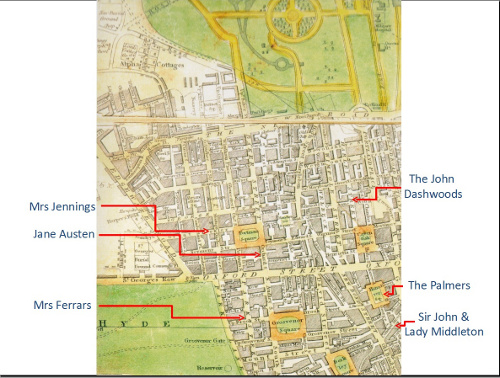 Map by Edward Langley (1809). (Click here to see a larger version.)
Metaphorically and actually, Conduit Street is a fitting address for Sir John and Lady Middleton: he is at the center of action, close enough to everyone to be here, there, and everywhere to meet up with family members and friends (including Willoughby) and to extend spontaneous invitations. Slanting off from Regent Street and connecting with Bond Street, cutting through the neighborhood like a channel, Conduit Street is very close to the Palmers' house in Hanover Square, so daily visits between Lady Middleton and Mrs. Palmer are possible, even in Mrs. Palmer's delicate condition. The Palmers, an up-and-coming family with political ambitions, are perfectly placed in a residence at Hanover Square, for "Hanover" resonates with political aspirations, and Mr. Palmer's house in Hanover Square suggests that he will indeed succeed in his quest for a political career. As we ventured further into the shopping area of Mayfair and began to stroll down Bond Street, we noticed how quiet and empty the streets can be, especially compared with Oxford Street. We were all aghast, however, not only at the ostentatious jewelry and furs on display in the windows, but also at the "bouncers" at each shop's door. I commented that it is fitting that Willoughby, a man who is about to be "bought" by wealthy Miss Grey, has lodgings in Bond Street.
When Mrs. Jennings, the rich widow of a man who had done very well in trade, invites Elinor and Marianne to her home on Berkeley Street near Portman Square, she is opening up for them a vast array of social experiences, especially in terms of the invitations they receive to visit the grand houses of their relations and their relatives' friends. Like Sir John, Mrs. Jennings crosses class boundaries, refuses to stand on ceremony, and visits old friends as suits her own social code rather than the more elegant precepts current in the West End. She is well situated in "a respectable neighbourhood of upper gentry and wealthy merchants, where in 1801, Austen's brother Henry had taken a house" (Copeland lix). Mrs. Jennings's handsome house on Berkeley Street near Portman Square resonates with more than just respectability, for this Square was "intended for the very rich" (Thorold 138). Today, Portman Square, largely rebuilt with flats and offices, does not resonate with the values or codes of Jane Austen's London, so the students and I spent some time looking at the historic buildings in nearby Berkeley Square. Mrs. Jennings did not live here, but the square has a number of original buildings dating from the mid-eighteenth century. The west side of this square offers a vision of elegant townhouse living, and our job was to find the kind of house that Mrs. Jennings would have lived in. We looked for a house that "was handsome and handsomely fitted up" (SS 182) and chose about five different houses that would suffice. We concluded that her house must have been elegant, not ostentatious, with less applied decoration than some of the other houses on the block.
During the final stages of our Mayfair walk, when we had crossed Oxford Street on our way to view Harley Street, rain, alas, forced us to take shelter under the awnings of a large commercial establishment near Cavendish Square and to create in our minds' eyes a vision of some of the other houses depicted in Sense and Sensibility. From our maps we could see that Mrs. Ferrars's house on Park Street (not Park Lane) was close to Portman Square and quite close to Mrs. Jennings's house on Berkeley Street. On a walking tour in the rain, it is impossible to show the details, but the fine distinction between Street and Lane led to a general discussion about what we know of Mr. Ferrars. How did he amass his capital? Was he in trade, like Mr. Jennings? Whose house was bigger, more elegant, more impressive: Mrs. Ferrars's or Mrs. Jennings's?

In Pride and Prejudice, three distinct neighborhoods create a triangulated space delineated by wealth and class. The neighborhoods were separated by such inconvenient distances and class-based prejudices that wealthy Hursts would rarely navigate their way from Mayfair to Cheapside, or the Gardiners from Gracechurch Street to Grosvenor Street; it is possible that neither the Hursts nor the Gardiners would travel from their own neighborhoods to the parish of St. Clement's—Wickham's neighborhood—unless they had business in that part of town.
To judge the actual and symbolic distance from the Hursts' house in Mayfair to Wickham's probable temporary residence in Soho, we left Berkeley Square and made our way to Grosvenor Street, and then toward Oxford Street. We walked east on Oxford Street, but by that time it was beginning to rain, and we had to abandon our search. Luckily, Darcy did not give up his search for Mrs. Younge, Georgiana's former governess and Wickham's great friend; rain would not have stopped him. It is Darcy who crosses all boundaries in his pursuit of the errant couple, which takes him to Edward Street, where Mrs. Younge lets lodgings (PP 356). This street presents a bit of a puzzlement: where exactly did Austen place Mrs. Younge's house in London? Rogers suggests that she could have resided on the stretch of Wigmore Street known as "Edward Mews" (532), somewhere between Portman Square and Cavendish Square in Marylebone. Interestingly, this locale would place Mrs. Younge close to the addresses of the various families in Sense and Sensibility. Alternatively, Mrs. Younge could have been a resident in Soho, an area that even then was synonymous with immorality and decadence (Rogers 532). What is important about either of these locations is the fact that Mrs. Younge's lodgings are far enough away from Gracechurch Street and from Grosvenor Street (where Darcy may have been staying) to make Wickham and Lydia feel safely concealed.
Austen tells us that the couple had gone to Mrs. Younge's lodging house, but could not be received there, so they ended up "'in —— street'" (356)—an unusually obscure address in the novel. As Lydia reports, the couple are married at St. Clement's Church, because "'Wickham's lodgings were in that parish'" (352)—but which parish? Pat Rogers says that St. Clement's Church on St. Clement's Lane in the City of London would have been too close to the Gardiners' house and therefore too risky if the couple's "pursuers" were too near (531). Instead, Rogers suggests that the church of St. Clement Danes in the Strand, which is part of a large parish "extending south to the Thames, east to Temple Bar, north to Lincoln's Inn Fields, and west to the Savoy," is a much more plausible option. This large parish incorporated the kind of "cheap lodgings" and "raffish districts" that would have offered Wickham and Lydia concealment. In addition, if Wickham really intended to marry Lydia, their extended stay in London would have made it possible for their marriage to take place at St. Clement's, for in this parish "one of the parties to a marriage had to have been resident there for fifteen days" (531-32). The length of time required for residency functions perfectly for the elopement plot of the novel, for tension increases the longer Lydia and Wickham remain unmarried.
The intrepid walkers in the class did not travel to Gracechurch Street, for today the area is so commercialized that the ambiance is totally missing in the buildings, but it lives in the ancient names of the streets. Across town from Grosvenor Street and from Soho, Gracechurch Street was once the center of London's corn and hay market, and the surrounding street names echo the concerns of the merchants of the area: Cornhill, Threadneedle, and Poultry Streets are nearby.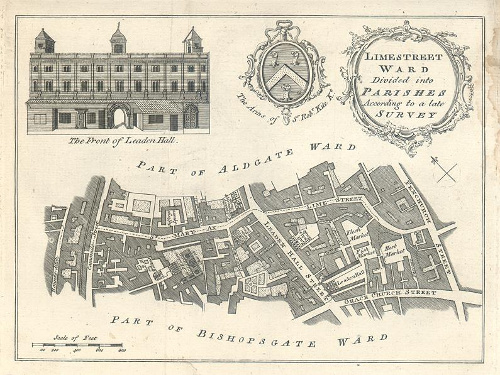 T. Bowen, "Limestreet Ward Divided into Parishes . . ." (c. 1771).
(Click here to see a larger version.) Courtesy of ancestryimages.com
The area was also the home of the Bank of England and the Royal Exchange, so it resonates with commerce and finance, just as it did during Jane Austen's lifetime. In the Georgian era, many "wealthy merchants still lived in the City rather than in the West End" (Sheppard 219), and Mr. Gardiner may be one of the merchants who stayed on after he made a good fortune. The proximity of the Gardiners' house to the markets and banks raises questions about Mr. Gardiner's "trade": What did Mr. Gardiner do? What kind of trade was he involved in? Banking (like Jane Austen's brother)? Overseas trade? Pat Rogers points out that Gracechurch Street "stood at the opposite pole to the fashionable quarters of the West End," for at the turn of the nineteenth century, residents included (among others) "exchange (stock) brokers, cheese-mongers, linen-drapers, fire insurance companies, booksellers, druggists, jewellers, hardware manufactures" (495). Whatever his business concerns, Mr. Gardiner seems to have done very well, for there are few "more gentleman-like" (158) characters in Austen's novels.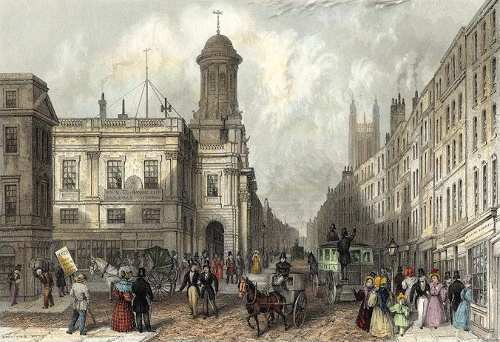 T. H. Shepherd, "Royal Exchange and Cornhill," Woods's Views in London (1837).
Courtesy of ancestryimages.com

Our final outing took us to Brunswick Square in Bloomsbury. Orphans, illegitimacy, and Brunswick Square combine in Emma to create a complex subtext in the novel, so we visited Captain Thomas Coram's Foundling Hospital, which he established in 1742 for the care of London's unwanted, illegitimate, or orphaned babies. In preparation for our walk, I asked the students to read "Emma and the children at Brunswick Square," so that they would have an idea of the cultural history surrounding unwanted children and the enlightened patrons who were horrified at what happened to them.
Our walking tour took us through Queen Square (named for Queen Anne) and provided a perfect opportunity to discuss small chunks of social and political history. On one corner of Queen Square we saw The Queen's Larder Pub, so named, the plaque on the wall informs us, because Queen Charlotte had rented a cellar beneath the pub when the King was ill and was being treated for porphyria by Dr. Willis at his house on the Square. Queen Charlotte wanted to make sure that the King was provided with special foods while he was undergoing treatment for his "madness"—treatment that would be deemed torture by today's standards. As we considered the illness of the King, the irresponsible behavior of the Prince, and the condition of England in the late eighteenth and early nineteenth century, a variety of topics were raised: medical treatment of metabolic diseases (of unknown origin), proper government, economic solvency in a time of war, and the profligate behavior of the Prince of Wales/Prince Regent. As we were leaving the area I pointed out a literary connection with Queen Square: Fanny Burney, whose picture we had seen in the National Portrait Gallery, lived in a house here in 1771-72.
From Queen Square we walked toward Brunswick Square, where John and Isabella Knightley live with their five children, and where Harriet Smith and Robert Martin finally make their match. In Emma, the Knightley brothers routinely make roundtrip journeys from Highbury to the Square, but, amazingly, Emma has never ventured that far out of her own village. We were going to Brunswick Square to see if we could identify the kind of townhouse the Knightleys live in, and to compare this square with some of the other squares we had visited in Mayfair. We were also going to see the Foundling Hospital Museum so that we could discuss the orphan-oriented subtext of the novel.
To the north-east of Queen Square are the extensive grounds of Coram's Fields and the Foundling Hospital (reconstructed but still evocative). Coram's Fields, occupying the former site of the original Foundling Hospital, has been transformed into a children's playground; adults cannot enter unless accompanied by a child. We headed to the Foundling Hospital, where our discussion centered on how societies deal with the problem of "orphaned" (e.g., Jane Fairfax) or unwanted (e.g., Harriet Smith) children. We talked about how in the early nineteenth century "orphan" could mean a child who had lost one parent (like Emma, Harriet, and Frank Churchill) or both parents (like Jane Fairfax)—a disturbing concept to young people in the twenty-first century, since "orphan" is no longer a descriptive term but rather a concept with sentimental overtones.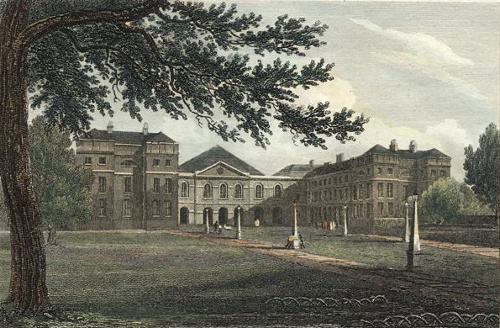 J. P. Neale, "The Foundling Hospital," The Beauties of England and Wales (1816).
Courtesy of ancestryimages.com
At the Foundling Museum we contemplated the fact that in London in the eighteenth century thousands of unwanted children were abandoned and left to die every year. These figures are indeed shocking to today's university students. We talked about how Captain Coram, in the mid-1700s, was so horrified by "the sight of infants exposed in the streets, . . . 'left to die on dung hills'" (Weinreb and Hibbert 291), that he stepped in to act, to do something about a perennial problem that affected all of society. In the spirit of the Enlightenment, he became a prime mover in the effort to save the children, that is, to help mothers who wanted to leave their babies. Even with care, almost two-thirds of the children died. The students were shocked again when I explained that the children who survived institutionalization were generally apprenticed (boys at the age of ten, girls at eleven); most of the boys joined the Army, while the girls were trained to be ladies' maids ("Foundling"). In 1806, however, in response to enlightened reforms, the Hospital's Governors decided that no child would be apprenticed before the age of fourteen. Lucky Harriet: she is the daughter of a rich tradesman "decent enough to have always wished for concealment," a man "rich enough to afford her the comfortable maintenance" that allowed her to live at Mrs. Goddard's (526).
Situated across from the Foundling Hospital, somewhere along the perimeter of Brunswick Square, the John Knightleys' house would have been part of a development exemplary for the new, elegant accommodations that had drawn a professional class of people. Most of these houses have been destroyed in the post-war redevelopment of the area, but a few streets of plain townhouses from the period still remain. Built between 1792 and 1802, Brunswick Square was the center-piece of the new development, with Mecklenburg Square, named in honor of the Prince's mother Queen Charlotte, formerly Princess of Mecklenburg-Strelitz, situated opposite. The Knightleys lived in one of those modern new houses. As we all gazed on the rather plain, unadorned townhouses along the streets that bordered Brunswick Square, I reminded them that this area, along with Russell Square and Tavistock Square, was sought out by no-nonsense professional men (many of them lawyers) like John Knightley. Austen provides him with a plain, rather than ostentatious, dwelling in an area that was promoted for its good air.
I emphasized that the Knightleys' house probably looked like the most of the other Georgian terraced houses built around the squares in this area: vertical, narrow, deep, four-storey townhouses, which usually included a basement, had plain façades, and, because they were set right at the start of the pavement, opened up to the back into a garden. By choosing to reside in "humble," elegant Brunswick Square, John Knightley demonstrates that he is in tune with the modern world and modern values and with the plain, orderly style of the new English architecture, which had fostered attention to hygiene, ventilation, and sanitation (Sheppard 218). When Mr. Woodhouse repeatedly associates Brunswick Square with illness, fogs, and foul miasmas, it is no wonder Isabella argues that the "'neighbourhood of Brunswick Square is very different'" from the rest of the city and firmly rebuts her father's uninformed pronouncements: "'we are not at all in a bad air. . . .—You must not confound us with London in general, my dear sir. . . . We are so very airy!'" (110).

Teaching a Jane Austen Seminar for the Florida State University Study Abroad Program in London offered a perfect opportunity for the whole class to explore with me the highways and byways of the London chapters of the novels. My experience of using London as part of the text of Jane Austen's novels meant mapping out new terrain. The course structure was unorthodox: I had to teach each seminar in a different way so that I could include as many outings as possible (cost was a factor). The excursions afforded the opportunity to explain gobbets of social history, local history, and political history, and to combine some important points with the ideas in Jane Austen's novels. Throughout our seminar we attempted to view London and the social scenes in the novels through Jane Austen's eyes, and we also tried to determine what makes Austen's novels so relevant today. We spent a month on each novel, reading deeply and carefully. Then, as we traversed street after street and examined square after square, Austen's close observations of London life were reflected back to us. The most important part of the teaching this course was to make the analysis valuable to students—as we stood on street corners, in the wind and rain, and toward the latter days of the course, darkness, while traffic noise hooted all around us.
Notes
I would like to thank my students in the Major Women Writers: Jane Austen Seminar at Florida State University London Centre. These students made teaching Jane Austen's London novels a complete joy. I hope they will forgive me for dragging them around in London's wind and rain.
1. Lack of time precluded our reading Mansfield Park. It would have been interesting to discuss the implications of "Lady Lascelles's house" on Wimpole Street.
2. My comments on the development of Mayfair are also included in my essay "Sense and Sensibility: 3 or 4 Country Families in an Urban Village."
Works Cited
Austen, Jane. The Cambridge Edition of the Works of Jane Austen. Gen. ed. Janet Todd. Cambridge: Cambridge UP, 2005-08.
Copeland, Edward, ed. Sense and Sensibility. Ed. Edward Copeland. Cambridge: Cambridge UP, 2006.
"The Foundling Hospital 1739-1954." The Foundling Museum. http://www.foundlingmuseum.org.uk/documents/HistoryoftheFoundlingHospital1739-1954Text.doc
Kaplan, Laurie. "Emma and 'the children at Brunswick Square.'" Persuasions 31 (2009): 236-47.
_____. "Sense and Sensibility: 3 or 4 Country Families in an Urban Village." Persuasions 32 (2010): 196-209.
Rogers, Pat, ed. Pride and Prejudice. Ed. Pat Rogers. Cambridge: Cambridge UP, 2006.
Sheppard, Francis. London: A History. Oxford: Oxford UP, 1998.
Thorold, Peter. The London Rich: The Creation of a Great City, from 1666 to the Present. London: Viking, 1999.
Weinreb, Ben, and Christopher Hibbert. The London Encyclopaedia. Bethesda, MD: Adler, 1986.