| | |
| --- | --- |
| PERSUASIONS ON-LINE | V.32, NO.1 (Winter 2011) |
Tokens of Imperfect Affection: Portrait Miniatures and Hairwork in Sense and Sensibility

Kristen Miller Zohn

<![if !supportEmptyParas]> <![endif]>

Kristen Miller Zohn (email: kzohn@columbusmuseum.com) is chief curator at the Columbus Museum (Georgia), where she is building a collection of portrait miniatures. A frequent lecturer on portraiture and decorative arts of the nineteenth century, Zohn is a contributing author to American Art in the Columbus Museum and The New Encyclopedia of Southern Culture.
jane Austen's family was close-knit and affectionate, and like many others of their class and time, her relations commissioned portrait miniatures and hairwork to celebrate their love for each other. As companionate marriage and stronger bonds within the nuclear family became more common in the late eighteenth and early nineteenth centuries, these objects celebrated the increased fervor in romantic and family love. Portrait miniatures were so familiar to Austen and her family that she referenced them in describing her writing and included them in her novels. Austen used portrait miniatures in several of her works, where they function as contemporary readers have would expected: objects consciously and explicitly produced as tokens of affection.
In Austen's novels, as Barbara Hardy has stated, "the course of true love is strewn with objects" (102). The author includes these objects as part of the materiality of Regency life and also uses them to illuminate the characters. In Sense and Sensibility, portrait miniatures and hairwork serve a more complex purpose: to further the pervasive secrets and broken promises in the novel. These tokens of imperfect affection, worn both privately and publicly and seemingly cherished, give confusing messages about the various relationships that are ultimately revealed to be deficient or nonexistent.
Portrait miniatures and jewelry containing ornamental hairwork were commonly commissioned and exchanged in Austen's time. Portrait miniature painting in watercolor is a particularly English art form, as in no other country was the tradition carried on for almost four hundred years (Murdoch et al. 1). Precursors are found in coinage and carved gems of the Classical world, manuscript illumination of the Middle Ages, and portrait medallions of the Renaissance.1 First appearing in England during the reign of Henry VIII, early portrait miniatures were produced with watercolor and opaque "body color" painted on vellum or card and were backed by playing cards. Considered personal and almost secret, these portraits were kept in drawers or cabinets or were set into brooches, bracelets, or lockets to be worn close to the body. They were meant to be held in the hand and viewed close-up. The miniatures were given to favorites of the king or queen or exchanged with members of foreign royalty for diplomatic purposes. They were also painted to commemorate engagements or marriages, which at that time were more often made for economic or political purposes than for sentimental ones.
A major innovation to the art form came in the first two decades of the 1700s, when vellum and card supports were replaced with thin discs of ivory. The earliest known English miniature on ivory was produced in 1707 by Bernard Lens III (1682-1740). Dale T. Johnson has remarked that Lens's "adoption of the ivory support . . . revolutionized the art of miniature painting" (15). Because ivory has a much greater luminosity than vellum, Lens was able to render glowing skin tones and to represent beautifully the sheen of hair and fabrics. His work was much admired, and other artists quickly adopted the ivory support. After 1720, most portrait miniatures were painted on ivory. Jeremiah Meyer (1735-1789) was the first artist in England to fully exploit ivory's potential, and other prominent miniaturists of this era include Richard Cosway (1742-1821), John Smart (ca. 1740-1811), Thomas Hazlehurst (ca. 1740-ca. 1821), and George Engleheart (1750/3-1829), all of whom depicted members of Austen's circle. Like the earlier Renaissance examples, eighteenth- and early nineteenth-century portrait miniatures were set into jewelry such as lockets, brooches, or bracelets, and were made to be worn close to the body.



Bernard Lens III, Portrait of Duchess Beaufort
(ca. 1720). Courtesy of Elle Shushan




Jeremiah Meyer, Portrait of George III (1767).
Courtesy of Elle Shushan
The patrons of miniatures gradually extended beyond royalty to the aristocracy, then to the gentry, and eventually, in the mid-eighteenth century, to the upper middle class. During Austen's lifetime, there was an avid demand for portrait miniatures in England (Murdoch et al. 192). Graham Reynolds suggests that this demand was due in part to the near doubling of the population between 1700 and 1800 and the growth in wealth of the average person, which increased the number who had the social pretensions and wealth to commission portraits of themselves and their family members (143).
Whereas during the Renaissance portrait miniatures had served political or economic marital alliances, in the eighteenth and early nineteenth centuries they cemented true romantic and familial attachment. Robin Jaffee Frank points out that after 1760 companionate marriage grew more common and featured stronger domestic bonds; compatibility, along with social and economic issues, came into play when choosing a spouse (7).2 Miniatures of that time were commissioned to mark important life events such as birth, engagement, marriage, death, and leave-taking. It was a time of "institutionalized separation: the grand tour (leading to lengthy sojourns in Rome by young aristocratic men), military and naval campaigns, mercantile expansionism, and emigration generated the conditions for the production and circulation of portrait-objects" (Pointon 67).
In the early nineteenth century the form and purpose of portrait miniatures changed before at last they went out of vogue. The growing fashion for full-length portrait drawings on paper in pencil or pencil and watercolor led miniature painters to use larger, rectangular pieces of ivory to produce portraits designed for hanging on walls or displaying in cabinets, not for wearing on the body (Reynolds 167). In the mid-nineteenth century, the invention of photography rendered small painted portraits obsolete, and miniatures were replaced by daguerreotypes and ambrotypes.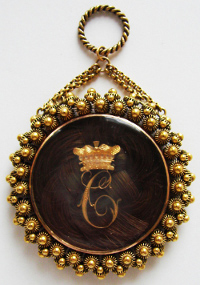 Reverse of Richard Cosway's
Portrait of Kitty Courtenay.
Courtesy of Elle Shushan
Although portrait miniatures declined in popularity during the nineteenth century, the art of ornamental hairwork grew more fashionable. Through all of history, hair has held important social meaning. Hair has symbolized captivating sexuality and has been associated with intimacy, leading lovers throughout recorded time to give and receive locks of hair (Cooper 220-21). As a bodily substance that does not decay, it can be an enduring relic of a person. As early as the seventeenth century, hair was used in jewelry produced as love tokens and death memorabilia (Amnéus 64). It was set within lockets and pendants or woven into chains to be used as necklaces and bracelets. Many portrait miniature cases had openings in the back for displaying strands of the sitter's hair that could be decorated with monograms, initials, and seed pearls. The hair could also be plaited or basket-woven, sometimes intermingled with the hair of the person who commissioned the portrait, or it could be worked into complicated designs such as wheat stalks or fleur-de-lys. Professional hairworkers, as well as amateur ladies, produced the designs (Bury 41).
In the eighteenth and nineteenth centuries, items of hairwork given as tokens of affection were popular, and rules about the exchange of hair jewelry were strictly respected. Although a young unmarried woman could receive such a memento from male and female relatives and female friends, she could accept one only from a man to whom she was betrothed. A young woman could exchange a lock of hair with an admirer at his request, but only if neither lock were set into jewelry. Shirley Bury points out that "these conventions were sometimes disregarded, but never indiscreetly and never without a sense of guilt on the part of a well-bred girl" (44). The first wife of English diplomat Sir William Hamilton, for example, wore a bracelet containing her husband's hair. They had been extremely fond of each other, and after her death in 1782 he gave the bracelet to his niece Mary as an important family memento (Bury 37). Several years earlier, Mary had been asked by the young Prince of Wales, later George IV, to give him a piece of jewelry set with a lock of her hair; in return he was to give her a bracelet set with his hair. Miss Hamilton was, however, too wise to encourage him (Bury 44).
Hair was included in the mourning jewelry that was popular during the Georgian, Regency, and Victorian periods. Individuals, including Austen herself, commonly specified in their wills that their hair was to be set in jewelry to be given to certain friends and family members. The deceased's name or initials and birth and death dates were engraved on the brooches, pendants, and rings. Tiny pieces of hair were mixed with sepia paint to produce mourning miniature paintings set in jewelry; these included symbols of death and resurrection such as funerary urns displaying the name or initials of the deceased, grieving figures dressed in classical clothing, and willow trees, appropriate because they regenerate after being cut.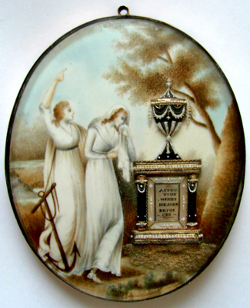 Unknown Artist, Mourning Miniature
(1795). Courtesy of Elle Shushan.
As tokens of the self that display beloved facial features and intimate bodily substances, portrait miniatures, locks of hair, and hair jewelry cemented the familial bonds that were becoming more important in Austen's time. It is no surprise that portrait miniatures and hair tokens abound in the sociable Austen family. Both Austen's parents and her Uncle and Aunt Leigh-Perrot exchanged portrait miniatures on the occasions of their engagements, those of her aunt and uncle being painted by the noted artists Jeremiah Meyer and John Smart.3 Jane's father commissioned another miniature late in life when he was a resident of Bath. His sister Philadelphia Hancock was also painted by Smart.
Unknown Artists, Portraits of the Reverend George Austen (ca. 1764 and ca. 1800); John Smart, Portrait of Philadelphia Hancock.
Courtesy of Jane Austen's House Museum, Jane Austen Memorial Trust
Austen's brothers sat for portrait miniatures both during and after her lifetime. James, the eldest, is depicted in a miniature of circa 1790, when he was about twenty-five. Some scholars have attributed this miniature to his sister Cassandra, an amateur artist, but others have suggested that the artistic level is too high to have been done by her and that the miniature might instead have been the work of an Oxford associate (Bradney-Smith 133). Austen's favorite brother Henry had a portrait miniature painted after her death. Following an exciting life as a militia officer and banker, he is shown in his last profession as a clergyman.
Unknown Artists, Portrait of James Austen (ca. 1795) and Portrait of Henry Austen (ca. 1820).
Courtesy of Jane Austen's House Museum, Jane Austen Memorial Trust
Francis Austen posed for his portrait miniature wearing his naval uniform, as did many military men who gave their families a picture by which to remember them as they served in the Napoleonic Wars. It has been suggested that the "clever young German artist at the Cape" who painted Captain Benwick's portrait in Persuasion may allude to the artist of Francis's miniature (Barchas 157). Austen's other sailor brother, Charles, was also painted in miniature, later in life.4
Unknown Artist, Portrait of Captain Francis Austen (1796) and Portrait of Rear Admiral Charles Austen.
Courtesy of Jane Austen's House Museum, Jane Austen Memorial Trust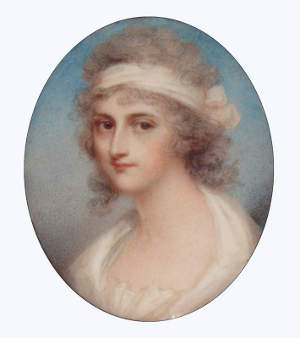 Portrait of Mrs. Edward Austen,
Courtesy of JA's House Museum
Jane Austen Memorial Trust
Miniatures were exchanged among several members of the Austen family circle. Sources indicate at least two miniatures of Eliza Hancock (later de Feuillide and Austen).5 In a letter from Paris to the Reverend Austen dated 16 May 1780, Eliza writes that she is sending to him her picture in miniature: "It is reckoned here like what I am at present. The dress is quite the present fashion & what I usually wear" (qtd. in Le Faye 37). She sent another to her cousin Phila Walter; a lock of her brown hair was encased in the back with the motto Amoris et Amicitiae—"Of Love and Friendship" (Nokes 70). A portrait of Elizabeth Bridges Austen adorns a patch box in the collection of Jane Austen's House Museum. It is believed to have been commissioned at the time of her marriage to Jane's brother Edward. Anna Lefroy, the eldest daughter of James, was painted in miniature by R. H. C. Ubstell in 1845. Austen's good friends Mr. and Mrs. George Lefroy sat for portrait miniatures, as did their nephew, Thomas Langlois Lefroy. As they depict a man with whom Austen may have fallen in love, Tom's portrait miniatures are very intriguing to Austen devotees.6
Austen family affection extended into the next life as well, as evidenced by several mourning hair tokens. Jane Austen preserved a lock with a note in her handwriting, "My Father's Hair," both now in the collection of Jane Austen's House Museum. Also in the collection is one of the locks of Jane's hair that her sister Cassandra cut off after her death.
Locks of Jane Austen's and George Austen's hair.
Courtesy of Jane Austen's House Museum, Jane Austen Memorial Trust
In the weeks after Jane's death, Cassandra wrote to their niece Fanny: "In looking at a few of the precious papers which are now my property I have found some Memorandums, amongst which she desires that one of her gold chains may be given to her God-daughter Louisa & a lock of her hair be set for you. . . . Be so good as to say whether you prefer a brooch or ring" (29 July 1817). Fanny chose an oval brooch inscribed with her aunt's name and death date, and Cassandra wore a lock set in a ring. She also gave locks to their friends Miss Sharp and Harriet Palmer and probably to their brothers James, Henry, and Francis as well (Le Faye 256-57). The collection of Jane Austen's House Museum includes two mourning brooches, one containing Jane Austen's hair and the other, her father's.7
Mourning brooches containing Jane Austen's and George Austen's hair.
Courtesy of Jane Austen's House Museum, Jane Austen Memorial Trust
Three additional items have been put forward as possible examples of hairwork and miniatures related to Jane Austen. In 2008, a mourning miniature came up at auction in which light brown hair is fashioned into a weeping willow and the words "Jane Austen" on a gravestone. The seller's research, however, could not prove authenticity ("Jane Austen Hair"). The sitter in the "Rice Portrait" by Ozias Humphry (1742-1810) wears a pendant around her neck that appears to enclose woven brown hair.8 A third example of miniatures and hairwork that could be related to Jane Austen is a portrait miniature whose sitter looks very similar to the woman depicted in Cassandra's sketch of her. Brown hair is enclosed in the back of this miniature, which is owned by a collector in Chichester. If this example did depict Austen, it would be the most complete portrait of the author known to exist, and the only one by a professional artist.9
| | |
| --- | --- |
| | |
Unknown Artist, Portrait of an Unknown Woman and reverse.
Collection of Michael Donachie, Chichester

Perhaps because Austen's family was so familiar with portrait miniatures as an art form, she felt comfortable in comparing them to her own writing twice in her letters. The most famous instance is from a letter to her nephew James Edward Austen in which she speaks about their shared activity of novel writing: "the little bit (two Inches wide) of Ivory on which I work with so fine a Brush, as produces little effect after much labour" (16-17 December 1816). In an earlier letter, she wrote to Cassandra about having seen a portrait miniature of Philip V of Spain and commented that it "exactly suited my capacity" (25 April 1811).
Austen was not alone in likening her work to miniature painting. As Claire Harman remarks, "As soon as the 'little bit of Ivory' was inserted into the discourse, no one could get enough of 'miniature' and 'fine brush strokes' analogies, using them to account for Austen's skill in terms of control, female niceness, and wisdom about her own limits" (161). Nineteenth- and early twentieth-century critics compared miniature painting, and Austen's writing, with more grandiose forms of art such as history painting and wall frescoes.10
Recent critics, however, have explored the idea that although stated with playful modesty, Austen's comparisons of her work to miniatures were a positive assessment and that her defensive irony emphasized her true interest in the genre.11 Janine Barchas points out that the letter to her nephew was written in December of 1816, a few months after completing Persuasion, in which a portrait miniature plays a pivotal role (159). Katrin R. Burlin has explored her belief that Austen preferred portrait painting to history painting, and that the author used the miniature comparison as a "central symbol and metaphor in and for women's art" ("At the Crossroads" 64). Janet Todd views her comparison to the "little bit of Ivory" as an "aesthetic credo" and likens Austen's own style to the polish and exactitude of miniature portraits ("Ivory Miniatures" 76-77). Lance Bertelsen contends that Austen shares an aesthetic with miniature painters: "'Her labour' is to condense and point language that will convey essential images of what she quite accurately calls 'little effect': that understated but concentrated evocativeness which simultaneously provokes and directs, but does not dictate, distract, or overexplain" (372). The metaphor becomes a token of Austen's affection for her own work.

Miniatures make appearances in Emma, Sanditon, Pride and Prejudice, and Persuasion. Austen included these fashionable objects as a way to ground her novels in the real world (Todd, "Ivory Miniatures" 84). Moreover, she imbued these items with significance by using them "to throw light on her characters' psychology and to reveal the dynamics of their relationships" (Sabor 19). Before she begins to take Harriet Smith's likeness, Emma Woodhouse shows her friend and Mr. Elton her portfolio of attempted but unfinished artworks, miniatures among them; this points to Emma's laziness in the same way as does her list of unread books. In the sitting room of Sanditon House, Charlotte Heywood notices a miniature of Mr. Hollis and a whole-length portrait of Sir Henry Denham, and their size and placement reveal Lady Denham's opinion on the worth of her two late husbands (Sabor 18). As they tour Pemberley, Elizabeth Bennet and her Aunt Gardiner view miniatures of Mr. Wickham, Mr. Darcy, and his sister Georgiana, hung together in the favorite room of Darcy's father. The grouping that continues to include Wickham implies Darcy's enduring respect for his father's sentiments. The miniature of Georgiana as a child reminds Elizabeth of Wickham's depraved intent to rob her of her innocence, and the housekeeper's praise of Darcy counters Elizabeth's opinion of his "hateful" nature (Burlin, "Pictures" 157-58). Captain Harville shows Anne Elliot a miniature of Captain Benwick, who originally had it painted for Fanny Harville but has now asked her brother to have it reset for Benwick's new fiancée, Louisa Musgrove.12 Harville uses the miniature to point out the faithlessness of Benwick, whose grief seems to be only literary; Benwick is thoughtlessly unaware of the significance of his miniature (Todd, "Ivory Miniatures" 80). The episode suggests to Peter Sabor that Benwick is "in love with love itself rather than with either Fanny or Louisa" (26).
In all of these instances portrait miniatures lead to illumination of character. In Sense and Sensibility, however, miniatures and hairwork—which Austen uses only in this novel—serve as a series of false signs. Before broken promises and secrets are ultimately revealed, the privately worn and publicly shown objects help to obscure the imperfect nature of several relationships. The meanings of these objects change as they are observed by different characters at different times (Todd, Cambridge Introduction 52).
A portrait miniature draws attention to a broken promise from which the Dashwood women have suffered before the narrative of the novel begins. As the relationship between Marianne and Willoughby develops, Margaret and Elinor discuss the fact that the youngest sister has believed them soon to be married from very early on because she had spied a token of affection: Elinor says that "'they had not known each other a week, I believe, before you were certain that Marianne wore his picture round her neck; but it turned out to be only the miniature of our great uncle'" (60). Mrs. Dashwood and her daughters had expected to be the eventual heirs to their uncle Dashwood's fortune, but he had willed it to John Dashwood and his four-year-old son Harry despite the fact that they were already wealthy and the women were totally dependent on it. Someone would usually wear a miniature of an old relative in the hope of or gratitude for inheriting, and "the detail suggests Marianne's refusal to enter the system of money relationships in which her worldly lover Willoughby is enmeshed" (Todd, "Ivory Miniatures" 81). Jillian Heydt-Stevenson argues that in wearing the piece around her neck "Marianne is in effect bound—or 'strangled'—by having been 'cut off' from a fortune that morally belongs to her and her mother and sisters" (35).13
During this conversation between the two sisters, Margaret tells Elinor she is now sure about the relationship, because Willoughby has cut off a lock of Marianne's hair. Margaret has seen them whispering to each other but did not hear their conversation. She only assumes that he has asked Marianne for the hair, and she concludes that they are soon to be married. Elinor is inclined to believe it to be true based on what she has observed of them in the past. The hair is never set into jewelry, but is wrapped within paper, Willoughby's pocket-book, and his pocket. As noted earlier, a young woman could give a lock of hair to an admirer, but only if it was not set into jewelry. Marianne and Willoughby therefore are following the social conventions of the day, but the sisters, recognizing the personal nature of the gift, read more into the token than is warranted.14 Margaret is correct, however, about Willoughby's having asked for the lock. When after his engagement to Miss Grey he returns it with her letters, Marianne tells Elinor, "'This lock of hair, which now he can so readily give up, was begged of me with the most earnest supplication'" (189). She had taken the request as proof of his affection, a kind of substitute for a real marriage proposal (Heydt-Stevenson 41). There was no proposal, and Marianne's hair, like herself, is now unwanted and rejected.
A hair token also causes Marianne to assume that Elinor is engaged, when she sees Edward wearing a ring set with plaited hair. The meaning of the ring alters as the presumed source of the hair changes. Marianne first thinks it is Fanny's hair, which would be a sign of sibling attachment. When she sees Edward's embarrassment about the ring and notices that the hair is too dark to be Fanny's, she assumes it is Elinor's hair. As the hair is set in a ring, it would be natural for her to believe that Elinor and Edward are engaged. Elinor, however, knows that there is no engagement: "what Marianne considered as a free gift from her sister, Elinor was conscious must have been procured by some theft or contrivance unknown to herself" (98). Even though she recognizes the impropriety of such a ring, she takes it as "flattering proof" (102) of Edward's affection. Thus Austen does not strictly set "sense" against "sensibility" but shows how even the sensible Elinor can fool herself and experience intense romantic emotions (Heydt-Stevenson 43).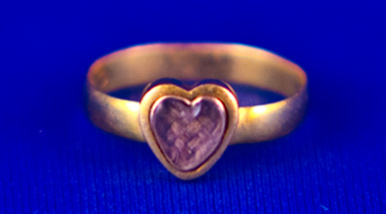 Unknown Maker, Gold Ring Set with Hair (1810-20).
Courtesy of Leila's Hair Museum and Adam Green Photography
The ring is in fact an indication of an engagement, that of Edward and Lucy, which they are carrying on in secret. Unlike mourning hair jewelry, tokens of love were usually not engraved with a name (Bell 21), and so could be anonymous. Rings, however, are made to be worn in public, and Edward is "very conspicuous" (98) about wearing the ring, and therefore begs the curiosity of his companions. Perhaps he is wearing it as a noticeable reminder to himself to stay true to Lucy and to keep an emotional distance from Elinor. In doing so he could be punishing himself for making a hasty engagement; this possible motivation is reminiscent of his disregard for his own pleasure in leaving Barton just as he is enjoying himself the most. In addition, the ring is one of the objects that Lucy uses to prove her engagement to Edward. It then changes meaning again for Elinor, switching from a token of his love for herself to a sign of imperfect affection, as she believes he does not love Lucy and will not be able to find happiness in a marriage to her.
Another of the objects that Lucy produces as evidence is a portrait miniature of Edward. Lucy tells Elinor that the likeness does not do Edward justice and puts it "into her hands" (132) so that Elinor will look more closely. Todd points out that the miniature "allows two women to gaze on the same man in a way that would be improper if the real man were present" ("Ivory Miniatures" 81). An object that has been private is brought into public and the two rivals can both for a moment symbolically "hold" their beloved. When Elinor returns it "almost instantly, acknowledging the likeness" (132), she recognizes Lucy's possession of Edward in her engagement to him.15 The true meaning of the portrait miniature, however, is unknown to Lucy and Elinor at this point, as neither is sure of Edward's true affections (Todd, "Ivory Miniatures" 81). As in the case with Captain Benwick's portrait, "the man changes in his affections; the portrait remains 'constant.' In this it is precisely a misrepresentation—an ideal image of the man which leaves all his emotional changeableness out" (Tanner 240).
Finally, Edward's miniature and the hair ring that he wears figure into the conclusion of the novel. In the postscript of Lucy's letter to Edward announcing her marriage to his brother, she writes that she will soon return the portrait, but that he is welcome to keep the ring. This offer suggests that despite what she says in the letter about having lost his affection, Lucy believes that Edward is even now in love with her. The portrait and ring change their meanings one last time; they, along with Marianne's lock of hair, have become the unwanted remnants of two imperfect relationships.
Much of the plot of Sense and Sensibility depends upon "ignorance, misconception, deception and surprise. People are continually . . . making startling revelations or forming and acting on false conclusions" (Morgan 116). Each character in turn discovers that his or her trust has been misunderstood or betrayed. As tokens of imperfect affection are concealed and revealed, they lend to the confusion and disappointment that are so pervasive in this complex novel. Although portrait miniatures and hairwork were used to celebrate love and affection in the lives of Austen's family and her readers, in this novel the author defies our expectations of their tender functions.
Notes
1. Cassandra Austen's medallion caricatures, painted in 1791 as illustrations for Jane's The History of England (Upfal and Alexander), are reminiscent of portraits of donors and kings in manuscript illuminations.
2. Interestingly, Lawrence Stone argues that the growth of marriage for love parallels and may have been caused in part by popular novels and the romantic love that they depicted (283-84).
3. The current location of the miniature of Mrs. Austen is unknown; it was bequeathed to Anna Lefroy by Cassandra Austen (letter of 9 May 1843, MS Ray Collection, Pierpont Morgan Library). The Leigh-Perrot miniatures are in a private family collection and are reproduced in the Family Record (Le Faye 119).
4. There are at least two miniatures of Francis in his naval uniform: one reproduced here from Jane Austen's House Museum and another that is reproduced in Tomalin (illus. after 76). There is no record of Jane's sister Cassandra having sat for a portrait miniature, although she did sit in middle age for a silhouette, a less-expensive alternative (Jane Austen Memorial Trust; reproduced in Harman illus. 8).
5. A miniature of Eliza is reproduced in Tomalin in the illustrations after page 76. An unfinished miniature by Ozias Humphry of Warren Hastings, Eliza's godfather and presumed biological father, is in the Victoria and Albert Museum (reproduced Reynolds 139).
6. Jane Austen's House Museum has no record of who painted the miniature of Elizabeth Bridges Austen in their collection, but sources mention a miniature of Elizabeth painted by Richard Cosway (Bertelsen 363). Another example painted by Thomas Hazlehurst recently came up at auction ("Lot 127"). The miniature of Anna Lefroy is in the Lefroy Archive and reproduced in Bradney-Smith (143). The miniatures of Mr. and Mrs. George Lefroy are also from the collection of Helen Lefroy, reproduced in Tomalin (illus. after 204). A miniature by George Engleheart of the handsome young Tom Lefroy was offered for sale at the 2008 Grosvenor House Art and Antiques Fair and caused quite a stir in the press and on Austen blogs. See for instance "Tom Lefroy on Sale!" Another version (Hampshire Record Office 23M93/83/1/1) is reproduced in Tomalin (illus. after 204).
7. Both examples of Jane Austen's hair have faded to a light color. There are three additional mourning brooches in the collection, but there is no record as to whose hair is set in them.
8. The connection of the "Rice Portrait" to Jane Austen has long been debated. In part, the attribution represents wishful thinking by those who desire a professionally-painted portrait of her, as the only undisputed image of her face comes from an 1810 sketch by her sister Cassandra. It seems that Austen was not comfortable sitting for portraits. Tom Carpenter, a Trustee of the Jane Austen Memorial Trust, has pointed out that the "impression of her expression and body language in the 1810 sketch implies she was an unwilling sitter even for her sister except for the shortest possible time."
9. Lucy Peltz of the National Portrait Gallery has noted that the face bears a better resemblance to later images that began to appear about 1870, when an "improved" image of Cassandra's sketch was engraved and published as a frontispiece to the 1870 Memoir. For a full discussion of these portraits, see Kirkham.
10. For more on this criticism see Bertelsen (364-66), Harman (160-64), and Todd ("Ivory Miniatures" 82-83).
11. Harman sees Austen's "little bit of Ivory" as having both literal and metaphorical meaning: literally Austen had in mind the portable ivory notebooks of the eighteenth century, and metaphorically she was thinking of miniature painting (113). My research has found no mention of the use of a brush with these notebooks; lead pencils were used (see Hayes 98). Austen's employing the word "brush" therefore indicates that she was speaking of portrait miniatures only.
12. Barchas has suggested that Jane Austen's phrase "small miniature" describing the portrait of Benwick in Persuasion distinguishes it as a portrait on ivory as opposed to one on a small canvas (157). However, I believe that, at a time when the larger, framed portrait on ivory was popular, Austen identifies it as the earlier type, to be set in jewelry. She had described the miniature of Edward the same way in Sense and Sensibility.
13. In her chapter on Sense and Sensibility Heydt-Stevenson investigates at length Austen's use of portrait miniatures and hair tokens, as well as seals, paper filigree and cut steel jewelry, to explore sexuality, consumerism, and violence against women (29-67).
14. Other observers have failed to distinguish between set and unset hair, and therefore see Marianne as transgressing by giving a lock to Willoughby. See, for example, Heydt-Stevenson (34) and Todd (Cambridge Introduction 52).
15. Lucy says that she regrets not having been able to give Edward a portrait miniature of herself but gives him the ring instead (135). Heydt-Stevenson points out that Lucy could probably not afford to have her miniature painted, as it would have cost between three and ten guineas. She could have worked the hair for the ring herself and then had it set inexpensively by a goldsmith (44-45).
Works Cited
Amnéus, Cynthia. "The Art of Ornamental Hairwork." Perfect Likeness: European and American Portrait Miniatures from the Cincinnati Art Museum. Ed. Julie Aronson and Marjorie E. Wieseman. New Haven: Yale UP, 2006. 63-76.
Austen, Jane. Jane Austen's Letters. Ed. Deirdre Le Faye. 3rd ed. Oxford: Oxford UP, 1997.
_____. The Works of Jane Austen. Ed. R.W. Chapman. 3rd ed. Oxford: Oxford UP, 1933-69.
Austen-Leigh, James E. A Memoir of Jane Austen. London: Bentley, 1870.
Barchas, Janine. "Artistic Names in Austen's Fiction: Cameo Appearances by Prominent Painters." Persuasions 31 (2009): 145-62.
Bell, Jeanenne. Collector's Encyclopedia of Hairwork Jewelry: Identification & Values. Paducah, KY: Collector Books, 1998.
Bertelsen, Lance. "Jane Austen's Miniatures: Painting, Drawing, and the Novels." Modern Language Quarterly 45 (1984): 350-72.
Bradney-Smith, Adrienne. "Art and the Austen Family." Report of the Jane Austen Society (2008): 129-44.
Burlin, Katrin R. "'At the Crossroads:' Sister Authors and the Sister Arts." Fetter'd or Free? British Women Novelists, 1670-1815. Ed. Mary Anne Schofield and Cecilia Macheski. Athens: Ohio UP, 1986. 60-84.
_____. "'Pictures of Perfection' at Pemberley: Art in Pride and Prejudice." Women and Literature 3 (1983): 155-70.
Bury, Shirley. An Introduction to Sentimental Jewellery. London: HMSO, 1985.
Carpenter, Tom. Letter to Michael Donachie. 8 May 2007.
Cooper, Wendy. Hair: Sex, Society, Symbolism. New York: Stein, 1971.
Frank, Robin Jaffee. Love and Loss: American Portrait and Mourning Miniatures. New Haven: Yale UP, 2000.
Hardy, Barbara. "Properties and Possessions in Jane Austen's Novels." Jane Austen's Achievement: Papers Delivered at the Jane Austen Bicentennial Conference at the University of Alberta. Ed. Juliet McMaster. London: Macmillan, 1976. 79-105.
Harman, Claire. Jane's Fame: How Jane Austen Conquered the World. New York: Holt, 2009.
Hayes, Kevin J. The Road to Monticello: The Life and Mind of Thomas Jefferson. Oxford: Oxford UP, 2008.
Heydt-Stevenson, Jillian. Austen's Unbecoming Conjunctions: Subversive Laughter, Embodied History. New York: Palgrave, 2005.
"'Jane Austen hair' fetches £4,800." BBC Gloucestershire. BBC News 18 June 2008. 22 April 2011 http://news.bbc.co.uk/2/hi/uk_news/england/gloucestershire/7461764.stm.
Johnson, Dale T. American Portrait Miniatures in the Manney Collection. New York: Metropolitan Museum of Art, 1990.
Kirkham, Margaret. "The Austen Portraits and the Received Biography." Women and Literature 3 (1983): 29-38.
Le Faye, Deirdre. Jane Austen: Her Life and Letters, A Family Record. 2nd ed. Cambridge: Cambridge UP, 2004.
"Lot 127." The Paula Peyraud Collection: Samuel Johnson and Women Writers in Georgian Society. Bloomsbury Auctions 6 May 2009. 22 April 2011 http://www.bloomsbury-book-auct.com/detail/NY029/127.0.
Morgan, Susan. In the Meantime: Character and Perception in Jane Austen's Fiction. Chicago: U of Chicago P, 1980.
Murdoch, John, Jim Murrell, Patrick J. Noon, and Roy Strong. The English Miniature. New Haven: Yale UP, 1981.
Nokes, David. Jane Austen: A Life. New York: Farrar, 1997.
Peltz, Lucy. Letter to Michael Donachie. 6 Nov. 2007.
Pointon, Marcia. "'Surrounded with Brilliants': Miniature Portraits in Eighteenth-Century England." The Art Bulletin 83.1 (2001): 48-71.
Reynolds, Graham. English Portrait Miniatures. Cambridge: Cambridge UP, 1988.
Sabor, Peter. "'Staring in Astonishment': Portraits and Prints in Persuasion." Jane Austen's Business: Her World and Her Profession. Ed. Juliet McMaster and Bruce Stovel. New York: St. Martin's P, 1996. 17-29.
Stone, Lawrence. The Family, Sex and Marriage in England 1500-1800. New York: Harper, 1977.
Tanner, Tony. Jane Austen. Cambridge: Harvard UP, 1986.
Todd, Janet. The Cambridge Introduction to Jane Austen. Cambridge: Cambridge UP, 2006.
_____. "Ivory Miniatures and the Art of Jane Austen." British Women's Writing in the Long Eighteenth Century. Ed. Jennie Batchelor and Cora Kaplan. New York: Palgrave, 2005. 76-87.
"Tom Lefroy on Sale!" Becoming Jane Fansight. Blogspot 10 June 2008. 13 May 2011 http://becomingjane.blogspot.com/2008/06/tom-lefroy-on-sale.html.
Tomalin, Claire. Jane Austen: A Life. New York: Knopf, 1997.
Upfal, Annette, and Christine Alexander, eds. Jane Austen's The History of England & Cassandra's Portraits. Sydney: Juvenilia P, 2009.