| | |
| --- | --- |
| PERSUASIONS ON-LINE | V.33, NO.1 (Winter 2012) |
Jane Austen, Madame de Staël, and the Seductiveness of Conversation

Jeffrey A. Nigro and William Phillips

Jeffrey A. Nigro (email: jeffnigro@mac.com), adjunct lecturer at the Art Institute of Chicago and instructor at the Newberry Library, currently serves as Regional Coordinator of JASNA–GCR. William Phillips (email: wilphil33@yahoo.com), a frequent AGM presenter, is currently Deputy Regional Coordinator of the Greater Chicago Region. William was co-coordinator of the 2008 AGM.
in October 1813, Jane Austen declined an opportunity to attend a literary gathering at which she would have met Madame Germaine de Staël. At this point in the respective lives of these two exact contemporaries, Austen was only just beginning to be known. Sense and Sensibility had been published by "A Lady" two years before, and earlier in 1813, Pride and Prejudice had appeared as written by "The Author of Sense and Sensibility." Soon after the appearance of Pride and Prejudice, however, Austen would be "outed" by her brother Henry as the writer of both, making the publication of Mansfield Park in May of 1814 (and subsequently Emma in 1816) somewhat less than anonymous. By contrast, de Staël was probably the most famous (or, in the eyes of some, infamous) woman in Europe—certainly on the continent.
Madame de Staël was just under a decade older than Austen, but they would die within four days of each other in July 1817: de Staël, interestingly, on Bastille Day (the 14th) with Austen following on the 18th. Several explanations have been offered for why Austen declined to meet de Staël; one was offered by brother Henry twenty years later (incidentally, it was Henry who had invited his sister to attend the literary gathering in question). Where these previous explanations are concerned, we have purloined a phrase from the Book of Daniel, to say that for us, these explanations have been "weighed in the balance and found wanting."
We begin with a key question about these women who were so different superficially: what, if anything, might they have had in common? Before we return to the conversation that never took place between Austen and de Staël, we nevertheless propose to discuss the possible connection between them in terms of conversation, specifically "the seductiveness of conversation." After a look at seductiveness in the life and work of Madame de Staël, we will examine seductiveness in the pages of Austen. To conclude, we will revisit the question of why Austen chose not to meet de Staël, review the previous theories, and offer some possibilities of our own.

For readers of Persuasions On-Line, familiarity with Austen is a given, but an introduction to an author who, at the time, was far more famous than Jane Austen might now be in order. It may give some idea of Madame de Staël's colorful and productive life to say that summarizing it in just a few words is a huge challenge. Readers craving more detail might wish to turn to the 1958 biography by J. Christopher Herold, both dated and ahead of its time, or to the pithy 2008 take on de Staël by Francine du Plessix Gray.
Unlike Austen, Germaine de Staël was born at the center of European wealth and power. She was the daughter of Jacques Necker and Suzanne Curchod Necker, both Swiss Protestants who had settled in Paris. M. Necker was a banker and economist who became Finance Minister under Louis XVI; public outrage over the firing of Necker from that job was the immediate cause of the storming of the Bastille on July 14, 1789. Mme. Necker, who in her youth had turned the head of no less than Edward Gibbon, was the hostess of a literary and intellectual salon frequented by some of the leading lights of Paris. Their daughter Anne-Louise-Germaine was born in 1766. It would be fair to say that Germaine's mother was, to borrow a phrase from Lady Catherine De Bourgh, "'quite a slave to [her] education'" (PP 164), something Mme. Necker never allowed her daughter to forget.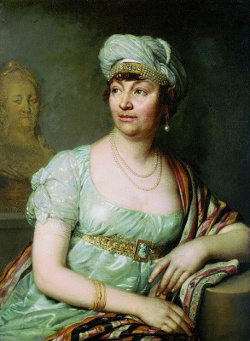 Vladimir Borovikovsky, Madame de Staël (1812)
State Tretyakov Museum, Moscow
Germaine was married off at the age of twenty to Erik-Magnus Staël von Holstein, attaché of the Swedish legation in Paris. Not content with this arranged marriage, Germaine embarked on series of love affairs, and the couple eventually separated. Perhaps her most famous liaison was a tempestuous relationship with Benjamin Constant, writer and aspiring politician, whose novel Adolphe (1816) is partly based on the affair (as well as his liaisons with other women).
Madame de Staël's desire to influence the political life of post-Revolutionary France was doomed to failure. Napoleon took an immediate and unwavering dislike to her (the situation is complicated, but the simple reason is that he couldn't stand outspoken women, much less brilliant ones). Despite de Staël's persistent attempts over the years to win his respect, Napoleon vindictively exiled her from Paris (to her, a fate worse than death). Her many years of exile were actually luxurious and intellectually stimulating. Her home during these years was Coppet, the Necker family château on Lake Geneva, where she was surrounded by friends, lovers, and the children of her various liaisons, and where she received many of the famous writers and political figures of the time. De Staël also traveled extensively, visiting Italy, Germany, Austria, Sweden and Russia, and these travels informed her writings in various ways.
De Staël was self-consciously a "woman of letters." She wrote a number of important and influential critical studies, including De la littérature (On Literature, 1799) and De L'Allemagne (On Germany, 1810/1813) and two novels: the moderately successful Delphine (1802) and the runaway international bestseller Corinne, ou l'Italie (1807). We know that Austen was familiar with Corinne.

The 1813 visit was not the first time that Madame de Staël had been to Britain. During the 1790s, she spent some time in exile in England, specifically at Juniper Hall in Surrey, along with the statesman Talleyrand and a handful of others. It was a kind of elegant flophouse for the liberal constitutionalists who had fallen out with the French Republican authorities.
Frances Burney, the famous novelist who was about to marry into this circle (John Thorpe's "'the woman they make such a fuss about, she who married the French emigrant'" [NA 49]) got to know them all while visiting her sister Susanna Phillips, in nearby Mickleham. As a consequence, both sisters seem to have received a lesson in the art of seductive conversation from the master himself, Talleyrand, as is clear from two letters Burney wrote to her friend Mrs. Locke in 1793:
M. de Talleyrand opened, at last, with infinite wit and capacity. Madame de Staël whispered [to] me, "How do you like him?" "Not very much," I answered, "but I do not know him." "Oh, I assure you," cried she, "he is the best of the men."
I was happy not to agree. . . . (Burney 486)
But only a few days later:
It is inconceivable what a convert M. de Talleyrand has made of me; I think him now one of the first members, and one of the most charming, of this exquisite set: Susanna is as completely a proselyte. His powers of entertainment are astonishing, both in information and in raillery. . . .
Pray tell Mr. Locke that "the best of the men" grows upon us at every meeting. (488)
Duff Cooper, in his 1932 biography of Talleyrand, sums up the situation thus: "Indeed there was much that went on at Juniper Hall to which the sisters Burney were remarkably blind. Prim little figures, they had wandered out of the sedate drawing-rooms of Sense and Sensibility and were in danger of losing themselves in the elegantly disordered alcoves of Les Liaisons Dangereuses" (64).
Cooper's description is an excellent example of how Austen has often been used to represent the polar opposite of French worldliness, sophistication—and seduction. That "gentle Jane" characterization of Austen, however, is far from accurate; in fact, she understood the phenomenon of the seductiveness of conversation very well. Her grasp of the concept is clearly seen in her introduction of Henry Crawford.
[Miss Crawford's] brother was not handsome; no, when they first saw him, he was absolutely plain, black and plain; but still he was the gentleman, with a pleasing address. The second meeting proved him not so very plain; he was plain, to be sure, but then he had so much countenance, and his teeth were so good, and he was so well made, that one soon forgot he was plain; and after a third interview, after dining in company with him at the parsonage, he was no longer allowed to be called so by any body. He was, in fact, the most agreeable young man the sisters had ever known, and they were equally delighted with him. (MP 44)
Like Talleyrand, Henry charms two sisters at once and does so through his conversational skills rather than his looks. We do not know what Henry said, but whatever it was, it seems to have worked.
An examination of the portraits of Madame de Staël will probably make it clear that she was not a conventional beauty, by the standards of her society, or ours. However, like her friend (and erstwhile lover) Talleyrand, she seduced through the art of conversation.1 De Staël biographer Francine du Plessix Gray claims that Germaine was not "an incessant talker" but rather "an extravagantly seductive one." Of her maneuvers, du Plessix Gray says,
Her tactics of seduction were far more complex than those of flattery and might be summed up in the following manner: Once she had discovered a vulnerable area in a man's sensibility—a particular field of interest, say, or a cherished avocation—she played to it with such adroitness that her victim was beguiled into sensing she might be the greatest confidante, the greatest muse he could ever find. And since her choice invariably fell upon men of great sensitivity, their sensuality was stimulated to a pitch that mere physical attractiveness never could have incited. In sum, like many a seductive belle laide, she had a genius for sensing what any one man needed to hear, for convincing him that he could not live without her, and for generally making him feel great. (34)
Perhaps the most productive locus for exploring a connection between "conversation" and "seduction" is de Staël's famous salon in the residence of the Swedish Embassy on the rue du Bac in Paris. Her salon was arguably one of the breeding grounds for the early stages of the French Revolution. It was at the rue du Bac in late 1788 or early 1789 that Germaine met the man who would inspire the first truly grande passion of her rather extensive career of seductions, Louis, Vicomte de Narbonne-Lara.
Ironically it may have been her previous liaison (liaison, not passion), Charles Maurice de Talleyrand, who introduced Narbonne to her. The title of J. Christopher Herold's biography—Mistress to an Age—is clearly meant in more than one sense. Herold introduces de Staël's liaison with Narbonne this way:
Narbonne, both by temperament and by education, was not sympathetic to the libertarian tone that prevailed at the rue du Bac, but Germaine's exalted eloquence carried him away and awakened in him the ambition of fulfilling his gifts in the cause of freedom and progress. For three years he abandoned himself to the prevailing euphoria and allowed Germaine to guide him toward glory. (94-95)
The liaison with Narbonne was common knowledge among the glitterati of Paris, and Monsieur de Staël became suspicious. An accomplished dissembler, Madame de Staël is known to have issued a withering tirade against his suspicions. As it happened, his suspicions were well founded. Before the end of 1789, Germaine was pregnant by Narbonne.

In both of de Staël's novels, the hero and heroine fall in love by talking to one another. One could argue that this was a society in which there were few other socially acceptable ways in which people could get to "know" each other—although Germaine de Staël didn't necessarily worry about the possible damage to her reputation that other ways of "getting to know" men might cause.
Delphine is a tale, told in letters, of drawing room intrigues and doomed passions, set against the turmoil of the French Revolution. Towards the beginning of the novel, the heroine Delphine tells a friend how she fell in love with her soul mate, Léonce:
For a long time I spoke with him, in front of him, for him; my pleasure in this conversation was entirely new to me. Until then, I had thought of conversation only as a way of showing the breadth and subtlety of my ideas, but with Léonce, I looked for subjects more closely akin to the soul's affections; we talked about novels: one by one we covered those few which have probed the most secret griefs of sensitive characters. I felt a depth of emotion enliven all of my words: my quickened heartbeat did not abate even when our discussion turned purely on literature. (56)
It sounds rather like Marianne talking about Willoughby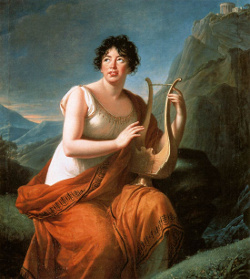 Elisabeth-Louise Vigée-Lebrun,
Madame de Staël as Corinne (1807-09)
Musées d'art et d'histoire, Geneva, Switzerland
Corinne is, on the surface, as far away from an Austen novel as could possibly be imagined. Set largely in Rome and in other parts of Italy at their most picturesque, the novel tells the ultimately tragic story of a grande passion, with sweeping ethnic and cultural implications. As in Delphine, one of de Staël's main themes in Corinne is the difficulty that extraordinary women, women of genius, face in finding happiness, and the way in which societal conventions stifle and destroy them. The eponymous heroine is an improvisatory poetess, as emotionally intense as she is beautiful. Her paramour is the British nobleman Oswald, Lord Nelvil. Corinne and Oswald fall in love when she becomes his tour guide through Rome, inspiring him with her eloquent discourses on the melancholy spectacle of Italy's faded glory. Oswald, like everyone else in the novel, is moved by Corinne's poetic improvisations, which she herself likens to "lively conversation" (45-46).
Corinne and Oswald also generate sparks in an impassioned debate about the relative spiritual and cultural merits of Roman Catholicism and Protestantism. (176ff.) That debate is part of a major theme, not just in Corinne, but in de Staël's work in general: the influence of geography on culture. Ostensibly Italian, Corinne is warm, passionate, articulate, and outgoing; Oswald is principled, taciturn, brooding, and tending to melancholy. In other words, both exhibit traits that de Staël associates with their respective cultures or nationalities, Italian and British. De Staël's "geographical" attitudes hold true for another character, the Comte d'Erfeuil, a Frenchman who might be described as a not-very-serious rival for Corinne's affections. D'Erfeuil is charming, kind-hearted to a degree, and insouciant almost to the point of frivolity.
This triangular relationship sounds more than vaguely familiar: a highly principled, somewhat humorless man of relatively few words; an articulate woman with an independent streak; and a charming but shallow man who may be entertaining but is not worthy of the heroine. One might think of the following triangles in Austen's novels:
Darcy/Elizabeth/Wickham
Knightley/Emma/Frank Churchill
Edmund/Fanny/Henry Crawford
Wentworth/Anne/Mr. Elliot
Of course, the parallels are not exact (Fanny Price is no Corinne; the Comte d'Erfeuil is no Wickham), and one might think that Austen would never indulge in de Staël's simplistic ethnic stereotyping. Nevertheless, astute Austen readers noticed at least one example long ago. The Emma triangle has echoes of nationalistic cultural conflicts. The chivalrous George Knightley, whose given name is that of the patron saint of England, embodies the upright, forthright qualities of the perfect English gentleman. By contrast, Frank Churchill whose given name evokes the French ("Franks") is, as Mr. Knightley points out, aimable in the French sense of being externally fetching and lovable, rather than amiable in the English sense of being well mannered and caring as internal character traits (149).2

For de Staël, seduction was a "real life" matter, not just a literary one. While several sources (including her own extant letters) speak of Austen as flirting as a young woman, she was no "real life" seductress, certainly not in the sense that de Staël was. For Austen, seduction occurs on the pages of her novels—first of all in her cads, the seducers she created. That Austen is no stranger to "styles" of seductiveness shows in the fact that she created distinctly different categories of seducers. What they all have in common, however, is conversation.
We can begin with Wickham, who consummately and strategically plays the victim in his almost continuous prowl for victims for himself. He demonstrates great skill in drawing out all the sympathetic vibes from his potential victims. Because Wickham has left gambling debts in his wake, we can infer that his hunt for victims applies to men as well as women, but Austen wouldn't know the particulars, so there are no details. For the purposes of Pride and Prejudice, we are only interested in Wickham's effect on women. It is fascinating that his first target is a character we love so much. Consider this excerpt from the evening at the home of Aunt and Uncle Philips.
[W]hen Mr. Wickham walked into the room, Elizabeth felt that she had neither been seeing him before, nor thinking of him since, with the smallest degree of unreasonable admiration. . . .
Mr. Wickham was the happy man towards whom almost every female eye was turned, and Elizabeth was the happy woman by whom he finally seated himself; and the agreeable manner in which he immediately fell into conversation, though it was only on its being a wet night, and on the probability of a rainy season, made her feel that the commonest, dullest, most threadbare topic might be rendered interesting by the skill of the speaker. (76)
Elizabeth's attraction to Mr. Wickham does not fade quickly. Ten chapters later, the Gardiners visit Longbourn, where Aunt Gardiner and Mr. Wickham discover their mutual ties to Derbyshire. Even though Elizabeth responds positively to her aunt's warning about the (mostly economic) imprudence of an attachment to Wickham, it is clear that the spark is still alive when Elizabeth says to her Aunt, "'At present I am not in love with Mr. Wickham; no, I certainly am not. But he is, beyond all comparison, the most agreeable man I ever saw—'" (144). We would add, "or listened to." Elizabeth—so bright, so perceptive, so "with it," has, in her response to Wickham, fallen victim to her second, really bad, first impression of the novel, and she isn't disabused of either her Wickham or Darcy errors until she reads Darcy's letter in the park at Rosings. (But before we get too smug, we should try to conjure ourselves as first time readers, remembering that we didn't know Wickham's villainy either—until that letter.)
Our next cad, Willoughby, is adept at a different strategy of seduction, promoting himself as soul mate. Willoughby is something like a male version of Madame de Staël. Perhaps in neither case is the strategy totally disingenuous. Willoughby's mind, however, seems to work like a search engine: in Austen's more mechanical age, we can almost hear the wheels turning in Willoughby's brain as he essentially "Googles" his repertoire of love poetry once he learns of Marianne's interest.
Frank Churchill's seductive strategies involve the secrets and in jokes that center on his relationships with Jane Fairfax, on the one hand, and Emma, on the other. With Jane there is the shared secret of their engagement. That we readers may be rather slow in catching onto that secret is exactly what Austen wants because it is exactly what Frank Churchill wants as he lives out his fantasy of keeping his intended quiet about their secret while simultaneously making another woman think he is in pursuit of her. With Emma his strategy turns into his rather scurrilous toying with her as he falsely fans the flames of their in joke linking Jane Fairfax and Mr. Dixon. Frank Churchill's long letter to Mrs. Weston at the end of the novel (436-43) can, arguably, be read as evidence that he was amusing himself in his interactions with Jane and Emma without giving much (if any) thought to how much either of them might suffer.
Having cited Henry Crawford earlier, we'll just mention one more seducer here—Persuasion's William Elliot, a juggler. Mr. Elliot does his best to keep several balls in the air at the same time: Sir Walter, Elizabeth, Mrs. Clay, Anne, and (to a certain extent) Lady Russell. That juggling is evident in his conversational success with Anne. When they discuss "'good company,'" Anne wants to include only "'clever, well-informed people, who have a great deal of conversation.'" Mr. Elliot "gently" corrects her, saying, "'that is not good company; that is the best'" (150). He is correct, and what Austen shows us with this character is that even a smarmy rotten egg can occasionally stumble into an observation that is spot on.
Perhaps we should say a word about the role of the women in the primary seductions. To be fair to Mr. Elliot, the real seducer (or seductrix) here might well be Mrs. Clay. In the opening pages of the novel, Mrs. Clay supports her father in proposing Admiral Croft as a good tenant for Kellynch Hall: "'I quite agree with my father in thinking a sailor might be a very desirable tenant. I have known a good deal of the profession'" (18). Think about it! At the end of the novel, Mrs. Clay may have abandoned the idea of becoming the current Lady Elliot in favor of what may be a better possibility of becoming the next Lady Elliot, and in the meantime having a lot more fun, hanging out with someone who has both more sense and more money than the current baronet. Even if the Lady Elliot ploy doesn't work out, it seems unlikely that Mrs. Clay will exit Mr. Elliot's "protection" empty handed. We don't mean to defend Henry Crawford and certainly not Wickham (arguably the worst bad guy in all of Austen), but Maria has a lot to do with the elopement in Mansfield Park, and it is fairly clear in Pride and Prejudice that Lydia can't wait to get her knickers off, either.3

We noted earlier that in both of de Staël's novels, the hero and heroine fall in love by talking to one another. Most of us would probably not associate "seductiveness" with the central love relationships in the Austen novels. It can be argued, however, that in four or five of the novels, seductiveness is brilliantly woven into the fabric of those key relationships. Recognizing the validity of this claim may depend on a careful reading of just what is seductive to whom among Austen's characters. The eventual success of those primary "love" relationships depends on several elements that neither we nor the couples in question might immediately recognize as avenues to affection. Among these elements are cluelessness, naïveté, one-sidedness, apparent dullness, and even downright hostility. This notion has been influenced by the exceedingly fetching analysis provided by Bharat Tandon in his 2003 work Jane Austen and the Morality of Conversation.
There is not enough space here to develop the idea in great detail, but we can mention a couple of examples. Having used the word "cluelessness," one might immediately think of Emma and Mr. Knightley, and Tandon does discuss them. An example that might not immediately jump to mind, however, is that of Fanny and Edmund. Tandon cites the interaction in which Fanny and Edmund assess their first meeting with the Crawfords; both question the behavior of Mary: "The two cousins are certainly giving and exchanging information; they are also, after the peculiar fashion of this novel, chatting each other up (although they would hardly admit that to themselves)" (Tandon 87). Tandon asserts that given the brilliance with which Austen takes humor seriously, her writing "allows readers to negotiate with other minds and other experiences, to spend time in reading with characters from whom they might, with reason, run a mile in real life. Austen shows equanimity in presenting Edmund and Fanny's unwitting courtship as both awkward and just, without reducing it to a scientific sideshow, The Mating Ritual of the Cold Fish" (87).
On the other end of the scale is, of course, the relationship between Elizabeth and Darcy. We have all been charmed by the manner in which the open hostility between them evolves into love. Tandon would argue that "seductiveness" (to use our word) is present from the beginning at the Meryton Assembly. While somewhat quirky and certainly debatable, Tandon's intriguing interpretation first asserts that Darcy intentionally slights Elizabeth when she is within earshot. Second, Tandon points to Austen's brilliant use of italics for the word me in the famous phrase "'not handsome enough to tempt me!'"
Austen's italics deliberately set a reader wondering as to what the evidence means. What Darcy's stressed pronoun performs is the drawing-up of the battle lines across which his and Elizabeth's barbs will fly as they discover one of the old truths about love, that nothing gets one noticed like an insult. (92)
So it goes until a bit later for Darcy, and until Darcy's letter for Elizabeth.

Our earlier suggestion that echoes of de Staël's work appear in Austen's is inspired by the fact that Austen and de Staël are known to be aware of one another's work. In a letter to Cassandra of 27-28 December 1808, Jane talks about meeting a Mr. Fitzhugh:
poor Man, [he] is so totally deaf, that they say he cd not hear a Cannon, were it fired close to him; having no cannon at hand to make the experiment, I took it for granted, & talked to him a little with my fingers, which was funny enough.—I recommended him to read Corinna.
Austen scholarship seems largely agreed that she was being ironic here, recommending a novel she probably didn't think much of to a man with whom she could barely communicate.4 De Staël knew Austen's work as well, but notoriously characterized Pride and Prejudice as "vulgaire" (Viveash 40). It is important to understand, however, that the French term does not mean "vulgar" in the modern English sense but rather implies something that is "trivial," "commonplace," or "ordinary" (Larousse 1230-31).
Claire Tomalin argues that de Staël's problem with Austen's work was that it was "too close to the English provincial life [de Staël] detested for its narrowness and dullness, its emphasis on duty and stifling of wit and brilliance" (242). This interpretation is borne out by the description of Corinne's experience of provincial Scotland, where the conversation is both deadly dull and mindlessly conventional. Of course, to us, much of Austen's genius lies in what Sir Walter Scott famously called her "exquisite touch which renders ordinary commonplace things and characters interesting from the truth of the description and the sentiment" (Southam, Critical Heritage 106). Austen understood the deeper meanings, indeed the seductiveness, that can lie beneath polite drawing room conversation. Besides, country life doesn't exactly stifle the wit and brilliance of Elizabeth Bennet. Even de Staël may have understood all this on some level: we know that she ordered a copy of Mansfield Park for her library at Coppet (Viveash 40), so she can't have been too bored by Austen's writing.

We come, then, to our final question. Why didn't Jane Austen want to meet Madame de Staël? We should begin this discussion by recalling what Henry Austen actually says in his 1833 Memoir about this non-event, though at a distance of twenty years he seems to misremember the timing:5
In the bosom of her family, she talked of [her novels] freely; thankful for praise, open to remark, and submissive to criticism. But in public she turned away from any allusion to the character of an authoress. In proof of this, the following circumstance, otherwise unimportant, is stated. Miss Austen was on a visit in London soon after the publication of 'Mansfield Park': a nobleman, personally unknown to her, but who had good reasons for considering her to be the authoress of that work, was desirous of her joining a literary circle at his house. He communicated his wish in the politest manner, through a mutual friend, adding, what his Lordship doubtless thought would be an irresistible inducement, that the celebrated Madame de Staël would be of the party. Miss Austen immediately declined the invitation. To her truly delicate mind such a display would have given pain instead of pleasure. (149-50)
Henry sounds rather like Sir Walter talking about Mrs. Clay's "fine mind." Of course, events in Persuasion show how wrong Sir Walter was. Mrs. Clay's "fine mind" was concentrated not on the beauty of Mrs. Wallis—but on taking care of herself. Based on the traditional view of "dear Jane," one might leap to the conclusion that Austen would be too decent (or prim, depending on one's point of view) to meet a woman who was so outrageous. In a brief 1991 piece for Persuasions, C. F. Viveash seems to side with Henry's "gentle Jane" point of view, paraphrasing Henry: "Unhesitatingly Jane refused the invitation" (39). Viveash also cites Lord David Cecil's suggestion "that Jane refused to meet the lady because of her notorious love affairs and her unrelenting chatter" (39).
Would Austen really have been so prudish? For decades, Austen scholars and critics have been at pains to dispel Henry's saccharine and whitewashed image of his sister. We think that Austen might have found de Staël refreshingly honest about "unconventional morality." In support of our opinion, we would submit the oft-cited letter to Cassandra dated 12-13 May 1801, in which Jane describes surveying the crowd at a ball in Bath:
I am proud to say that I have a very good eye at an Adultress, for tho' repeatedly assured that another in the same party was the She, I fixed upon the right one from the first.—A resemblance to Mrs Leigh was my guide. She is not so pretty as I expected; her face has the same defect of baldness as her sister's, & her features not so handsome;—she was highly rouged, & looked rather quietly & contentedly silly than anything else.
The young woman who wrote this letter would go on to create such characters as Lydia Bennet, Maria Bertram, and Penelope Clay. Is it likely that she would be so shocked by the notorious continental "Adultress?" She certainly didn't mind eyeing one at Bath. The letter reveals an Austen who is adding to her store of keen observations and who seems to recognize that even the less than conventionally beautiful (like Mrs. Clay or Madame de Staël) might be among the better players in what Elizabeth Elliot calls "'the game.'"6
Theories for Austen's refusal have also been proffered by her biographers, mostly based on the idea that Austen would have disliked drawing attention to herself as a writer, an explanation that seems closer to Henry's telling of the story. John Halperin suggests that Austen "disliked the idea of going into public as an author" and adds that "the story may or may not be true" (286). Claire Tomalin describes the situation thus: "[Henry] was unable to resist blabbing about her authorship; she forgave him, and began to grow used to it, but would not be taken to literary gatherings. An attempt to introduce her to the French writer Madame de Staël, who was in London meeting everyone in the winter of 1813/14, was firmly refused" (239-40). Valerie Grosvenor Myer proposes a complex mixture of possible (and plausible) reasons:
Madame de Staël had been an early supporter of the French Revolution and was separated from her husband. From 1796-1806 she had been involved in a stormy affair with the writer Benjamin Constant. . . . Anyway, although Jane could read French, she was far from confident about speaking it, which may have been an additional reason for avoiding embarrassment. (197-98)
Building on Myer's speculation that, for Austen, de Staël evoked unpleasant associations with the French Revolution, we should recall that the Austen family's closest connection with the Revolution had been cousin Eliza, the Countess de Feuillide, who later married Jane's brother Henry. Eliza's first husband had been guillotined, and she herself had barely escaped that fate; Eliza herself had only recently died, at the end of April 1813. Perhaps Austen felt that the emotional associations would be overwhelming.
Further, toward the end of 1813, Austen was preparing Mansfield Park for final publication. Could she have been concerned that she might encounter probing questions about what she was currently working on? The conventional wisdom is that Mary Crawford is based, at least partly, on Eliza Hancock de Feuillide Austen. It could also be argued that elements of not only Miss Crawford but perhaps Maria Bertram as well might owe something to Austen's imagined version of the sophisticated and notorious de Staël.
Would Austen really have been so delicate as to want to "avoid" her (in)famous contemporary? Claudia Johnson has been active in arguing against the concept of an incorporeal Jane. Her arguments have once more been foregrounded in her 2012 work, Jane Austen's Cults and Cultures. Johnson does not deny Austen's public reticence; however, she questions both its source and its extent.
Whether Austen's uneasiness with notoriety was genuinely her own, or whether it was to one degree or another foisted on her by her family, Jane Austen—as distinct from "Jane Austen"—surely did not dwell among untrodden ways. Among literati, she was far from anonymous, and her letters show her to be extremely gratified by her developing reputation as a novelist. (21)
As evidence, Johnson calls attention to Austen's letter of 3 November 1813, in which Austen says, "I do not despair of having my picture in the Exhibition at last." Readers will note that the letter dates from a very short time after the declined invitation. Further debunking the "gentle Jane" promotion, Johnson cites Austen's Juvenilia: "Austen's early work sides with the body and its vigors, particularly as these give the lie to restrictive, high-blown notions of female delicacy" (22).
Would this Jane Austen have worried about spilling the beans if questioned at a literary gathering? It seems unlikely. Any potential embarrassment might more likely have come from her escort, brother Henry. As his sister's informal literary agent, Henry may well have already been aware of aspects of the plot and characters of Mansfield Park at this point, and may have even read portions of it.7 Fond of her brother as Austen was, the fact that Henry had recently turned "blabbermouth" about "his sister the author" might have given her pause. With Henry in tow, her concern might have been more for the loss of control over exactly what might be said, unsurprising behavior from a writer who exercised such meticulous control over everything she put on paper.
We must beg indulgence for one final speculation about Austen's reluctance in October 1813. Perhaps Austen felt that she might like de Staël too much. The woman's powers of seduction were legendary. Austen might have worried that she would find those powers too difficult to resist.
Notes
1. For our own "conversation" on the power of talk in Austen and De Staël, we acknowledge our debt to the important studies of talking in Austen by Juliet McMaster, Bruce Stovel, and others.
2. See also the essay by Brian Southam on Emma as national tale.
3. There might be some question about the position of Mary Crawford among Austen's seductresses. In our view, conversation is not a strong component of Mary's seductiveness, which derives from her beauty, worldliness, and exotic urbanity. In conversation, she rather consistently misreads her Mansfield audience, opening with jokes about "'Rears, and Vices'" (60) and ending with her plans for the resuscitation of Maria's reputation.
4. In an essay in the forthcoming volume Elegance, Propriety, Harmony: Austen and the Arts (Lehigh University Press), Elisabeth Lenckos notes both Austen's apparent irony in mentioning Corinne, as well as the suggestion that her seeming disapproval of this international celebrity was the cause of her declining the invitation to meet de Staël in person.
5. Henry must be incorrect in saying that Mansfield Park had just been published. The event in question took place in the autumn of 1813 while Mansfield Park appeared in the spring of 1814.
6. With delicious irony, Miss Elliot uses the term in speaking to Mrs. Clay, who will soon after play her trump card—herself—in the very game Elizabeth mentions, the competition we might label "The William Elliot Steeplechase" (P 213).
7. Austen's letter to Cassandra of 2-3 March 1814 might imply that Henry was reading Mansfield Park for the first time at that point although the evidence is not absolutely conclusive. We believe it highly likely that Henry was at least familiar enough with the some aspects of the novel's plot and characters to make his further "blabbing" a distinct possibility.
Works Cited
Austen, Henry. "Memoir of Miss Austen." A Memoir of Jane Austen and Other Family Recollections. Ed. Kathryn Sutherland. 1833. New York: Oxford UP, 2002. 145-54.
Austen, Jane. Jane Austen's Letters. Ed. Deirdre Le Faye. 3rd ed. New York: Oxford UP, 1995.
_____. The Novels of Jane Austen. Ed. R. W. Chapman. 3rd ed. Oxford: Oxford UP, 1933-69.
Burney, Frances. Diary and Letters of Madame d'Arblay. Ed. Charlotte Barrett. London: Bickers, n.d. Vol. 3.
Cooper, Duff. Talleyrand. London: Cape, 1932.
Gray, Francine du Plessix. Madame de Staël: The First Modern Woman. New York: Atlas, 2008.
Halperin, John. The Life of Jane Austen. Baltimore: Johns Hopkins UP, 1984.
Herold, J. Christopher. Mistress to an Age: A Life of Madame de Staël. Indianapolis: Bobbs-Merrill, 1958.
Johnson, Claudia L. Jane Austen's Cults and Cultures. Chicago: U of Chicago P, 2012.
Larousse, Pierre. Grand dictionnaire universel du XIXe siècle. Geneva: Slatkine, 1982. Vol. 15.
Myer, Valerie Grosvenor. Jane Austen: Obstinate Heart. New York: Arcade, 1997.
Southam, B. C., ed. Jane Austen: The Critical Heritage, 1811-1870. London: Routledge, 1968.
Southam, Brian C. "Jane Austen's Englishness: Emma as National Tale." Persuasions 30 (2008): 187-201.
Staël, Germaine de. Corinne, or Italy. Trans. Sylvia Raphael. Oxford: Oxford UP, 1998.
_____. Delphine. Trans. Avriel H. Goldberger. DeKalb: Northern Illinois UP, 1995.
Tandon, Bharat. Jane Austen and the Morality of Conversation. London: Anthem, 2003.
Tomalin, Claire. Jane Austen: A Life. New York: Knopf, 1997.
Viveash, C. F. "Jane Austen and Madame de Staël." Persuasions 13 (1991): 39-40.