| | |
| --- | --- |
| PERSUASIONS ON-LINE | V.34, NO.1 (Winter 2013) |
Bollywoodizing Jane Austen's Emma: Rajshree Ojha's Aisha

Rosa M. García-Periago

Rosa M. García-Periago (email: rosagperiago@um.es) has recently completed a Ph.D. on Shakespeare in Bollywood at the University of Murcia (Spain), where she is an Associate Professor. Her main research interests are film adaptations of Shakespeare's works, Shakespeare in Asia, Bollywood cinema, and postcolonial theory.
jane Austen must have been a Punjabi girl in a previous life," says Gurinder Chadha. From a different perspective, Dianne Sadoff affirms that "the Austen franchise has gone global" (89).1 The post-millennial period has witnessed the release of several Austen film adaptations in cultures and locations outside the British area. Rajiv Menon's 2003 Kandukondain Kandukondain (an Indian adaptation of Sense and Sensibility), Gurinder Chadha's 2005 Bride and Prejudice (a transnational project based on Pride and Prejudice), Rajshree Ojha's 2010 Aisha (an Indian adaptation of Emma), and Angel García's 2011 From Prada to Nada (a Latin relocation of Sense and Sensibility set in California) are examples of Austen's universal appeal across cultures and locations.
It is certainly significant that, with the exception of Angel García's From Prada to Nada, the other three film adaptations focus on Indian culture, demonstrating that "Austen can slide with surprising ease into an Indian setting" (Hopkins 129). In a society in which the discussion about arranged versus love marriages is still present and in which class plays a major role, Jane Austen's novels are easily adapted and relocated. Chadha's Bride and Prejudice is a hybrid and transnational work that locates its principal families in India, England, and the United States, and includes "elements of Hollywood, Bollywood and British cinematic traditions" (Oliete Aldea 167). In contrast, Kandukondain Kandukondain and Aisha are set exclusively in India. While Kandukondain Kandukondain is an instance of Tamil cinema, Aisha is the first full encounter of Austen with Bollywood.
One of the complexities of the post-colonial enterprise involves the difficulties for a culture in mixing its native traditions with the Western values of the colonizer—a fruitful tension and positive outcome certainly reflected in Rajshree Ojha's Aisha. In the so-called bronze age of Bollywood cinema, post-colonial heroes and heroines struggle to understand what it means to be a modern Indian, how to mix those competing values.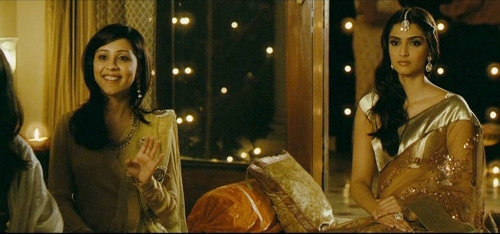 Shefali and Aisha celebrate Diwali
In Aisha the Austen "myth" evolves from an example of Englishness par excellence to a postcolonial text. Some of Jane Austen's characters—such as Aisha (Emma), Aarti (Jane Fairfax), Shefali (Harriet Smith), and Mr. Kapoor (Mr. Woodhouse)—are "Bollywoodized" as Western and Eastern traditions are mixed. These characters are not simply based on Jane Austen's counterparts but also on prototypical characters of well-known Bollywood movies. In addition, in this Indian Emma, Ojha transforms Austen's text, appropriating major Bollywood conventions such as weddings, festivals, songs and dances, the absence of kissing, and intertextual references to the Bollywood industry. Through the adaptation of these conventions, Austen's text is so Bollywoodized that even some layers of Austen's novel vanish in its appropriation of Bollywood aesthetics. Although the transformation of the text to suit the Bollywood genre may erase much of its fidelity to Austen, Austen's powerful appeal in a postcolonial setting like India might suggest the way India is still defining itself in relation to England, or to the West.
Ojha's Aisha relocates Highbury in Delhi, transforming the names of the characters into distinctly Indian names. Thus, Emma is Aisha, Mr. Knightley becomes Arjun Burman, Harriet Smith is Shefali, Mr. Elton is Randhir Gambhir, Jane Fairfax is Aarti Menon, Mr. Woodhouse is Mr. Kapoor, Frank Churchill is Dhruv Singh, and Pinky Bose is a combination of Clueless's Dionne—Cher's best friend—and Austen's Mrs. Elton and Charlotte Lucas. In spite of the fact that Aisha has been compared with Clueless and considered, because it highlights "Austen-tatious consumption" (Bamzai 1), in the tradition of Sex and the City and Gossip Girl, this film adaptation is more indebted to Indian culture and Bollywood conventions.2
As the 1990s and post-millennial Bollywood movies have been targeted at diasporic audiences, Bollywood characters exemplify the perfect combination of modernity and tradition. The main characters in popular Bollywood movies such as Hum Aapke Hain Koun (1994), Dilwale Dulhania le Jayenge (1995), Kuch Kuch Hota Hai (1998), and Dil To Pagal Hai (1997) are in-between, hybrid subjects, who mix Western and Indian values. The characters in Aisha certainly invoke these Bollywood types in their mixture of Eastern and Western values. They also intrinsically allude to some of the most popular Bollywood movies in their configuration; there is then an interesting interconnection between Austen and Bollywood in Ojha's film. Aisha, Aarti, Shefali, and Mr. Kapoor epitomize how Austen's characters are Bollywoodized.
Aisha is greatly indebted to Farhan Akhtar's Dil Chahta Hai (2001). The three female characters of Aisha—Aisha, Pinky Bose, and Shefali—seem to be modelled on the three main characters of Dil Chahta Hai—Akash, Siddharth, and Sameer. Both films clearly explore a youth culture, and in both the three main characters are friends who have to overcome some problems in the course of action until their relationship is finally saved. In fact, Aisha seems a female Akash, above all in her hybridity since, like Akash, she is willing to mix Western and Eastern values. As Aisha appears as an in-between subject in modern India, she is portrayed as a postcolonial citizen in her combination of traditions.
It is not surprising, then, that the female protagonist of Aisha (the Delhi Emma) is a prototypical modern Bollywood character, mixing Eastern with Western values. On the one hand, Westernization plays a crucial role in the configuration of Aisha. Her love for Western labels, such as Prada, Louis Vuitton, Salvatore Ferragamo, Dior, or L'Oreal basically highlights her wealth—in line with the "rich" Emma—but it also suggests her un-Emma-like obsession with Western fashion and style. On the other hand, Indian values and Bollywood features are present in the configuration of the protagonist. Aisha is not simply a Westernized Indian citizen. She is extremely concerned with traditions, such as the celebration of weddings or festivals like Diwali.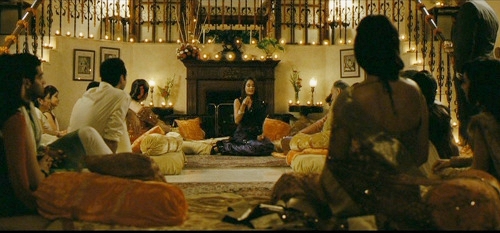 Diwali
The character of Aarti Menon (Jane Fairfax) is a character returned from the diaspora, who has worked in New York with Arjun (the film's Mr. Knightley). Like Jane Fairfax, Aarti is the only woman in the film who must work to earn a living. Aarti differs from Jane Fairfax, however, in that she is not resigned to an unwanted fate as a governess but strongly enjoys her position as a banker. Aarti gets satisfaction from her professional career, just like Somya and Meenakshi do in Kandukondain Kandukondain (Troost and Greenfield).
The independent Aarti provides a positive image of female empowerment as well as of diasporic individuals in the tradition of the main characters in post-1990s Bollywood hits. According to both Madhava Prasad and Tejaswini Ganti, NRIs (Non-Resident Indians) are now portrayed in films as still maintaining their Indian identity. When Aarti and Aisha are first introduced by Arjun, Aisha associates Aarti's return to India with a possible failure in her American Dream, but this assumption is immediately contradicted by Arjun, who claims that Aarti's return to India is due to her nostalgia for family and friends. Although Aisha dwells in Delhi and Aarti has grown up in the U.S., Aarti is in fact the one who explicitly indicates her Indian identity through her knowledge of Hindu religious rituals. In one scene in which the characters are celebrating Diwali, Aarti attracts a great deal of attention when she sings a traditional Indian song demonstrating that she has not forgotten her Indian roots. Aarti retains her Indian values, seeming to follow in the footsteps of other diasporic female characters such as Tina in Kuch Kuch Hota Hai (dir. Karan Johar, 1998) or Anjali in Kabhi Kushi Kabhie Gham (dir. Karan Johar, 2002), who also perform Hindu rituals via music. If Jane Fairfax is more accomplished than Emma—as her piano performance shows—Aarti is also more gifted than Aisha, at least as far as Indian traditions and rituals are concerned. Aarti appears as the ideal hybrid, post-colonial subject who combines perfectly tradition and cosmopolitanism or Westernization, and she seems a model of what Aisha needs to do.
While Harriet Smith's inferiority lies in her unknown parentage and lack of intelligence, the weakness of Ojha's Shefali remains in her lack of Westernization. Shefali is a Bahadurgarh girl, often mocked for her unfashionable and uncool clothes. The day following the wedding of Aaliya Kapoor (Miss Taylor's counterpart), Shefali wears the typical Punjabi salwar kameez, and Randhir (Mr. Elton) assumes she is attending another wedding where the dress code will be Indian. Lacking in manners, Randhir invites Aisha and Shefali to a polo match and emphasizes that the dress code is Western. Pinky Bose also laughs at Shefali and calls her a "behenji," a derogatory term used to refer to traditional women. In fact, Shefali arrives in Delhi because she must get married, and her family is thinking about an arranged marriage. In her first outing with Aisha and Pinky, the audience learns that Shefali's ideal is in fact to marry and wear the same dress Kareena Kapoor wore in Kabhi Kushi Kabhie Gham.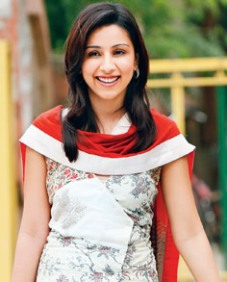 Shefali
This Indian Harriet Smith must undergo a transformation from village girl into a hybrid subject combining Eastern and Western culture. Shefali first becomes a mini-Aisha, imitating her movements, clothes, brands. After she becomes aware of Aisha's manipulation, Shefali begins to distance herself from Aisha's world. By the end, the audience sees a Shefali who is finally comfortable with herself and her clothes, mixing Western outfits with salwar kameez; she is turned into a perfect in-between subject, just like many recent Bollywood heroines in Karan Johar's films. The combination of Western and Eastern values falls within the postcolonial enterprise, since postcolonial subjects tend to mix the values promoted by former colonizers and those of the mother country. The character of Shefali suggests again a positive merging of values.
Mr. Kapoor differs significantly from his counterpart Mr. Woodhouse, being modelled instead on recent Bollywood fathers. Rather than the insufferable hypochondriac, Mr. Kapoor is loving, affectionate, caring, but also strict when he has to be. Not once does he mention a concern about his health. Food plays an important role in the film (as in the novel), for the majority of the family get-togethers actually happen at a table with food to share. Unlike Mr. Woodhouse, however, Mr. Kapoor is not distressed over food. In fact Mr. Kapoor eats microwaved "gajar ka halwa"—a dessert pudding made of carrot, usually associated with the Punjab region—at night with his daughter Aisha.
Another major difference between Mr. Woodhouse and Mr. Kapoor lies in their reactions to their daughters' relationship with the Mr. Knightley/Arjun character. Mr. Woodhouse "is miserable" about the event and eventually moves along the "way to resignation" (Emma 483) whereas Mr. Kapoor encourages Aisha to declare her love to Arjun. Extremely satisfied with Aisha's choice, Mr. Kapoor dispenses his wisdom and convinces Aisha of the impossibility of the relationship between Arjun and Shefali. The similarities between this scene and a similar one in Dilwale Dulhania le Jayenge (1993), as Theresa Kenney has pointed out, or with Dil Chahta Hai (2002)—in which sons are convinced by their fathers about the need to be with the love of their lives—are striking. While Mr. Woodhouse plays a crucial role in the novel, Mr. Kapoor's impact is secondary.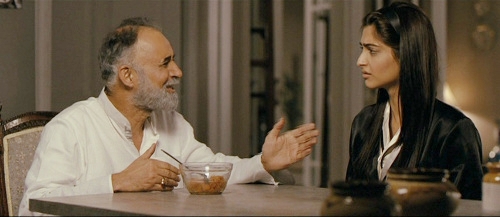 Mr. Kapoor counsels Aisha
Just as Bollywood characters and types are echoed and invoked in the formation of these Austen counterparts, some conventions used by Jane Austen are also important in Bollywood cinema. According to John Wiltshire, "it is obvious that the courtship romances that constitute the basic plot of Jane Austen's novels do resemble as well as include the balls and dances that feature in them" (74). If courtship and dances abound in Jane Austen's works, they are more prominent in Bollywood films. Weddings, celebrations or festivals, song and dances or intertextuality with the Bollywood industry are only some examples of popular conventions within Bollywood.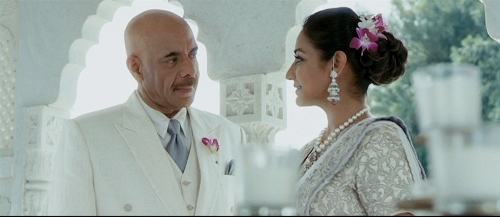 First Wedding
One of the typical features of Bollywood cinema is the lack of intimacy, physicality and forbidden kisses during the courtship, which is also characteristic of Austen's fiction. As Hopkins notes, Austen's characters do not kiss, "something that has posed problems for film directors, who either ignore this fact and then get pilloried by critics for doing so or obey it" (4). Hopkins mentions the 2005 Joe Wright version of Pride and Prejudice as an epitome of that tension, for it provides two different endings: one without a kiss targeted at a British audience and one with a kiss addressed to an American audience. Following the conventions of both the Bollywood and the Jane Austen tradition, the protagonist couple—Aisha and Arjun—never kisses on the mouth.3 In a very Romeo and Juliet scene at Aisha's house, Arjun climbs the balcony of Aisha's room to declare his love; he kisses her on the cheek, the forehead, and the nose but not on the lips. Shefali and Sorab (Robert Martin) neither kiss nor touch. Pinky Bose—a modern Mrs. Elton—and Randhir—Mr. Elton—certainly have sex, but it only happens off-screen. The lack of physical intimacy during courtship in Jane Austen's Emma seems to be perfectly accommodated into Bollywood aesthetics, and no transformation is needed.
Weddings acquire more significance in Bollywood films than they do in Austen's novels. According to Derek Bose, no mainstream Hindi film is complete without "marriage celebrations in swirling ghagra-cholis" (117). In fact, one of the most important Bollywood hits of all times—Hum Aapke Hain Koun (1994) is usually considered the courtship film par excellence, for the whole story centers on a couple who is getting married. Bollywood or pseudo-Bollywood adaptations of Jane Austen's works include weddings, even at the cost of paring down considerably the source texts they are adapting. Gurinder Chadha's Bride and Prejudice starts, for instance, with a Punjabi wedding, which is obviously an addition to Austen's Pride and Prejudice. The wedding ceremony and festivities associated with it last for almost thirty minutes. But the Punjabi wedding at Bride and Prejudice's outset is not the only marriage ceremony the audience can attend in the course of the movie. Mr. Kohli and Chandra Lamba's wedding in L.A. and the double marriage ceremony at the end of the film adaptation shed light upon the importance of wedlock in Indian culture and upon the importance of the wedding festival in Indian culture.4
Although Austen is not very interested in the wedding itself, as can be seen in the throw-away description she gives at the end of Emma, Aisha develops and magnifies the weddings of Austen's Emma. Aisha's beginning, like that of Bride and Prejudice, equally focuses on a wedding—that of Aaliya Kapoor (Aisha's aunt). Although Miss Taylor's wedding is a topic of discussion among Emma, her father, and Mr. Knightley, the wedding itself acquires more interest in Aisha, since it serves as a successful introduction of the main characters. The sorrow caused by Miss Taylor's marriage in Emma—"it was Miss Taylor's loss which first brought grief" (8)—is transformed into profound and sincere happiness in Aisha. With this wedding, Aisha not only celebrates her success as a matchmaker but also her aunt's union to Colonel Raghuvendra Singh. As the film begins with a wedding, so it ends with one. Unlike Jane Austen's Emma, Aisha does not end with Emma and Mr. Knightley's wedding but with the marriage ceremony of Aarti and Dhruv, at which all the couples—the Eltons, the Knightleys, the Martins, and the Westons—join in an improvised Bollywood dance to celebrate the union. If in the novel the marriage between Jane Fairfax and Frank Churchill is the last wedding to take place, it is interestingly the first in Aisha. Both Aarti and Dhruv are former diasporic individuals (New York and London returned respectively); their engagement party and wedding demonstrate (more than those of the other characters would) a respect for Indian traditions affirmed by Bollywood aesthetics and conventions.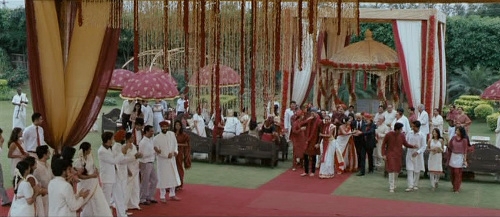 Last wedding
In the tradition of Bollywood films, festivals become more important in Aisha than in Emma. Although Austen's Emma includes mentions of Christmas, there is no real sense of the celebration in the novel. However, celebration of festivities such as Holi—in which the Radha/Krishna myth is recreated—or Diwali—known as the festival of lights—plays a major role and happens in several Bollywood movies, and it is interestingly included in Ojha's Aisha. The movies Zanjeer (2013), Kabhi Kushie Kabhi Gham, and Baabul (2006) include well-known celebrations of Diwali in Hindu families that involve the performance of certain rituals and traditions. The families get together, share traditional food and sweets, and sing songs. Through the celebration of Diwali in Aisha, the audience learns about Indian celebrations. In Aisha, Mr. Burman invites the Kapoors, Arjun, and Aarti to enjoy Diwali together. It is precisely at Diwali where the audience discovers how accomplished—and Indian—Aarti is, as she reveals in her performance of a traditional song.
While Jane Austen's ballroom scenes provide the ideal setting for the courtship to take place since the couple gets to know each other, Bollywood songs and dances not only function to promote social interaction, but also introduce the characters, focus on their feelings and explore Indian traditions and values.5 In the words of Sangita Gopal and Sujata Moorti, "to talk of Bollywood is inevitably to talk of the song and dance sequence" (1), and it is present in Aisha. The two songs in Aisha that encourage social interaction in the tradition of Austen's ballroom dances are "Sham" and "Becke Becke." Both take place in the course of the action and highlight the courtship.
In contrast to Austen's ballroom dances, the other music interludes in Aisha enact other roles. For instance, the first two songs, "By the way" in voiceover and "Suno Aisha (I am Aisha)," introduce the main character. Another, "Lehrein," is a separation song, highlighting the lovers' feelings as they depart from each other. If "separation is commonly associated with images of threatening rain clouds, lightning, and rain" (Sarrazin 400), rain has a significant presence in this song, hinting at Aisha's emotional state. Other songs encourage and promote Indian traditions and values, most prominently Aarti's Diwali performance of a traditional song. Wearing the traditional saree, Aarti appears as the perfect and ideal Indian. The final Bollywood number is placed at the end of the film when all the couples celebrate Dhruv and Aarti's wedding to the rhythm of "Gal Mitthi Mitthi Bol." The lyrics of this song highlight the importance of love ("open the eyes of your heart"; "heart/love is a precious thing") and the crucial role of music ("let your drum beat"; "honey, you have killing moves"). Considered as an authentic marriage song, "Gal Mitthi Mitthi Bol" celebrates the interrelationship of love and music in an Indian wedding. This last song differs completely from Jane Austen's ballroom dances in its main function, which consists of celebrating an Indian tradition.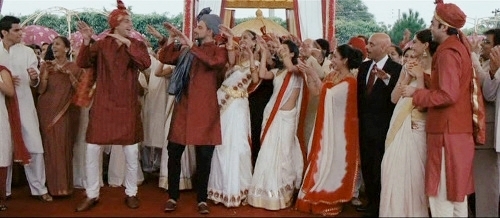 Gal Mitthi Mitthi Bol
Ojha's Aisha is a complex work that develops two different kinds of intertextuality, one with the Bollywood industry and another with the Austenian oeuvre. Recent Bollywood movies are characterized by the presence of intertextual references to its own industry, which is also part and parcel of Aisha, for instance, the allusions to Kabhie Kushi Kabhie Gham or to Kuch Kuch Hota Hai. The audience's first approach to Shefali includes her comments about wearing Kareena Kapoor's bridal dress at the day of her wedding. The most intertextual moment actually happens at the end of the movie when Aisha, after arguing with Arjun, watches Kuch Kuch Hota Hai and cries, as if the relationship between Anjali and Rahul reminds her of her own with Arjun. Bollywood filmmakers exploit the connections with other Bollywood hits because they know such connections will generate interest in their own films. Here intertextuality contributes to local consumption.
But Aisha also contains a layer of intertextuality involving Jane Austen's works and even film adaptations. The most noticeable filmic intertextual connection is with Clueless, since Aisha seems a modern Cher, with the same interest in fashion and the same lack of skill when driving. Just as pseudo-Bollywood Shakespearean adaptations or off-shoots tend to include references to Romeo and Juliet, Aisha provides a subplot which clearly resembles Pride and Prejudice. Despite the fact that Pinky Bose may be described as a modern Mrs. Elton due to the clothes she wears, she also shares similarities with Charlotte Lucas. Both characters explain to their friends (Aisha and Lizzie Bennet respectively) their reasons for marriage and their differences from their best friends. This double intertextuality has the overall effect of making the film more meaningful to two audiences—Janeites and local audiences—who can find some points of contact.

Although the presence of Jane Austen in India first emerged with colonialism, there has been a significant evolution and transformation in the understanding of Austen in the Indian sub-continent. In 1843, Lord Macaulay claimed Jane Austen for England: "among the writers who have approached nearest to the manner of the great master [i.e., Shakespeare], we have no hesitation in placing Jane Austen, a woman of whom England is justly proud" (qtd. in Wiltshire 59). The main problem was that the Jane Austen that arrived in India in 1843 was a possession of the English diaspora there or for the Indian intelligentsia, the bhadralok. Jane Austen embodied then the myth of Englishness. Now the transposition and appropriation of Austen's Emma into Bollywood aesthetics and conventions shows a post-colonial Austen in which the text is transformed. Austen's themes and interests find echoes in the Indian context. Although the Bollywoodization of Emma entails a considerable lack of fidelity to Austen, the text acquires a new dimension and layers in India and contributes to the global understanding of Jane Austen.
Notes
1. The recently published volume entitled Global Jane Austen (2013) edited by Raw and Dryden focuses precisely on Jane Austen's global appeal as does the earlier and identically titled special issue of Persuasions On-Line 28.2 (2008), edited by Ford and Brodey.
2. In fact, Kenney precisely deconstructs the idea that Aisha is a "copy" of Clueless.
3. Lalita and Darcy never kiss on the lips in Bride and Prejudice, nor do the lovers in Kandukondain Kandukondain.
4. Mr. Kohli is William Collins; Chandra Lamba, Charlotte Lucas. The double marriage ceremony at the end includes the weddings of Jaya Bakshi (Jane) and Balraj (Bingley), and Lalita Bakshi (Elizabeth) and Darcy.
5. See Thompson for an in-depth analysis of dance in Austen's novels and in the Regency period.
Works Cited
Austen, Jane. The Novels of Jane Austen. Ed. R. W. Chapman. 3rd ed. Oxford: Oxford UP, 1933-69.
Bamzai, Kaveree. "Aisha: The Inheritance of Gloss." India Today 23 Aug. 2010.
Bose, Derek. Brand Bollywood: A New Global Entertainment Order. New Delhi: Sage, 2006.
Bushby, Helen. "Bollywood Film Goes Global." BBC News Online Entertainment 11 July 2003. Web. http://news.bbc.co.uk/2/hi/entertainment/3057959.stm
Dudrah, Rajinder. Bollywood: Sociology Goes to the Movies. New Delhi: Sage, 2006.
Ford, Susan Allen, and Inger Sigrun Brodey, eds. Global Jane Austen. Spec. issue of Persuasions On-Line 28.2 (Spr. 2008).
Ganti, Tejaswini. Bollywood: A Guidebook to Popular Hindi Cinema. Routledge Film Guidebooks Series. London: Routledge, 2004.
Gopal, Sangita, and Sujata Moorti, eds. Global Bollywood: Travels of Hindi Song and Dance. Minneapolis: U of Minnesota P, 2007.
Hopkins, Lisa. Relocating Shakespeare and Austen on Screen. Basingstoke: Palgrave Macmillan, 2009.
Kenney, Theresa. "Aisha, Rajshree Ojha's Urban Emma: Not Entirely Clueless." Persuasions On-Line 32.1 (2011).
Oliete Aldea, Elena. "Gurinder Chadha's Bride and Prejudice: A Transnational Journey Through Time and Space." International Journal of English Studies 12.1 (2012): 167-182.
Prasad, Madhava. "This Thing Called Bollywood." Seminar 525 (2003). http://www.india-seminar.com/2003/525/525%20madhava%20prasad.htm 2 June 2013.
Raw, Laurence, and Robert Dryden, eds. Global Jane Austen: Pleasure, Passion and Possessiveness in the Jane Austen Community. New York: Palgrave, 2013.
Sadoff, Dianne F. "Marketing Jane Austen at the Megaplex." Novel 43.1 (2010): 83-92.
Sarrazin, Natalie. "Celluloid Love Songs: Musical Modus Operandi and the Dramatic Aesthetics of Romantic Hindi Film." Popular Music 27.3 (2008): 393-411.
Thompson, Allison. "The Felicities of Rapid Motion: Jane Austen in the Ballroom." Persuasions On-Line 21.1 (2000).
Troost, Linda, and Sayre Greenfield. "Appropriating Austen: Localism on the Global Scene." Persuasions On-Line 28.2 (2008).
Wiltshire, John. Recreating Jane Austen. Cambridge: Cambridge UP, 2001.
Films Cited
Barjatya, Sooraj R., dir. Hum Aapke Hain Kaun. Perf. Madhuri Dixit, Salman Khan,and Mohnish Bahl. Rajshri, 1994.
Chadha, Gurinder, dir. Bride and Prejudice. Perf. Aishwarya Rai, Martin Henderson, Anupam Kher, and Naveen Andrews. Miramax and Pathé, 2005.
Chopra, Rash, dir. Dil To Pagal Hai. Perf. Shah Rukh Khan, Madhuri Dixit, and Karisma Kapoor. Yash Raj, 1997.
Chopra, Ravi, dir. Baabul. Perf. Amitabh Bachchan, Salman Khan, and Hema Malini. B. R. Films, 2006.
García, Ángel, dir. From Prada to Nada. Perf. Camilla Belle, Alexa Vega, and Tina French. Lionsgate, 2011.
Johar, Karan, dir. Kuch Kuch Hota Hai. Perf. Shah Rukh Khan, Kajol, and Rani Mukherjee. Dharma, 1998.
_____. Kabhi Kushi Kabhi Gham. Perf. Shah Rukh Khan, Kajol, Amitabh Bachchan, Jaya Bhaduri, Hrithik Roshan, and Kareena Kapoor. Dharma, 2001.
Lakhia, Apoorva, dir. Zanjeer. Perf. Ram Charan, Priyanka Chopra, and Sanjay Dutt. Flying Turtles, Prakash Mehra, Rampage, 2013.
Menon, Rajiv, dir. Kandukondain Kandukondain. Perf. Mammootty, Ajith, Tabu, and Aishwarya Rai. Sri Surya, 2000.
Ohja, Rajshree, dir. Aisha. Perf. Sonam Kapoor, Abhay Deol, and Amrita Puri. Anil Kapoor, 2010.