---
Persuasions #11, 1989 Pages 4-6
The Santa Fe Meeting
Sallie R. Wadsworth
Brookville, Indiana
Once upon a time there was a weekend in October, and during it there was a truth universally acknowledged: Santa Fe was like no other locale for a JASNA Annual General Meeting. The site, the Eldorado Hotel, was most modern and charming, its open courtyard festooned with umbrellas like giant serving maids in aprons and mobcaps while multi-coloured cacti sprouted flowers that were surely leftovers from an MGM prop man's box. And adobe and earth-coloured Santa Fe itself was surely a movie set with it's unreal background of snow-covered mountains, its covered walkways surrounding an ancient town square, once a setting for military musters and bullfights, now for Indians selling their crafts, for shops full of pots, of jewelry, and of howling coyotes with chic neckscarves.
Our shooting schedules for the weekend were waiting for us in the lobby – handsome blue folders with Sir William suggesting Mr. Darcy dance with Elizabeth in one corner and a New Mexico-type design in the other. After a wine and hors d'oeuvres party which featured local specialties of smoked meat and rolls, as well as concoctions of cheese, avocado, green and red chillies for dipping into with blue corn tortilla chips, our directors Vivian Hall and Linda Kjeldgaard suitably focused our attention on the movie world of Pride and Prejudice. Kenneth Turan, film critic for Gentleman's Quarterly, gave us an amusing history of how the movie came to be – from a musical in New York which captivated Norma Shearer to the final product, which somehow avoided having Clark Gable play Mr. Darcy. And then began the movie originally advertised as "Bachelors Beware! 5 Gorgeous Beauties are on a Madcap Manhunt:" Once again we grew indignant at Mr. Darcy's refusal to dance; we melted under Mr. Darcy's smoulderings, we squirmed at the faux pas of the Bennet family; we enjoyed the flip of Mr. Collins' coattails; and we fell in love with Mr. Bennet's twinkle – but then we had to hiss when Lady Catherine turned out, unAustenlike, to be a "brick" at heart.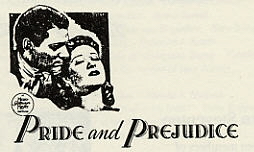 Afterwards a panel of actresses from the movie, Ann Rutherford, who played Lydia; Marsha Hunt, who played Mary; and Karen Morley, who played Charlotte Lucas, answered questions and told us what it was like to be young, talented, and on the same set with Greer Garson, Edna May Oliver and Lawrence Olivier. They told of Olivier, miffed that Vivien Leigh was not in the cast, planning for their Romeo and Juliet by trying out various noses for Romeo (another thing to look for when next seeing P&P); they agreed with the decision to costume the cast in a later style, as full skirts made Mrs. Bennet and her daughters sail through town much like a mother hen and her chicks – all of them (thanks to a tip picked up by Karen Morley from another actress) taking tiny steps with their knees bent so they would glide. Articulate, charming and so young looking, the actresses stayed for the weekend, to our great delight, and attended many of the functions.
The time difference for the Easterners and the altitude sent most to bed early, although some stayed up working on the P&P quiz included in our packets. Next morning the delights of the Book Mart and a continental breakfast in the courtyard enlivened us for President Eileen Sutherland's warm welcome to the Eleventh Annual Meeting. Featured speaker Joan Austen-Leigh gave us a chatty talk about an author we all but one in the hall fantasized as our aunt. One family secret: the Austen-Leighs call a thank-you note a "Collins."
Then came the moment of decision – which workshop session to go to. One could only hope that they would all be printed in Persuasions, so one would miss little, for, like Lady Catherine, one wanted to hear all conversations at once. Vivian Hall acted as combined director and former school teacher, so the sessions all started and ended on time, and we were quiet in the halls. Sandwiched in among the three workshop sessions was lunch on one's own – a time to work more on the fiendish quiz (where on earth was that barouche mentioned?), or a time for blue corn enchiladas with a red sauce that would have cleared up Jane's cold in an instant.
Surely at no other JASNA meeting has one been asked to check one's guns at the door, nor has one had to remind oneself that as New Mexican road signs state, "Courtesy Pays." Yes, it was the controversial John Halperin, who gave a non-inflammatory talk, "Inside Pride and Prejudice," calling it one of two perfectly plotted novels in the English language. Unfortunately, there was time for only two brief questions, so we were spared the sight of his being skewered, drawn and quartered, scalped, and otherwise mutilated by the heavy artillery massed to wage war with his views of Jane. Whether he spent the rest of the weekend meeting Janeites in secluded spots with opinions at ten paces, no local Mrs. Phillips reported.
A third workshop was followed by a short, amiable Annual Meeting – at which little was said but much was thought about the future of Chawton – officers and board members were voted in – 2,221 USA members and 260 Canadian members were noted – and a healthy treasury was reported. All, except perhaps Chawton, seemed set for a secure future.
The courtyard later was the setting for a most enjoyable autograph party at which the actresses and authors present signed nearly everything presented, and some members from abroad were rumoured to have tried out margaritas with salt. As if on cue a full moon rose from behind the mountains, and a few were fortunate enough to see, silhouetted on the top deck of an adobe parking garage, a young Indian with long locks doing a solitary dance to the moon.
President Eileen Sutherland began the banquet with a most graceful toast to Jane: 400 people attended – the most ever served in that room, so confessed a nervous waiter. At each place was a New-Mexican pot, a useful pot to put memories in of a very special time. There was served no partridges, no venison, not even a ragout or a bit of white soup, but fettucini with smoked salmon, capers and dill, and orzo, which turned out not to be a Greek drink. On the way in there had been a hustle and a bustle, and a harpsichord had been carried through the crowd, which instrument was put to good use as accompaniment to singer Carolyn Webb. Not being a typical nineteenth century crowd despite several ladies in Empire dress, we listened rather than talked throughout the concert and were well rewarded.
Sunday, the Regional Co-ordinators met at an early hour for breakfast while the others waited to gather for a brunch and closing talk by writer Elizabeth George, who had heard a German publisher indignantly demand, "Jane Austen! Who is she? What royalties are we paying her?" Ms. George writes mystery novels and told us in detail how she constructs her books, a colour coding of setting, plot, motive, character and past histories. Her talk was fine, a witty recital of what works for her, and surely at no other Jane-gathering has one been introduced to the English expression, "Don't get your knickers in such a twist."
And so it ended, and JASNA members rode into the desert thinking of the friends they had made, the talks they had enjoyed, the once-in-perhaps-a-lifetime sights they had seen, and the skilful way the meeting had been planned by Directors Vivian Hall and Linda Kjeldgaard and Producer Eileen Sutherland. Fortunately, there is a sequel: "JASNA Annual Meeting XII," to be released October 5, 1990 in Washington D.C., (No, it is not to be called "Son of Jane Austen" or "Jane Austen meets the Killer Tomatoes."), and everybody must be "prepared to be charmed…" by Sense and Sensibility.
Henry Gershon Burke (1902 - 1989)
Harry Burke was a co-founder of JASNA; his interest in Jane Austen dated from the 1930s. Harry and his wife, Alberta, were inveterate travellers and collectors. At the time of her death, in 1975, the Burkes had the largest collection in the world - outside the Austen family - of manuscript letters, memorabilia and books by and about their favorite author. Most of this was bequeathed to Goucher College in Maryland and to the Pierpont Morgan Library in New York. Harry received his doctorate from Johns Hopkins University. He established a law-accounting firm in Baltimore where he was engaged in many philanthropic activities. During the 1950s, for example, he handled almost 500 claims for refugees who had been victimized by the Nazis.
Back to Persuasions #11 Table of Contents

Return to Home Page