---
Persuasions #12, 1990 Pages 79-86
Living in Chawton Cottage
<![if !supportEmptyParas]> <![endif]>
JEAN K. BOWDEN
Jane Austen's House, Chawton, Hampshire, UK
<![if !supportEmptyParas]> <![endif]>
Chawton Cottage was Jane Austen's last home – she came to live there in July of 1809 with her mother, her sister Cassandra and their friend Martha Lloyd.  She remained there until just two months before her death in July 1817.  So she was only there for eight years, but in that time she wrote three major novels – Mansfield Park, Emma and Persuasion, and she got Sense and Sensibility and Pride and Prejudice revised and published.
The Cottage is in the village of Chawton, just a mile and a half from the small market town of Alton in the county of Hampshire, which is in the Central Southern region of England.
We think the house was built in about 1690, during the reign of William and Mary, before Queen Anne and the four Georges, so it was about 120 years old when Jane moved there, and it is now about 300 years old.  It may originally have been a posting inn, where travellers changed their horses.
Now known as Jane Austen's House, the cottage was opened to the public as a museum in 1949, having been bought and restored by Mr. T. Edward Carpenter, a London solicitor.  He formed the Jane Austen Memorial Trust to run the museum, and members of his family are still trustees.
When I heard that I had been appointed to the post of Curator of Jane Austen's House, I went down to Chawton to be initiated into some of the problems of administration by the then Curator, John Coates and his wife Anne.  Afterwards, as they were waving me goodbye, Anne suddenly said, "You won't feel frightened, you know, living in this house, even though it is so old.  It has such a lovely atmosphere."
I am often asked if Jane Austen's House is haunted, and I say "No, but it does feel very friendly and welcoming."  And now I'll let you into a secret – I do sometimes hear girlish laughter when I'm in the house on my own, and my cat, William, whom some of you know, can see someone on the stairs, though I can't!  Even on a cold, wet, dark day in the depths of winter, the house feels warm and happy, and in summer sunshine, well, it's really delightful.
The sun streams into the dining parlour in the mornings, and I love to think of Mrs. Austen sitting in the window enjoying the sunshine, and watching the world go by.  The village was quite busy in those days, being on the main road to Winchester, and there was quite a lot of horse-drawn traffic.  I can also see, in my mind's eye, Jane and her brother Henry standing at that same window, seeing their nephew Charles Knight "passing through Chawton about nine this morning … we had a glimpse of his handsome face looking all health and good humour."  Charles was in a stage coach on his way to a new term at Winchester College.
When Mrs. Austen accepted her son Edward's offer of Chawton Cottage as a home for herself and her two daughters, he improved it quite a lot for them.  He added on some more bedrooms over the kitchen quarters at the back, and he blocked up the window in the drawing room because he felt they lacked privacy, and he opened up an elegant window looking out on to the garden – hence Mrs. Austen's having to run into the dining parlour whenever she heard a commotion in the village!  Edward obviously didn't take feminine curiosity into consideration!
The House is L-shaped, and I live in the wing at the back.  My downstairs sitting room was once the Austen's kitchen.  When it was being redecorated before I moved in, our architect took the opportunity to find out if there was anything behind the rather horrid modern fireplace.  Lo and behold, there was a large inglenook, with two little wooden seats either side, and a bar above to hang the bacon on to be cured in the smoke from the fire.  You could stand inside it and look right up to the stars – no wonder it was bricked up – the downdraught must have been terrible, to say nothing of the rain coming down the chimney!  You can still see where the turning of the spit to roast the meat has worn away the brickwork.
So I can imagine Cook, and Sally (with her new red cloak) and Betsy, the maids, and the men-servants Browning (who was good with the dogs) and, later, William (a good-looking young man, according to Jane) – all, at their various times, sitting around the kitchen fire, or, more probably, working.  And, possibly, Jane and Cassandra with their sleeves rolled up, showing the maid servant how to make a good apple pie – "so important to their happiness!"
The rooms which Edward added on over the old kitchen quarters I now have as my own bedroom, a guest bedroom, and my private sitting room – where I have my television set – the sitting room downstairs didn't seem to be the right place for such modern inventions!  – Incidentally, one Christmas I was having friends to stay and I put up some pretty, sparkling modern decorations there.  The next morning the room was shrieking at me to remove them!  So I took them all down, and substituted branches of holly and yew from the garden, and it seemed to give a sigh of relief.  When a house starts talking to you, you know you're getting a bit odd!  I sometimes find myself mentally dwelling in the eighteenth-century, and then I know that it is time to get the car out and take a drive into the modern world!
Seriously, though, Jane and her mother and sister, and all her brothers and their wives and children, who used to come and stay in the cottage, have become very real to me whilst I've been living here – and I find them a great comfort – they've become my extended family, which is nice.
We have just completed a five-year programme of renovation.  Every year since I moved in, as soon as the busy summer season ended the builders moved in for the winter!  There are, of course, fewer visitors to be disturbed by their activities.  All the rooms have been redecorated – after stripping off layer upon layer of wallpaper, the walls have been made good and re-papered, so that when they next need doing there will be only one layer of paper to get off.  The house has been re-wired, special low-wattage lights have been installed, and the windows now have ultra-violet filter film on them, to prevent fading.  Some of the old floors have had to be replaced – the cottage just wasn't built for 30,000 pairs of feet tramping round every year.
This spring the final job has been the painting of the outside windows and doors, so now we can rest on our laurels for a year or two, until the whole process has to begin all over again!  What we call "painting the Forth Bridge" – as soon as the other end is reached, the first part needs painting again!  Still, although at times I felt that I never wanted to see another builder or decorator ever again, the little house is now in a very good state of repair, and its rose-red bricks seem to glow with well-being; whenever I see very old photographs of it, taken fifty or sixty years ago, with ivy growing up all over the roof, looking so sad and forlorn, I feel it has all been worthwhile.
<![if !supportEmptyParas]> <![endif]>
<![if !supportEmptyParas]> <![endif]>
The Garden
<![if !supportEmptyParas]> <![endif]>
The garden at Jane Austen's house is a joy to me – I used to work at the Royal Botanic Gardens at Kew, as a botanist, and I've always been interested in old-fashioned varieties of plants.  I am trying to grow plants which were introduced into England before Jane died in 1817, especially old shrub roses.  It's not as easy as you might think, as so many of them were brought in in Victorian times, in the 1850's and 60's, but I have managed to fill a very large bed, all round the eastern side of the garden, with old roses.  This year, in June, I put vases of them all round the house; the perfume was almost overpowering and they created a lot of interest.
I also sow old-fashioned annuals each year, as they are so good for cutting, but I'm fighting a losing battle with the neighbourhood cats and the birds!  Visitors love to see the flowers they knew as children, like Love-in-the-Mist, Larkspur, cornflowers and Candytuft.  Luckily, Columbines seed themselves all round the village – a nice very dark red one, almost black, and we also have some pink ones and pure white ones.  Jane mentions Sweet Williams (Dianthus) and I grow these too, but they are more trouble as they are biennials and need replacing every other year.
Jane, as you know, mentioned lots of plants which she knew and loved, in her letters, and we have: "Laburnum rich, in streaming gold; Syringa Iv'ry pure" – she meant Philadelphus, or Mock Orange here.
It was a very sad day when the last of the two oak trees planted by Jane Austen had to be cut down because it was unsafe.  That was in 1986.  However, I rescued a self-sown seedling and replanted it in a better position, on the west lawn.  As Jane's tree had been badly infected by a fungal disease, I have been watching the little tree anxiously, but so far it has shown no signs of infection, and has doubled in height since then. I didn't mention the little tree in our new guidebook at the time, in case it didn't survive, but this summer, when I revised the guidebook for its second edition, I risked mentioning it in the section on the garden.
There are lots of wild strawberries growing around the barns, and there are usually enough for my supper each night, in season.  As I pick them, I can hear Jane "talking" to Cassandra in her letter of June 1811: "I had the agreeable surprise of finding several scarlet strawberries quite ripe – had you been at home, this would have been a pleasure lost!"
I haven't gone in for fruit trees – I think these might be too tempting – as it is, I have a polite battle to save enough raspberries for my supper!  It's not Cassandra who eats them, however, but our visitors!  Still, who can resist them?
I feel very close to Jane's mother when I'm digging.  The soil is river gravel – a very fine dark soil with lots of stones in it – I've given up trying to rake them off, because as soon as it rains another layer pops up.  I'm sure that Mrs. Austen, digging away in her "round green smock," must have cursed the stones when her fork struck them, just as I do – in a lady-like way, of course!
<![if !supportEmptyParas]> <![endif]>
<![if !supportEmptyParas]> <![endif]>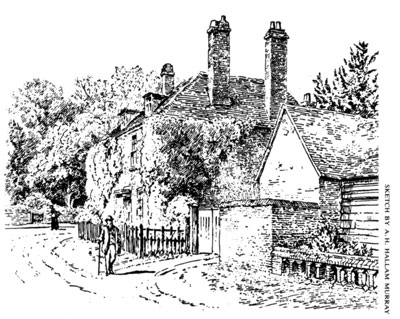 <![if !supportEmptyParas]> <![endif]>
<![if !supportEmptyParas]> <![endif]>
<![if !supportEmptyParas]> <![endif]>
<![if !supportEmptyParas]> <![endif]>
The Village
<![if !supportEmptyParas]> <![endif]>
You probably know that it is every English person's dream to live in a country village – Jane herself felt the same way, and only settled happily to her writing again when she finally came to live at Chawton.
Living in Jane's cottage was my first experience of village life – she knew its joys from her early years at the Rectory in the village of Steventon.
Jane, according to her niece Caroline, used to make up preposterous stories about their neighbours, to amuse her mother and sister.  No harm was done; the jokes never went beyond their four walls.  I myself have had much quiet amusement from various happenings in the village – this is fine so long as I am not involved personally.  It is quite a different matter if I get caught up in events myself!  I have learnt to be very careful what I say – words do get twisted!
Being used to the anonymity of town life, I find that the speed with which the village finds out what's going on is quite amazing.  As a case in point, one dark, snowy February night, a couple of years ago, I suddenly became ill with appendicitis, and was rushed to hospital in an ambulance, blue light flashing.  I heard later that a lady living in one of the thatched cottages opposite, being unable to sleep, had seen me walking down the garden path and being helped into the ambulance.  The next morning, apparently, the whole village knew that I had been taken off to hospital, and that I'd had to walk to the ambulance – it would have been much more exciting if I'd been carried out on a stretcher!
Unlike Jane and Cassandra, I don't have to sew clothes and provide soup for the poor of the village (thankfully they're all reasonably well-off these days) but there are lots of fund-raising events for various good causes.  We even had a three-day Festival one year, and the Chawton village school children danced round the Maypole on our lawn, which was rather sweet.  Unfortunately, the vicar fell out with the village schoolmaster about how the profits should be spent – church roof versus Oxfam – and this resulted in the vicar taking his daughters away from the village school, which was sad.  Sad for me, too, because he often used to pop into Jane Austen's House for a chat whilst waiting to collect his children from school, and it was interesting to talk to him – we used to compare notes on the trials and tribulations of "living over the shop" and being on duty 24 hours a day, seven days a week!  (But he is no Mr. Papillon, though!)
About a year ago, I joined the team of Bellringers in Chawton Church.  Apart from being great fun – bellringers are very sociable folk – it is a tremendous thrill to ring bells which Jane would have heard.  Four of the six bells now in the tower date from about 1600 – they survived the fire of 1865.  They would almost certainly have been rung before the service on Sunday 26th January 1817, when Jane was sitting in the Austen's pew, nervously waiting to hear her brother Henry's first sermon there, as a newly-fledged Curate.
The church is situated at one end of the village, next to Chawton House, or the Great House as Jane called it, and it is always a pleasure to walk up there on bellringing practice nights, in her footsteps.
I have, naturally, been very concerned about the fate of the Great House.  Of course, in the best of all possible worlds, it would have been nice if the Knight family could have continued to live in it, but in the circumstances, considering its very bad state of repair, and its enormous size – what family these days needs 50 rooms? – then, at least, as a first-class country house hotel, it will be completely restored to its former glory, lived in, and enjoyed.  Chawton is still a very feudal village, and we are all delighted that our "Squire," Richard Knight, is retaining a small house on the Estate so that he and his family can visit us frequently and play a part in village life.
<![if !supportEmptyParas]> <![endif]>
<![if !supportEmptyParas]> <![endif]>
Alton
<![if !supportEmptyParas]> <![endif]>
I sometimes walk into the little town of Alton to do some shopping, and always think of Jane – leaving off her writing and putting on her Things for walking to Alton – with her niece Anna, and Anna's friend Harriot – and her "not being sorry to be back again, for the young ladies had a great deal to do – and without much method in doing it."
I can see in my mind's eye Jane, Anna and Harriot trotting backwards and forwards across the long winding main street of Alton.  Although the shop fronts have changed since then, if you look up, the upper storeys and rooves are still very much as they were in Jane's time.  Her brother Henry's bank at No. 10 the High Street is still there, unaltered, although it is now a private house.  I'm told the bank's safe is still in the sitting room wall.  From Chawton Cottage to the beginning of the High Street is a good 20 minutes' walk, and after shopping I, too, am "not sorry to be back again."
<![if !supportEmptyParas]> <![endif]>
<![if !supportEmptyParas]> <![endif]>
The Countryside
<![if !supportEmptyParas]> <![endif]>
The countryside around Chawton and Alton is pleasant and pretty, rather than spectacular.  Considering that Chawton is only about 60 miles from the outer suburbs of London, it is amazingly rural, even quite isolated in parts.  The Brontë sisters would probably have pined for their wild, high moors had they lived here, but Jane Austen felt comfortable in Hampshire, with its tiny villages, farms and low, wooded hills.  Being a farmer's daughter (Mr. Austen used to farm the glebe lands around his Steventon Rectory), Jane knew the changing seasons and she took a knowledgeable interest in the farming calendar.  Doubtless, also, she knew all the wild flowers that grew locally, and probably picked them to make home-made remedies, and to put them in posies around the house.  Who can resist picking primroses, cowslips, violets, wild daffodils and bluebells? – all of which still grow in the woods and along the hedgerows around Chawton.  Nowadays it is illegal to dig up wild flowers to plant in one's garden, but luckily these grow naturally in the garden of Chawton Cottage, and I, too, enjoy arranging them with garden flowers into posies to put around the house.
Unusual features of the North Hampshire countryside are the so-called Hangers.  These are long chalk hills with beechwoods literally hanging on to the steep sides.  There is a lovely one just four miles from Chawton, at Selborne – a village with which Jane was familiar.  Luckily, there is a museum there with a beautiful garden where one can look across the fields to get a very good view of this lovely beech hanger.  Sadly, the terrible gales of the past two or three years have blown down many of the trees, and now there are gaps in its formerly smooth outline.
Jane loved walking, as you know, and I do too, but I think she was luckier than I am, because she could wander unhindered over the farmlands belonging to her brother Edward.  Nowadays, private property is jealously guarded and the few remaining footpaths, in our part of Hampshire at least, are not very easy to follow.  The old wooden stiles (so useful for rural dalliances in bygone days) are often replaced by loops of barbed wire – known as "Hampshire gates"!
But still, the lanes are very pleasant to stroll along – especially the many extremely narrow "single track" lanes, which are only just wide enough for one car, with passing places every so often.  You can tell that these are not often used, when you see birds and animals sitting around in the middle of them.  Only the other day I was driving very slowly along a lane like that, when three deer ambled across it in front of me – and this, I must say, thrilled me almost as much as seeing some bears walking across a road in Canada last year!
<![if !supportEmptyParas]> <![endif]>
<![if !supportEmptyParas]> <![endif]>
The Job
<![if !supportEmptyParas]> <![endif]>
I'm sometimes asked how I came to get the post of Curator of Jane Austen's House – well, to tell you the truth, it was more by luck than judgement!
I attended the Annual General Meeting of the English Jane Austen Society, as usual, in 1984 – I expect lots of you have happy memories of the large marquee on the lawn of the Great House, always in lovely summer weather.  At the end of the meeting, the Chairman, Sir Hugh Smiley, said that the Jane Austen Memorial Trust were very anxious to find someone for the post of Curator for the House, as the present one wanted to retire.
Now I expect many of you, like me, have read magazine articles about people who had switched careers in their 50's and I used to think "How wonderful – I'd love to do that, but I am not trained to do anything else."  But after 35 years at Kew Gardens, I felt like a change!  So I thought about it all that weekend, wrote a letter offering my services, posted it, and thought well, I don't suppose I'll even get a reply, but it's worth a try!  A couple of days later there was a phone call for me in my office at Kew, and it was Tom Carpenter, the Chairman of the Jane Austen Memorial Trust.  He invited me to dinner to meet some of the Trustees, and to talk about it.  A few days later I had dinner with the rest of the Trustees – you see it was all very civilized! – and the consequence was that in just seven days my whole life was changed.  And you know, the strange thing was that I never once had the slightest qualms about uprooting myself, leaving my job, home and friends and embarking on a totally different career – not a single sleepless night.  I just knew that it was the right thing to do.  I'd always wanted to run a small museum, and this one, dedicated to our beloved Jane, was just perfect, with the added bonus of living there too.  Although I'd had a few years' experience in the Museums at Kew, and I'd worked as a volunteer for the National Trust in several historic houses, looking back now, I realise I had no real idea of what the job entailed, but I learnt by trial and error.  I had the strange idea that it would be a kind of semi-retirement – well, after all, the House is only open from eleven until 4.30!  Little did I know then, that most of the administration only gets done when the House is closed!  I can honestly say that I have never worked so hard in all my life!  But it is totally absorbing; there's never a dull moment, and every day brings something different to cope with.
When I tell you that, apart from annual holidays, I haven't had a single weekend off in all those six years you'll see what I mean!  But when I do get someone to stand in for me – and I am getting more help now – I still feel as if I am playing truant, going out and about on a weekday – having been used to the normal Monday to Friday working week!
I "wear all the hats" as they say.  The word "administration" covers a multitude of tasks, and I have very little help.  I once filled in a questionnaire which asked how many staff we had to do a great long list of jobs – accounts, advertising, running the shop, looking after the garden, et cetera, and I just bracketed them all together and wrote  "one – myself" with an exclamation mark!  I get letters addressed to the Chief Librarian, or the Head Gardener, or the Photographic Department, and I always have a quiet chuckle about that.
One aspect of being the Curator which is tremendous fun is that I meet so many interesting people.  At Kew Gardens where I worked previously, we always had lots of overseas visitors, and I am so pleased that it is the same at Jane Austen's house.  Lots of Americans, of course!  Also Australians, who come in our wintertime during their summer holidays, if you see what I mean!  Many Japanese people also.  Perhaps not quite so many non-English-speaking Europeans.  Jane's novels were in fact translated into French in her lifetime, but maybe her very Englishness doesn't appeal to them.
I do, of course, have to go to many meetings, and at one, last year, with the English Tourist Board, about publicity, I found myself sitting next to a typical English countryman, in well-worn tweeds, you know, and we were chatting away before the meeting began.  Then, as we went round the table introducing ourselves, he said he was "Jim Scott, from Rotherfield Park," and I realised that he was Sir James Scott, the Lord Lieutenant of the County of Hampshire – a very important person!  Similarly, when I attended a seminar on Jane Austen in Bath – a fantastic meeting organised by the Bath and Bristol branch of the Jane Austen Society, I found myself, at the dinner held in the Pump Room, sitting between the Mayor and Mayoress of Bath!  I quailed, rather, but it transpired that the Mayor had been a Commander in the Royal Navy, and when I told him of Jane's two sailor brothers, we were well away, and hardly had time to eat!
It has also been quite a thrill to be on a few radio and television programmes.  A well-known literary figure in the south of England, Sean Street, came to Chawton and recorded our conversation as we went round the House.  Into this, Sean later inserted a previously recorded interview he had had with our much-loved Lord David Cecil, just before he died, and an actress reading some of Jane's letters with harp music in the background; thus he wove together an hour's programme about Jane Austen and Chawton.  This was later put out by the London Broadcasting Company, and as this reached only the Greater London area and I couldn't get it on my radio at Chawton, I drove up to the top of one of the hills between Chawton and London and listened to it on my car radio, at sunset one evening and that was quite a weird experience!  A television programme which I took part in recently was for a series on patchwork – this has become very popular in the last few years – over here, too, I gather, as well as in England.  Although it took several hours to record, in fact it was only on screen for a few minutes!
I've always been a rather shy, retiring person – when I first started at Chawton I used to die a thousand deaths when I had to give introductory talks to groups, before they went round the House; if anyone had told me then that in a few years' time I would be in Washington DC, talking about my experiences to the Jane Austen Society of North America, I just wouldn't have believed them!
Finally, I'm sure you will all understand when I tell you that even after six years, I still have to pinch myself to make sure I'm not dreaming, and that I really am living in Jane Austen's own home!