---
Persuasions #6, 1984 Pages 26-29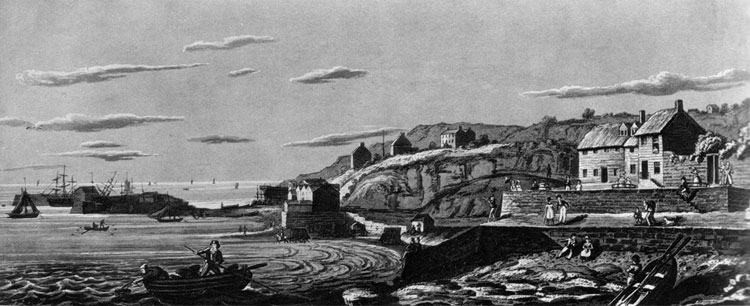 <![if !supportEmptyParas]>
Lyme Regis, an anonymous watercolour<![endif]>
<![if !supportEmptyParas]> <![endif]>
ST. LOUIS 1984 – A PERSONAL ACCOUNT
<![if !supportEmptyParas]> <![endif]>
Keiko Parker
Burnaby, British Columbia
<![if !supportEmptyParas]> <![endif]>
I have always wanted to attend a JASNA Annual General Meeting, but it has not been possible up to now. (One year, for instance, my AGM funds were diverted to buy a Steinway grand piano for my son living in New York.) After a few years of not showing up, I was determined to attend the AGM at St. Louis, since its topic was Persuasion, my favourite Jane Austen novel.
As it happened my plane was late, and the wine and cheese reception was well under way when I did arrive. But the friendly, courteous welcome I received at the reception desk was a great comfort after my long journey from Vancouver. English country dances performed by the Childgrove Dancers provided a splendid opening to the exciting two days that followed. The pleasure of joining company with like-minded people, the ease with which hitherto total strangers fell so amiably into conversation, and the joy of meeting in person members whom I knew by name only, may be imagined.
Saturday, October 13, started out with Wakeup Coffee and Pastries, with members sitting down in small groups. The conversation at the table where I was sitting was much enlivened by a member who told us of the wife of a devout Mormon who had an "I'd Rather Be Reading Jane Austen" bumper sticker pasted in her Bible! The opening address was "The Triumph of Persuasion" by Professor Gene Ruoff. I found Professor Ruoff's comparison of Captain Wentworth and Anne Elliot with Othello and Desdemona most interesting, since my love of Shakespeare equals that of Jane Austen. Afterwards we divided into smaller seminar groups of which we attended two out of five. I wish there had been time to participate in three or four, as each topic excited so much interest.
There were five new seminars in the afternoon, from which we were free to choose one. I attended a discussion group led by Mary Millard with the title "In Defense of Louisa Musgrove." The main thrust of the discussion was that Louisa is a milder version of Emma Woodhouse in that she is the initiator of things. It is she, Louisa, who thought of bringing the harp with her to Uppercross Cottage when people from the Great House visited it (to console her mother with her harp playing as Mrs. Musgrove had just been reminded of her poor dead son Richard); and it is Louisa who arranged the walk to Winthrop to bring about a reconciliation between Henrietta and Charles Hayter. Louisa had some good qualities in her personal makeup despite the obvious inferiority she suffered by comparison with Anne Elliot – a fact which Captain Wentworth came to realize later in the story.
At the General Session that followed, Professor Robert Wallace spoke on "Persuasion and Mozart's Last Piano Concerto," a comparison between the works of two giants of literature and music, respectively, of the late 18th century. This juxtaposition of two great works of art was especially fascinating for me, since my entire family is so deeply involved in music. "I must get one of them to learn that concerto," I said to myself, thinking of my two pianist sons.
The rest of the afternoon was spent on the Annual General Meeting, electing officers and members of the Board of Directors. Lorraine Hanaway was elected President. Following the elections, questions from the floor were answered by members of the executive. Outgoing president Joe Costa told us several anecdotes that attest to the devotion of JASNA members. Listening to these, I realized that there is probably no equal to JASNA among literary societies on the North American continent, bound as we are through affection for "our Jane." Mr. Costa revealed also that our membership grew from 100 in 1979 to 1,300 in 1984 – an astonishing increase in just five years.
In the evening we had dinner in the Tiara Room on the 27th floor of the Chase Park Plaza Hotel, which commanded a panoramic view of St. Louis. The dinner started with a toast to the one who has given and continues to give us so much pleasure – Jane Austen. It was a lovely dinner, consisting of Consommé Celestine (for waistline watchers like Sir Walter), Somerset Mixed Green Salad, Prime Rib of Beef (heartily endorsed by Admiral Croft), Yorkshire Pudding, Green Peas and Mushrooms (a sensible suggestion from Lady Russell), topped with Mrs. Musgrove's Uppercross Trifle. But the best was yet to come. We were led downstairs to a little theatre, where we were treated to a "chamber theatre" presentation of Persuasion. It turned out to be far better than anything I had expected. Many of us, at one time or another, have experienced the annoyance of seeing Jane Austen's works "lop't and crop't" in sundry insensitive ways. But we of the audience experienced no such annoyance here. We saw before us Sir Walter financially embarrassed; Anne staying at Uppercross where she met Captain Wentworth after almost eight years; Captain Wentworth relieving Anne of troublesome little Walter; Anne overhearing the conversation between Captain Wentworth and Louisa; Captain Wentworth arranging to procure for Anne a place in Admiral and Mrs. Croft's gig after a tiring walk; the young people from Uppercross visiting Lyme Regis; Mr. William Elliot's admiring glance of Anne at the Cobb and Captain Wentworth's noticing of it; Louisa's fall from the steps and Captain Wentworth kneeling down over her in despair; and so on. The actress playing Lady Russell's part also acted as narrator. She facilitated a quick and smooth transition from one scene to the next. Stage-hands dressed as 18th century household servants were efficient in changing the simple props which were used. Indeed there were many familiar scenes dear to us all, recreated in front of our very eyes in period costume using only Jane Austen's original text. It is the use of her own words exactly as they appear in Persuasion that made this production so very special. There was occasional laughter and appreciative remarks from an enchanted audience until the climactic moment when Anne read Captain Wentworth's letter. At that point the entire audience was so absorbed that you could have heard the proverbial pin drop. I have seldom spent a more delightful two hours and a half in recent years. The players were given a well-deserved standing ovation, and the cry of "Author! Author!" brought Phyllis Thorpe Abling of the St. Louis Chapter from backstage so that we could express our appreciation to her. It was a truly wonderful entertainment well "worth our staying for."
After the play we had our annual "Tad-poll," conducted this year by Stuart Forth in a delightfully humorous vein. The overwhelming majority voted for Anne Elliot, with Miss Elizabeth Elliot, Mr. William Elliot, and Mrs. Clay receiving only loud hisses.
Sunday morning found us at a Lyme Regis Breakfast served again in the Tiara Room. The menu included British Naval Orange Juice and Eggs Benwick on English Muffins. The speaker on this occasion, Pamela Hadas, gave a talk on Jane Austen's letters. This was followed by the presentation of prizes to the four members who had scored a perfect mark on the Persuasion quiz. The quiz was generally thought to be difficult, and there were only 16 entries in the contest out of the nearly 200 members in attendance. Upon returning to my room after breakfast, I found a message waiting for me from my son in New York. The message read "It is a truth universally acknowledged, that a young man in possession of a phone must call his mom. Have a safe trip home!" "Not bad," I thought. "It does credit to the son of a Janeite."
I spent the rest of the day taking a walk near the hotel, where I could see the many beautiful old homes nestled among the trees. They were just beginning to wear their autumnal colours – "sweet scenes of autumn" as Jane Austen said in Persuasion. I then went on to the St. Louis Art Museum which was holding the Max Beckmann Retrospective. But the three of us who were together did not plunge into the world of this German-born painter, so different from the one of Jane Austen, without attempting to make a JASNA convert. The desk clerk at the Art Museum, noticing the Jane Austen sweatshirt that Geraldine Fowle was wearing, inquired if we were attending the Jane Austen Conference. "Yes," we responded in unison. "Oh! Jane Austen is my favourite, and I like Persuasion the best" came the reply from the young lady. We all regretted that she had not joined JASNA earlier so that she could have attended the Conference, and left her with Shirley Bassett's phone number.
Later in the afternoon, as we were about to board the limousine to the airport, I had a fall à la Louisa Musgrove. I had been looking for something in my purse as I approached the limousine and missed a small step outside the hotel door. Alas! I had no Captain Wentworth to kneel over me. But from Eileen Sutherland, with whom I was travelling home, came the kindly but very 20th century concern: "Never mind your knees – they will heal. But are your slacks all right?"
However, the worst was still to come. After waiting beyond our flight time at the St. Louis Airport, "Snow in Denver," and "Flight delayed by two hours," were beginning to be talked of among the passengers, "Oh, no!" Eileen and I said to each other. "Our connecting flight! We will miss our connecting flight!" Back at the front counter of the airline the two-hour delay was confirmed. Our only "comforting" piece of information was that the connecting flight would not be two but three hours behind schedule, so that we should be sure of catching it. We realized that our travel will not "soon be over," but "rejoiced to be certain of being" back in Vancouver "within the next" nine hours or ten.
It was nearly 2:00 a.m. on Monday (4:00 a.m. St. Louis time) when we finally reached the Vancouver International Airport. I can say with Anne that "the last few hours were certainly painful, but when pain is over, the remembrance of it becomes a pleasure … ". In retrospect, my impressions of the St. Louis Conference are very agreeable. I am already looking forward to Savannah, Georgia, next year – the wonder is that I took so long getting to my first meeting!
Editor's Notes
Jon Kimura Parker was Gold Medal Winner at the 1984 Leeds International Piano Competition. The first Canadian to gain this distinction.
The four winners of the Persuasion Quiz were: Eileen Sutherland, Vancouver; Helen Denman, Ottawa; Sudi Kotecha, Chicago; Mary Gaither Marshall, Lombard, Ill.
The "Tad-Poll" is named after Tad Mosel, Pulitzer Prize winning playwright, who instigated the original poll at the first meeting.