---
Persuasions #9, 1987 Page 36
Yes, There is a Petty France
<![if !supportEmptyParas]> <![endif]>
DEAN CANTRELL
Department of English and Speech – Theatre, Berry College, Mt. Berry Stn.,
Rome, Georgia 30149
<![if !supportEmptyParas]> <![endif]>
On the front of JASNA's 1985 Savannah Programme appears an illustration of Catherine Morland and Henry Tilney in his curricle.  So much is travel at the centre of Northanger Abbey, no JASNA member could quarrel with its choice.  Perhaps a reader or two might have wished the edifice in the background to have been, not as the elegance of the building suggests, a Bath structure, but the Petty France coaching inn where Catherine finds herself transferred from General Tilney's chaise and four to his son's curricle.  This miniature scene, covering as it does scarcely a page,1 remains indelibly stamped on a reader's mind!
Conscious of Jane Austen's scruples in writing of places with which she had personal acquaintance, I attempted from my Georgia residence to locate Petty France on a map of England but was unable to do so.  An appeal to our college librarian turned up the information that it was no longer in existence!  Last summer on an early departure from Bath to Adlestrop along the A46, I sighted, upon approaching a cluster of buildings, a sign reading "Petty France Restaurant Now Open."  I was exhilarated!  I smiled upon realization that the scene was yet another example of Jane Austen's use of historical place, and quite probably typical of her characteristic technique which she herself described as her "little bit (two Inches wide) of Ivory" on which she worked with so fine a brush.  Was the scene, also, another of the family jokes for which the novel is famous?
The scene is brief.  Catherine Morland with Eleanor Tilney and her maid leave Bath in a bustle of activity a little after ten o'clock in General Tilney's fashionable chaise and four with handsomely liveried postillions and numerous outriders.  Behind them come the General and Henry Tilney in the latter's curricle.  The journey is so pleasant that Catherine meets "with every milestone before she expected it."  Both carriages stop at Petty France, exactly half the thirty-mile distance from Bath to the General's Abbey.  Catherine laments "the tediousness of a two hours' bait" that permits "nothing to be done but to eat without being hungry, and loiter about without any thing to see" (NA, 156).  She clearly understands that it is the chaise with its "heavy and troublesome business" that requires a two-hour halt for the horses to be fed and refreshed.  When the journey recommences to cover the last fifteen miles, Catherine takes General Tilney's place but happy as she is in Henry's curricle (extraordinary as her preoccupation may seem) "she could not easily forget its [the chaise] having stopped two hours at Petty-France."  She also acknowledges that "Had their party been perfectly agreeable, the delay would have been nothing" but the General, "though so charming a man," awes her "with his discontent at whatever the inn afforded, and his angry impatience at the waiters" (156).
The tiny hamlet of Petty France, possibly deriving its name from French Huguenot refugees, is today in the shire of Avon and not as in Jane Austen's time, Gloucester.  It lies on the A46 between Bath and Cirencester, being just north of Gate 18 on the M4 and just south of the junction of the A433 which leads northeast to Tetbury (the same route John Thorpe travelled) and eventually joins with the A429 from which a minor road leads on to Adlestrop.  This picturesque village was the home of Jane Austen's cousins, the Reverend Thomas Leigh and his sister Elizabeth, who was Cassandra's godmother.  Jane Austen, her mother and Cassandra on their way from Bath in 1806 visited their beloved cousins in Adlestrop.  Dr. Chapman thinks Jane Austen may have been there also in 1801.  The Austens must have travelled over this same route so that she would have been familiar with it.  Indeed the brief exchange John Thorpe and James Morland have about the correct distance from Tetbury to Bath is evidence of her familiarity.
The restaurant advertised on the sign is in The Petty France Hotel, a building dating from the early eighteenth century.  The accompanying etching of it by my colleague Dr. August deBerdt captures its Georgian features: a bow window, a columned portico, large windows with fanlight, etc.  In addition  to this structure, the hotel also boasts a courtyard featuring an ancient stable block so vast as to be uncapturable in its entirety on film.  These stables, as well as a coach house, date to an earlier inn, the Beaufort Arms.  Although its construction date is unknown, it served as a coaching inn until around 1850.  These buildings are constructed of limestone called oolite or eggstone because the granules corruscate in the light of day, taking on a warm golden hue.
Although no early prints of the Petty France Hotel exist and research as yet has not turned up its name on any coaching itineraries, it is, according to its proprietor, certainly the one offering amenities to General Tilney.  Proof of its existence is found in the diary of one Parson Woodforde, who, travelling in 1774 from Cirencester to Bath, records that his stagecoach stopped at Petty France at 11:00, and that he revived himself with rum and water for 3d.  Fifteen miles from Bath, Petty France would have been a likely coach stop in 1801 and 1806 for Jane Austen.
<![if !supportEmptyParas]> <![endif]>
<![if !supportEmptyParas]> <![endif]>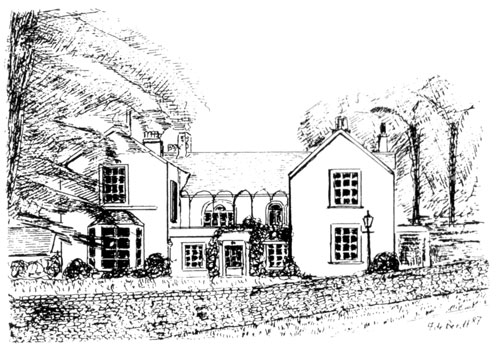 <![if !supportEmptyParas]> <![endif]>
<![if !supportEmptyParas]> <![endif]>
Such information affords a clearer understanding of the causes of Catherine's decided perturbation and the General's querulousness.  Her perturbation, of course, is largely her delayed gratification for arrival at the Abbey.  The reason for what must be an uncommon delay becomes clearer upon some calculation.  We can estimate that the journey to the Abbey took about six-and-a-half hours, as the General's party departs Milsom Street a few minutes past ten o'clock and arrives at Northanger probably about ten minutes before the General takes out his watch "to pronounce it with surprize within twenty minutes of five!" (162).  The thirty miles, then, were covered in four-and-a-half hours' driving time, with the General's chaise making a disappointing 6.6 miles per hour.2  It would have arrived at Petty France a little past 12:15 p.m.  Thus Catherine's perturbation is more easily understood when we realize that a two-hour-and-fifteen-minute carriage ride is followed by a two-hour wait at a time when she naturally is impatient to see the ancient edifice!
Her lack of appetite is possibly explained, then, by a fashionably late breakfast at the General's Milsom Street residence and a 12:15 "noon-shine," as JA would have called luncheon.3  Food at the inns in the eighteenth century could range from light fare for travellers intent on losing little time or to scrumptious meals.  If the Petty France has maintained its standards over the past centuries, the meal must have been an elegant one as we know the General was very particular in his eating.  All the courses, no doubt, were unappetizing to Catherine, who only shortly before may have consumed a hearty breakfast.
Catherine's displeasure to "loiter about without any thing to see" reveals her naïveté about natural beauty.  The Petty France is located in the beautiful Cotswolds, and the area is still the centre for the Beaufort Hunt.  This beautiful and richly historic Cotswolds countryside, extending some fifty miles from Dyrham to Dover's Hill, is noted for its verdant valleys and its prized oolite buildings.  England's quintessential countryside, it is an "area of outstanding natural beauty."  Catherine's creator, as we know, was very much an admirer of natural beauty, and though the oolite buildings may not have been so prized then and the deserted farms and weavers' cottages in which wool had been spun were not to be gentrified until this century, the landscape would have been spectacular.  Such cannot tempt Catherine's "unpractised eye."  The scene must have evoked smiles from Jane Austen's family, no doubt admirers themselves of natural beauty, as her letters to Cassandra often detail her pleasure at panoramic sights.  It also makes richly ironic Catherine's later statement to Henry that she loved the "pleasure of walking and breathing fresh air."
Jane Austen's fine brush strokes may be admired also as we see the way in which the causes of the General's querulousness and incivility at Petty France are revealed.  She takes for granted her reader's knowledge that the chaise and four, a symbol of the General's wealth and prestige, is a four-wheeled, lightweight carriage, which should have afforded fast transportation.  The General wishes to leave Bath at precisely ten o'clock, for he knows he has to get his horses on the road early so as to make good speed and to necessitate only a light bait at Petty France.  The delay, when the three females do not meet the deadline, is just enough to put the horses on the road later in the morning when more energy is required for pulling the chaise over the decidedly hilly terrain of the Cotswolds.  Ironically, the General has unwittingly added to the "sober pace" of the horses by having them "heavily" fed.  Such must be the explanation of Catherine's recognition of the chaise's "heavy and troublesome business."  It is this rather than the weight of the chaise that necessitates a longer bait than usual at the stables (no doubt those of the Beaufort Arms).  The General, familiar with the road, would have known the precise second of the expected arrival and to have taken two-hours-and-fifteen minutes for a journey which should have taken well under two is mortification enough for his incivility.  His discontent with whatever food and amenities the Petty France offered and his angry impatience with the waiters point to his disappointment, then, over his carriage's disappointingly slow performance and his failed intent to impress Catherine.
Though we may be certain he was not tempted by the rum and water that so pleased Parson Woodforde, it bears pointing out that the Petty France was a more modern hostelry than the Beaufort Arms.  The General's choice of the edifice in the etching should have been a hint to Catherine of his decided preference for the modern over the medieval, a preference which disappoints her when she finally sees the Abbey's furnishings "in all the profusion and elegance of modern taste."
<![if !supportEmptyParas]> <![endif]>
<![if !supportEmptyParas]> <![endif]>
NOTES
<![if !supportEmptyParas]> <![endif]>
1 Vol. II, Chapter V, 156 of Dr. Chapman's Oxford Illustrated edition of the novel.
<![if !supportEmptyParas]> <![endif]>
2 Thorpe's much slower gig averages, according to him, seven miles per hour; according to James, 6.6 miles.
<![if !supportEmptyParas]> <![endif]>
3 Breakfast at Northanger Abbey does not conclude until 10:30 a.m.