---
Persuasions #9, 1987 Pages 34-35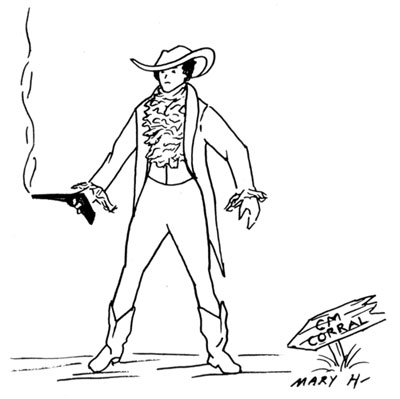 <![if !supportEmptyParas]> <![endif]>
<![if !supportEmptyParas]> <![endif]>
Gunfight at the Combe Magna Corral
<![if !supportEmptyParas]> <![endif]>
MARY HARDENBROOK
Huntington Beach, CA
<![if !supportEmptyParas]> <![endif]>
In Sense and Sensibility, a duel between Colonel Brandon and John Willoughby is mentioned.  After Colonel Brandon reveals the unhappy history of Eliza Williams as it concerns Willoughby, he says to Eleanor Dashwood: " … we met by appointment, he to defend, I to punish his conduct.  We returned unwounded, and the thing never got abroad."
One cannot help but wonder at the whole affair of the duel between Colonel Brandon and Willoughby.  How was the challenge presented?  Did the good colonel smack Willoughby across the face with an iron gauntlet?  Who were their seconds?  Sir John Middleton?  Not Mrs. Thomas Palmer!  What was the choice of weapons?  Battle axes at sixty paces, or darts at five feet?  Where did the encounter take place?  It could not have been at the Pump Room in Bath, although duels were often fought in the environs of Bath.
If Bath can be imagined as the English counterpart of Tombstone, Arizona, an intriguing picture might come forth of this interesting show-down:
It is high noon; the law-abiding citizens of Bath are nowhere to be seen, as Colonel Brandon, dressed in white flannel, begins the ritual of the gunfight.  He strides forth from Laura Place onto Pulteney Street toward Sydney Gardens; God and honour on his side, righteous determination in his eye, and a six-shooter in his hand.  At Darlington Street, Willoughby, dressed in black crêpe de chine, sets forth to meet his adversary.
Willoughby has a twitch in his right eye; he is very nervous, for he has a guilty conscience, and he knows he is not a good shot.
All manner of thoughts run through his mind, as he faces Cool-Hand Brandon, the fastest gun in West Sussex. He  thinks of high-tailing it back to the Allenham Corral, but Mrs. Calamity Smith is waiting for him there too, and he would face anything rather than her wrath.  He thinks of his treasured Sophia, and a song runs through his head, again and again and again: "Do not forsake me …"
In the meantime, right-thinking Colonel Brandon thinks of his destitute girl, Eliza.  His conscience is not too clear either, and he broods as he walks.  His darling child has been abandoned by the dastardly fellow walking toward him, but he knows that the whole affair was really his own fault; as a guardian, he has been somewhat remiss, and the only way to put things right is to blow Willoughby's head off.
After a long, long walk, the two combatants finally come face to face in front of THE LAST CHANCE Linen Drapers.  There is a sudden blast of gun shots.
As the smoke clears, Colonel Brandon sees that Willoughby is still standing, and exclaims, "By George, I've missed him!"
At the same moment, Willoughby thinks, "By George, he's missed me!"
With a sob of relief, Willoughby staggers into Colonel Brandon's arms.
Right-thinking Colonel Brandon pats Willoughby on the shoulder, clutches his right hand to his own heart, and announces, "To err is human, to forgive divine!"
Willoughby decides not to contradict him; he is a wiser hombre than he was thirty minutes before.
The gentlemen, now reconciled, mount their horses, which have suddenly appeared from nowhere, and ride away over the horizon toward the Combe Magna Corral.