---
Persuasions #9, 1987 Pages 51-55
Visiting Edward Cooper
GAYE KING
Lichfield, Staffordshire, England

Jane Austen professed to "like first Cousins to be first Cousins, & interested about each other."1 After all, she explained to her niece Anna, "They are but one remove from Brother and Sister." And for all her apparent dislike for some of the less amiable attributes of his character Jane Austen was nevertheless constantly in touch with the affairs of her cousin Edward Cooper. There were occasional visits between the Austen and Cooper families,2 a more frequent exchange of letters, and news received from mutual friends and relations.
Their own first cousins were few, and we find Jane writing to her sister Cassandra in January 1799, "Our first cousins seem all dropping off very fast. One is incorporated into the family, another dies, and a third goes into Staffordshire" (Letters, 55).
Being without either carriage or a travelling purse of her own, the possibility of ever visiting Edward Cooper at his living at Hamstall Ridware in far off Staffordshire must have at that stage seemed highly improbable. Besides which there are ample references in her letters which demonstrate Jane Austen's reluctance to spend holidays dependent on relatives for travelling arrangements and being always obliged to accommodate herself to the plans of others.3 "I should like to make a compromise with Adlestrop, Harden, and Bookham," she wrote in July 1799, "that Martha's spending the summer at Steventon should be considered as our respective visits to them all" (66). And when, in 1801, Edward Cooper issued the first invitation to his aunt and uncle Austen and his cousins to visit him at Hamstall, Jane not surprisingly preferred a trip to the sea independent of "all our relations" (118).
She had failed to avoid that late summer visit to Harpsden in 1799, however. There Edward was curate at the college living once held by his, and Jane Austen's, grandfather.
Edward's mother-in-law, Mrs. Caroline Lybbe Powys, records in her journal of that year that "Mr and Mrs. and Mr James Austen" were at the Cooper's home when she called on 12 August. And later, on 2 September, she writes that "the two Miss Austens and Mr W. Warren came to dinner"4 at her home at Fawley not too far from Harpsden.
Edward had by this time been to see his living at Hamstall5 and would have been able to give his Austen relatives a full account of it. They already knew that, like the rector at Delaford, "the late incumbent … did not make more than 200l per annum" (S&S, 283), but expected it to be capable of improvement. Mrs. Powys may well have been anxious that her only daughter would continue to have "a child every year!" and if their income was not increased, "Lord help 'em! how poor they will be!" (S&S, 276).
But Edward had found the rectory quite large enough to accommodate his growing family. Like the fictional parsonage at Delaford it had "five sitting-rooms on the ground floor, and … could make up fifteen beds" (292). So the young rector could look forward to maintaining the tradition of liberal hospitality such as that he had enjoyed at the Steventon parsonage. When Jane Austen, together with her mother and sister, did eventually spend those five weeks at Hamstall Ridware in 18066 Edward and Caroline had eight children. There were also, living in at the rectory, two maids and a governess,7 yet there was still ample accommodation for the guests.
During the Austens' visit to Harpsden, Jane and Cassandra must have listened with interest to their cousin's plans for the removal. We hear Jane saying to her sister in anticipation of some difficulties; "how will they be able to convey the furniture of the dressing-room so far in safety?" (Letters, 55) and wonder whether it was eventually left for Edward's successor at Harpsden, like Sir Walter Elliot's at Kellynch, to remove "a number of looking glasses."
Although the first invitations to Hamstall were declined, the Austens were kept informed of the family at the rectory through their correspondence with Edward. And his letters, it would seem, were not always in the sombre tone of his sermons. Jane appears to have introduced a playful teasing note to temper their relationship. His two letters to her following the birth of the fifth child she describes as "chearful & amusing," and adds, "He dares not write otherwise to me" – indicating in the next breath that his present jollity is but a temporary aberration. "Perhaps he might be obliged to purge himself from the guilt of writing Nonsense by filling his shoes with whole pease for a week afterwards" (115).
There was also ample opportunity to fill in on some of the details omitted from the letters, for Mr. and Mrs. Powys, who were regular visitors to Hamstall, spent the winter months in Bath and included the Austens and Leigh Perrots on their social round.8 Jane Austen may even have been privy to Mrs. Powys's journals describing her tours of the midland counties of England since these were written as much for the perusal of interested friends as for her own reminiscences.9
In 1805 Mr. and Mrs. Powys accompanied Edward and Caroline, their two eldest children, and their neighbour Edward Riley, on a tour which included Matlock and Dovedale. They travelled in two chaises, visited friends in Uttoxeter en route, stopped overnight at Ashbourne, and spent a few days in Matlock.10
Once again in Bath for the winter Mr. and Mrs. Powys found lodgings in Milsom Street just round the corner from the Austens who were in Trim Street.11 Mrs. Powys, when she paid her customary call, would no doubt have been pleased to pass on rapturous descriptions of the journey through Dovedale. This she had found "too magnificent and too interesting a piece of landscape to leave the mind disengaged," the woody mountains forming a contrast to the immense rocks "picturesque and beautiful beyond description." She too had read her Gilpin.
Jane Austen may well have been tempted to parody such effusions in an early draft of Pride and Prejudice. If so, it was dropped in the refining process when she found it no longer suited her purpose. She only allowed Elizabeth eager anticipation of the northern tour (P&P, 154). Then, perhaps remembering that Mrs. Powys "mentioned having gone through 'Via Gellia' " but was muddled about the exact location – "I made a mistake; it was after we left Dove Dale, on our way back to Ashbourne" – Jane Austen includes a gentle dig at those travellers whose observations are not accurate enough to remember quite where are the particular scenes they describe.
In April 1806 came another invitation from Edward Cooper. And on this occasion, Mrs. Austen wrote to James Austen's wife Mary, "we seem disposed to accept."12 After the death of her husband in 1805 James had anticipated that his mother would spend the summers in the country amongst her relations.
They must have found the Hamstall rectory a lively household. Perhaps Jane, who so enjoyed bathing in the sea, would have joined in the exhilaration of an early morning swim in the Blythe which flows through the meadow at the back of the house. And did she in her mind's eye see Catherine Morland rolling down that green slope? (NA, 14). On the banks of the river Caroline had had a dressing house set up that she and her three eldest children may take advantage of the cooling waters in summer. And there in the evening, if there were no visitors to entertain, Caroline tried her hand at trout fishing.13
But, as in Kent when staying with her brother's family, Jane would have found that many days were spent in visiting or receiving visitors, frequent among whom were the Ardens and the Gisbornes.14
It may have been Edward's encouragement which persuaded Cassandra to read An Enquiry into The Duties of the Female Sex, a book attributed to Thomas Gisborne but rumoured to have been written by his wife. Cassandra in turn recommended it to her sister. Jane Austen must have had this in mind when she devised the theatricals episode in Mansfield Park, for Gisborne warns young ladies against participation in private theatricals, which he says are "almost certain to prove … injurious to the female performers" and "to destroy diffidence by the unrestrained familiarity with persons of the opposite sex."15 In this context the advertisement in the Staffordshire Advertiser for "Lovers' Vows" to be staged in Cheadle during Wakes Week is of particular interest.
The Ardens in Yoxall, just two-and-a-half miles away, were close enough to be visited after a pleasant walk, which they frequently did, or in the donkey chaises. The Coopers had two of these "very clever vehicles,"16 which were to become quite popular as a little run-around vehicle for women, and one wonders whether this was where Jane Austen learned to drive one. Hers was to prove an invaluable means of mobility during those last months before she went to Winchester.
Edward had business in Tutbury and Lichfield during this time, attending meetings concerning the disafforesting of Needwood which was to affect his already meagre income.17 He had, it is true, inherited the wealth of his grandfather Gislingham Cooper who had been a banker and goldsmith in London, but with so large a family, and for the sake of his successor to the living, he could not afford to lose by the enclosure.
He liked to take his guests to view the ruins of Tutbury Castle where once Mary Queen of Scots had been incarcerated. This would have been of special interest to Jane Austen. As also would Lichfield, the home town of her "dear Dr Johnson." His house, "the best hereabouts," was at that time a grocer's shop.18
There were many good shops in Lichfield then which, during the September racing season, would have been bustling with fashionable people making their last-minute purchases for the balls, public dinners and theatre. A cathedral city which was also a garrison town would attract many a Mrs. Bennet with her marriageable daughters.
Anna Seward, who was at the centre of the literary circle in Lichfield and correspondent of many interesting personalities of the day, gave the following evocative account of one of the balls:

The gentlemen of the Staffordshire fox-hunt gave us a ball last week, which concentrated all the rank of the county in one splendid focus …. The hunt uniform is orange. Every lady in the room wore her white muslin profusely decorated with ribbons of that glowing hue, and the female group resembled a large bed of mingled snow-drops and yellow crocuses, the floral harbingers of spring.19

Mrs. Powys had shown an interest in the sixteenth-century Flemish stained glass being put up in the cathedral when she was there the month before the Austens, and in John Saville's botanic garden. Edward Cooper had taken his guests to visit a friend of his, the Rev. Thomas White, a cousin of Anna Seward who lived near her in the Close. If he took his Austen relations there too the source of the Cooper children's – and Jane's – whooping cough may be detected. In one of her letters, dated 28 August 1806,20 Miss Seward writes: "Little Tom White is returned home to be nursed; his young latinity barked away for the present by the hooping cough."
Only on the twenty-third of that month had Edward written to the Rev. Thomas Leigh of the good health of all at Hamstall, including "Mrs Austen and her daughters."21 But in the letter of 26 September, reporting on the meeting in Lichfield with the commissioner of the Needwood Inclosure Act, Edward mentions that his children have whooping cough and includes that, to us, valuable item: "Mrs Austen and her daughters after staying with us about five weeks, have left us for Southampton."22 There is no mention at that time of Jane's having been infected. We only hear of this from her letter of 7 January 1807.
In lodgings in Southampton, being nursed by Cassandra, Jane Austen had much to muse over. Her visit to her cousin Edward Cooper had provided her with so much that was new and interesting; much that would colour her writing when she took up her pen again. The re-writing of Sense and Sensibility and Pride and Prejudice and the writing of Mansfield Park owe much to the places she visited, the people she met and the subjects under discussion while she was with them on her own journey to the midland counties of England.

NOTES
1 R. W. Chapman, ed., Jane Austen's Letters to her Sister Cassandra and Others, (Oxford, 1932), p. 415.
2 In their adult years. They were more frequently together in their childhood.
3 See especially letters 7 and 51.
4 Journals of Caroline Lybbe Powys, British Library Add. MSS 42160.
5 Ibid.
6 See Donald Greene, "The Curtain Lifts," Persuasions, No. 8 (1986).
7 Powys, Add. MSS 42162, July 1804 and July 1807.
8 Powys, op. cit., 1802.
9 Powys, Add. MSS 42172.
10 Powys, Add. MSS 42162.
11 Ibid.
12 R. A. Austen-Leigh, Austen Papers, (privately printed by Spottiswoode, 1942), p. 237.
13 Powys, op. cit., B.L. Add. MSS, 42171.
14 Edward Cooper's third son was Gisborne's godson and named Henry Gisborne Cooper. The fourth son was Philip Arden Cooper. Isabella Mary, Cooper's eldest daughter, married into the Arden family. The Ardens were descendents of the family of Shakespeare's mother, Mary Arden.
15 Pp. 183-84.
16 Powys, op. cit., Add. MSS 42162.
17 Through years of negotiation Edward Cooper managed to improve the living, valued in 1837 at £350.
18 Howard Clayton, Coaching City, (published privately, 1984), pp. 35-36.
19 Letters of Anna Seward, ed. Sir Walter Scott, 1811, Vol. 5, L.VII, p. 43.
20 Ibid., Vol. 6, L.LV, p. 313.
21 Leigh Papers, DR 18/20/18, Shakespeare Birthplace Trust.
22 Leigh Papers, DR 18/20/32.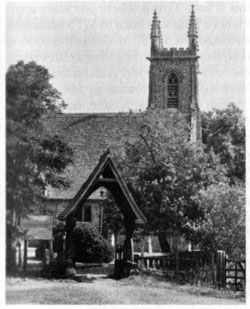 St. Nicholas Church, Chawton, Photo by Rowland McMaster.