---
Persuasions #9, 1987 Page 64-71
"We fainted Alternately on a Sofa": Female Friendship in Jane Austen's Juvenilia
<![if !supportEmptyParas]> <![endif]>
DEBORAH J. KNUTH
Colgate University, Hamilton, New York 13346
<![if !supportEmptyParas]> <![endif]>
While friendship between women in Jane Austen's novels has engaged some critics, the novels themselves seem to direct us to consider such relationships unimportant precursors to the heroine's betrothal to the hero. Readers may justly assume that Jane Austen took a dim view of the cult of friendship in popular novels;1 its characteristic excesses of style find place in her own fiction only when such hypocrites as Isabella Thorpe, Lucy Steele, or Mary Crawford profess instant "affection" for the heroines of Northanger Abbey, Sense and Sensibility, and Mansfield Park with motives that range from opportunism to malice and envy to creating a false persona. But it would be a mistake, I think, to assume from these burlesque portraits that Jane Austen sees women's friendship as necessarily unimportant, or even secondary, in comparison with marriage. Even when critics share Mr. Knightley's judgement of Emma's self-indulgent "interest" in Harriet Smith, they go on (as I think the novelist invites us) to deplore the failed friendship between Emma and Jane Fairfax. And when women's friendship is permitted to influence the heroine, it is accorded much importance. Janet Todd refers to Jane Austen's "distrust of [female] friendship" in her later work,2 and Lady Russell's inadvertent betrayal of Anne Elliot before Persuasion begins usually comes in for more attention than lowly Mrs. Smith's corresponding care, so significant to the novel's dénouement, for her mentor/protegée's best interests. (In fact, according to some critics, the evils of Lady Russell's limited perspective are matched by the pernicious reticence of Mrs. Smith, who hesitates to reveal the anti-hero's treachery almost too long.)3 Mrs. Smith's significance in the novel, however, might be simply that she provides a trustworthy, equal – in Janet Todd's terms, "horizontal" – friend for Anne who is otherwise thrown upon her unsympathetic family and her short-sighted confidante Lady Russell.
It would seem that female friendship is exploitative, often silly, occasionally dangerous, but never, in the end, particularly significant. Even Rachel Brownstein, who writes sensitively of women's friendships in Jane Austen's fiction, and who happily notes that "Two things about Jane Austen's life are important: … she was a spinster, and a sister," concludes that "[Jane] Austen's heroines, who must acknowledge that they are like other women, must in the end leave the company of their sex …. " She writes in the context of Emma's "foolish connection with simple Harriet Smith."4 (Emma's cultivation of Harriet is of course problematical,5 but I would like us to reconsider such customary easy dismissals.)
Of course, the master plot of Jane Austen's novels, courtship, makes the single-sex relationship an apparently marginal aspect in her fiction, as is appropriate: she wrote for readers who preferred their novels cut to pattern. But to see courtship as a flat design may be to miss the layers of Jane Austen's exploration of relationships. The sceptical reader – one who suspects the author herself of some scepticism about pat fictional order – need not conspire with the obvious dictates of the form to the extent of ignoring Jane Austen's collateral focus, according with her works' boundaries, on the importance of "sisterhood" in the lives of her woman characters.
One logical point of departure for a study of Jane Austen's women's relationships is the juvenilia. As an introduction to the body of her work, these stories, plays, burlesques, and fragments of novels can be seen as analogous to the first seven chapters in relation to the whole of Pride and Prejudice. The exclusively feminine company of the Bennets and Lucases before the introduction of Bingley, Darcy, and Wickham (and Collins) shows a society in which none of the girls seems really to be "out," as they discuss men and hats and friendship.6 (The earliest indication of Caroline Bingley's treacherous nature, after all, is her palpably false friendship for Jane Bennet.) As the juvenilia date from the pre-courtship era of Jane Austen's own life, they admit a focus on friendship as a unique form of female experience. And the works themselves, though the majority are apparently about relations between men and women, often abandon a courtship pattern. "Frederic and Elfrida," from Volume the First, placed quite early in Chapman's chronology, is titled to suggest a romance, but the first two paragraphs describing the hero and heroine immediately give way to a digression about Charlotte, Elfrida's "intimate friend," whose suicide follows shortly, after a pair of sisters is introduced further to divert attention from the eponymous couple. Love and Freindship, the source of my title,7 is easily more concerned with women's friendships than with courtship or marriage. This burlesque novel is in the form of Laura's letters describing her picaresque, romantic exploits to Marianne, the daughter of Laura's childhood friend. The spurious emotion and spontaneous attachment of false friendship are of course the butt of Jane Austen's satire, as they are in Northanger Abbey, Sense and Sensibility, and Pride and Prejudice. But it is important to note that friendships, however comically treated, have greater endurance in this early novel than do marriages. Friendship is even the occasion for the novel's being written.
The primary pairing in Love and Freindship is between Laura and Sophia, the wife of her husband's best friend. While marriages in the novel seem to be prompted more by a desire to flout parental authority and economic prudence than by mutual attachment, the requirements for friendship are precise, if typical of sentimental (and mock-sentimental) fashion. When the penniless Edward elopes with her to his friend Augustus's seat, Laura is the more grateful for the presence of Sophia for having been "deprived during the course of 3 weeks of a real friend":
Sophia was rather above the middle size; most elegantly formed. A soft languor spread over her lovely features, but increased their Beauty. – It was the Charectarestic of her Mind – . She was all Sensibility and Feeling. We flew into each others arms and after having exchanged vows of mutual Freindship for the rest of our Lives, instantly unfolded to each other the most inward Secrets of our Hearts –. (85)8
Within two pages, young Laura has already met two young women who define the opposite of friendship. The first is Edward's sister Augusta:
There was disagreeable Coldness and Forbidding Reserve in [Augusta's] reception of me which was equally Distressing and Unexpected. None of that interesting Sensibility or amiable Simpathy [was seen] in her manners and Address to me … which should have distinguished our introduction to each other. Her Language was neither warm, nor affectionate, her expressions of regard were neither animated nor cordial; her arms were not opened to receive me to her Heart, tho' my own were extended to press her to mine. (82)
And Laura has met Lady Dorothea, who had been Edward's father's choice for his wife, another candidate for disdain: "She staid but half an hour and neither in the Course of her Visit, confided to me any of her secret thoughts, nor requested me to confide in her, any of Mine" (84). It is true that Edward and Augustus, whose meeting follows that of their wives, also "fl[y] into each other's arms" (86), their sentimental behaviour evoking the alternate swoons of Laura and Sophia, but this friendship hardly parallels the women's in importance. For one thing, Edward and Augustus promptly leave the scene, the latter arrested for debt (and possibly theft as well), and eventually they leave the story entirely when they are killed in a phaeton accident. Furthermore, despite the broad treatment of the friendship of Laura and Sophia, the two women prove resourceful to each other in crises, certainly more so than their husbands. Their adventures include a journey to Scotland; the discovery of their (mutual) grandfather; an experiment in matchmaking, as they prompt an elopement between an indifferent heiress and a fortune-hunter; and the separate achievements of an elegy on the death of Edward (by Laura), and a true heroine's swoon (by Sophia), one that leads to a feverish death.
By the end of her absurd trials, Laura has learned sufficient vulgar prudence to submit to an income from her late husband's father, but notes plaintively that "the unsimpathetic Baronet offered it more on account of my being the Widow of Edward than in being the refined and amiable Laura" (108). Here may be found the lesson that she should impart to Marianne in her review of the story: society deems the feelings of women insignificant, compared with the achievements of men. But Laura herself never rejects her earliest sentimental values. The only direct advice that she will concede to pass to Marianne is the dying speech of Sophia: "Beware of swoons Dear Laura …. A frenzy fit is not one quarter so pernicious; it is an exercise to the Body and if not too violent, is I dare say conducive to Health in its consequences – Run mad as often as you chuse; but do not faint – " (102).
As comical and apparently insignificant as this brief epistolary piece may seem, its claim on our attention is assured when we consider the relationship between Love and Freindship and Sense and Sensibility, where one of the two heroines displays an excessive sentimentality quite reminiscent of Laura and Sophia9. Like them, Marianne, who bears the name of Laura's tutee, allows her romantic definition of "noble" behaviour to obscure her moral judgement and her common sense; her near fatal twilight walks cause an illness that is particularly communicable to such young women, and Sophia has died of the same disease. But the shrewdly "sentimental" Lucy Steele provides a contrast in the novel with Marianne's real feeling, making us unable to dismiss Marianne's excesses, even if she were not so important to Elinor, the representative of sense, throughout the novel. The very last words of Sense and Sensibility, after all, pay tribute to the sisters' neighbourly friendship as "not the least considerable" of their "merits and happiness."10 Even in Love and Freindship and elsewhere in the juvenilia, the studied romantic dogma that may direct characters' lives can create frequent comedy and satire, without deflecting our serious attention.11
The unfinished Catharine; Or, The Bower continues Jane Austen's exploration of the relationships of women. Choosing to place her orphaned heroine in the unpleasant charge of a severe Aunt, the author affords her few romantic possibilities. As we meet the young Catharine, she is afforded "constant relief in all her misfortunes" by "a fine shady Bower, the work of her own infantine Labours assisted by those of two young Companions who had resided in the same village – ." Catharine's12 "imagination was warm, and in her Freindships, as well as in the whole tenure of her Mind, she was enthousiastic. This beloved Bower had been the united work of herself and two amiable Girls, for whom since her earliest Years, she had felt the tenderest regard" (193). Clearly, it would seem, the description of the bower in the first pages of the story identifies Catharine as susceptible to sentimental cliché; her relation to the sisters Cecilia and Mary must be similarly silly. But just as the reader has settled into such a comfortable judgement, the sisters are hustled off the scene to varied unhappy fates which might have proved adventures for a more conventional kind of orphaned heroine, while the reader is left behind with Catharine and her recourse to "this arbour … [which] encouraged … the tender and Melancholy recollections of hours rendered pleasant by" her lost friends (194).
Even as she will do in Sense and Sensibility and Northanger Abbey (whose heroine shares Catharine's name), Jane Austen tempts her readers to an undiscriminating dismissal of the strong feelings of sentimental young women, only to present us with caricatures that complicate our response. In Catharine, it is Camilla Stanley, whose family pays a visit to the heroine's aunt, who represents the ignorance and shallow artifice of false friendship and provides a contrast with the enduring ties, now kept by correspondence, between the heroine and the sisters who have left. Camilla's abuses of language and her taste in literature resemble Isabella Thorpe's, and when the reductive dialogues that pass for conversation with Camilla send Catharine to the haven of "her dear Bower," the reader is ready to adjust the value of that retreat (207). Despite her wishes that the arrival of Camilla can "in some degree make amends for the loss of Cecilia & Mary," Catharine is forced to conclude the contrary:
She found no variety in her conversation; She received no information from her but in fashions, and no Amusement but in her performance on the Harpsichord … and when [Catharine] had learnt from her, how large their house in Town was, when the fashionable Amusements began, who were the celebrated Beauties and who the best Millener, Camilla had nothing further to teach …. (198, 201-2)
(Were the harp substituted for the "Harpsichord," the description might suit Mary Crawford.) Camilla's equally shallow mother applauds the stylish custom of friendship and correspondence between young women, while Catharine's aunt, less "modern," judges "a correspondence between Girls as productive of no good, and as the frequent origin of imprudence & Error by the effect of pernicious advice and bad Example" (210-11). Jane Austen is inviting us to mediate between the trivial, false "sensibility" of Camilla and her London friends and the equally extreme view of Catharine's guardian. Camilla is moved to remonstrate with her hostess, " 'But who knows what you might have been Ma'am, if you had had a Correspondent; perhaps it would have made you quite a different Creature' " (211), and, for once, the reader is inclined to agree with her.
Camilla's one great advantage to Catharine would seem to be her possession of a brother, Edward Stanley, who arrives briefly to dance with and delight the heroine. But Jane Austen soon removes Edward from the scene, and even before his departure, while Catharine is being electrified by his presence, she is busily assessing his defects and whether they "merely proceded from a vivacity always pleasing in Young Men" or "testif[ied] a weak or vacant Understanding" (235-36).
When the novel breaks off, the possibility of a visit from Catharine's married friend Cecilia is the only likely change in the heroine's future. "Her bower," we are told, "alone retained its interest in her feelings," and though "perhaps that was oweing to the particular remembrance it brought to [Catharine's] mind of Edw[ar]d Stanley," generally the enduring relationship in the novel is that between Catharine and her old, now absent friends (239). Their fates, ultimately unknown, seem not to promise well: Cecilia has been sent out to India where she has, as designed, been married off "to a Man of double her own age, whose disposition was not amiable) and whose Manners were unpleasing, though his Character was respectable," but who may, as Catharine feelingly points out, " 'be a Tyrant, or a Fool or both for what she knows to be the Contrary' " (194, 205). Mary, the younger sister, has gained the unenviable position of poor relation and ladies' companion to a pair of spoiled girls – friends, in fact, of Camilla – who spend most of the year in Scotland. Catharine assesses Mary's lot: "There was not indeed that hopelessness of sorrow in her situation as in her sister[']s; she was not married, and could yet look forward to a change in her circumstances …" (195). Perhaps Catharine here unwittingly identifies the paradox of the courtship plot: that, while single women have little but marriage to hope for, marriage is the completely "hopeless" state – whether for good or ill – because it is the state in which a woman is fixed, even more firmly than Catharine is imprisoned by her aunt or Mary by her subservient position.
Jane Austen makes the charms of the almost-hero of Catharine: Or, The Bower equivical (Edward "had scarcely a fixed opinion on [any] Subject" [231], and he is, after all, Camilla's brother), and, just when Catharine is preparing to overlook his faults, the author suddenly dismisses him altogether. Feminine accomplishments, on the other hand, endure and are valuable; Catharine's correspondence with Camilla soon ends, but the letters to Cecilia and Mary continue. The structure of the bower, moreover, that co-operative achievement of friendship, remains as the novel trails off, a symbol of the relative importance of women's relationships even in the society Jane Austen describes. Though the subject of the later novels seems unequivocally "love" rather than "friendship," then, it may be useful to consider how Jane Austen, who never married herself but carried on important correspondences and friendships throughout her hardly hopeless life, might be undermining the sole importance of marriage in the lives of her heroines.

NOTES
1 Marvin Mudrick identifies the tradition as that of the "lachrymose novel," Jane Austen: Irony as Defense and Discovery (Princeton: Princeton University Press, 1952), p. 5. On the juvenilia, see Chapter I, "The Literary Pretext: Irony Versus Sentiment," pp. 1-36.
2 Women's Friendship in Literature (New York: Columbia University Press, 1980), p. 400. Generally Todd's views on friendship in Jane Austen's fiction seem harsh. For her approach's "biographical context," see pp. 396-402. On Mansfield Park, see pp. 249, 267-68.
3 See K. K. Collins, "Prejudice, Persuasion, and the Puzzle of Mrs. Smith," Persuasions, No. 6 (December, 1984), pp. 40-43. In "Mrs. Smith and the Morality of Persuasion," K. K. Collins reviews the traditional attacks on Mrs. Smith as either an awkward plot device or an opportunist who intends to use Anne's influence with Mr. Elliot to gain her lost fortune, Nineteenth Century Fiction, 30 (December, 1975), pp. 383-97.
4 Rachel M. Brownstein, Becoming a Heroine: Reading about Women in Novels (New York: Viking, 1982), pp. 105, 109; emphasis added.
5 Janet Todd analyzes the relationship, in the tradition of Marvin Mudrick, as modelled on a "flawed marriage" (p. 285); my view would salvage some aspects of Emma's "use" of Harriet as virtues of friendship. For Sandra M. Gilbert and Susan Gubar, however, as with many critics, female friendship in Jane Austen's fiction is merely "female rivalry" for attention from men, The Madwoman in the Attic (New Haven and London: Yale University Press, 1979), p. 126.
6 I should note that my idyllic evocation of the Bennets at home is a direct contradiction of most views of that novel. In Communities of Women: An Idea in Fiction (Cambridge, Massachusetts: Harvard University Press, 1978), for example, Nina Auerbach deems that women "lead a purgatorial existence together" in all of Jane Austen's novels. (See pp. 35-55; pp. 47-48.)
7 In his notes to Love and Freindship, Brian C. Southam points out that "We fainted Alternately on a Sofa" is an echo of Sheridan's stage direction in The Critic, III, i Volume the Second (Oxford: Clarendon Press, 1963), p. 211.
8 All references to the juvenilia are to Jane Austen, Minor Works, ed. R. W. Chapman, revised by Brian C. Southam (Oxford and New York: Oxford University Press, 1954, rev. ed., 1969, rpt. 1982).
9 On the relation of Love and Freindship to Northanger Abbey and Sense and Sensibility, see Juliet McMaster, "The Continuity of Jane Austen's Novels," SEL 10 (Autumn, 1970), pp. 723-39, pp. 723-28.
10 Jane Austen, Sense and Sensibility, ed. R. W. Chapman (New York and Oxford: Oxford University Press, 1933, rpt., 1982), p. 380.
11 In Jane Austen's Literary Manuscripts (London: Oxford University Press, 1964), pp. 25-26, Brian C. Southam contrasts Lucy Steele's "display of feeling … inspired by opportunism" with "the genuine temperamental sensibility of Marianne Dashwood." See also his essay on the Juvenilia in The Jane Austen Companion, ed. J. David Grey, et al. (New York: Macmillan, 1986), pp. 244-55.
12 To reduce confusion, I shall use this name and spelling to refer to the character throughout, even though "Kitty" and "Catherine" recur in the text as alternatives.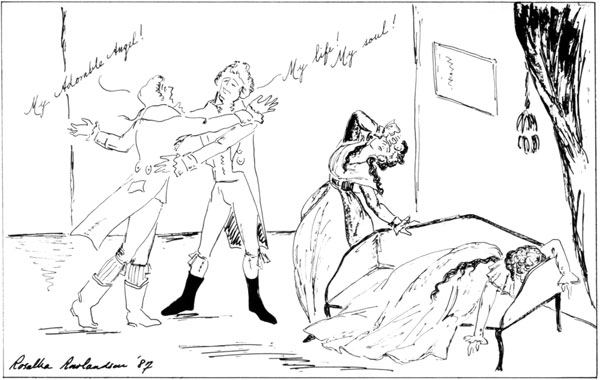 "It was too pathetic for the feelings of Sophia and myself – we fainted Alternately on a Sofa."
Illustration by Judith Judson for "Love and Freindship."