Jane Austen Society of North America
2008 Annual General Meeting, Chicago, Illinois
October 2-5

"Jane Austen's Legacy: Life, Love, & Laughter"
Local Information and Attractions
Peruse this page for options to travel to and around Chicago for the AGM as well as lots of local attractions to visit during your stay in the windy city.
Traveling to Chicago
Chicago's two airports ( O'Hare and Midway) are served by most domestic and international airlines. You might want to consider Amtrak or for Midwest travelers the Megabus, both of which arrive downtown at Union Station (CTA bus #151 will take you to the hotel).
To and From the Airport
The Airport Express vans leave both airports regularly and depart from the Westin every 30 minutes; travel time is about one hour. Fares vary by airport and number of passengers.
Taxi fares average $34 to $38 from O'Hare and $23 to $28 from Midway (nominal charge for each additional passenger), depending on traffic and weather. Shared rides (up to four people traveling from the airport to up to four downtown destinations) can sometimes be arranged; check with the taxi starter for information; shared-ride fare per person is $19 from O'Hare and $14 from Midway.

Public transportation is another option. There are CTA trains from both airports to downtown, where you can then catch a bus or taxi to the hotel. The trains require transit cards; visitor passes may be purchased online or from vending machines at the station.
Getting Around at the AGM
Chicago has an extensive public transportation network, and there are a number of buses on Michigan Avenue. CTA cash fare is currently $2/ride, but Visitor Passes ($5 for one day; two-, three-, and five-day passes also available) which offer unlimited travel can be purchased online. You'll receive route maps and other material as well.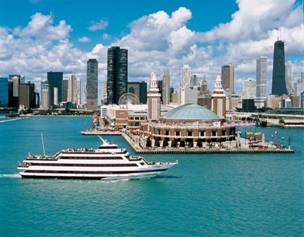 Navy Pier
Your tote bag will contain information on things to do when you arrive.
Here are some destinations we particularly recommend:
One of Chicago's greatest attractions is its architecture: Chicago Architecture Foundation offers many tours, including the river cruise recommended by The New York Times. Space on all tours is limited, and you are encouraged to book your reservations before you come to town.
No visit to Chicago should omit the art treasures in the Art Institute of Chicago, a two mile walk down Michigan Avenue or a short bus ride away. Georges Seurat, A Sunday on La Grande Jatte, is not to be missed. On Thursday evenings, 5 p.m. to 8 p.m., general admission is free.
Walking south from the hotel:
In other directions from the hotel:
A few blocks west, Newberry Library houses a fine collection of Jane Austen first editions and scholarly works about Austen's life and work.
An easy bus ride north from the Newberry, the Chicago History Museum will exhibit, "Chic Chicago: Couture Treasures from the Chicago History Museum Collection" during our AGM. (The special exhibit starts September 27.)
Three of Chicago's greatest museums are on one campus south along the lake shore (via CTA bus #146):
Further afield:
Museum of Science and Industry is accessible by bus from your hotel (#146 southbound; transfer at Wacker & Michigan to #6). See the fully equipped and furnished three-story "green home" of the future. The exhibit (now through Jan. 4, 09) includes sustainable gardens and green roofs.  Immediately behind the museum, Wooded Island of Jackson Park offers relaxation in the free Osaka Japanese Garden, a beautiful oasis with natural waterpools.
A National Historic Landmark, Glessner House embodies the spirit of the Gilded Age. In the adjacent Chicago Women's Park and Gardens is the oldest home in Chicago, Clark House. Guided tours for both homes are available Wednesday through Sunday. (Take CTA bus #3.)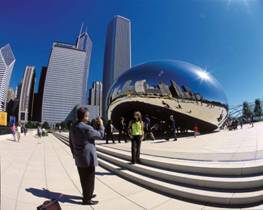 Cloud Gate (or "the bean")

Return to Home Page