1996 Annual General Meeting, Oct. 11-13, Richmond, VA, USA
Theme: "Jane Austen and her Men"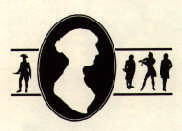 Beautiful fall weather, historic houses and Confederate monuments formed the background for a discussion of "Jane Austen and Her Men" by more than 500 Jane Austen Society of North America members gathered in Richmond, Va., the first weekend in October.
A keynote address by Brian Southam, chairman of Britain's Jane Austen Society, a variety of breakout sessions by academics and enthusiasts, and a performance of Jane Austen's Sir Charles Grandison highlighted Saturday's activities.
The weekend was topped off Sunday by a delightfully ironic discussion of Jane Austen's men by Pulitzer-Prize winning novelist Carol Shields and her daughter, Ann Giardini, at the Virginia Museum of Art. After the talk, members toured a literally dazzling exhibit of treasures made by Peter Carl Fabergé for the Russian Imperial family and other wealthy patrons. Those who arrived early took advantage of a variety of tours of the city and the Richmond area. Within walking distance of the conference hotel were the Virginia State Capital, the White House of the Confederacy and the historic Wickham House.
The conference opened formally on Friday afternoon with a welcome by Garnet Bass, who retired as JASNA president after four years of service. Dr. Laura Tracy, a psychotherapist and a former professor of literature, talked on the topic "Love in the Afternoon," posing the question whether romance as defined by the Romantic poets had much in it for women. "Women are unattainable in Byron and dead in Wordsworth," Dr. Tracy said. "Women get into trouble with this. Women suffer when they are in love, but traditionally have no outlet." The fact that romance and marriage weren't entirely linked in Jane Austen's time is shown by the fact that love stories always end at the point of the wedding, Dr. Tracy said. "It's a comment on what the culture believed romance and marriage was about," she said.
On Friday evening, members heard Virginia author George Holbert Tucker and British author Irene Collins.
Brian Southam's talk had JASNA members in their seats early on Saturday. Mr. Southam, who is credited with identifying Jane Austen's Sir Charles Grandison as a play she authored rather than a transcription of the book, described how the mystery of the manuscript was solved. While at Oxford University in the 1950s, he came across a reference to the play in a book by Constance Hill. But authorities such as R.W. Chapman and Lord David Cecil had no knowledge of it and Mr. Southam dropped his enquiries. In 1977, he received a call from Sothebys saying a manuscript play had been discovered that was thought be be authored by Anna Lefroy, Jane's niece. Helen Lefroy, now editor of the British Jane Austen Society newsletter, found the play in a cupboard after the death of Louise Lefroy, a grand-daughter of Anna Lefroy. "Evidently, Sir Charles Grandison was the product of an adult mind," Mr. Southam said. He said early pages in the 53-page manuscript are Jane's childish hand, later pages are written in her adult style. The Richardson novel was also important for Jane Austen's development as a writer. It was the model for the novel of manners, and her juvenilia is sprinkled with Grandison jokes. "Richardson was the first to portray women who were psychologically interesting," Mr. Southam said.
During breaks in the meetings, members gathered around a glass case in a side room to see the manuscript of Jane Austen's play. The manuscript, measuring about 4 inches by six inches, was loaned for the occasion by Sandy Lerner, who is developing Chawton Great House in England into the Centre for the Study of Early English Women's Writing. The side room also contained displays of artwork done by members on the conference theme. The winner of the contest was Catalina Hannan of New York, who made a quilt for a king-size bed with intricate embroidered sayings and scenes from Jane Austen's novels.
Breakout sessions during the day were on topics as varied as male whiners in Jane Austen, Jane Austen and the Royal Navy, Jane Austen's fathers, men's fashions and portrayals of Jane Austen's works in film. Offering a different perspective on her talk on female whiners at the Lake Louise AGM in 1993, Dr. Jan Fergus, professor of English at Lehigh University, said there are a number of male whiners in Jane Austen's work, led by Mr. Woodhouse, who whines not only for himself but others. "Mrs. Churchill whines, but no one believes her until she dies," Dr. Fergus said. "Female whiners are discredited, while male whiners are attended to."
Dr. Deborah Kaplan, associate professor of English at George Mason University in Fairfax, Va., said that while the recent films and television representations of Jane Austen's works are interesting, they've contributed to what she called the "Harlequinization" of Austen's novels. There is an emphasis on the physical appearance of the hero and heroine and the narrative voice is gone, she said. "Recent films have increased sales of the books," she said. "Those who read them will find the books are not Harliquinized. Will they continue to be enthusiastic about the novels? Who knows?"
Many members donned Regency finery to attend the annual banquet, which was followed by a production of Jane Austen's Sir Charles Grandison.
Members were up early on a cold Sunday morning to board buses for the Virginia Museum of Art. They were warmed by a sparkling talk entitled "Martians in Jane Austen," by Carol Shields and Anne Giardini. In it, the mother-and-daughter team poked fun at the best-selling book Men are from Mars; Women are from Venus by John Grey, which they said doesn't describe relations between intelligent men and women today or the relations between the heroes and heroines in Jane Austen's novels. "If you believe Jane Austen is a superb novelist, you must believe she created a whole and complete world for her characters," said Ms. Shields, who won the 1995 Pulitzer Prize. "Jane Austen's men and women discuss and debate," Ms. Giardini said, something Gray's book says doesn't happen between the two sexes.
JASNA members found a different kind of sparkle in the Fabergé exhibit, which included hundreds of items created by the shop of the Russian master jeweler. On display were jeweled frames, hatpins, cups, parasol handles, cigarette cases, imperial Easter eggs and other items from American collections. Some of the designs, inspired by the 18th century, would have seemed familiar to Jane Austen herself.
By Paula L. Stepankowsky
Conference papers (plus others)

Return to Home Page