| | |
| --- | --- |
| PERSUASIONS ON-LINE | V.35, NO.1 (Winter 2014) |
"Favourable to Tenderness and Sentiment": The Many Meanings of Mary Crawford's Harp

Jeffrey A. Nigro

Jeffrey A. Nigro (email: jeffnigro@mac.com) is an Adjunct Lecturer at the Art Institute of Chicago and an Instructor at the Newberry Library. He currently serves as Regional Coordinator of the Greater Chicago Region of JASNA.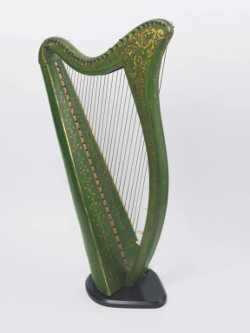 Portable Harp, by John Egan (c. 1820).
The O'Brien Collection.
with the possible exception of the piano mysteriously delivered to Jane Fairfax in Emma, no musical instrument in Austen's novels has as much significance as Mary Crawford's harp. Critics have long noted a connection between Mary's harp and her character. Tony Tanner refers to it as a "fit accessory for the siren she is" (150). Tanner's mythological reference is certainly apt―in a novel filled with nautical themes, no form of femme fatale would be more appropriate―but he rather straightforwardly interprets the harp as a symbol of Mary's vanity. Juliette Wells takes a rather more nuanced approach, noting that "[through] Mary's harp-playing . . . Austen reveals the character's precarious balance of selfishness and generosity, self-absorption and self-display" (101). Wells astutely analyzes Mary's use of the harp both to seduce and to cause pain by practically taunting Fanny with Edmund's "favourite air" (207). She also discusses Austen's skillful contrast between Edmund's visual appreciation of Mary's playing with Fanny's aural and internal response to it.
I cannot dispute Tanner's and Wells's interpretations—indeed, I hope to enhance them—but I believe that there is more to be said about Mary Crawford's harp. An exploration of the harp in Austen's time reveals it to be a complex cultural object, resonant with multiple meanings, some of them mutually contradictory. The harp was at once considered to be the most ancient and the most modish of instruments. As we will see, it was a symbol of both romantic "primitivism" and urbane sophistication, and it was associated with virtuous people as well as less-than-virtuous ones. This essay will explore the varied meanings behind the harp in Austen's time and how those meanings influence the ways in which the characters in Mansfield Park interpret the instrument. I will focus less on Mary's use of the harp than on Edmund's and Fanny's reactions to it because I believe that the complex cultural symbolism of the harp is a major reason that they are led (to a greater or lesser degree) into misreading Mary's character.
Before plunging into the complexities of what the harp meant to Austen and her contemporaries, it might be helpful to summarize briefly the role that this instrument plays in the novel. The reader first hears of Mary's harp in Volume I, Chapter 6, although as Wells notes, Mary's phrasing (that she has "'tidings of [her] harp at last'") implies that Edmund already knows that she plays the instrument (103). Mary's report concerns the delay in getting her harp to Mansfield Parsonage because of the difficulty of finding a cart to transport it (57ff.). Edmund, having expressed his "surprise and delight" at Mary's "'tidings,'" tells her that she cannot expect to commandeer a cart for such a purpose at harvest time. Mary's response ("'I shall understand your ways in time; but coming down with the true London maxim, that every thing is to be got with money, I was a little embarrassed at first by the sturdy independence of your country customs.'") does seem to set up the harp as a symbol of delicate urbane luxury, and to give an early hint of Mary's breezy amorality. Edmund and Fanny's reactions, however, imply that they do not see it that way: "Edmund spoke of the harp as his favourite instrument, and hoped to be soon allowed to hear her. Fanny had never heard the harp at all, and wished for it very much" (59). Still, critics and commentators have sensed moral disapproval on the part of Austen or her narrator. In what is, as we shall see, a particularly apt comparison, Emily Auerbach notes that as in "the apocryphal story of Marie Antoinette suggesting that the poor eat cake, Mary Crawford has no compunction against demanding a cart for transporting her harp even if farmers need it for the harvest" (181).
Mary's harp makes the first of its two major "appearances" in the novel in the following chapter. This well-known passage is worth quoting at length, because as we will see later on, it is resonant with cultural implications that go beyond the emotions of the characters involved:
The harp arrived, and rather added to [Mary's] beauty, wit, and good humour, for she played with the greatest obligingness, with an expression and taste which were peculiarly becoming, and there was something clever to be said at the close of every air. Edmund was at the parsonage every day to be indulged with his favourite instrument; one morning secured an invitation for the next, for the lady could not be unwilling to have a listener. . . . A young woman, pretty, lively, with a harp as elegant as herself; and both placed near a window, cut down to the ground, and opening on a little lawn, surrounded by shrubs in the rich foliage of summer, was enough to catch any man's heart. The season, the scene, the air, were all favourable to tenderness and sentiment. (64-65).
Directly after this description, we know that Edmund is (or believes himself to be) in love, and that he, in turn, "[begins] to be agreeable" to Mary. Wells observes that the setting (the lawn and shrubbery viewed through a window) makes this scene more of a visual than an aural experience, comparable to contemporary portraits of fashionable women posing with harps rather than playing them (105). I will argue below that the relation of the harp to the lush natural setting is one of the factors that lead Edmund into a temporary misunderstanding of Mary Crawford.
Fanny will not have the experience of hearing the harp played until several chapters later, when she is caught in a rainstorm and obliged to take shelter at the parsonage: "Fanny, observing a harp in the room, asked some questions about it, which soon led to an acknowledgement of her wishing very much to hear it, and a confession, which could hardly be believed, of her never having heard it since its being in Mansfield" (206). Mary plays for her, "happy to have a new listener, and a listener who seemed so much obliged, so full of wonder at the performance, and who shewed herself not wanting in taste" (207).
At first glance, it is indeed easy to sense a note of opprobrium about the harp in these passages. Comparisons to the way pianofortes are treated in Austen's novels are instructive: neither Austen's narrator nor any of her characters express disapproval over the time, trouble, and expense of transporting pianofortes to, say, Longbourn, Pemberley, or Barton Cottage.1 Also, although the piano does give young women a chance to "'exhibit,'" as Mr. Bennet terms it (PP 101), the reader of Austen does not get a sense that any woman who plays a piano is simply intending to seduce her hearers.
In Austen's other novels, the harp is either passed over lightly–it is one of Georgiana Darcy's accomplishments (PP 48)—or gently satirized as a symbol of arriviste pretentions. In Persuasion, the Musgrove sisters play both the piano and the harp. In a delightfully quirky inversion of Mary Crawford's travails with harps and carts, Louisa Musgrove walks to Uppercross Cottage so as to leave room for the harp in the carriage (P 50). The fact that "the sound of a Harp might be heard through the upper Casement" of the baker's shop is a sign of the gentrification of the village of Sanditon (MW 333). A harp, along with drawing paper and "finery," helps to form the setting for the hyper-refined lifestyle of the pretentious Beaufort sisters (421). Although the sisters profess a desire to be "very economical, very elegant & very secluded," the elder Miss Beaufort, like Mary Crawford, longs for "the praise & celebrity from all who [walk] within the sound of her Instrument" (421).
References to the harp in Austen's surviving letters are scanty and do not necessarily reveal any strong feelings about it, either positive or negative. The harpist Johann Weippart ("whose name seems famous, tho' new to me," Austen says, although she misspells it as "Wiepart") performed at the soirée given by Henry and Eliza Austen at their house in Sloane Street in April 1811 (25 April 1811). Although Austen notes that "The Music was extremely good" and that "Between the Songs were Lessons on the Harp, or Harp & Piano Forte together," it is not entirely clear which pieces Weippart played. In a letter to her niece Fanny Knight (which includes her well-known advice about being in love with an Evangelical), Austen mentions, almost as an afterthought, that "Miss Lloyd . . . is very happy to hear of your learning the Harp" (18-20 November 1814).
I believe that a similar ambivalence to the harp is detectable in Mansfield Park, particularly when that instrument is placed into the larger cultural context of the novel. If Austen indeed intends the harp to stand for Mary's seductive moral laxity, a symbol of urban luxury incongruously placed in a country parsonage, why do the two most morally upstanding characters in the novel not recognize it as such? Edmund's and Fanny's embrace of the harp is in sharp contrast to the moral objections they both have to the production of Lovers' Vows. Edmund may be blinded by his love for Mary, as the passage in Volume I, Chapter 7 indicates, but that infatuation certainly does not stop him from objecting both to the play and to the disorder that the performance will create, at least until he allows himself to be persuaded into participating in it. Fanny is even more strongly (and more consistently) opposed to the private theatricals than Edmund, partly because of her jealousy of the burgeoning feelings between Edmund and Mary; yet, in this case, any negative feelings Fanny might have are apparently subsumed by her curiosity about the harp, her "wonder" at the playing of it, and her "taste" in being able to appreciate it.
I believe that Edmund's and Fanny's apparently positive reactions to Mary's harp playing are not based solely on their respective feelings toward Mary herself. Rather, Edmund and Fanny are responding to the complex cultural associations that the harp had acquired for Austen's contemporaries.
Most societies have some sort of plucked stringed instrument, and the origins of the harp go back millennia. In the Western tradition it is associated with, among others, the biblical King David and, as we will see, the Celtic bards. The harp's Greco-Roman corollary, the lyre, is associated with the Greek god Apollo, the legendary musician Orpheus, and some of the Muses, particularly Euterpe, muse of lyric poetry. The ancient format of the Aeolian Harp, a stringed box with a soundboard played by the wind, was revived in the early nineteenth century; it was evoked in poetry by Samuel Taylor Coleridge and Percy Bysshe Shelley, and the Aeolian harp became a popular instrument in elegant drawing rooms.
Jane Austen's lifetime could be described as the Golden Age of the Harp. New developments in instrument making expanded the harp's technical possibilities and helped to make it the fashionable drawing room instrument par excellence. A great deal of major music was composed for the harp and, although it took a while for the instrument to be considered a standard part of the concert orchestra, it was increasingly used in operas, particularly in combination with a solo female voice.
The most significant technological developments in harp making are usually credited to the French-born instrument maker Sébastien Érard (1752-1831) (Rensch, Trois siècles 59). Érard came to England as a refugee from the Reign of Terror in 1794, the year he took out a British patent on a new type of single-action harp that would appear in Paris a year later. More significantly, in 1811 Érard developed the double-action harp that is the most direct ancestor of the standard harp of today. Depending on when one imagines Mansfield Park as taking place, Mary Crawford's harp may be of this ultra chic type.
This period also saw a dramatic growth in the repertoire available to harpists. At least two pieces that have remained vital to the harp repertoire to this day were written during Austen's lifetime: Wolfgang Amadeus Mozart's Concerto for Flute and Harp (K. 299) and François-Adrien Boieldieu's Harp Concerto (1801). Both pieces were either explicitly written for accomplished amateur performers or with such performers in mind. Mozart's concerto was written during the composer's stay in Paris in 1778. The piece was commissioned by the Duc de Guines for himself and his daughter, talented amateur players on the flute and the harp respectively (Sadie 456). In addition to the Harp Concerto, Boieldieu also composed harp sonatas and romances for solo voice and harp of the type that were very fashionable in Parisian salons at the time.
A number of composers of the period were professional harpists and wrote extensively for the instrument. Jean-Baptiste Krumpholtz (1747-1790) and Jean Baptiste Cardon (1760-1803) composed numerous works that were popular in French salons. Philippe-Jacques Meyer (1737-1819) worked in London for the last thirty-five years of his life; both of his sons were harpists and composers of harp music as well. Sophia Corri Dussek (1775-1847), though born in Edinburgh, came from a prominent musical family of Italian origin; she enjoyed considerable acclaim in London as a singer, pianist, harpist and composer of harp music, despite a complicated, even scandalous, romantic life (Sacchi 8ff.). Of a rather more demure reputation was the German harp virtuoso Dorothea (Dorette) Scheidler (1787-1834). Scheidler married the composer Louis Spohr, who composed many violin and harp sonatas for them to play together (Rensch, Trois siècles 44).2
The harp began to appear (or reappear)3 in the opera orchestra beginning in the mid-eighteenth century. At first it was used as a substitute for the lyre, played by characters from Greek myth and legend, like Orpheus in Gluck's Orfeo ed Euridice (1762) and the Trojan prince Paris in the same composer's Paride ed Elena (1770). During the following half century, the operatic harp remained primarily an instrument that was meant to be imagined as being "played" by a character, usually to accompany a solo voice, for evocative and poetic effects. An early Romantic example occurs in the opera Agnese (1809; sometimes billed as Agnese di Fitzhenry, because it is set in England) by the Italian composer Ferdinando Paër to a libretto by Luigi Buonavoglia. In the final scene of the opera, the eponymous heroine cures her father's madness by singing an air that they used to perform together, accompanying herself on the harp (Commons 179). Another, much more influential, operatic use of the harp occurs in Gioachino Rossini's Otello (to a libretto by Francesco Berio di Salsa, loosely based on Shakespeare), first performed in Naples in 1816. In the last act, Desdemona sings her Canzona del salce (Willow Song) to a melancholy harp accompaniment. This aria was the prototype for a long succession of haunting harp-accompanied arias in operas by Rossini's successors: Vincenzo Bellini, Gaetano Donizetti, Giuseppe Verdi, and a host of less well-known composers used the harp in this evocative way.
I am not arguing that Austen was aware of all of these aspects of the harp.4 My point is that this instrument was so ubiquitous at the time that the presence of a harp and harpist at a country parsonage is not quite as exotic as it might seem to be.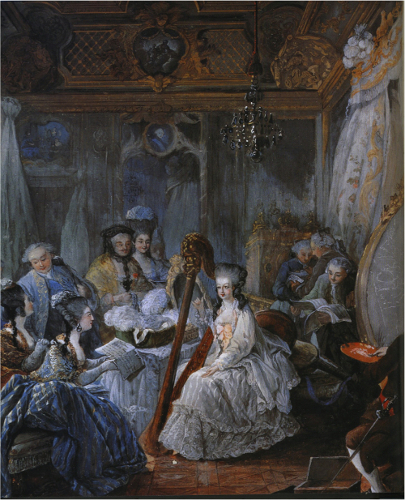 Marie-Antoinette Playing the Harp in Her Bedchamber,
by Jean-Baptiste-André Gautier-Dagoty (c. 1778).
Musée National du Château, Versailles.
In Austen's time, the harp had a particular association with the French. As previously mentioned, the most important technological developments in harp making came from a transplanted Frenchman, Sébastien Érard. Marie Antoinette, who had learned to play it as a young Archduchess while still in Austria, popularized the harp in France once she became that country's Queen (Rensch, Trois siècles 29). The harp became the preferred accompaniment to the romances (strophic songs, often on gently amorous themes) that were highly fashionable from the 1770s until about 1830. Marie Antoinette herself is credited with the authorship of at least one such romance, "C'est mon ami." Whether or not the Queen actually wrote this sweet pastoral song, it is the perfect musical counterpart to her preference for a kind of faux "simple life."
Excerpt from "C'est mon ami."
Music attributed to Marie-Antoinette, text by J.P. Claris de Florian.
Isabelle Poulenard, soprano; Sandrine Chatron, Érard single-action harp (1799).
Le salon de musique de Marie-Antoinette. © Ambroisie naïve.
As with other aspects of culture, any association with the French was viewed with suspicion by some in Georgian and Regency Britain. The harp allowed the person playing it (almost invariably a woman) to appear both talented and graceful at the same time. As Roslyn Rensch observes, it was "a most acceptable way to display pretty arms and a 'well-turned ankle'" (Rensch, Harps 161). Wells notes: "At the harp . . . Mary can in propriety command Edmund's attention to her body," adding that such physical display "caused no end of anxiety to conduct-book writers in Austen's day" (108). I believe that the seductive physicality of Mary's harp playing would have been enhanced in the minds of Austen's contemporaries by the close association of the harp with Frenchwomen, who were, or were thought to be, morally suspect. Austen was almost certainly aware of Marie Antoinette's reputation (deserved or not) for extravagance and irresponsibility. Roger Gard (172) and Penny Gay (142) have compared Mrs. Elton's effusions about donkeys and beribboned straw bonnets for the strawberry picking party in Emma to the faux-rusticity enjoyed by the Queen of France and her companions at the Petit Trianon.
Marie Antoinette was not the only example of a figure who linked harp playing with a dubious reputation. Stéphanie-Félicité de Genlis (1746-1830), now best known as a novelist, was as famous in her lifetime for her virtuosity on the harp as she was for her writing. Madame de Genlis played the harp professionally and published a treatise on harp playing in 1802 (Zingel). She was also known to be the mistress of the Duc d'Orléans, even as she acted as governess to his children. Genlis's social and literary rival Germaine de Staël gives the heroine of her novel Corinne (1806) a lyre, the close relative of the harp, to accompany her poetic "improvisations." In this case, the lyre is clearly intended to evoke the classical Muses. Austen is known to have read Corinne and apparently declined an invitation to meet the notorious Staël at a literary gathering in London in 1813. William Phillips and I have argued elsewhere in Persuasions On-Line that the highly articulate and sexually promiscuous Staël may have been an inspiration for Mary Crawford (Nigro and Phillips). One can imagine that, like Mary, Genlis and Staël would have "something clever to say at the close of every air."
Austen had an example much closer to home of a "French" aristocratic lady who may have been an inspiration for her seductive "siren": her cousin and sister-in-law Eliza Hancock de Feuillide. Eliza, who fled to England not long before her French aristocrat husband was guillotined during the Revolution, was proficient on both the pianoforte and harp. In Kathryn L. Libin's succinct phrase, she was "certainly the most cosmopolitan and undoubtedly the most talented performer in the [Austen] family" (13). Libin adds that one "can imagine the French airs and romances for harp in Eliza de Feuillide's repertoire in the beguiling hands of Mary Crawford" (15).
Critics have remarked on the "Frenchness" of both Crawford siblings, and its association with both urbane sophistication and moral slipperiness. As Emily Auerbach puts it: "Austen has Mary Crawford drop into conversation phrases such as menus plaisir, esprit de corps, adieu, bon mot, bon vivant, and liens passionées," as well as her "thoughtlessness" in dismissing the scandalous adulterous relationship between her brother and Maria Rushworth as an étourderie (181). It would have come as no surprise to the first readers of Mansfield Park that the worldly, seductive, French-influenced Mary Crawford should excel at the harp.
Yet if the harp were merely an obvious symbol of physical seduction, it seems unlikely that the upright Edmund Bertram would dub it his "favourite instrument" and that the propriety-conscious Fanny would be so intrigued by it. Further exploration of the cultural role of the harp in Austen's time reveals some of the same moral ambivalence surrounding the instrument that is detectable in her writing.
Elaine Bander has made enlightening comparisons between Mansfield Park and other novels published in the same year. The most relevant to a discussion of the harp are Waverley by Walter Scott and The Wanderer by Frances Burney. As Bander notes, the appearance of the harp in each of these novels reveals some of the diverse cultural assumptions surrounding the instrument. I will discuss Waverley in a different context; an examination of the role of the harp in The Wanderer is instructive at this point because it confirms that the associations of the harp with immoral Frenchwomen could be simplistic and unjust.
The heroine of The Wanderer is, like Eliza de Feuillide, a refugee from the French Revolution. Known as "Ellis" for most of the novel, she makes a living for a while by giving harp lessons to fashionable ladies. Because she is presumed to be French, and because she is paid to give lessons (the artistic equivalent of being "in trade"), the snobbier among Burney's characters assume that she is a "siren" with questionable morals. This assumption is dismaying to Ellis, who is in fact a model of modest feminine propriety. The most emblematic incident of the novel in this regard concerns the heroine's proposed participation as harp soloist in a charity concert. The amateur women who make up the orchestra have arranged to appear tastefully attired in white muslin with violet ornaments, but they try to force Ellis to wear pink sarsenet, not very subtly branding her a "scarlet woman." Ellis attempts a bit of dignified defiance by wearing white satin, only to faint once she gets onstage (358).
Burney's Ellis is an example of the dangers of straightforwardly equating harp playing with vanity and loose morals. Marcia Pointon has analyzed an iconographic development in the visual arts that offers another example of moral ambiguity surrounding the image of a woman playing the harp. Beginning in the late seventeenth century, St. Cecilia, virgin martyr and patron saint of music, is often represented playing a harp rather than the more traditional organ (Pointon 272ff.). Continental precedents in the work of the French artist Pierre Mignard and the Italian painter Sebastiano Conca influenced British artists, culminating in a painting of St. Cecilia at the harp by the preeminent Georgian painter Sir Joshua Reynolds (1775, Los Angeles County Museum of Art). Commissioned by the collector and dilettante Sir Watkin Williams-Wynn for his music room, it was intended as a pendant to a painting of Orpheus Lamenting the Loss of Eurydice by Nathaniel Dance. In addition to acting as a complement to the classical lyre, the harp would also have had a particular resonance for Williams-Wynn as a Welshman. As we will see, the association of the harp with Celtic ethnic identity was well established by this period.
Could Edmund be mistaking Mary Crawford for a St. Cecilia? If so, then he might have another reason to assume that she is more virtuous than she turns out to be. As Pointon notes, however, St. Cecilia herself was a controversial figure in British culture at the time. The sacred music with which the saint was associated was thought to be Tory and "High Church" (Pointon 289), and thus considered suspect in some quarters. Furthermore, there was a degree of ambivalence about the artistic traditions that inspired the Georgian images of the saint. On the one hand, a sophisticated appreciation of Italian and French "high" art was considered a hallmark of good taste; on the other, staunchly Protestant and nativist sensibilities in Britain could find its Roman Catholic subject matter to be doctrinally questionable. Although Mary Crawford could hardly be mistaken for a "High Church" devotee, her aforementioned aura of "foreignness" could still pose a moral threat in the English countryside.
There are yet further layers to the meaning of the harp in Austen's time. As has been already mentioned, the harp was the instrument most closely associated with the Celtic bards. The cultural prestige of the ancient Celts and their modern descendants was growing at the time, for literary and political reasons. Thomas Gray's "The Bard: A Pindaric Ode" (1757) speaks with the voice of the last Welsh bard, driven to tragedy by the invading English army of Edward I (r. 1272-1307). The tone of Gray's poem is both defiant and nostalgic for lost glory, positioning it as one of the first examples of a writer from "mainline" English culture empathetically siding with the oppressed Celtic Other. Although the word "harp" appears only once in the text, not in reference to the unnamed Bard himself (there is also a reference to "strings symphonious" that "tremble through the air"), Gray's readers would have imagined the character as playing no other instrument. Visualizations of the poem, including those by Benjamin West (1778, Tate Britain) William Blake (1797-1798), and John Martin (c. 1817, versions in the Laing Art Gallery, Newcastle-upon-Tyne, and Yale Center for British Art) show the Bard holding a harp. Similarly, Blake's own poem "The Voice of the Ancient Bard" in the Songs of Experience makes no explicit mention of the harp, but Blake's own illustration to his poem (1794, Fitzwilliam Museum, Cambridge) incorporates it.
Four years after Gray wrote The Bard, James Macpherson announced his rediscovery of poems by the ancient Gaelic bard Ossian. Macpherson published some of these poems over the next few years, culminating in The Works of Ossian (1765). These poems were controversial from the beginning; the evidence seemed to indicate that, despite the presence of authentic fragments of poetry in the texts, they were largely Macpherson's own creation. Mocking scorn for Macpherson's "forgery," however, did little to dampen enthusiasm for this poetry; its themes of lost love and doomed heroism and its atmosphere of moonlight, mist, and melancholy proved irresistible to sensitive souls throughout the Western world. The "primitivist" ethos of the Ossian poems, based on Rousseauesque assumptions that those who live closer to nature had an innate moral clarity lacking in later civilizations, was also a major part of their appeal.
Macpherson's Ossian poems inspired works of visual art and musical compositions until well into the nineteenth century (Wakefield 115ff.). Whether in visual or musical form, the harp is ubiquitous; Ossian, like Homer a blind singer of the deeds of past heroes, is never represented in art without one. Building on the work of previous scholars on the subject, Paul F. Moulton has identified at least 294 pieces of music that are inspired by Macpherson's Ossianic poetry (26). Moulton notes that the two most prominent instruments in Ossian-inspired musical compositions are the harp and what is known in English as the French horn (60). Both instruments were closely connected with nature; the harp symbolizes the bard, while the horn relates to hunting. The association of these two instruments with a reverence for nature was ubiquitous in Austen's time. The connection is made explicit in a 1794 print entitled Le Culte Naturel (Natural Worship) by Jean-Baptiste Mallet, depicting a baptism according to the rites of the new religion of Nature established by the French Revolutionary government. The setting is a Gothic church from which all Christian images and symbols have been removed, and the traditional organ has been replaced by a band in which the harp and the horn are the most visible instruments.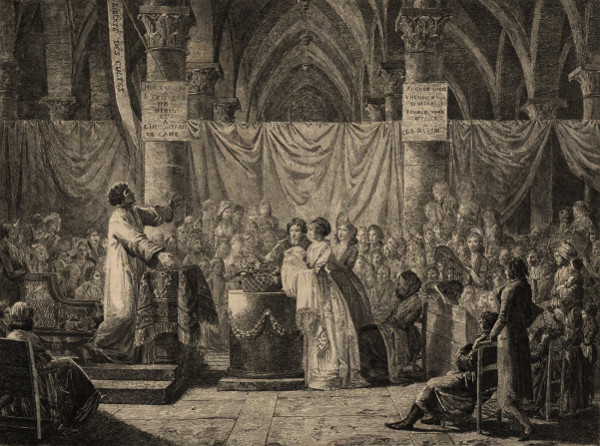 Le culte naturel [Natural Worship], by Jean-Baptiste Mallet (1797).
Bibliothèque Nationale de France, Départment Bibliothèque-Musée de l'Opéra, Paris.
Of course, one can imagine Fanny Price's disapproval of this Jacobin assault on traditional Christianity, but she undoubtedly would have recognized a close connection between the harp and the love of nature. We have no evidence that Fanny has actually read any Ossianic poetry, but we know that she is lover of both nature and poetry. She famously quotes Cowper to decry the probability that the avenue of trees at Sotherton will be cut down (56). The transparencies in the window of her haven, the East Room, include views of Tintern Abbey, celebrated in Wordsworth's well-known poem (1798), alongside picturesque natural scenes of a cave in Italy and a lake in Cumberland (152). Given her sensitive appreciation of nature and her love of poetry of a Romantic bent, Fanny would undoubtedly be highly responsive to the poems of Ossian, and their ubiquity makes it highly likely that she has encountered them. If Fanny has indeed read Ossian, it would help to explain her curiosity to hear the harp, despite the fact that it is Mary who is playing it. Also, given that Edmund has shaped Fanny's literary tastes (22), the reader can imagine him making the same connections, so that the backdrop of verdant lawn and summer shrubbery might mislead him into mistaking Mary for an Ossianic character.
To complicate matters further, the Celtic and Ossianic aura surrounding the harp is not necessarily antithetical to the instrument's French associations. Macpherson's poetry was at least as popular in France as it was in Britain. Like Goethe's Werther, the radical French artists of the post-Revolutionary generation stated their preference for Ossian over Homer (Honour 64-65). Napoleon was also an admirer and commissioned paintings of Ossianic subjects, complete with harp-strumming bards and maidens, from major artists like Ingres, Gérard, and Girodet (See Boime 54ff.).
Two important operas on Ossianic subjects were presented in Paris in the first decade of the nineteenth century: Jean-François Le Sueur's Ossian, ou les bardes (1804) and Étienne Méhul's Uthal (1806). Both operas employ some eccentricities of orchestration to express the Ossianic spirit. Le Sueur's opera calls for no fewer than twelve harps at certain points (in two groups of six) "so as to dominate the entire orchestra and bring out the effect of the hundred harps of Selma [the Caledonian capital]" (Dent 87).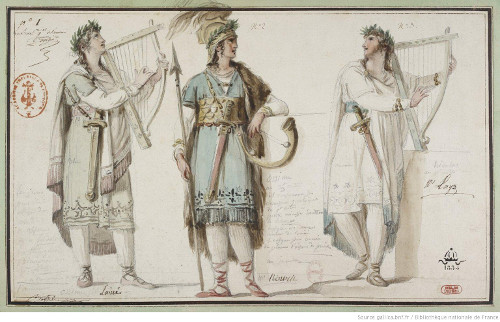 Costume Designs for Lesueur's Ossian, ou les Bardes,
by Jean-Simon Berthélémy (1804).
Bibliothèque Nationale de France, Départment Bibliothèque-Musée de l'Opéra, Paris.
In Uthal, Méhul sought to evoke the primeval forest by eliminating violins from the orchestra (Dent 88), relying instead on violas, cellos, and basses, along with the usual winds, brass, and, of course, the harp, which first sounds in the fourth bar of the score and is heard frequently thereafter. Again, Austen could never have heard these operas, but they form part of the Ossianic sound world that reinforced the harp's romantic and bardic role in contemporary culture.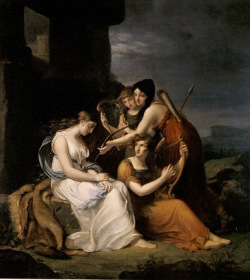 Malvina Mourning the Death the Oscar,
by Élisabeth Harvey (Salon of 1806).
  Musée des Arts Décoratifs, Paris.
In Ossianic poetry, women as well as men play the harp. The Anglo-French painter Élisabeth Harvey painted a scene from Macpherson's text in which the friends of the heroine Malvina try to console her for the death of her beloved Oscar by singing melancholy songs to harp accompaniment (1806, Musée des Arts Décoratifs, Paris). These women are not seductive sirens; they are virtuous maidens, who sing of lost love and heroic sacrifice (Wakefield 118). Is it possible that Edmund and Fanny are experiencing Mary's harp playing through an "Ossianic" lens? Such an explanation would be one more reason why Edmund imagines that Mary is a finer person than she is (51), and why Mary's playing makes Fanny think of the absent Edmund even before Mary mentions him (207).
The association of the harp with Celtic identity pervaded what is often called the Celtic Fringe: Scotland, Wales, and Ireland all used the harp as a powerful national symbol. A scene in Waverley demonstrates that Scott understood the link between the harp and a romanticized Celtic ethnicity. The hero, Edward Waverley, comes upon Flora Mac-Ivor against the dramatic backdrop of a waterfall. Taking up a "small Scottish harp," Flora tells Waverley that the setting is appropriate for Highland song because "the seat of the Celtic Muse is in the mist of the secret and solitary hill, and her voice in the murmur of the mountain stream" (106-07). As an enchanted Edward listens, Flora launches into "a lofty and uncommon Highland air, which had been a battle-song in former ages, . . . which harmonized well with the distant water-fall, and the soft sigh of the evening breeze in the rustling leaves of an apron which covered the fair harpress" (107).
As Bander notes, Austen's description of Mary playing for Edmund at Mansfield Parsonage is strikingly similar to this scene, although on a more domestic scale: "A parsonage shrubbery may not equal a Highland waterfall, but Mary's harp playing proves as effective as Flora's to enchant the hero" (118). Of course, Austen and Scott could not have read each other's novels as they were working on their own; still, reading them side by side reveals that the romantic connotations of a beautiful woman playing a harp in a beautiful landscape were very much in the "air" at the time.
Nor were these associations confined to an imagined literary past. In the years around 1800, the Dublin instrument maker John Egan was making smaller, non-pedal harps, consciously modeled on the ancient Irish harp, or cláirseach. For good measure, such instruments were often painted green and decorated with shamrocks (Rensch, Trois siècles 17). Flora Mac-Ivor's "small Scottish harp" may have been of a similar type, although perhaps not quite so ornate.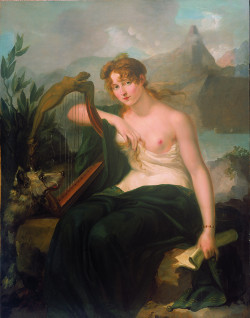 Portrait of a Lady as Hibernia,
by Robert Fagan (c. 1801). Private Collection.
The connection between the harp and Irish ethnic/cultural identity appears in compelling form in a rather unusual painting, now in a private collection, by the Irish painter Robert Fagan. It is probably a portrait (although the identity of the sitter is disputed) of a young woman as Hibernia, the personification of Ireland. The sitter is represented in emerald green drapery against a backdrop of sugar loaf-shaped mountains, an Irish wolfhound at her side. She leans on a Celtic style harp with broken strings and holds a scroll inscribed with the words "Erin go Bragh" ("Ireland Forever"), the first known instance of the use of this Irish nationalist phrase in a work of "high art" (Laffan 116-17). The painting is apparently Fagan's response to the 1801 Act of Union that created the United Kingdom, which was in turn the British response to the Irish Rebellion of 1798. In a similar spirit to some of Thomas Moore's Irish Melodies, like "The Minstrel Boy" and "The Harp That Once through Tara's Halls," the poignant silencing of the harp symbolizes the loss of Irish independence. Libin notes that Austen was certainly familiar with Moore's Irish Melodies since she assigns some of it to Jane Fairfax in Emma (15). It is possible that the characters of Mansfield Park would have known them as well, and there can be no doubt that Irish or Scots ballads formed part of Mary Crawford's repertory.
A less well-known song from Volume III of the Irish Melodies (published in 1811), "The Origins of the Harp" ("'Tis believed that this harp"), tells the sad tale of a "Syren of old, who sung under the sea." She loves a mortal youth "in vain" and, giving way to her grief, is transformed into a harp. Here, the "Syren" is the victim of unrequited love, not a femme fatale. Her metamorphosis recalls Fagan's Portrait of a Lady as Hibernia, where the anthropomorphized harp symbolizes the oppression of the Irish population. Were she to hear the song, Fanny Price, no stranger to unrequited love herself, could conceivably identify both with the "Syren" and with the harp itself (Roberts 13).
The harp's association with the Celtic Fringe made it an important emblem of sympathy for the oppressed and the romance of the Lost Cause. This spirit pervades Macpherson's Ossian poems as well as the scene of Flora's playing and singing in Waverley. Scott, who practically made a career writing novels about Romantic Lost Causes, understood the connection between Highland scenery, doomed heroism, and melancholy songs performed to harp accompaniment. No wonder Fanny Price—passionate reader of poetry, lover of nature, and oppressed minority of one—is so intrigued by the harp. The chivalrous Edmund, whose very name Fanny exalts as that of "'kings, princes, and knights'" (211), may be similarly attuned to the noble and romantic associations of the instrument. Thus his appreciation of Mary's playing may go beyond his susceptibility to her personal charms. On broadly cultural as well personal levels, the harp is the instrument most "favourable to tenderness and sentiment."
A major difficulty in pinning down a precise interpretation of the intended meaning of Mary's harp is that we are missing an important clue: the reader never learns the identity of Edmund's "favourite air" (207). Mary's phrasing ("'I want to play something more to you—a very pretty piece—and your cousin Edmund's prime favourite.'") implies that Mary plays but does not sing, although the possibility that she is doing both cannot be ruled out. We know that Mary can sing, since she joins the glee in Volume I, Chapter 11 (112). If we knew what kind of song Edmund's "favourite" is, it might help our understanding of how Edmund perceives Mary and her harp. A French romance would enhance her worldly seductiveness; a Scots or Irish or Welsh ballad could give her the aura of a Malvina or some other romantic heroine; an air from a Handel oratorio might make her appear to be like St. Cecilia, leading Edmund to believe that she is sympathetic to his religious beliefs, until he finds out otherwise.
Characteristically, however, Austen allows readers to decide for themselves what kind of song Edmund's "favourite" might be, and consequently what fantasy he is projecting onto his love object. It is possible that even a comparison of Mary to Marie Antoinette would not necessarily give Edmund pause. Critics have noted that he shares his given name with Edmund Burke, whose famous essay Reflections on the Revolution in France (1790) contains an often-quoted passage expressing righteous indignation at the reversal of fortune experienced by the Queen of France: "I thought ten thousand swords must have leaped from their scabbards to avenge even a look that threatened her with insult.—But the age of chivalry is gone . . . and the glory of Europe is extinguished for ever" (112-13). This statement was widely mocked both for its extravagance and its naïveté by Burke's political opponents and satirical cartoonists who thought that the French Queen was at least partly to blame for her own downfall (Robinson 139-140). Austen certainly knew Burke's writing, and she was no doubt familiar with the scornful reaction to his idolization of Marie Antoinette.
Thanks to the harp and its many cultural associations, Edmund and (to a lesser extent) Fanny may be temporarily seduced into the fantasy that Mary is a muse (Greek or Celtic), a romantic heroine, St. Cecilia, or a female bard. Austen, however, is, as usual, at least one step ahead of her characters. As Edmund will learn over the course of the novel, Mary is really more like a Marie Antoinette—not the glorious object of Edmund Burke's chivalric devotion but the Marie Antoinette of Revolutionary caricature: self-centered, dangerously seductive, and morally irresponsible. Yet I believe Austen lets these many other possible meanings of the harp hover in the air, so to speak. Thanks to the complex web of associations of the harp at the time, Austen's first readers were as likely as Edmund and Fanny to be seduced by it. Mary Crawford's harp is not only "as elegant as herself," it is also like herself: a multivalent, open-ended symbol upon which her hearers are in danger of projecting their dreams and fantasies.5
Notes
The music clip used in this essay satisfies the criteria for fair use established in Section 107 of the Copyright Law of the United States of America and Related Laws Contained in Title 17 of the United States Code.
1. True, there is the exception of Mr. Knightley's complaint about the difficulties of moving Jane Fairfax's piano to and maintaining it at the Bateses' humble residence (Emma 228). Yet Knightley's grumbling is meant to be seen as somewhat curmudgeonly, and he seems to be objecting more to the folly of the surprise element in the gift of the piano, rather than to the instrument itself.
2. As can be seen from this partial list, professional harpist-composers could be male or female, although amateur harpists seem to have been (with a few exceptions) overwhelmingly women.
3. In seventeenth century opera, the harp had been a part of the continuo group that also included other kinds of plucked stringed instruments (lutes, theorbos) and keyboard instruments, but it had already disappeared from the opera orchestra by the early eighteenth century.
4. Austen's experience of opera was somewhat limited. In any case, the London premiere of Paër's Agnese took place in 1817, the year of her death, and Rossini's Otello did not reach London until 1822 (Fenner 294, 296).
5. I am grateful to Susan Allen Ford and to the anonymous reader of the first draft of this essay for their helpful suggestions; to Professor Ross Carroll of the College of William and Mary for bringing the Edmund Burke material to my attention; and to Leslie Fitzpatrick, Curatorial Research Fellow in the Department of European Decorative Arts at the Art Institute of Chicago, for her invaluable input on Irish harps and related works in the exhibition Ireland: Crossroads of Art and Design 1690-1840.
Works Cited
Auerbach, Emily. Searching for Jane Austen. Madison: U of Wisconsin P, 2004.
Austen, Jane. Jane Austen's Letters. Ed. Deirdre Le Faye. 3rd ed. New York: Oxford UP, 1995.
_____. The Works of Jane Austen. Ed. R. W. Chapman. 3rd ed. Oxford: Oxford UP, 1933-69.
Bander, Elaine. "Mansfield Park and the 1814 Novels: Waverley, The Wanderer, Patronage." Persuasions 28 (2006): 115-25.
Boime, Albert. Art in an Age of Bonapartism, 1800-1815. Chicago: U of Chicago P, 1990.
Burke, Edmund. Reflections on the Revolution in France, and On the Proceedings in Certain Societies in London Relative to That Event. London: Dodsley, 1790.
Burney, Frances. The Wanderer, or Female Difficulties. Ed. Margaret Anne Doody, Robert L. Mack, and Peter Sabor. New York: Oxford UP, 1991.
Commons, Jeremy. A Hundred Years of Italian Opera 1800-1810. Notes to Opera Rara CD ORCH 101.
Dent, Edward J. The Rise of Romantic Opera. Ed. Winton Dean. Cambridge: Cambridge UP, 1976.
Fenner, Theodore. Opera in London: Views of the Press 1785-1830. Carbondale: Southern Illinois UP, 1994.
Gard, Roger. Jane Austen's Novels: The Art of Clarity. New Haven: Yale UP, 1992.
Gay, Penny. Jane Austen and the Theatre. Cambridge: Cambridge UP, 2002.
Honour, Hugh. Neo-Classicism. Harmondsworth: Penguin, 1968.
Laffan, William. Irish Art at Churchill. Tralee: Churchill House, 2011.
Libin, Kathryn L. "Daily Practice, Musical Accomplishment, and the Example of Jane Austen." Jane Austen and the Arts: Elegance, Propriety, and Harmony. Ed. Natasha Duquette and Elisabeth Lenckos. Bethlehem: Lehigh UP, 2013. 3-20.
Moulton, Paul F. "Of Bards and Harps: The Influence of Ossian on Musical Style." Diss. Florida State U, 2005.
Nigro, Jeffrey A., and William Phillips. "Austen, Madame de Staël and the Seductiveness of Conversation." Persuasions On-Line 33.1 (Win. 2012).
Pointon, Marcia. Strategies for Showing: Women, Possession, and Representation in English Visual Culture 1665-1800. Oxford: Oxford UP, 1997.
Rensch, Roslyn. Harps and Harpists. London: Duckworth, 1989.
_____. Trois siècles de harpes. Lyon: West Central, 2004.
Roberts, Timothy. Thomas Moore's Irish Melodies. Notes to Hyperion CD A66774.
Robinson, Nicholas K. Edmund Burke: A Life in Caricature. New Haven: Yale UP, 1996.
Sacchi, Floraleda. "Sophia" in Sophia Giustina Corri: Works for Solo Harp. Notes to Tactus CD 772801.
Sadie, Stanley. Mozart: The Early Years 1756-1781. New York: Norton, 2006.
Scott, Sir Walter. Waverley; or, 'Tis Sixty Years Since. Ed. Claire Lamont. Oxford: Oxford UP, 1986.
Tanner, Tony. Jane Austen. Cambridge: Harvard UP, 1986.
Wakefield, David. The French Romantics: Literature and the Visual Arts 1800-1840. London: Chaucer, 2007.
Wells, Juliette. "A Harpist Arrives at Mansfield Park: Music and the Moral Ambiguity of Mary Crawford." Persuasions 28 (2006): 101-14.
Zingel, Hans J. "Genlis [née Ducrest de Saint-Aubin], Stéphanie-Félicité, Countess of." Grove Music Online. Oxford UP: 2007-2014. Accessed 29 July 2014.