Traveling to Philadelphia
The pleasure of ". . . a brother or sister in every carriage."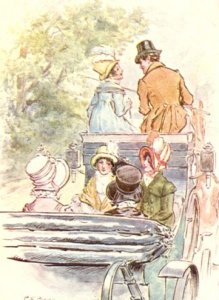 Those who live on the east coast will find that the journey to Philadelphia is an easy one made by plane, train, or automobile. Those who live in northerly or westward regions will make travel time more profitable by reading about Jane Austen's brothers and sisters during their voyage. Note: When making travel plans, please be aware that events and tours could be canceled or modified as necessary. We will, however, make every effort to conform to the schedule as originally and most beautifully planned.
This is a print-friendly page. We recommend your printing this page to take with you on your journey.
Hotel
Sheraton Society Hill Hotel, 1 Dock Street, Philadelphia, PA 19106, 215.238.6000
Train Service
A discount has been arranged for our brothers and sisters who will travel by Amtrak.
Amtrak offers a 10% discount off the lowest available rail fare to Philadelphia from October 4, 2009 through October 15, 2009.
To book your reservation, call Amtrak at 1.800.872.7245 or contact your local travel agent.
Convention fares cannot be booked through the Internet.
Please be sure to refer to Convention Fare Code X19V-951 when making your reservation.
This offer is not valid on the Auto Train and Acela Service.
The discounted fare is valid on Amtrak Regional for all departures seven days a week, except for holiday blackouts.
The offer is valid with Sleepers, Business Class or First Class seats with payment of the full applicable accommodation charges.
Philadelphia's Amtrak station is 30th Street Station, located about thirty blocks west of the conference hotel. From that station, you may take a bus, taxi, regional rail line or the subway to the Sheraton Society Hill hotel. Note that unless you take a taxi, you will have a two block walk from any bus or subway stop. Regional rail lines do not extend to the Old City section of Philadelphia where the conference hotel is located. An additional taxi, subway or bus trip will be needed should you take the regional rail line from Amtrak station to the area known as Center City, approximately 10 blocks east of 30th Street Station.
You might also take the Market-Frankford subway, also called the Blue Line, eastbound towards Frankford to get to the hotel from the train station or some other section of the city. Be certain to take the Frankford bound subway. Any other direction will take you away from the AGM site.
Exact change is needed for bus and subway tickets unless you purchase them at a SEPTA (Southeastern Pennsylvania Transportation Authority) ticket booth. One-day convenience passes good for travel on any SEPTA vehicle can be purchased at a ticket booth. SEPTA ticket booths are located at 30th Street Station, JFK or Suburban Station, or Market East Station. Trains stop at all three city stations.
The SEPTA R1 regional rail line connects the International Airport with 30th Street Station and also continues to Market East Station, where you can then take a bus or subway or take a taxi to the hotel. Review train schedules and fares at the SEPTA website.
Air Transportation
Most major airline carriers fly into Philadelphia International Airport, a half hour's drive from the hotel. You may take a taxi, use the limousine or van service (see Ground Transportation), or use the regional rail line (see Train Service) to travel from the airport to the hotel. Please visit this site to learn additional details about transportation services between the airport and the conference hotel.
We have arranged discounted airfare with American Airlines for our JASNA brothers and sisters.
A 5% discount will be applied to all tickets booked appropriately for flights to Philadelphia for travel days October 6-16.
Call 1.800.433.1790 to make reservations or use this web site.
The JASNA promotional code to use for the discount is

A76H9AA

; enter the code at bottom of page when you book yourself or give the code to the ticket agent.
Note that there are some restrictions: (1) upgrades can be made only after ticket purchase; (2) electronic tickets must be issued – fees apply to paper tickets; (3) other discounts cannot be used in conjunction with this offer; (4) regular baggage fees apply; (5) standard taxes and surcharges are the responsibility of the ticket purchaser; (6) AADVANTAGE members may accrue mileage under this promotion.
Car Rental
Avis Rent-a-Car will provide discounted rental services for our JASNA brothers and sisters.
The group discount provides anywhere from a 5-20% reduction in the regular rate, depending on the vehicle rented, and includes unlimited mileage seven days before to seven days after the conference.
Reservations can be made by calling 1.800.331.1600 or by using this link.
The JASNA promotional code (the AWD number) is:

D757586

.
Ground Transportation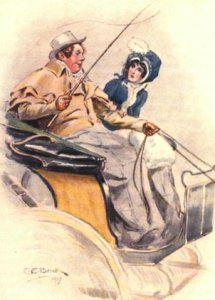 A taxi ride from the airport to the conference hotel (Sheraton Society Hill) costs approximately $29.
Lady Liberty is the only shuttle service available between the airport and the hotel. A one-way fare is $10; round trip is $20. The shuttle reservation desk is located on the ground floor near baggage pickup. Call 215.724.8888 to make reservations ahead of time.
We have arranged discounted limousine service from the Philadelphia airport and from 30th Street Station to the Sheraton Society Hill Hotel with AAA Airport One Direct.
Reserve a Lincoln town car at a 5% discounted rate by identifying yourself as a JASNA AGM attendee.
The discounted rate ($98.80) remains the same whether you travel alone or with three of your JASNA brothers and sisters, where each of the four would then pay approximately $25.
Reserve online or call 1.800.535.5466 (LIMO).
Driving
Access to the hotel by major highways, particularly Interstate Route 95, is relatively easy, though traffic at rush hours will be congested. Please visit the hotel website for the hotel's driving directions. Drivers should be alert for one-way traffic on some streets around the hotel.
Parking at the Hotel
The Sheraton Society Hill provides only valet parking for drivers who are not guests of the hotel at a daily rate of $24 plus tax for parking from 8 AM to 5 PM or from 5 PM to midnight.
The Sheraton Society Hill provides parking for hotel guests, with in and out privileges, at the daily rate of $29 plus tax. Note: Prior to check-in, guests must use valet parking services in order to access the hotel garage.
Map
Please visit the hotel website to view a map of the hotel area.
Philly Phlash
Once you have arrived at the conference hotel, you may make use of the Philly Phlash in order to take in the local sights. The trolley loops around the city, stopping at over 20 cultural and historic locations. Visit this site for details about the trolley, its times of operation, its route, and schedules that can be downloaded.
2 dollars each time you board (children under 6 and seniors, 65 and over, ride FREE!).
Passes: $5 all-day individual pass or $10 all-day family pass (2 adults and 2 children, 6-17 years old).
Tickets can be purchased at the Independence Visitor Center, located at 6th and Market Streets, or when getting on the trolley.
Get on or off at 21 key locations throughout Center City Philadelphia including the Independence Visitor Center, Penn's Landing and the Philadelphia Museum of Art.
Runs daily May 1 through October 31, 2009, 10 a.m. to 6 p.m.
Philadelphia's October Weather
Average highs at the beginning of October are in the mid-60s and average lows in the high-40s, although lower temperatures are not without precedent. Join your JASNA brothers and sisters in Philadelphia to enjoy Pennsylvania's deep-blue fall skies, complimented by leaves just starting to turn color. Indeed, it is not everyone who shares our passion for dead leaves.