In Memory of Jane Austen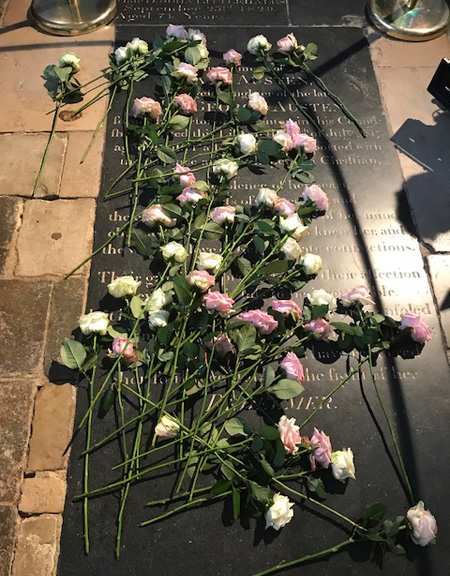 Jane Austen died on this day, 200 years ago, at the age of 41. Janeites the world over are marking the anniversary and celebrating her life and legacy. Media outlets have been focused on this day for months, and on the bicentenary of her death, Jane Austen has reached a level of fame that was impossible to imagine in 1817.
To mark the anniversary of her passing, JASNA ran an "In Memoriam" ad in The New York Times today and invited readers to leave a tribute to her in our virtual Memorial Book on this website. Memorial ads were also placed in the Los Angeles Times by the JASNA Southwest Region and 2017 AGM Steering Team and in the Louisville Courier-Journal by the Greater Louisville Region. In addition, the Governor of the State of Indiana declared July 18, 2017, as Jane Austen Day in the state, thanks to the efforts of the JASNA Indiana Region.
The fortunate JASNA members participating in this year's tour to England also had a special day in Winchester, attending a private JASNA memorial ceremony in Winchester Cathedral in the morning and a special Choral Evensong later in the day. Photos of both moving events are available on our Facebook page.