The Various Vittles That Vexed Miss Charlotte
December 11, 2021
by Dan Macey

What types of foods would be on the menu at a wedding banquet in Jane Austen's day? In this video, food historian Dan Macey shows us his recreation of the wedding feast Austen described in Lesley Castle and discusses the typical foods that would be served. —Editor

As a professional, commercial food stylist, it is my job to create food that is mouthwatering and eye appealing for the camera. But for this video—about wedding fare served during Jane Austen's time—creating the period food was particularly challenging. I had to use ingredients readily available during the Regency era but a bit more difficult to find in today's grocery store, such as beef tongue and pigeon.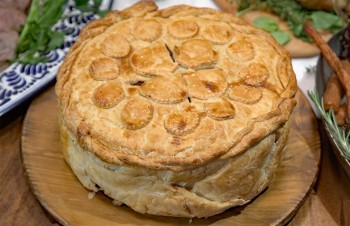 While I did find a nice beef tongue from a local butcher, I had to use ordinary chicken inside of the pigeon pie shown in the video. It took several visits to a variety of farmers' markets before I found squab (young pigeon), and don't get me started on the ingredients for the ginger wedding cake.
But of the three videos I put together for the JASNA 2020 Virtual AGM, researching and preparing for this one was the most fun. The passage from Lesley Castle centering on what to do with wedding leftovers produced from the nuptials that never occurred (because the poor groom died), is my favorite bit of any Austen writing. I just love the character of Charlotte Lutterell, who is more concerned about making sure the leftovers are consumed than consoling her sister. As a sometime-caterer of period events and recipes, an aborted meal keeps me up at night with worry!
Researching what Charlotte Lutterell, or more accurately, what her servants would have prepared for the wedding dinner was much fun. The most interesting thing to remember is that most of the food would have been prepared well ahead of time and often served al fresco, almost like a picnic. In fact, weddings and wedding cakes were much more modest than today's spectacles. I am happy to report that the brandy-soaked fruit wedding cake drizzled with lemon frosting and candied almonds that I prepared for the video was quite delicious and something I think Jane herself would have loved and Mr. Woodhouse would have cautioned against!
Closed captioning in English can be turned on and off with the CC icon in the control panel. Copyright Dan Macey.

Dan Macey is the president of the Historic Foodways Society of the Delaware Valley in Philadelphia, which aims to keep culinary history alive. He has presented a variety of food history programs and demonstrations, including the recreation of an authentic regency era banquet to benefit Chawton House Library. He also writes about food history and was nominated for a national food writing award for penning a piece about mutton in Emma. He has contributed to a number of food history books, including the James Beard awarding winning The Oxford Companion to Cheese. He works as a professional, commercial food stylist, making food look beautiful for the camera. He is an enthusiastic Life Member of JASNA.