Call for Papers
" … the proposal was a very pleasant one … "
On the bicentenary of the publication of Jane Austen's Mansfield Park, the Montréal Region of the Jane Austen Society of North America invites proposals for presentations of forty minutes, to be followed by ten minutes of discussion, on any aspect of our conference theme: "Mansfield Park in Montréal: Contexts, Conventions and Controversies."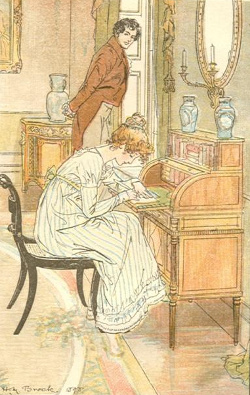 Proposals might address the relevance of historical or family contexts for Mansfield Park: the political, social and economic impact of revolution and the long war, the struggle for the abolition of the slave trade, the role of the Royal Navy, the creation of the Regency, the Prince of Wales's marital controversies, the patronage system of advancement, the changing literary culture, emerging nationalism, debates about the education of women and "female accomplishments," courtship and marriage practices, "cousins in love," and the role of religion, the church and Austen family history, including Jane Austen's own biography.
Proposals may also investigate how details about material culture inform this rich novel: landscape design (wildernesses, shrubberies and ha-has; Repton and improvements); card games such as Speculation; harps and glees; fancy work and transparencies; crosses, necklaces and chains.
Mansfield Park has striking parallels to some other novels published in 1814 as well as to earlier works, while also transforming literary conventions. We encourage proposals about Austen's use or remaking of literary conventions, including those of her own earlier works. Several texts are mentioned in this novel, and two plays feature prominently in Mansfield Park, so proposals on inter-textual issues or on theatricality, oratory, and amateur theatricals are encouraged.
Mansfield Park remains Austen's most controversial novel, and Fanny Price her most controversial heroine, while the Crawfords are possibly Austen's most attractive "villains." What is going on? And how has the history of the reception of this novel—including film adaptations and other works inspired by Mansfield Park—contributed to these controversies?
Proposals should offer fresh ideas in lively language. They may stipulate original or interactive formats (debates, dialogues, dramatizations). Nous invitons aussi des presentations en français.
Please submit a one-page abstract of your breakout presentation together with a cover letter describing the presentation format and indicating (as applicable) your name, affiliation, postal and email addresses, personal web site, and telephone numbers, along with a biographical statement of about 100 words. Please specify any AV equipment absolutely essential for your session, bearing in mind that the expense of AV equipment may be taken into account when selecting speakers.
Electronic submissions are preferred. The deadline for submissions is 15 October 2013, and we hope to notify proposers of our decision by January 2014. Proposals should be submitted to:
| | |
| --- | --- |
| James Reicker | James Reicker |
| jreicker@gmail.com | 131 Holland Avenue, Apt 605 |
| 613-731-4334 | Ottawa, ON K1Y 3A2 Canada |