An invitation for you!
Sir Thomas and Lady Bertram
request the pleasure of your company
at a ball to honour their nephew and niece
Midshipman William Price
and
Miss Price
at nine o'clock in the evening
on Saturday, October 11th, 2014
The Grand Ballroom
Le Centre Sheraton
Montréal
R.S.V.P. by September 2014
Mansfield Park
Northamptonshire
Our Dance Mistress and Master will be Arduina Alonzo and Michel Landry, organizers of English Country Dances in Montréal. Our dancers will be accompanied by Rufty-Tufty, a Montréal consort of four musicians: Suzanne Beauregard, Sally Campbell, Sarah Crawford and Sean McCutcheon.
Click here to see the program for the ball.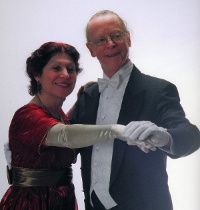 Arduina Alonzo and Michel Landry