Special Events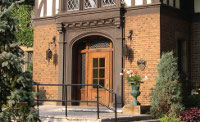 Atwater Club
"Female Difficulties: Austen's Fanny and Burney's Juliet,"
Juliet McMaster, Emeritus Professor of English,
University of Alberta, with Afternoon Tea
Thursday, October 9, 4:00 pm - 6:00 pm, Atwater Club
Ticketed event: US$40, maximum of 160 attendees
Juliet will talk about the heroines of Jane Austen and Frances Burney's 1814 novels: Fanny Price (Mansfield Park) and Juliet Granville (The Wanderer; or, Female Difficulties), during afternoon tea at The Atwater Club, 3505 Atwater, a pleasant thirty-minute stroll (or bus or cab ride) from the hotel.
"'A Dangerous Intimacy': Behind the Scenes at Mansfield Park"
Diana Birchall and Syrie James, writers and producers
Friday, October 10, 8:00 pm - 8:55 pm
Ticketed event: US$10
What really happened during those risky rehearsals of Lovers' Vows? We believe you will derive much innocent enjoyment from this staged reading of a newly commissioned play by Diana and Syrie, with a cast of a dozen players.
"Singing Glees at Mansfield Park."
Kathryn Libin, Vassar College
Friday, October 10, 9:05 pm - 10:00 pm
Learn about Georgian glee-singing, the Austen family's musical practices, and their significance in Mansfield Park. Be prepared to sing your part! (No skill or talent required.)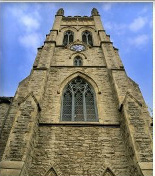 St. George's Anglican Church
Morning Prayer at St. George's
Sunday, October 12, 9:00 am - 10:00 am
Join us for a Georgian-era Anglican (Episcopal) Morning Prayer service of Thanksgiving with music and Jane Austen's prayers at St. George's Anglican Church, 1101 Stanley Street, two blocks from the hotel.
"Love and Freindship"
Choral concert followed by a wine-and-Québec-cheese
reception at St. George's,
Sunday, October 12, 4:00 pm - 6:00 pm
Ticketed event: US$55
Concerto Della Donna conducted by Maestro Iwan Edwards, perform traditional and contemporary compositions relating to Jane Austen and featuring works by Toronto composer Eleanor Daley, including "Three Poems from the Parlour" premiered at the 2012 AGM.