A Very Personal Montréal Restaurant Guide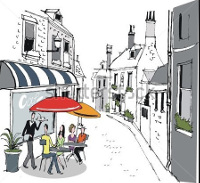 General Guide
Montréal is a restaurant city, with hundreds of excellent choices embracing every imaginable cuisine, usually for much less than you would expect to pay for similar quality in New York, Paris, Rome, or Hong Kong. With such competition, bad restaurants don't survive long, so feel free to explore. Your usual trusted travel guides or restaurant websites will no doubt have many recommendations and reviews. Below you will find a few of our suggestions.
A Note on Montréal Restaurants
Most Montréal restaurants are licensed to serve alcohol. Alcohol sales are a government monopoly, and wine prices are high; hence the popularity of "BYOB" or "bring your own bottle," which almost never incurs a corkage fee.
Locals tend to go out to eat around 7 pm or later, but most restaurants open for a first sitting by 6 pm or even earlier. Dress is almost always casual. By and large, the trendier the restaurant, the noisier the room. (Some young celebrity chefs love their playlists more than their patrons.) Montréalers favour tasty ethnic food (every cuisine is represented) and neighbourhood bistros, on the terrasse (terrace, courtyard or patio) if weather permits, but locals also enjoy fine dining on occasion. And isn't an AGM an occasion?
Québec restaurant taxes—both the Provincial sales tax and the Federal goods-and-services (value added) tax--will add about 17% to your bill. Locals tip between 15% and 20%, so "tipping the tax" is a good guide to follow.
Key to Guide
LI or BYOB: Licensed (LI) restaurants serve alcoholic beverages. BYOB restaurants are not licensed, but they encourage you to bring your own bottles of wine (or beer or cider) to the table. Almost no BYOB restaurants charge corkage fees. Although wine and liquor shops are a provincial monopoly, beer and some wines are available in many small groceries. You will find a nearby government package store just a block away, on the south side of St. Catherine Street between Drummond and Stanley, or a few steps further in Central Station beneath Place Ville-Marie.
Location:
1 Steps from the hotel
2 Within a 15 or 20 minute walk
3 Bus, metro or taxi probably required
Cost and Style:
P = Price: suitable for a large, handsome, but impecunious family, including adventurous sailors.
N = Norris: gentility at bargain prices, suitable for a lady of limited means dining on her own.
B = Bertram: good for a night out with a dignified family, festive but comfortable, with traditional service and food.
C = Crawford: possibly expensive, certainly fashionable, but definitely worth the splurge: not a taking in!
First, just because we can, two restaurants on Mansfield Street (yes, named for that Lord Mansfield) a few streets away from our hotel:
Laurie Raphaël, in the Hôtel le Germain (1, LI, Norris, Bertram, Crawford)
2050 Mansfield Street
(514) 985.6072
Fine dining, Québec-style: "Creative cuisine, constantly evolving and changing. Rooted in Québec, but open to the world, combining simplicity with respect. Enriched and enhanced by molecular cooking." Regular menu or "Chef Menu." "The dishes on the Chef Menu are improvised, impulsively decided at the last minute. It's the chef's favourite menu and the ideal choice for those who want to take a culinary leap and try new flavours and experiences. Lunch: $35. Dinner: $60. Please note: this menu cannot accommodate food allergies and intolerance. Thank you for your understanding."
Ben & Florentine (1, Price, Norris)
1215 Mansfield Street
(514) 395-0222
A local chain for breakfasts, brunches and lunches.
Second, two more suggestions, for historic name as well as good food:
Restaurant Bonaparte (3, LI, Norris, Bertram, Crawford)
443 rue St-François-Xavier (in Old Montréal)
Metro Place d'Armes
(514) 844-4368
Attractive historic building, right in our period, with reliable modern French bourgeois cuisine, choice of à la carte menu, affordable prix fixes (including pre-theatre special for patrons of the Centaur Theatre next door) or the tasting menu, excellent value at $68. Ask for a table in the window enclosure or by the fire-place.
Restaurant Wellington (3, BYOB, Bertram, Crawford)
3629 rue Wellington (in Verdun)
(514) 419-1646
Between Metro Lasalle and Metro l'Église, or a short cab ride from our hotel.
Excellent modern storefront French bistro in older, gentrifying working-class neighbourhood. Friendly reception and service, re-imagined bistro classics. Main course (garnished plate) from $25 to $32, full dinner more.
Close to the Hotel, for a quick lunch or dinner:
Along the side streets between the hotel and St. Catherine Street, you will find over a dozen places offering quick, tasty, inexpensive lunch or supper: Italian, Chinese, Thai, etc. Most are licensed or BYOB. They are quick and crowded at lunch, less hectic at dinner. Many offer take-out service. (1, Price, Norris)
The Food Courts beneath Place Ville Marie and Central Station just east of our hotel, and those in the Peel metro underground complex just north of our hotel, also offer a variety of cuisines for quick eating in or handy taking out. (1, Price, Norris)
Bier Markt (1, LI, Price, Crawford)
1221, boul René-Lévesque
(514) 864-7575

A Canadian chain of up-market beer halls: 150 beers from 30 countries, with appropriate food (sandwiches, cold cuts, sausages, mussels, oysters, burgers), just across Drummond Street from the Sheraton. Lunch $10-$20, dinner around $30, beer extra.
For Afternoon Tea
The Fairmount Queen Elizabeth Hotel: Le Montréalais Bistro-Bar (1, LI, Norris, Bertram, Crawford)
900 boul René-Lévesque
(514) 954-2261
Tea is served Monday to Saturday from 2:30 PM to 6:00 PM and Sunday from 3:30 PM to 6:00 PM. Under $40.
Ritz-Carlton Montréal (1, LI, Bertram, Crawford)
1228 Sherbrooke Street West
(514) 842-4212
The Ritz, recently reopened after extensive renovations, has been serving afternoon tea since 1912, a Montreal tradition for generations. Expect to pay over $30 for a full afternoon tea, or select a more modest repast.
Birks Café par Europea (2, LI, Crawford)
1240 Place Phillips
(514) 397-2468
What could be more elegant than afternoon tea served (2:30 PM to 5 PM) on the mezzanine of Birks, Montreal's venerable jewelry store, with food prepared by Europea (see below)? But be warned: at $26.50 plus taxes, this is an expensive indulgence.
Nocochi Bistro and Salon de Thé (1, LI, Price, Norris, Bertram)
2156 Mackay Street
(514) 989-7514
Extensive selection of teas, coffees, and exquisite Iranian pastries, as well as light meals, just west of the Montréal Museum of Fine Arts.
Gryphon d'Or Salon de Thé / Celtic Tea Room (3, Price, Norris)
5968 Monkland Avenue (in Notre-Dame-de-Grâce in the West End)
(514) 485-7377
Scones with homemade jams, or a full afternoon tea (which must be ordered in advance) as well as light meals (soups, salads, quiches, scone sandwiches), in a lively residential neighbourhood close to downtown. Not licensed. Metro Villa Maria, Bus 103 or 162.
For Dinner
L'Académie (1, BYOB, Norris, Price)
2100 rue Crescent
(514) 664-4455
Italian and French, mussels from $18, steaks etc. around $30.
L'Actuel (1, LI, Norris, Bertram, Crawford)
1194, rue Peel
(514) 866-1537
Belgian bistro, serving moules-frits (mussels) and other specialties, with beers and wines, meals for around $30.
Au Bistro Gourmet (2, BYOB, Norris, Bertram)
2100 St. Mathieu Street
(514) 846-1553
An affordable, friendly French bistro, standard bistro offerings.
Restaurant Europea (1, LI, Crawford)
1227 rue de la Montagne
(514) 398-9229
Contemporary French, Fine Dining, Vegetarian menu option. If you want a fine-dining splurge near the hotel, this is an excellent choice. Imaginative preparation and presentation, delicious food (with tasting menus available) and professional, attentive, friendly service. (The staff really want you to enjoy the experience.) The amuses-bouche alone are worth a visit!
L'Entrecôte St-Jean (1, LI, Norris, Price)
2022 Peel Street
(514) 281-6492
A branch of the very popular Quebec City restaurant for steak-frits: "Our establishment owes its reputation to its unique and enviable formula: A grilled strip loin steak served with delicious home made fries and world class sauce. The first course will seduce you with a choice of seasonal cream soup or fresh Boston salad with walnuts, and for the last course, profiteroles with hot melting chocolate that will satisfy even the finest palates." All for under $30, before taxes, tip and wine, if you don't mind the limited choice and a lively room.
Restaurant La Médusa (1, LI, Norris, Bertram, Crawford)
1224 rue Drummond
(514) 878-4499
Italian wine bar. For a light meal, a full luncheon or dinner, or just a glass of wine, across the street from the Sheraton.