Three very different academic experiences led me to investigate contemporary artwork inspired by Jane Austen. The first was a visit to the Oxford, Mississippi, studio of artist Carlyle Wolfe Lee, who creates lovely abstract nature scenes. While I was there, I was stunned to see quotations posted all over the studio walls—from Jane Austen, the Bible, and other literary works—that, Lee says, inspire her every day. She explained: "Jane Austen is one of my favorites. I have listened to her novels over and over in audiobook form while working in the studio. . . . Setting is a significant common thread between the fiction I frequently revisit. . . . I tend to notice, enjoy, and remember how stories feel—often even above the plot. The atmosphere in my imagination where Jane Austen's characters live out their stories is a place I love to be."
Following my visit, I considered what Lee had said about Austen and art and decided to see if there were other artists who identify Austen as a source of inspiration. This question led me to complete an exercise that I give my students. On the first day of class I ask them to search out "Jane Austen and ______" (then fill in the blank: pizza, baseball, even something scientific usually yields a result). I decided to complete my own assignment: "Jane Austen and Art" led me to Saatchi, a London-based gallery known, according to its website, "to provide an innovative forum for contemporary art." On several pages of this website can be found paintings created by artists from around the world, all of whom, in notes to their works, have identified Jane Austen's life or fiction as an influence on their art.
Excited about my discovery, I decided to search out scholarship, looking to Juliette Wells's Everybody's Jane: Austen in the Popular Imagination as the obvious place to begin. Wells examines contemporary society's "commercialization of Austen" (3) in its many forms, from adaptations of her life and books in drama, fiction, and film, to exhibitions seeking to benefit from her name. Wells mentions two recent busts of Austen, Philip Nathan's Jane Austen (2010) and Nigel Boonham's Jane Austen in Heaven (2010), as well as Melissa Dring's portrait of the author, Jane Austen (2002), in addition to visual and verbal portraits of the author from recent fiction.1 Neither she nor any other scholar that I could find, however, has given serious attention to non-commissioned work created by artists currently exhibiting in museums and galleries who have identified Jane Austen as a major influence on their art.
My excursion revealed that each artist claiming Austen as muse provides a unique perspective on Austen's enduring popularity. Some have produced straightforward portraits of the artist; others depict a character or characters from a favorite novel. In more abstract inspirations, words and pages of Austen's novels have been used or discarded. Sometimes it's merely the feeling an artist discerned on reading Austen behind the identification. The explanations for their fascination with Austen were as diverse as their nationalities and artistic media. What my search revealed is that Austen's artistic presence in the twenty-first century is strong; Austen and her novels have inspired many working artists today, and they have reimagined her in highly original ways, creating works that span the artistic spectrum and that ask us to consider Austen in new and fresh contexts.
Perhaps the work of art that has garnered the most attention since 2000 as an example of Austen-inspired art is Grayson Perry's Jane Austen in E17 (2009), a vase that juxtaposes elegantly dressed Georgian ladies drinking tea with contemporary sites right outside Perry's studio in Walthamstow, Greater London (the E17 postal district of the title). With its images of ladies in Regency costume surrounded by and sitting atop "photographs and advertisements taken from contemporary gossip magazines and sites" from around Perry's neighborhood, this striking vase cleverly highlights "how far and yet how near east London now is from Hampshire two centuries ago" (McNay). This connection between past and present is a theme several twenty-first-century artists explore in their Austen-inspired artworks, but when pressed to explain the meaning of his vase himself, Perry simply says, "Embarrassing as it is for an artist to admit nowadays, I was really striving for beauty" (McNay).
Like Perry, the artists I have chosen to feature strive for beauty but also indicate that, for their particular works of art, it was in Jane Austen that they first found that beauty, style, wit, text, or character that they then wanted to render artistically. For this essay I will discuss ten visual artists, although there are many more who claim Austen as their inspiration than is possible to cover here.2 For this group of ten I sought diversity in my artistic representation: in gender, geography, and subject matter. The group that emerged from my artistic fishing expedition included five men and five women: five Americans, four of whom live in different cities in the U.S. (Oxford, Mississippi; New York City; Chicago; and St. Paul) while the fifth lives in France. The other five artists include two who are British, one Italian, one Norwegian, and one who is Russian but currently lives in California. Based on their responses, I organized their works from the most literal depictions of Austen herself or her characters to more abstract interpretations.
The most representational examples of Austen-inspired art are portraits of the author herself. Jay Wittenberg's Portrait of Ms. Austen (2010) depicts Austen from the waist up, rather serious and austere, as she clutches a book to her bosom. She looks intently at the viewer and is portrayed on a neutral background in a pale gray dress, the only adornments a decorative lace collar and frilly cuffs. The neutral palette sets off her dark hair and eyes, making it hard for the viewer to look away. Wittenberg, a painter from St. Paul, Minnesota, provided a statement on the Saatchi website about the creation of his portrait:
These portraits . . . began as a series of portraits of male and female writers, but as it gained momentum, I decided to make the entire series of women writers exclusively. I have read the work of all of the subjects portrayed, and usually I read their work during the many months it takes to complete a portrait. (Wittenberg)
He elaborated for me in an email: "My connection to Jane Austen is simple. I was taken in and inspired by her work, and I felt I must include her in my series of women poets and writers who it would be difficult to live without. My favorite book of hers would be Pride and Prejudice, but all of them, I feel, bear reading more than once" (Wittenberg). Based on his in depth reading of Austen, Wittenberg's serious depiction of the author, holding tightly to a book, evokes the weighty position she holds in his life and in literature and sits in stark contrast to another portrait completed this century: Melissa Dring's 2002 Jane Austen, a portrayal that emphasizes Austen's liveliness, depicting her with bright eyes and a small smile, clearly thinking about something amusing, and sitting at a table with her literary accoutrements: pen, paper, and glasses.3 These two twenty-first century portraits of the author clearly emphasize the artist's personal reading of Austen, whether they choose to highlight the serious or sparkling side of her personality.
Reading Austen also was the inspiration for Fiorentina Giannotta, an artist from Cosenza, Italy. Giannotta's favorite Austen novel is Emma. She wrote me that "I find Austen a real genius, being able to impose [her] thoughts at the time. . . . [This work is a] tribute to Jane Austen and Emma, an energetic and talkative heroine who, after a series of vicissitudes, manages to recognize, perhaps, her soul mate" (Giannotta). In a second email she added: "My favorite [novel] is Emma. I think the personalities of the other characters in the book are expressed more than in the other novels. But next week I could change my mind." Giannotta's painting Emma e Knightley (2013) is an explosion of color and a vivid expression of the love she bears for her favorite Austen novel as well as the love the couple bears for one another. Giannotta portrays Emma and Knightley standing in front of a botanical background of bright green and red flowers. Knightley is positioned towards Emma, looking down upon her, while Emma stands beside him, sedate, no obvious emotion displayed on her face. The painting looks and feels like the moment before he expresses his love for her, as the bright colors, primarily red, green, pink, and purple, surround the couple and loudly declare the affection they have not yet expressed openly.
A second European artist who has chosen to depict characters from a favorite Austen work is Norwegian artist Arne Spangereid. On the Saatchi website, Spangereid claims to "have watched Pride and Prejudice 20 times together with the love of my life. I have come to learn that if a woman loves Pride and Prejudice, it is a good indication she is of a Romantic disposition :)." He elaborated on this statement in an email to me:
The Pride and Prejudice (2016) painting was a part of a series where I drew inspiration from classic movie scenes and classic art works and recreated them in a cartoony style. Back in the day when I was dating, I realized that one thing that all women that I liked had in common was a love for Pride and Prejudice. I took a note of it as something to look for in a spouse. (I think it's because I'm attracted to that romantic and witty perspective.) Needless to say, my wife is a big fan of Jane Austen's work. :) We've been to Bath, lunched in the pump room and toured the Jane Austen sites.
Spangereid's comments reveal the "happily ever after" quality of Austen's novels, especially Pride and Prejudice. His comic book-style depiction of Darcy and Elizabeth is unusual, but despite the atypical presentation of the lovers, the two look lovingly into one another's eyes and their fingers gently touch. There is no denying their mutual affection. Thus, whether it is Darcy and Elizabeth or Knightley and Emma as in Giannotta's painting, it is apparent that some artists want to capture the love story that wins out in the end.
Artist Laly Mille, an American who now lives in the Loire Valley of France, has created not only her own version of Austen's characters, but an entire online studio based on her Austen-inspired art. Her paintings were featured in Somerset Studio magazine in an article entitled "Unleash Your Inner Jane" (2014), where she described her connection to Austen:
To me, Jane Austen is as much of a heroine as the girls in her novels; at a time when women were supposed to be accomplished in every art and craft without ever stepping outside of the lines, she dared to pursue her creative dream and be a writer. I think many of us can relate to the feeling of being torn between our dreams and our duties—what we think is expected from us as women, daughters, mothers, or professionals. Sometimes it feels like we are looking at life through a window, merely catching a glimpse of all its possibilities, but Jane's heroines teach us to grow and learn without ever letting go of our dreams. (my italics)
Windows are a motif in Mille's four Austen collage-style paintings, which depict Austen herself and three of her heroines. All four of Mille's Austen works portray romantic versions of Austen and her characters, but they are alone: they gaze out windows longing for either love or freedom. No couples are featured here, but the paintings are romantic nonetheless, with flowers, butterflies, and a soft color palette of pinks, purples, soft blues, and greens, which all blend together to achieve a lovely collage effect. For instance, in Once Upon a Time (Dear Jane) (2014), Mille portrays the author herself, seated at her desk, pen in hand, looking out the window. Mille explains, "She is right in the middle of her creative process, writing a novel and looking at the outside world for inspiration" (99). In Touch the Dream (2014) she depicts Anne Elliot from Persuasion in a similar stance: standing, back to the viewer, looking out a window as she remembers that, in Mille's words, "[a]t a young age she was persuaded to not follow her heart and instead conform to her family and society's expectations" (99). In a third painting entitled Miss Marianne (2014), Mille captures "a romantic and passionate girl who lives out her dreams through books, but, as she raises her gaze from the page and looks through the window, she starts to feel that maybe they could become real" (99). And, in the fourth and final work of the series, Just Breathe (2014), Mille depicts Elinor Dashwood, who "[has] bravely and patiently endured disappointments, [but now has] opened the window, letting in a sense of freedom and hope" (99).
Mille offers online classes in art and journaling for students who want to make a Jane Austen collage painting like hers. She states explicitly that the class "is inspired by Jane Austen and her literary heroines" because for Mille, no author better expresses "what lives within a woman's heart." Austen is Mille's personal hero because of her courage in writing novels that allow her heroines "to express everything she could not say openly" (Mille). She connects Austen with her students by utilizing text as an integral element of collage. She asks students to use a copy of Jane Austen's handwriting as one of the materials of the collage, tearing the paper up and applying it to the skin areas of the figure in their work. And for the concluding step of the artwork, she asks participants to write their favorite Jane Austen quotation in black pen at the bottom of the painting, thus creating a truly Austen-inspired artwork.
There are other artists who, like Mille, literally use Austen's words as part of their canvas and also choose to have the subject facing away from the viewer in order to create a connection between past and present. The artist Cain, from Great Britain, paints contemporary figures atop vintage book pages. In First Impressions (2016, the title clearly demonstrating Cain's knowledge of Austen), which is part of Cain's series Romance and Beauty, he uses antique book pages from Pride and Prejudice as "a backdrop to the painting, creating an interplay between the hand-painted subjects and the book's narrative" (Cain). In this large-scale work, Cain connects the centuries, portraying a modern-day Darcy and Elizabeth Bennet, who appear to be engaged with the novel, literally imposed upon the pages of the text, backs to the viewer, as if they are reading those pages. As in Mille's work, in Cain's Austen's words themselves become part of the characters' skin; he hints at profiles, arms, and legs through shadows and details he draws with Indian ink. Cain prefers not to show the figures' faces: "The lack of faces allows viewers to identify with the subjects and reflects a modern interpretation of the book's characters" (Cain). This juxtaposition of reader and text, past and present not only suggests a contemporary rendering of the novel's main characters but also creates a "visual dialogue" (McNay) between Austen's time and ours, similar to what Grayson Perry portrayed on his vase.4
The next three artists are less representational in their Austen-inspired art. Their works are inspired by a feeling they have experienced while reading Austen that they then try to capture artistically. Elena Zolonitsky, a Russian artist who now lives in Oakland, California, grew up in Moscow and has read all Austen's works, even sending me her favorite Jane Austen quotations. So how—beyond titles like Jane Austen's Rose (2013) or Lady Jane (2013)—do Zolonitsky's still lifes of roses connect with Austen? On the Saatchi website she describes her paintings as "[i]nspired by Jane Austen's novels. They are best to read in the rose garden on a hot summer day!" In an email she explains:
I always loved a rose that is old-fashioned, bulbous, almost round in shape with an intricate petal design of a very beautiful almost washed out color—vanilla though slightly pink. And that is the rose that I have chosen for many of my stills. In the Oakland Rose Garden, each rose has a tiny plaque with [its assigned] name. Imagine my wonderment when the rose I choose out of the whole garden is named after Jane Austen. . . . Naturally the titles for my paintings came accordingly.
She also adds: "I can just imagine her writing at the table with the window opened to the world and a single heavy-headed rose in a crystal vase at the edge of it." The beauty Zolonitsky sees in the flower at the Oakland Rose Garden is a symbol of the beauty she attaches to Austen and fits the setting where she envisions that Austen writes. It is this beauty that she wants to render artistically.
Mississippi artist Carlyle Wolfe Lee, mentioned in the opening of this article, also was inspired by nature. Summer Garden (2018) is the work Lee shared with me when describing the feeling that Austen gives her as she reads or listens to her novels while working on her large and meticulously executed canvasses. The process behind Lee's paintings is painstaking: first, Lee makes contour line drawings of plants, and then, from the drawings, she isolates silhouette shapes that she cuts out of paper and uses as stencils to create her striking oil paintings. The result is an explosion of color and a celebration of nature. In Summer Garden shades of green predominate, accented by touches of purple and lavender, aquamarine, cream, and even the slightest hint of red. She explained to me how Austen's atmosphere is connected to her work:
Wonderfully lush and green and floral—vast pre-industrial quiet—seasons and weather without climate controlled houses—so many horses—gardens and parks and walks and carriage rides—a significant shaper of the England that I dreamed before visiting. . . . And, yes, these imagined literary settings shape the way I see our natural world and the atmospheres I aim to construct in my paintings.
Here we have past and present colliding, as we did in Grayson Perry's Jane Austen in E17 vase. The result is an artwork of exquisite beauty; the "wonderfully lush and green and floral" setting Lee finds in Austen translated directly onto her canvas.
The artist Lisa Ferber was inspired not so much by setting as by style. Ferber, from New York City, is a painter, writer, and award-winning satirist. She absolutely loved being interviewed about how Jane Austen influences her work, sending me several emails about the connection. Here is her response that I think best explains it:
I consider Jane Austen as a way of experiencing the world: oneself and social interactions. I've read many of her novels (Emma, Sense and Sensibility, Pride and Prejudice, Mansfield Park, Northanger Abbey, Persuasion) and have enjoyed various film versions of them as well. My paintings are generally not linked to any particular character or scene in her works. Rather I've infused my mind with Austen's ways, which to me have so much to do with ladies being proper while introspective and determined, and always having undercurrents in their relationships with each other and with themselves that can't be spoken in the moment. So these pieces are about wit and formality and an old-fashioned ladylike style and quiet undertones. For example, Violet Wins the Day as Mistress of Drollery (2019) speaks to that Jane Austen feel where the lines are so incredibly clever and subtle, and that form of delivery is a virtue in her characters. And Maeve Prepares for Emily's Drama (2019) is about the scheming but not necessarily ill-intentioned behind-the-scenes goings-on between proper members of society. In Celia Skillfully Avoids a Brunch Plan (2019), I think about a woman finally alone in her thoughts. Think Austen hiding her work under a blotter and experiencing her own serenity as a treat; valuing the fruits of her own mind.
As she explains so well, Ferber's art does not come directly from a particular scene or character but from the wit and satire present in all Austen's novels. She strives to capture the same feeling in her paintings that Austen achieves in her books, the complex social interactions that color many of Austen's female relationships and friendships. It is evident in her paintings: for instance, the three elegantly dressed women in both Violet Wins the Day as Mistress of Drollery and Maeve Prepares for Emily's Drama either sit (in Violet) or stand (in Maeve), looking out with their intense gazes as if united against or discomfited about some societal threat or tension. Celia Skillfully Avoids a Brunch Plan pictures a single woman sitting alone, looking down with eyes closed. She appears at ease as she quietly fingers a detail on her sleeve, lost in her thoughts. All three paintings are characterized by strong colors and feature women bedecked in jewels and fashionable attire, but underneath their finery exists something unsaid. As Ferber describes it, "It is not about [Austen's] novels; it's about a style and a worldview."
With the final two artists, I feel that we have traveled as far as we can on our Austen-inspired artistic journey. Stuart Hartley and Nicholas Rougeux both use Austen's text but are not interested in her content, or characters, or any feeling received from reading her books. Instead, they were attracted to Austen because of her highly regarded place in literature. Stuart Hartley is a British artist whose abstract creations feature (in its simplest terms) various sized colorful balls affixed to small, square shaped pads arranged in different directions. He named two of his works after Austen novels (Pride and Prejudice and Emma), and the connection between these modern creations and her novels makes better sense to the viewer with his accompanying explanation:
The artwork, Emma (2019), is from [my] Event and Incident Series. The series of works explores the idea of collected moments coming together to form an event. In this instance [I am] playing the moment just before an author writes out the first words of a book. The letters from the first ten words of the book are applied to various balls in the composition, making the viewer engage and search in the same way the author had to search [for] the words in the first place. . . . I enjoy the idea that we all have access to the letters of the alphabet but we are all not Jane Austen, William Shakespeare or Ernest Hemingway. The works are not about the actual books that they are titled after but more about the authors' existence up to the moment they sat and penned the first ten words.
Hartley readily admits he is not so much interested about Austen herself or the content of her novels, but about the moment of writing, of creation, prior to writing the book. He describes his works as if in a "colorful and playful visual dance . . . with each color and sized ball fighting for attention individually and within patterns" (Hartley). He has used other noteworthy authors for these pieces, including Charles Dickens, Oscar Wilde, and John Steinbeck. Thus, Austen's selection for Hartley's artwork is based on her foremost place in literature; he is emphasizing the act of creation and the viewer's interaction with his work over the actual text or author herself.
The same is true for Nicholas Rougeux, who employs Austen's language and words as the basis for his literary experimentation. Rougeux is a Chicago-based multimedia artist, who has created digitally enhanced artworks using Austen's texts. One Austen-inspired artwork was for a series entitled Literary Constellations (2017). He explains Literary Constellations as a series of posters designed to resemble constellation maps, but, instead of being based on real stars, the posters map first sentences from chapters of famous classic stories. Rougeux created constellations from the words of the first sentences of the first chapters of classic texts to draw paths based on word length and part of speech. Each part of speech is assigned a color; the length of the word determines the diameter of the circle. The directions of lines between the circles were based on what was being connected: noun, verb, adjective, etc. Rougeux used Jane Austen's works as his first attempts in this experiment; ultimately, he felt shorter texts worked better and did not continue with Austen, but he did share his early attempt with me.
A second Rougeux artwork in which he uses Pride and Prejudice was part of a series entitled Between the Words (2016), which, he explains, "is an exploration of visual rhythm of punctuation in well-known literary works." This experiment also visualized—or schematized the graphic elements of the text.
All letters, numbers, spaces, and line breaks were removed from entire texts of classic stories like Pride and Prejudice—leaving only the punctuation in one continuous line of symbols in the order they appear in the text. The remaining punctuation was arranged in a spiral, starting at the top center with markings for each chapter and classic illustrations at the center.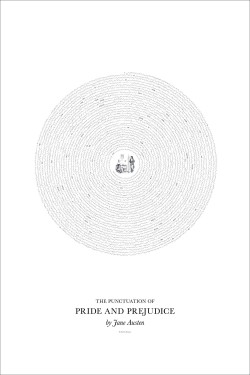 Rougeux readily admitted to me that Austen was the inspiration chiefly because she "was well-known. . . . I'm afraid I'm not familiar enough with Austen's body of work to carry on an intelligent conversation about it!" Despite his admitted lack of Austen knowledge, the effect on the page is mesmerizing; the design resembles a record with an illustration of Darcy and Elizabeth at its core. The circular string of punctuation is packed tightly, the only breaks for the Roman numerals identifying the chapter numbers. I appreciate Rougeux's honesty about his lack of knowledge of Austen and find his artwork, as well as Hartley's, fascinating, as they take, or in Rougeux's case, discard, Austen's words, creating modern works of art that truly bring the eighteenth-century author into the twenty-first century.
These ten artists provide many explanations of how and why Jane Austen has influenced their work. In some cases, the reasons are rather obvious. For some, she is a celebrated author, and her work meets the criteria for a famous text upon which to apply an experimental artistic design. For others, her tales are romantic, and the "happily ever after" ending one enjoys from reading her works attracts these artists to her characters. But in other cases, the motives for artistically rendering Austen are more personal and deep-seated: a true affection for Austen herself or for one or all of her novels. For those artists, the artistic tribute might come in the form of a portrait of the author, portrayals of her characters, or the employment of her words, setting, and style as a springboard to create highly original works of art. It is exciting that Austen's novels have captivated twenty-first-century artists. These works serve as a living testament to Austen's influence in the world of modern art.
NOTES
---

1The busts by Nathan and Boonham were on public display at Winchester Cathedral during the summer of 2010 for an exhibition by members of the UK Society for Portrait Sculptors. Dring's portrait was commissioned by David Baldock, director of the Jane Austen Centre in Bath.
2This topic was originally designed as a "Special Session" for the 2021 JASNA Chicago AGM, and for that reason I was limited in the number of artists I had time to present.
3Wells writes that Dring used Cassandra's sketch of Austen as her starting point and quotes the artist: "Cassandra's drawing may have been quite like Jane physically, but . . . failed to catch her sparkle" (148).
4"Visual Dialogues" was the name of the exhibit at Manchester Art Gallery where Perry first exhibited Jane Austen in E17.