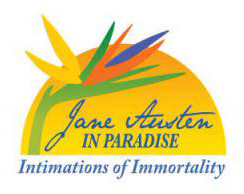 As the world celebrated Jane Austen on the two-hundredth anniversary of her death with banknotes and benches, exhibitions and eulogies, teas and tours, members of the Jane Austen Society of North America gathered in Huntington Beach for the Annual General Meeting. The theme was fitting: Jane Austen in Paradise: Intimations of Immortality. That title, of course, alludes to both Rudyard Kipling's comic poem "Jane's Marriage," in which Jane Austen arrives in Paradise, and William Wordsworth's more meditative "Ode: Intimations of Immortality from Recollections of Early Childhood." Two hundred years of afterlife might lead either to lightness of heart or to some solemn and philosophical musings, worthy of Fanny Price at her most rhapsodic.
But "immortality" is a word that neither Jane Austen's characters nor her narrators seem comfortable with. A search of an online concordance finds only one instance, near the conclusion of her last completed novel, Persuasion, as the narrator overflows with powerful feelings of affection and delight in the happiness of her two lovers:
soon words enough had passed between them to decide their direction towards the comparatively quiet and retired gravel-walk, where the power of conversation would make the present hour a blessing indeed; and prepare for it all the immortality which the happiest recollections of their own future lives could bestow.
Here "immortality" is a natural sequel to "blessing," redeeming the sorrows and losses of Anne and Wentworth's past, their "many, many years of division and estrangement." But the hyperbole of "immortality" is also teasingly parodic, a way of poking gentle fun at the transcendent emotions of the pair.
In addition to the celebratory comedy of overfull emotion, "immortality" also picks up the novel's emphasis on time, its expansions and contractions, its confusions of past, present, future. In this passage the narrator looks forward from "the present hour" to their "future lives," in which they will happily recollect the past (this present moment), which will then be transformed to the timelessness of immortality.
These varied implications of immortality capture the richness of the program at Huntington Beach created by AGM Coordinator Nancy Gallagher and her team. There the conversations focused on pain and redemption, death and afterlife, time and timelessness, not only on Austen's fiction but also on her literary predecessors and the transforming energies of her readers and adapters. Some of the presentations from that meeting are represented in the essays published here. (Others will be published in Persuasions 39, to be mailed this spring.)
The essays in this year's Miscellany likewise capture the richness of Jane Austen's immortality. This issue of Persuasions On-Line, the largest we've ever published, with contributors not only from North America but also from the United Kingdom, Turkey, New Zealand, Australia, China, and Brazil, also shows how Jane's fame has expanded beyond boundaries of drawing room or country village or nation or even language.
Such an undertaking as this issue has involved the labors of many participants: the authors whose work is presented here; the members of the Editorial Board (listed at the end of the Table of Contents), who donated many hours reading and responding to submissions with great thoughtfulness and care; Marsha Huff, who read every word and caught errors and infelicities; Bobbie Gay, who assisted in the proofreading; and Iris Lutz and Carol Moss, who worked with care, energy, and creativity to translate these essays to their new, online form. Their efforts have given us the power of conversation about Jane Austen, a blessing indeed.