Adapting Pride and Prejudice for television would at first glance seem to be the monopoly of the BBC, which has made six versions since 1938, although half of those (1938, 1952, 1958) no longer exist.1 Adaptations of Pride and Prejudice have also been made in the United States, Canada, Italy, the Netherlands, and Spain.2 Although, with five televised adaptations, worldwide the 1950s were clearly the heyday of Pride and Prejudice, most of those productions are now lost.3 The Dutch series, De vier dochters Bennet (The Four Bennet Daughters), is one of the few survivors; the only other surviving full series is Orgoglio e pergiudizio, a lengthy five-parter from Italy (1957). De vier dochters Bennet, with six episodes of 45 minutes each, ran from November 4, 1961, to March 24, 1962, with about a month between each episode. It was based on the screenplay by Cedric Wallis, which the BBC had used for both of its now-lost 1950s series. His original screenplay does not survive. De vier dochters could therefore be considered a remake of the BBC's fifties efforts and can offer us a glimpse of what those broadcasts must have been like. This article offers a brief description and analysis of the Dutch TV series and suggests why it was ultimately unsuccessful.
Conception and production
Surprisingly, there had already been a Dutch television program related to Jane Austen's Pride and Prejudice in 1957, namely the comedy Ladies en Gentlemen (August 28), also billed as De erfgename (The Heiress). It was based on the play The Heiress of Rosings, and it's no coincidence that the author's name was Cedric Wallis. Having provided the screenplay for the 1952 BBC adaptation of Pride and Prejudice, he wrote The Heiress of Rosings in 1956 as a continuation of the story. It was apparently only televised once, in the Netherlands—curious since the Dutch audience must have been mostly unfamiliar with Jane Austen's novel.4 Unfortunately nothing survives from this program except some photographs.
Ladies and Gentlemen was produced by the NCRV (Dutch Christian Radio Association), the Protestant broadcaster in the pillarized society of the Netherlands at that time, which shared a channel with the other denominations. The NCRV had much success in 1958 with a TV movie of Jane Eyre. The scenario was based on a BBC adaptation by Constance Cox and Ian Dallas from two years earlier, the difference being that the Dutch rendition had compressed the BBC's six half-hour installments into one 129-minute television movie. A recording of Jane Eyre was repeated in 1959, once agreement had been reached on what the actors were due for the recorded repeat, a new phenomenon. Having attracted very positive reviews, it was repeated a second time in 1961, meeting again with much enthusiasm. No doubt, after the success of Brontë, Austen must have seemed a good choice for a multi-part follow-up. The casual viewer, after all, tends to consider Jane Austen and the Brontës as the same thing—costume courtships, romantic entanglements from a more elegant age—whether that identification is justified or not.5
The screenplay for De vier dochters Bennet was translated by Lo van Hensbergen, who was more active as an actor on Dutch TV (this series appears to be his only writing credit). Although the opinions that Lizzy and others express are more frank and sometimes more modern than in Austen's novel, some of the Dutch words are old-fashioned, no longer part of the everyday language (e.g., schimpscheuten or gibes). With both the 1952 and 1958 BBC series and their scripts missing, it is not possible to say how far De vier dochters deviated from Wallis's adaptations. Although both the 1952 and 1958 BBC adaptations were broadcast in half-hour episodes, the Dutch installments clock in at around forty-five minutes each.
Re-using BBC scenarios wasn't in itself exceptional for Dutch television: several of its other drama productions (costume or otherwise) of this period also came directly from BBC scripts, and several BBC comedy series were remade in Holland, albeit by resituating them—though De vier dochters Bennet stays firmly situated in England. The alternative would have been simply subtitling the English programs (a common solution as well; redubbing, however, was not then and is not now done in the Netherlands except for children's content). To remake drama in this way was an occasional practice that did not survive beyond the seventies; eventually it came to be replaced entirely by showing the original with subtitles.
It seems unclear at first glance whether De vier dochters was live or pre-recorded. There are several newspaper reports from October 1961 stating that the entire series (described as taking place in the sixteenth century) had been pre-recorded—though some of these articles were clearly based on the same press release.6 The newspapers also reported that Peter Holland, the director, had his work cut out for him in having to shoot out of order.
But were all six episodes pre-recorded in their entirety? It is unlikely. Once or twice someone can be spotted using the wrong name or forgetting a line—most noticeably in the fourth episode when Bingley has forgotten, of all things, Jane's name. This kind of mistake would be hard to ignore unless there really was no other choice than for the show to go on. Most probable is that only some parts were pre-recorded on film, the so-called "filmed inserts"—the usual practice for most twentieth-century television programs whenever a live broadcast had to be supplemented with scenes that couldn't be done in the studio.7 After the first episode, several newspaper reviews complained about the drop in quality of the filmed portions—which could only mean that some parts were pre-recorded on film while others were not. For De vier dochters there are fourteen minutes worth of inserts still extant that are archived separately: including the opening credits (to Trumpet voluntary by Purcell), the entire ball sequence in the first episode (too complicated to risk doing live), and the short bedtime scene at the end of the second episode (no doubt because of wardrobe change).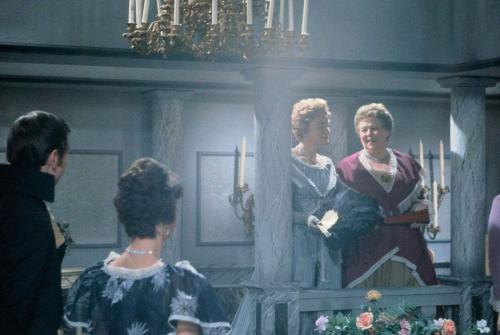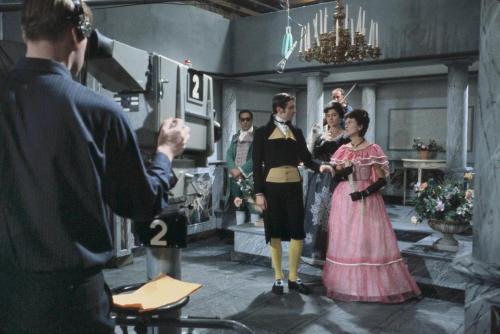 Two rare color photos on the set of the Meryton Ball.
Courtesy of Beeld En Geluid, the Netherlands.
The necessity of buying time for costume changes is responsible for some pre-filmed scenes. Similarly, during most episodes supporting actors carry on scenes for a bit after the leads have left. The most memorable example is surely the exchange between Lady Catherine and Mr. Collins regarding the beans that he is growing. Lady Catherine declares her plans to enter hers for a gardening competition, informing an unsuspecting Mr. Collins that his beans have grown beyond his station and that their length is now bordering on hubris. This seemingly pointless piece of dialogue between minor characters was possibly an invention from Wallis's version included to give the lead actors time to prepare for the next scene, that simply remained even when prerecording became an option. Use of pre-recorded inserts was, in any case, generally kept to a minimum. Since some episodes were to be broadcast months after the film was shot, the continuity of the production would need careful attention—another reason to employ inserts very sparingly.
De vier dochters Bennet has no real outdoor scenes; although a few scenes are played out in the streets of Meryton or in the garden, we are clearly seeing a studio set. The series looks like an indoor affair—quite different, for example, from the BBC's 1995 effort, which was shot entirely on location (and also on film).
Similarities and differences
As the title of this adaptation suggests, there are only four Bennet daughters: there is no Kitty in this version. Her absence hardly affects the story: Mary takes care of the coughing, and Lydia's revealing letter is sent instead to the Forsters. In general, the story's events progress as we would expect, and the characters have the same history, attitudes, and relationships. Even without subtitles it is not difficult to recognize Mr. and Mrs. Bennet by their tone of voice. The character names and the period have not been "nationalized";8 the story is still set in England. Most of the familiar scenes and sentences from the story have been translated more or less faithfully—that is, De vier dochters tries to stay close to the original. The order of events is unaltered; some things may have been omitted, but very few new scenes or themes have been added; and the characters and their motivations have not significantly changed.
At the level of dialogue, exchanges are often new inventions. When Mary, for example, confesses an interest in actors instead of officers, her mother rebukes her, telling her with great conviction that an actor "is exactly like the curly tail of a pig: very amusing, but useless." These new lines, however, are consistent with the main characters as we know them. Although, in this case, Mary's character gains some slight depth, the role of Mrs. Bennet remains essentially unchanged. Similarly, each episode opens with an extract from one of the sisters' diaries—exposition helpful after so many weeks since the previous installment. This narrative tactic further reveals their personalities and, in the case of the discerning Elisabeth (spelled here with an s), allows for some sharp comments on the position of women in society.
De vier dochters contains a few entirely new scenes: for example, the bean debate already mentioned and the negotiations between Darcy and Wickham, a confrontation that in the novel is not described. (Wickham here tries to extract the maximum amount of money from Darcy.) This scene adds dramatic irony to the episode that is not present in the book as the viewer is temporarily ahead of the Bennets, who are still completely unaware of Darcy's role in bringing a happy end to Lydia's elopement.
While the story still unfolds along the lines we would expect, there are some differences in accentuation. The tone of the series is more direct and subtleties of behavior are more overtly explained than in the novel. In addition to the Darcy–Wickham negotiations, other moments include Mr. Collins's open inspection and trying out of Mr. Bennet's furniture (which will someday be his). Elisabeth is more explicit in her opinions and so is Mrs. Gardiner, who explicitly rebukes Caroline Bingley when the latter finally visits Jane.
There are possible explanations for this change. The Dutch generally don't beat about the bush. Then again, other serializations applied similar changes: the earlier Italian version goes further, opening with Darcy and Wickham fighting a duel with swords; the much more faithful 1967 BBC version changes and amplifies the confrontations in the story. The code of conduct of the 1800s—when, for example, simply introducing oneself the way Mr. Collins does to Mr. Darcy was a faux pas—may have seemed too subtle for viewers of the 1960s. Further, except with their closest friends and relatives, the characters' conversations in the novel are always very formal and often conceal feelings; when someone (like Mrs. Bennet) isn't up to that standard, it is extremely embarrassing. Television may have wanted to sharpen the emotions and the conflicts to make them clearer, and to engage the modern viewer to whom these restraints on behavior might be difficult to understand.
Cast and crew
For most of the actors, this television production was their first. Lies Franken (Elisabeth; 1930–1996) already had performed a handful of roles and would play in eight more productions. Ramses Shaffy (Darcy; 1933–2009), although he did a lot of acting, is much better known as a musician of the hippie generation, a few years later. His appearance now seems something of a surprise, but because he was acting at the time, he wasn't truly out of place. Ann Hasekamp (1926–2009) played Jane, although she and Lies were both approximately a decade too old. Maxim Hamel (Bingley; 1928–2001) and Pieter Lutz (Collins; 1927–2009) were veteran actors who appeared in many Dutch TV series. Frans 't Hoen (Wickham; 1920–1967) was to die a few years after this production. Apart from Shaffy, the cast does not include anyone unexpected.9
As for the director, Peter Holland, De vier dochters Bennet is the type of work he did quite often, namely costume productions for the NCRV; his most famous production (in the Netherlands, that is) must be Swiebertje. He also sometimes worked as an actor.
Reception and rediscovery
The series was announced in the papers a month or two before it started. The response was lukewarm. Reviewers found the theme outdated and considered the series mildly entertaining at best but in an old-fashioned way and with too much giggling (e.g., the mirth in the Bennet household when Mr. Bennet reveals that he in fact already has paid a visit to Mr. Bingley)—an attribute subsequently toned down a bit for the remainder of the series. Mostly the criticism concerned the story; the actors were not often mentioned, except once or twice for not learning their lines (and they were even pitied for being in the series). Throughout the whole run of the series, newspaper columnists generally remained unimpressed, mentioning each new installment only briefly and as of interest chiefly to female viewers. Only its spaced-out, long term plan continued to attract comment, as did occasionally the picture quality of the filmed inserts.
Some critics were of the opinion that six episodes was far too much time to play out the story. Surprising as this idea might seem now, there have been several anthology series that managed to fit the book into one hour, beginning with the BBC's 1938 adaptation. One reviewer complained about historical inaccuracy (L. R.). Generally most papers stuck to their initial opinions: De Telegraaf judged De vier dochters most harshly, calling it on one occasion "a painful mistake" and "tasteless" (L. R.); Trouw remained mildly positive, for example, judging it "perhaps popular with many, but not sensational" (Dn).
Undeterred by this negative coverage, episodes four, five, and six opened with a special introduction in the form of a light-hearted narration that reminded viewers of the story so far. The opening of episode six includes a song and a puppet theatre, suggesting that some fun was had in making the series. Judging by contemporary sources, the audience doesn't appear to have been very much impressed; however, statistics are not available because viewing figures were not systematically collected until 1965.
After the final episode, there didn't seem to be any regrets that it was over, rather the contrary: several local and national papers expressed relief.10 Some blamed the director for not breathing life into an otherwise good novel. A Frisian newspaper praised the performances of Lizzy, Darcy, and Mr. and Mrs. Bennet ("Kijk en luister").
Based on the available evidence, De vier dochters Bennet may be considered a failure. The NCRV was not able to repeat its earlier success with the TV movie of Jane Eyre. It did not abandon costume dramas as a genre, but henceforth these would be limited to a TV movie format—a return in fact to the previous form. Shortly afterwards, for example, the NCRV televised The Barretts of Wimpole Street, based once again on a screenplay of a BBC serial but reduced to one evening's screen time.
De vier dochters remains to this day the only Dutch TV adaptation of Jane Austen's work. No repeats were scheduled, nor was it ever exported to Belgium, which would have been the most obvious taker, given the shared language (for example, Flemish public television showed both of the Dutch Brontë TV movies mentioned earlier), or to any other country. (One possibility could have been to re-cut the episodes into one television movie, but this option was not pursued; if it had been, we probably wouldn't have the complete series today.)
Because the episodes were all recorded on film, possibly because the initial expectations for reusability had been higher, they were therefore safely archived. Eventually, forty-nine years later, in December 2010, the series was finally shown again on a digital channel. This broadcast, combined with its presence on YouTube (where it is fan subtitled) and other new platforms, increased general awareness of its existence among fans of Jane Austen. De vier dochters Bennet nevertheless remains an oddity, never issued on VHS or DVD, although on-demand copies can be ordered from Beeld En Geluid (Vision and Sound), the national TV archive in Hilversum, the Netherlands.
Analysis
Most claims about what makes or breaks a cultural work cannot be proven. Any explanation must therefore be at least partly an opinion. In my view, De vier dochters Bennet should perhaps have changed more of its Cedric Wallis source rather than just sharpening a few lines. Jane Eyre was often televised before the early Pride and Prejudice productions, but it is fundamentally different from Jane Austen's works, especially in terms of the social conventions and aspects of life focused upon. In the world of the gentry described in Pride and Prejudice, control was paramount and displaying raw emotions was unthinkable. The formalities and the conversation, especially in combination with the ironic style of Jane Austen, reflect this trait: much of the dialogue, that between family and closest friends excepted, is reserved. The ideal inhabitants of this somewhat protected environment are reserved and keep their true passions generally on the inside. The characters who speak or behave unrestrainedly, such as Mrs. Bennet, are seen as foolish and ridiculous. This characteristic, simply part of what makes Pride and Prejudice what it is, may make it more difficult for people living one-and-a-half or two centuries later to relate to the characters on a personal level; the modern television audience especially needs to see emotions in order to empathize. The combination of this cultural distance with the long wait between the episodes may have been the series' weak spot: it made it too hard for the viewers to get involved.
For a comparison, we can look at the other surviving takes on the novel, for example those from Italy and the U.K. serialized around the same time. Although they are very different from each other, each in its own way heightens tension. The 1967 British Pride and Prejudice interjected a few extra confrontations, but the 1957 Italian adaptation went much further, adding several entirely new showdowns between Darcy and Wickham, even opening with the two of them fighting a duel with swords. There are some exchanges that needed no heating up: Elisabeth's rejection of Darcy's first proposal and Lady Catherine's visit to Longbourn; these exchanges are already at the right temperature, so there was no reason to ramp up those meetings. Those two moments, however, were not enough for five or six episodes, so both adaptations enhanced other conflicts to make them more overt.
Today, De vier dochters Bennet looks mildly amusing, and one must make allowance for the fact that most of it was performed live, with no possibility of retakes. The series' occasional old-fashioned naivety (such as the giggling in the first episode) might be considered more charming today than at the time of its creation. After all, it's unforgivable to be just a few years out of date, but at several decades distance nostalgia can change perception. Possibly the atmosphere was too much nineteen fifties for the early sixties—and maybe the 1950s script was to blame for part of this. Today's audience, however, might find the viewing experience slightly camp or even a guilty pleasure.

De vier dochters Bennet (6 parts of 45 minutes)
Elisabeth Bennet: Lies Franken
Jane: Ann Hasekamp
Lydia: Liselot Beekmeyer
Mary: Marja Habraken
Fitzwilliam Darcy: Ramses Shaffy
Mr. Bingley: Maxim Hamel
Lieutenant Wickham: Frans 't Hoen
Caroline Bingley: Yda Andrea
Mr. Collins: Pieter Lutz
Lady Catherine de Bourgh: Loudi Nijhoff
Part one (Nov. 4, 1961)
Mr. Bingley and Mr. Darcy are introduced, by proxy; we finally get to see them at the ball. Jane falls ill at Netherfield; the episode ends with an exchange between Elisabeth and Darcy.
Part two (Dec. 11, 1961)
Mr. Collins's letter arrives. He and Mr. Wickham each make an appearance. Lizzy rejects Mr. Collins, and the Netherfield party abruptly leaves, saying goodbye to Jane by letter.
Part three (Dec. 30, 1961)
Jane goes to stay in London with her uncle and aunt Gardiner; Elisabeth visits Hunsford. The episode ends on a cliffhanger, just as Mr. Darcy has started to propose to Elisabeth in the parsonage.
Part four: "Elisabeth in dubio" (January 27, 1962)
The episode opens with Darcy's full proposal, and Elisabeth's rejection. Lydia goes on her seaside trip while Lizzy accompanies her uncle and aunt on a tour north. Again there's a cliffhanger ending as the news of Lydia's elopement reaches Elisabeth.
Part five (February 24, 1962)
The consequences of Lydia's elopement take up most of this episode. Darcy's contribution to the search and the wedding is shown explicitly. At the end, Elisabeth puts the pieces together and realizes his involvement.
Part six (March 24, 1962)
The final episode sees the return of Mr. Bingley to Netherfield. Mr. Bennet receives Mr. Collins's warning letter, and Elisabeth receives Lady Catherine's warning in person. The final shot is of Mary Bennet, now the only daughter left unmarried.
NOTES
---

1Professional video tape was introduced in the late 1950s. Capturing the output on film—onto so-called telerecordings or kinescopes—initially gave disappointing results, until the technology gradually improved. Early TV programs were therefore almost always broadcast live. Of the adaptations of Pride and Prejudice from 1938, 1952, and 1958, only the last was recorded; the earlier ones were not stored on either magnetic tape or film.
2Orgoglio e pergiudizio will be covered in a separate article. On the Spanish adaptations, see Romero Sánchez.
3Only the oldest broadcast, an episode of the anthology series Philco Television Playhouse from January 1, 1949, still exists. See Wels.
4The BBC had aired it as a radio drama on July 2, 1956; no copies of that broadcast are known to exist.
5By coincidence, Italy's RAI had performed both adaptations in that order a few years earlier, and Spanish television would do the same a few years later. (The NCRV would later return to Brontë in TV movie format with De woeste hoogte (Wuthering Heights) in 1966, again based on a BBC script, this time by Nigel Kneale, which the BBC had produced in 1953 and again in 1962. Perhaps surprisingly, in contrast to the older Dutch productions of Jane Eyre and De vier dochters, this later program is now lost; the advent of professional video tape meant that shows could now be wiped and the tape reused (not possible for film).
6See picture caption in Trouw 2 Oct. 1961: 7; "NCRV-tv"; "TV-feuilleton"; "De vier dochters"; "Marja Habraken." Many of these and other newspapers articles were consulted using the website Delpher—Boeken Kranten Tijdschriften (https://www.delpher.nl).
7As a matter of fact, Ampex professional video tape was just about to be introduced in the Dutch television industry (on another production) around the same time that De vier dochters Bennet made its debut.
8An example of nationalization would be "The Steele Family Story," an episode of the TV show Wagon Train (aired June 17, 1959). It adapts the story entirely to the western genre.
9Note that consulting the IMDb overview of an actor's output may be in this case slightly misleading: Dutch shows from the fifties, especially since the majority of them no longer exist, are often simply far too obscure to have been added there. Most of the cast, in fact, appeared in several or indeed in many other shows.
10See, for example: "De dochters Bennet"; "Telespiegel"; "Draadloos contact."