Portland – "City of Roses"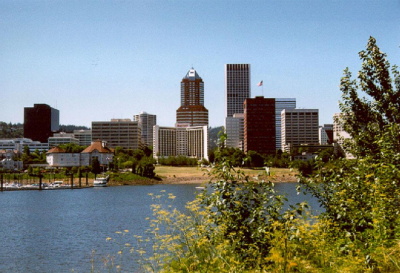 Downtown Portland
Portland, Oregon is often called the United States' most liveable city. During our AGM, you'll have a chance to see why! Portlanders love their city, and the members of JASNA will too. It is a city which combines all the urban amenities with culture and nature. With majestic Mt. Hood looming over the city, the gently winding Willamette River running through it, a park on nearly every other block, beautifully tended neighborhoods and a vibrant downtown, Portland is held up as the city to be emulated. It has a much-noted restaurant scene, which makes good use of Oregon's local vineyards, farms, forests and rivers. The excellent public transit system will provide virtually door-to-door service from the airport to the Hilton Hotel. Light rail, trolleys and buses are free within a 400-block "Fareless Square." There is extensive shopping in a clean, safe and charmingly whimsical downtown.
Within walking distance of the conference hotel is the Chinese Classical Garden and Teahouse, an authentically built cultural heritage garden and living museum of Chinese trees and flora.
To understand why Portland is called the "City of Roses," hop a bus and see the world-famous International Rose Test Garden. The Garden was founded in 1917 and is the oldest official, continuously operated public rose test garden in the United States with over 8,000 rosebushes. Enjoy the unsurpassed view of Portland from the terraced hillside garden.
Next to the International Rose Test Garden is the Japanese Garden. It is a traditional Japanese garden on 5.5 acres. A special feature of the Garden is the Kashintei Tea House, where formal tea ceremonies are periodically demonstrated. The tea house was built in Japan, disassembled, and then rebuilt in the Garden.
No Janeite will want to miss that bibliophile's paradise, Powell's City of Books, which boasts a million books on four floors of an entire city block and will supply its own store map to guide you.
The Portland Art Museum is the seventh oldest museum in the United States and the oldest on the West Coast. The Museum is internationally recognized for its permanent collection and ambitious special exhibitions.
Portland State University is part of the Oregon University System with 25,000 undergraduate and graduate students.