Everything Came Up Roses at the AGM in Portland!
No mystery about it…Portland is the city of foodies and roses and Pinot Noir. Very little mayhem except for moving 680 people up and down escalators and in and out of elevators. However, muslin, and silks and feathers, pirates and baronets were in abundance! Our volunteers…over fifty of them…mustered and massed and we had a wonderful party! How splendid it was to see everyone's hard work come to fruition. The Hilton's large Registration area reserved specially for us held much to look at and admire: attendees loved Nan Williams' display of tote bags through the ages from Quebec in 1998…as they unpacked their 2010 tote bag, found Heather McGiveney's amazingly helpful trifolds, and put on their silk roses (In the teeth? Behind the ear? On the name tag?) and worked out how to use the little Book Light with the appropriate lighting quote from Northanger Abbey. Sue Nunley's photo displays of Bath and Portland were much appreciated as were the (real) red roses in vases seen everywhere in the Hilton Conference rooms: on tables, in niches, on the platform for the Plenary Speakers and the special events. It takes a village to create a conference like this, and to steal the Bard's words we say to all our guests and our gracious and friendly and superbly organized volunteers, "[We] can no other answer make, but, thanks and thanks and ever thanks."
If we were to take Henry Tilney's advice and keep a journal ("Not keep a journal!") many AGM events would definitely be recorded: Angela Barlow's amazing dramatic presentation gave a rollicking start to the Oregon and SW Washington AGM. With just an inflection of the voice or a twist of the head, Angela made characters come alive before us! Mrs. Elton will be forever lodged in our heads with that high-pitched sneering nasal tone. Catherine Morland—who, by the end of the conference, people were coming to love, some despite themselves—had a lilting child-like voice that perfectly captured her innocence. Stephanie Barron, the Carol Medine Moss Keynote Speaker, engaged everyone in her fascinating overview of detective methods and her thesis that Jane Austen was indeed one of the first detective writers. The audience was delighted that Stephanie encouraged questions, and she gave a rousing defense of Jane Austen's spelling and punctuation in the wake of Kathryn Sutherland's recent research. (This conversation continues on line). Juliet McMaster, the JASNA North American Scholar gave a moving welcome to her family who can rarely attend her presentations at an AGM. How fitting that they attended this one which was so expertly worked out in thesis and evidence. Juliet gave some stellar pieces of advice: "Always watch [Austen's] 'almosts'; and insights using terms like the "metaphor of the brain," showing how Catherine becomes "richly aware of herself" with "moral discrimination." A joy to listen to and we hope this will be published.
A journal entry for Jeff Nigro's presentation might well ask for copies of the pictures he used in his magnificent lecture cum slide show! Whirling his way through centuries of fashion, Jeff showed us more about ruffs and furbelows, silks and sashes than anyone could ever wish to know. And what this Renaissance man does not know about muslin (cotton, damask, brocades etc) is not worth having! Henry Tilney look out!
But who could not record in her journal the Team Tilney event? Even die-hard Darcy fans must have been convinced by the erudition and passion of Margaret Sullivan the moderator, and her team: Kelley Brown, Heather Laurence and Lynn Marie Macy. And who could ever forget the sudden appearance of Henry Tilney himself? Many jet-lagged attendees might be forgiven for thinking they were in a time warp because Joe Homes (a local Portland actor) played the part so well…and was "hot"…. fans at the ready ladies!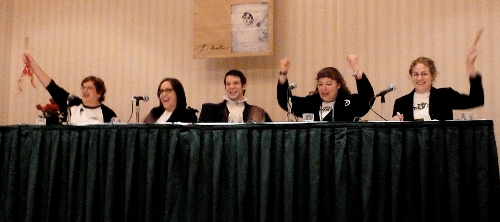 Team Tilney (Maggie Sullivan, Kelley Brown, Joe Homes (aka Henry Tilney),
Lynn Marie Macy and Heather Laurence)
Photograph by Sue Nunley
If you were lucky enough to reserve a place at the Portland Art Museum to watch the Wild Rose Garland Dancers, another treat taking you back in time was in store for you. The haunting bodhran, the simple clear sound of recorders gave a lovely background for the smiling graceful dancers with their pink and green garlands. A unique experience indeed, as was the outstanding Book Display at the Multnomah library. Never at any AGM has a rare books and print collection like this been seen before. The exhibit skillfully displayed not only First Editions of Austen's works, but also those of Frances Burney, Maria Edgeworth, Elizabeth Inchbald, and Charlotte Smith. The visual ironies of the period were captured in the caricatures of James Gillray (1757-1815) and Thomas Rowlandson (1756-1827), who chronicled British political, social, literary, religious and moral foibles of the late 18th and early 19th centuries. Beneath the prints, silver teapots and a tiny musical score added a personal touch. Those fortunate enough to attend the reception when one of the collectors, Paula Stepankowsky, described some of the gems (including a shawl thought to be pieced together by Jane Austen) in the exhibit were taken aback by the extent of the collection, and the generosity of sharing it by Paula's sister and brother-in-law Marian LaBeck and James Petts. When Paula also thanked her husband for these massed birthday, anniversary and holiday gifts over the years, one questioner asked, "Where do you find a husband like that?". The answer? "Graduate school!" Our thanks to Paula and her husband and all those involved in setting up such an outstanding exhibit.
And so to the Breakout sessions…if only our journaler could have attended all 33 of them! She might have extolled the erudition of "About Those Abbeys…" and all the wonderful slides. Or journalled at length on "The Real Bluebeard of Bath"; or Arnie Perlstein's theories of death in childbirth…but alas she could only be in one place at a time! She would of course offer her thanks to Dr. Mary Margaret Benson for all her work on choosing such fascinating and varied papers. What other conference would present papers on subjects varying from ruses, pineapples, plain black shoes…to masculinity and muslin?
Muslin of course brings our journal writer to the Bal Masqué…decked out in a beautiful dress purchased at the extensive emporium, "Milsom Street," wearing a bracelet and necklace bought there, also a reticule and magnificently feathered hat. She would describe the conviviality of the banquet and the very moving toast to Jane from one of the founding members of JASNA: Joe Costa. After the banquet she would tell how she joined the other 300 dancers and, unlike poor Catherine, found immediately a partner who danced superbly. The four earlier excellently conducted workshops prepared every dancer for the steps of the English Country Dances called so expertly by the Dance Master Erik Weberg. Talented musicians played exuberantly throughout the night, the dancing was of very high quality and everyone retired with spirits dancing within them.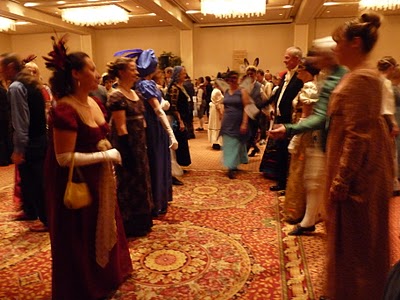 Bal Masqué (Photograph by Diana Birchall)
So to the last morning of the conference and with "more than usual eagerness" people gathered for the hand over of the banner to the Fort Worth AGM Committee whose hilarious film promises us all that "girls just want to have fun" next year, at the 200th celebration of the publication of Sense and Sensibility. A poignant moment came with the farewell to our President Marsha Huff and the succession to the new president Iris Lutz who we all know will continue the superb work of Marsha and all past presidents. First however came the winner of the J. David Grey Young Writers' Workshop, Bonnie Helm, who gave us all hope for the future writers in our midst, and then thanks to the 50 plus volunteers who made this conference a success. Too numerous to be thanked by name they will be so on line and recognized at a Beer and Pizza Party in December! Carol Moss deserves a special shout out for all her hard work with the website and registration…we could not have done it without you, Carol! Hurrah for such skill and brilliance! And finally the last event: a panel discussion which gave us no mayhem but good cheer and collegiality among William Phillips, Diana Birchall, and Joan Ray, all deftly controlled by Kimberley Brangwin in yet another superb chapeau! No mayhem but an amazing piece of Abbey Doggerel dashed off by William in a spare moment! With cries of "Publish! Publish!" the audience begged William who graciously agreed and this overview of Northanger Abbey may be found on line in the Austenblog.
Your devoted servants at the Portland AGM hope you all returned home safely to your villages, if not exactly heroines, then at least refreshed and enlivened. We hope that you remember our lovely City of Roses, our beautiful gardens and wineries, the majestic Mount Hood, and that immortal line: "Tilney rules, Darcy drools!"
Pauline Beard
Frank McClanahan
Susan Schwartz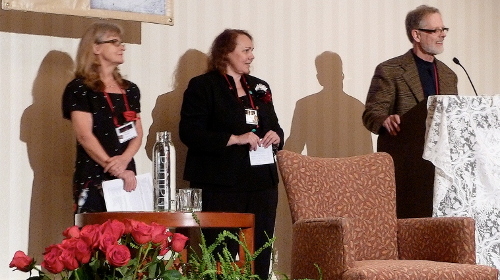 Coordinators Pauline Beard, Susan Schwartz, Frank McClanahan
(Photograph by Sue Nunley)