Tours
Azumano International has arranged several optional tours for JASNA members and their companions. Read on for tour and registration information.
Columbia River, Astoria, and the Oregon Coast
Thursday, October 28 (8:00 a.m. – 5:30 p.m.)
$95 per person covering transportation, guide, entrance fees, and lunch
Explore the history of Lewis & Clark by visiting the "frontier" of the Pacific Northwest. The mouth of the mighty Columbia River is the sacred location where Native Americans fished for salmon and sturgeon. Climb 164 steps at the recently restored Astoria Column and get a bird's eye view of the breathtaking scenery. Take a break for a lunch of fresh seafood at the Astoria Pier. From there, journey on down the Pacific Coast to the nearby town of Cannon Beach, a mecca for Oregon artisans. You may be surprised to discover one-of-a-kind craftsmanship and artistic beauty in the many galleries and shops. If it is raining the tour will still run, so carry an umbrella and raincoat.
The Heart of Pinot Noir Country – Oregon Winery Tour
Saturday, October 30 for Companions (12:00 p.m. – 4:30 p.m.)
Sunday, October 31 (1:00 p.m. – 5:30 p.m.)
$85 per person covering transportation, guide, and basic tasting fees
Sample the distinctive flavor of Pinot Noir, Chardonnay, and late harvest dessert wines in a lush country setting. Oregon's wine country is located at the 45th Parallel, the same latitude as Bordeaux, France. We will visit three wineries owned and operated by local families who are dedicated to crafting distinct wines that reflect the Willamette Valley earth and climate—in particular, the lush red hills of Dundee. Join our winery tour and discover our proud Oregon wines. Tasting fees are included in the tour price. We are sorry but we cannot reduce the price for non-imbibers.
Three Portland Fall Gardens
Sunday, October 31 (1:30 p.m. – 5:00 p.m.)
$45 per person covering transportation, guide, and garden entrance fees
Regarded as one of the most authentic Japanese gardens outside of Japan, the Japanese Garden at Washington Park is nestled in the scenic west hills of Portland, Oregon. The 5.5-acre Garden is composed of five separate garden styles: a Strolling Pond Garden, a Tea Garden, a Natural Garden, a Flat Garden, and a famous Sand & Stone Garden—all of which seamlessly blend into one another to provide surprising vistas and restful repose. The Japanese Garden is spectacular in the fall.
The Portland Classical Chinese Garden is a spot of serenity in the heart of Chinatown. It has its own authentic tea house with a pond view for rest and reflection. The plantings are never twice the same; the garden is an authentic cultural heritage garden and a living museum of Chinese trees and flora. Within this authentic Ming Dynasty scholar's garden, serpentine mosaic paths lead to harmonious landscapes of plants, water, stones, pavilions, and poetry.
Portland also boasts the oldest Rose Testing Garden in the United States. It is filled with more than 550 species, and a leisurely stroll reveals a myriad of colors and scents to enjoy. This garden is a landmark of Portland, the City of Roses.
This tour requires a little walking over uneven ground that may even be wet. If it is raining the tour will still run, so carry an umbrella and raincoat.
Mt. Hood Loop
Monday, November 1 (8:00 a.m. – 5:30 p.m.)
$95 per person covering transportation, guide, and lunch
Mt. Hood (11,249 ft) and the cliffs of the awe-inspiring Columbia River Gorge look down on quaint riverfront towns, countless waterfalls and exhilarating windsurfing waters. The often-photographed Mt. Hood is home to four ski areas, including historic Timberline Lodge, a classic WPA-era mountain lodge, that offers North America's longest ski season and Mt. Hood Ski Bowl, which offers the country's largest night skiing area. Run-off from Mt. Hood's volcanic slopes enriches soil in the valleys below, making the Hood River Valley one of the largest fruit-growing regions in Oregon with apricots, apples, blueberries, pears—even wine grapes that make for exceptional vintages.
Starting from Portland and driving through the National Scenic Area, we will drive up the Columbia Gorge to our first stop, Multnomah Falls. This is the largest waterfall in Oregon at 620 feet. We will continue driving up the Columbia River to lunch at Hood River where world class windsurfers enjoy the gusty winds. Next we will drive up Mt. Hood to visit Timberline Lodge before returning to Portland. (In snowy weather, our bus will not be able to visit Timberline Lodge.)
The Mt. Hood loop showcases the city area of Portland, beautiful gorges, incredible waterfalls, and richly timbered Oregon mountains.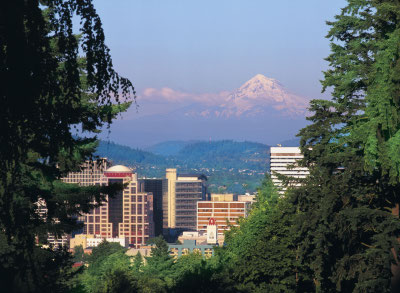 Mt Hood as seen from Washington Park
Photograph courtesy of Peter Uchytil
Tour Registration Deadline: September 8, 2010
While a tour registration form was included in a mailing to all JASNA members, we would prefer that you fill out the version in Adobe Acrobat PDF format posted below. (Click on "Tour Registration Form" in the red button.) This is an auto-fill version that will allow you to easily type in your information, and it will even calculate your Total amount at the bottom of the form. We ask you to print out two copies, keep one, and mail in the other with your check or money order made out to Azumano International (address on the form). Tour registration confirmations will be sent by Azumano International.
Tour questions? Please email Azumano, at portland@azumano.com.
Notes about the Form:
Before completing the registration form, please check the tour descriptions above to see if any have sold out.
Only the Total amount at the bottom of the form will be calculated automatically. You will need to enter the correct fee amount on each line, multiplying the fees yourself if you are purchasing tickets for more than one person. Some Mac users may find that the Total does not calculate automatically. In that case, please write in the Total manually.