Hotel
The conference hotel will be the centrally-located Hilton Portland & Executive Tower, the largest Green Seal Certified Hotel on the West Coast. The Hilton Portland Hotel offers you an elegant oasis in the heart of the city. You will know you are in for something special the moment you enter the dramatic two-story atrium and approach the Grand Staircase, which leads to the Plaza Level. Within walking distance of the hotel are museums, gardens, parks, shops and restaurants.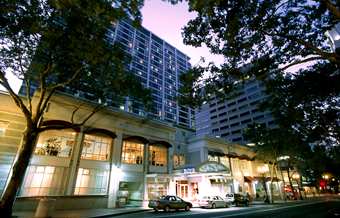 Hilton Portland
"Beware of the insipid vanities and idle dissipations of the metropolis of England; Beware of the unmeaning luxuries of Bath and of the stinking fish of Southampton." "Alas! (exclaimed I) how am I to avoid those evils I shall never be exposed to?… I who am doomed to waste my Days of Youth and Beauty in an humble cottage in the Vale of Uske."
Laura, Love and Freindship, 1790
While Portland, Oregon may pride itself with the sobriquets "Stumptown" and "Rip City," your hosts assure you that "idle dissipations" and "stinking fish" will not be part of your sojourn.
Janeites, you are not doomed to waste your "Days of Youth and Beauty in an humble cottage!" Join us for "Mystery, Mayhem & Muslin" on Halloween Weekend at the Hilton Portland.
Room Reservations
Make your reservation now by calling 1-800-Hiltons or reserving a room online using this link. Ask for the conference rate for the "Jane Austen Society of North America."
$169 per night plus tax, single or double occupancy
Rooms can be reserved at the JASNA rate until October 6, 2010 or until the JASNA room block has been filled, whichever comes first. Make your hotel reservation early to avoid disappointment. The conference hotel only holds a certain number of rooms (the block) for attendees at the special JASNA rate. Once all the rooms in the block have been reserved, the hotel is under no obligation to provide a JASNA attendee with a room. If the hotel has extra rooms that are not part of the block, it may offer them at a higher rate.
Specify whether you want a king bed or two double beds when making reservations. The hotel will accommodate your preference if the type of room you want is available. The JASNA rate applies to rooms reserved for October 24 through November 4, based on availability.
Roommate Referral Service
If you would like to share a room with another JASNA member to make new friends and save money, you can request a roommate referral on the AGM registration form. The form was mailed with the AGM registration brochure and and is also available on the registration page. We will send you the contact information for a fellow JASNA member who would also like a roommate so that the two of you can determine whether your respective arrival and departure dates are a good match.