Persuasion (2022)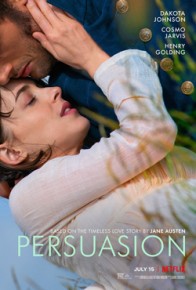 Studio/Network: Netflix
Director: Carrie Cracknell
Screenplay by: Ron Bass and Alice Victoria Winslow
Cast
Anne Elliot - Dakota Johnson
Captain Wentworth - Cosmo Jarvis
Sir Walter Elliot - Richard E. Grant
Mary Musgrove - Mia McKenna-Bruce
William Elliot - Henry Golding
Lady Russell - Nikki Amuka-Bird
See more on IMDb
Persuasion (2007)
Studio/Network: ITV/Grenada Television Ltd. co-production with WGBH Boston
Director: Adrian Shergold
Screenplay by: Simon Burke
Cast
Anne Elliot - Sally Hawkins
Captain Wentworth - Rupert Penry-Jones
Sir Walter Elliot - Anthony Head
Mary Musgrove - Amanda Hale
William Elliot - Tobias Menzies
Lady Russell - Alice Krige
See more on IMDb
Persuasion (1995)
Studio/Network: Sony Pictures Classics/BBC Films, WGBH/Mobil Masterpiece Theatre, Millesime Productions
Director: Roger Michell
Screenplay by: Nick Dear
Cast
Anne Elliot - Amanda Root
Captain Wentworth - Ciaran Hinds
Sir Walter Elliot - Corin Redgrave
Mary Musgrove - Sophie Thompson
William Elliot - Samuel West
Lady Russell - Susan Fleetwood
See more on IMDb
Persuasion (1971)
Studio/Network: Grenada Television Ltd.
Director: Howard Baker
Screenplay by: Julian Mitchell
Cast
Anne Elliot - Ann Firbank
Captain Wentworth - Bryan Marshall
Sir Walter Elliot - Basil Dignam
Mary Musgrove - Morag Hood
William Elliot - David Savile
Lady Russell - Marion Spencer
See more on IMDb


For Your Consideration...
---
Modern Persuasion (2020)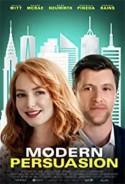 A modern-day reimagining of Persuasion, starring Alicia Witt as Wren Cosgrove and Shane McRae as Owen Jasper. The plot is very loosely based on the novel; a single woman focused on her career in New York is forced to deal with the aftermath of a failed relationship when an ex-boyfriend hires her company. The heroine's copy of the novel plays a role in the movie.
The Lake House (2006)
A remake of the Korean film Il Mare, The Lake House is a poignant time-travel story of chances lost and found. Sandra Bullock as Kate Forster and Keanu Reeves as Alex Wyler live in the same house, two years apart, and through a twist in time are able to leave one another letters in the house's mailbox. Kate's favorite novel, Persuasion, figures heavily in the film and the final scene is reminiscent of "the letter" scene in Persuasion.
Bridget Jones: The Edge of Reason (2004)
The novel by Helen Fielding, a sequel to Bridget Jones's Diary, is an homage to Persuasion, but the story was changed significantly for the film. Screenwriter Andrew Davies (film adapter of several Austen novels) reports that his script included many references to Persuasion, but most did not make it to the screen.


Further Reading
---