Sanditon (2019)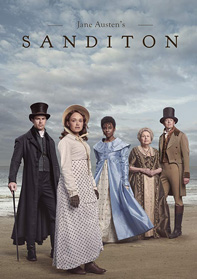 Studio/Network: Red Planet Pictures, ITV Studios, PBS (USA)
Director: Olly Blackburn, Lisa Clarke, Charles Sturridge
Screenplay by: Andrew Davies
Cast
Charlotte Heywood - Rose Williams
Sidney Parker - Theo James
Tom Parker - Kris Marshall
Miss Lambe - Crystal Clarke
Lady Denham - Anne Reid
Sir Edward Denham - Jack Fox
See more on IMDb
Love & Friendship (2016)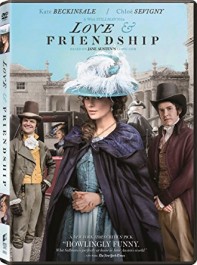 Studio/Network: Westerly Films
Director: Whit Stillman
Screenplay by: Whit Stillman
Soundtrack: Available
Cast
Lady Susan Vernon - Kate Beckinsale
Frederica Vernon - Morfydd Clark
Alicia Johnson - Chloë Sevigny
Reginald DeCourcy - Xavier Samuel
See more on IMDb
Death Comes to Pemberley (2013)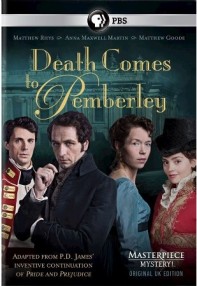 Studio/Network: BBC Drama Productions
Director: Daniel Percival
Screenplay by: P.D. James, Juliette Towhidi
Cast
Fitzwilliam Darcy - Matthew Rhys
Elizabeth Darcy - Anna Maxwell Martin
George Wickham - Matthew Goode
Lydia Wickham - Jenna Coleman
See more on IMDb
Welcome to Sanditon (2013)

Find it on YouTube
Director: Joshua Caldwell
Writers: Tracy Bitterolf, Tamara Krinsky,
Kate Rorick, Bernie Su, et al.
Cast
Georgiana "Gigi" Darcy - Allison Paige
Clara Breton - Lenne Klingaman
Edward Denham - Kyle Walters
Tom Parker - Joel Bryant
Letitia "Griff" Griffiths - Vanessa Chester
Beau Griffiths - Vaughn Wilkinson
See more on IMDb
Austenland (2013)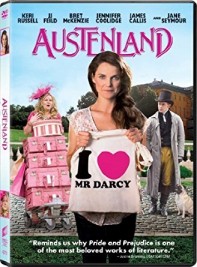 Studio/Network: Sony Pictures Classics
Director: Jerusha Hess
Screenplay by: Shannon Hale, Jerusha Hess
Soundtrack: Available
Cast
Jane Hayes - Keri Russell
Henry Nobley - JJ Feild
Elizabeth Charming - Jennifer Coolidge
Martin - Bret McKenzie
Mrs. Wattlesbrook - Jane Seymour
Captain George East - Ricky Whittle
See more on IMDb
Lost in Austen (2008)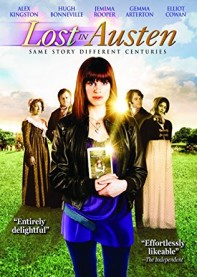 Studio/Network: ITV/Grenada Television Ltd.
Director: Dan Zeff
Screenplay by: Guy Andrews
Cast
Amanda Price - Jemima Rooper
Fitzwilliam Darcy - Elliot Cowan
Mr. Bennet - Hugh Bonneville
Jane Bennet - Morven Christie
Charles Bingley - Tom Mison
Mr. Wickham - Tom Riley
See more on IMDb
Miss Austen Regrets (2008)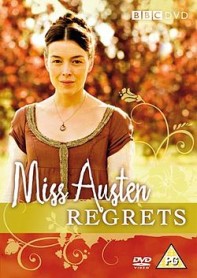 Studio/Network: BBC Drama co-production with WGBH Boston
Director: Jeremy Lovering
Screenplay by: Gwyneth Hughes
Cast
Harris Bigg - Samuel Roukin
Jane Austen - Olivia Williams
Cassandra Austen - Greta Scacchi
Fanny Knight - Imogen Poots
Edward Austen Knight - Pip Torrens
Mr. John Plumptre - Tom Hiddlestone
See more on IMDb
The Jane Austen Book Club (2007)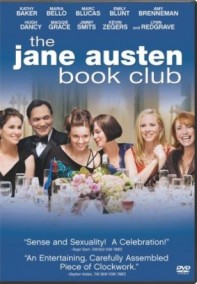 Studio/Network: Mockingbird Pictures in association with John Calley Productions; Distributed by Sony Pictures Classics
Director: Robin Swicord
Screenplay by: Robin Swicord
Soundtrack: Available
Cast
Jocelyn - Maria Bello
Prudie - Emily Blunt
Bernadette - Kathy Baker
Sylvia - Amy Brenneman
Allegra - Maggie Grace
See more on IMDb
Becoming Jane (2007)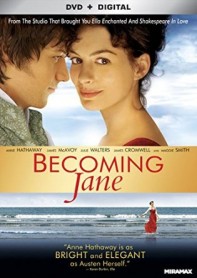 Studio/Network: Blueprint Pictures, Ecosse Films, Octagon Films, Scion Films Limited; Distributed by Miramax Films
Director: Julian Jarrold
Screenplay by: Kevin Hood, Sarah Williams
Soundtrack: Available
Cast
Jane Austen - Anne Hathaway
Tom Lefroy - James McAvoy
Mrs. Austen - Julie Walters
Reverend Austen - James Cromwell
Cassandra Austen - Anna Maxwell Martin
See more on IMDb
Jane Austen in Manhattan (1980)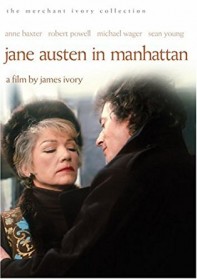 Studio/Network: Merchant Ivory Productions
Director: James Ivory
Screenplay by: Ruth Prawer Jhabvala; Libretto of Sir Charles Grandison by Jane Austen, Samuel Richardson

Cast
Lilianna Zorska - Anne Baxter
Pierre - Robert Powell
George Midash - Michael Wager
See more on IMDb


Documentaries
---
Pride and Prejudice: Having a Ball (2013)
Studio/Network: British Broadcasting Corporation (BBC)
Narrated by: Alastair Sooke, Amanda Vickery
Writers: Alastair Sooke, Amanda Vickery, et. al.
See More on IMDb
This program re-creates the Netherfield ball in Pride and Prejudice, in the beautiful setting of Chawton House Library, Chawton, Hampshire. Experts and professionals guided the dancing, music, food, and fashion to assure authenticity. Professor John Mullan provides literary commentary.
A&E Biography: Jane Austen (2004)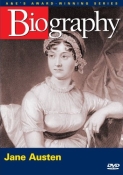 Studio/Network: Working Dog Productions
Director: Jennifer Stromberg
Narrated by: Ric Spiegel
Authors and scholars, some of whom are JASNA members, explain Jane Austen's genius and significance in this documentary. Unlike other films about the author's life, this one attempts to explain and interpret the significance of her work and the reasons for her continued popularity.
Austen Country (2002)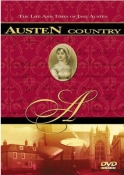 Studio/Network: Delta Entertainment Corporation
Director: Liam Dale
Narrated by: Liam Dale
See More on IMDb
Austen Country uses some of Jane Austen's favorite songs as background music. Scenic panoramas, historic still shots, sketches—some drawn by Austen family members—introduce Jane Austen, her family, and her novels to those unfamiliar with her.
Jane Austen: Life, Society & Works (1997)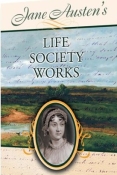 Studio/Network: BFS Entertainment & Multimedia Ltd.
Director: Liam Dale
Narrated by: Liam Dale
Gillray's political cartoons, excerpts from Austen's own letters, and family anecdotes help to paint a more detailed picture of the author, her world, and her work than other documentaries have been able to accomplish. Like several of Jane Austen's novels, this film is a three volume set.
The Famous Authors Series: Jane Austen (1996)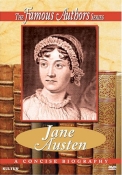 Studio/Network: KULTUR
Director: Malcolm Hossick
Narrated by: Malcolm Hossick
See More on IMDb
Using period prints, family portraits, and still shots of the towns and cities where the Austens lived and visited, this film paints a picture of the family and its influence on Jane Austen. The film concentrates on how and where the author lived.

Jane on YouTube
---

The creativity of Janeites has extended to YouTube, where clever homages to Jane Austen can be found. Links to some of those short videos are listed here. For information on YouTube-based adaptations of Austen's works, refer to the film lists compiled for each novel.
Further Reading
---

Sanditon
Love & Friendship
Lost in Austen
Miss Austen Regrets
The Jane Austen Book Club
Becoming Jane
General
Save
Save
Save