Paper Marbling Techniques of the Georgian Era

The art of paper marbling is centuries old and reached its peak during Jane Austen's lifetime, when beautiful patterns of marbled papers added an element of visual art to bound books.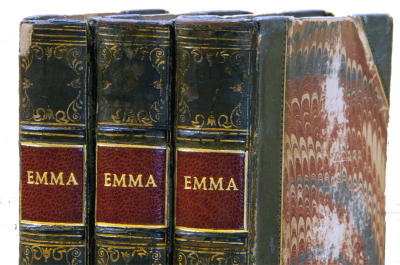 In the late eighteenth century, books were published with plain board covers that were meant to be temporary. Depending on their budget, buyers who wanted a more permanent, custom binding could choose a full leather binding, usually with marbled endpapers, or select a less expensive binding with marbled boards and a leather spine or leather spine and corners. The edges of the pages may also have been marbled.
In this video, created for JASNA's 2020 virtual AGM, Andrew Mancuso guides us on a short journey through the art and technique of paper marbling.
For a brief history of paper marbling, check out this blog post on the Victoria and Albert Museum website: "Divers oiled colours: Exploring the history of marbled paper in the National Art Library."




Copyright Andrew Mancuso
If you would like to try your hand at paper marbling after watching this video, Mancuso suggests a few sources for the materials you'll need.
Kits
For fabric
Traditional Japanese marbling (Suminigashi)
For serious beginners
Individual Supplies
Any and all marbling items
In addition to these sources, beginners may find basic kits and supplies at hobby stores.

Andrew R. Mancuso is a bookbinder, conservator, and hand paper maker in Cleveland, OH. He works as the Preservation Officer at Kelvin Smith Library at Case Western Reserve University.

Image: 3-volume first edition of Emma, bound with marbled covers and leather spines and corners. (University of Arizona Libraries, Special Collections; Photo © Frank Lutz)