Non-JASNA Events
The events listed below are a small selection of upcoming events that may be of interest to Janeites. These events are not organized by JASNA or its Regions.
---
Everyday Science in the Regency Webinar Series
Jane Austen & Co. is offering a series of five webinars, Everyday Science in the Regency, from March through May 2023. The series will examine scientific knowledge and technologies that shaped daily life, from the science behind sea bathing to home medicinal cures, horticulture and botany, textile production, and developments in astronomy and the adoption of the Gregorian Calendar.
Visit the Jane Austen & Co. website for details and to register.


---
Improvised Jane Austen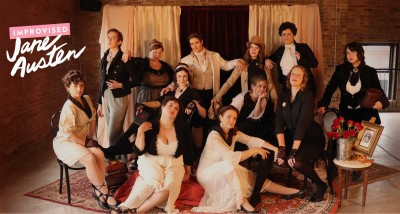 Improvised Jane Austen tells a tale, on the spot, in the style of the most beloved 19th century authoress. In each original story, you may be introduced to headstrong heroines, steadfast suitors, meddling mothers, charming cads, auspicious aunts, silly sisters, boisterous brothers, verbose vicars, fastidious fathers, and any number of Austenesque auteurs! The cast is entirely female, non-binary, and non-conforming identified folk. Empowering the performers to speak truths that easily transcend from Austen's era directly to our own.

Visit the Improvised Jane Austen website for more information.
iO THEATER, THE DAYTON CABARET
1501 KINGSBURY
CHICAGO, IL
SATURDAYS, MAR-JUN
8:00 PM - 9:00 PM


---