Readers of Northanger Abbey in England would have been familiar with the source material being parodied. But did the gothic, and its adjacent cultural trends (the age of sensibility, the admiration of the picturesque and sublime, and so on) fascinate Americans to anything like the same degree? In the first decades after the Revolution, Americans wrestled with the issue of how to forge ahead as a new nation, independent not only politically but economically and culturally.
Writers in newspapers and magazines debated whether we should follow European countries' lead in fashion and other aspects of culture. There was a widespread concern with casting off not just the monarchy but an aristocratic class system. Yet despite this ambivalence, possibly only found in print and not in average citizens' minds, Americans continued to embrace trends and products coming across the Atlantic. The Romantic period certainly manifested itself in American culture, in all its aspects: the taste for the gothic, the sentimental, and the sublime can be found in architecture, decorative arts, and literary culture in the new nation.
Evidence in the surviving material culture, including schoolgirl artwork, decorative arts, and painting and architecture, demonstrates that the gothic and its adjacent trends were known to and adopted by even non-élite Americans outside of major population centers. Gothic literature was consumed, enjoyed, and, as Austen did, mocked in America at the same time as in England. There was often an American slant to these trends, and, when it came to gothic design, there was a significant time lag. The delay was not due to ignorance or even conservatism but to Americans' initial preference for the Greco-Roman styles that spoke to our new democratic ideals. Examining a variety of areas of design, and some evidence of New Englanders' reading habits, illustrates how Federal-era America participated in every aspect of Romanticism, of which the gothic novel is one manifestation.
Americans did not embrace gothic architecture and design during the first gothic revival of Austen's lifetime. Having arrived on this continent long after medieval times, we had no original gothic architecture here to revere or imitate. Building in the gothic style would not, therefore, as it might for British gentry, remind American neighbors of one's "family pride and lineage, [and] put the visitor in mind of the medieval England to which you wished your family to be traced" (Clarke 97), nor could it hark back to a shared national identity. Instead, enamored of the U. S. government's Greek democratic and Roman republican origins, Americans based most civic and domestic architecture on Greco-Roman styles.
A rare exception is John Dorsey's Gothic Mansion, as it was known, designed by Dorsey himself, a merchant and self-taught architect, in 1809–1810 . Dorsey was considered eccentric: it would be thirty more years before domestic gothic architecture had widespread appeal in America. Long after the gothic novel craze had faded on both sides of the Atlantic, American architect Alexander Jackson Davis introduced gothic revival designs in his 1838 book Rural Residences, followed in the 1840s by several influential publications co-authored by Andrew Jackson Downing, beginning with Cottage Residences in 1842, with many houses identified as "gothic." Because these houses were often built of wood, with wooden trim supplying the gothic motifs, this style has been dubbed "carpenter gothic." They were Victorian houses with gothic-inspired details: steeply pitched roofs, windows with pointed arches, and the occasional tower; no medieval houses had ever looked like this. Some homeowners simply added gothic trim to an existing Greek revival structure, such as in the George Bourne house in Kennebunk, Maine, commonly called "the wedding cake house," whose Palladian window and symmetrical rectangular shape are discernable behind an elaborate structure mimicking buttresses supporting gothic arches and trim. The American love of Greek temples and the Rome's Pantheon was too strong to allow the use of gothic style in many public buildings. One exception is the Wadsworth Atheneum in Hartford, Connecticut, designed by Alexander Jackson Davis and Ithiel Town in the early 1840s.
Churches were a natural fit for gothic architecture; the first gothic revival church in America was New Haven's Trinity (Episcopal) church built in 1813. The gothic style seems to have been used most often in the Episcopal Church, the American branch of the Church of England. Though American domestic architecture claimed no medieval heritage, gothic architecture may have been a way of evoking parishioners' Anglican roots and linking themselves to their liturgical heritage.
Gothic furniture, available by the late 1830s, was less widespread than other historic revivals, not adapting well to the Victorian taste for upholstered seating. Still, tables, chairs and sofas, and desk and bookcase units were manufactured in the gothic taste. These do not attempt to replicate actual medieval furniture forms or styles but incorporate gothic arches and other design elements taken from architecture.1 Gothic design was more easily incorporated into smaller items such as silver, glass, and ceramics. A pearlware tea bowl and saucer of about 1820 with a transfer-printed castle ruin, used in Massachusetts, testifies to American consumers' gothic taste. Harriet Thorne Gibson took her set of Staffordshire plates with gothic ruins, part of her 1825 trousseau, from Vermont to homes in Quebec and Wisconsin. Numerous furnishing fabrics of the 1830s and 1840s either depicted ruined churches or used gothic windows and other features in their design.2
The discerning eye can even find traces of gothicism in women's fashions from the 1790s through the 1840s. Medieval and Renaissance revival design details were popular after about 1810, when the craze for Greek and Roman revival styles inevitably played itself out and fashion demanded new inspiration; historicism, especially a love of the medieval, is an important aspect of the gothic as Lynne Bassett explores (Bassett 20ff;). Such historicism is also evident in the gothic-arched sticks on fans of the 1820s and 1830s. Dresses and accessories of the 1790s, 1820s, and 1830s often feature sawtooth or zig-zag trim or edging. These elements were called Vandykes, after the similarly shaped lace collars in that artist's portraits, reinforcing the historicism of the age; but they also visually evoked gothic arches. Bassett has argued moreover that the very silhouette of 1840s dresses mimics the shape of gothic windows prevalent at that time in architectural revivals (51). Altogether the gothic revival persisted alongside half a dozen other revivals in the decorative arts, surging back into greater popularity again in the 1870s.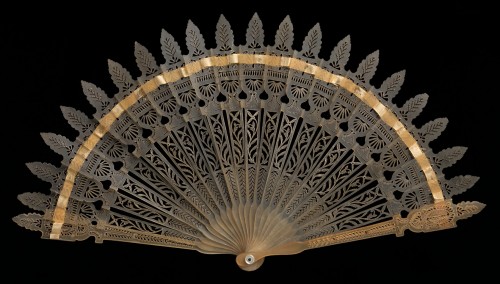 But we must look beyond gothic taste to see how the young United States participated in the Romantic movement. Here, the aesthetic of the picturesque and sublime becomes critical. The Romantic taste preferred awe-inspiring landscapes to the Enlightenment's orderly and serenely beautiful vistas. To be picturesque, literally picture-worthy, required only some dramatic aspect or detail. But the sublime demanded more: the extremes and power of Nature, intended to inspire awe, reverence, and even terror. Edmund Burke famously declared that "terror is in all cases . . . the ruling principle of the sublime" (97). Thus, landscape painting aligns itself with gothic literature: Catherine Morland might enjoy the same enjoyable frisson of fear regarding a painting as reading a novel. The grandeur of the American continent provided plenty of sublime aspects for painters, and the works of Thomas Cole and his ilk are some of the best examples of the Romantic era's influence in the United States.
William Gilpin defined characteristics of the picturesque (i.e., picture-worthy) landscape in his many popular books exhorting readers to travel to (and ideally, sketch) picturesque landscapes. We know Austen appreciated Gilpin, and we hear his echoes in Elizabeth Bennet's cry, as she anticipates the tour with the Gardiners—"'what are men to rocks and mountains?'" (PP 154)—and in Marianne's rhapsodies over a view, which Edward Ferrars fails to appreciate (SS 88).
In addition to mild raillery by Austen, Gilpin was satirized in William Combe's narrative poem Tour of Doctor Syntax in Search of the Picturesque (1812), in which he sent his unprepossessing curate hero, Dr. Syntax, on a journey astride his noble but scrawny steed, Grizzle. He intends to publish a book on his travels, declaring "I'll prose it here, I'll verse it there, / And picturesque it ev'ry where" (6). Instead, he meets a series of misadventures. Illustrations by Thomas Rowlandson, one of England's finest caricaturists of the age, heightened the humor of the tale. His depiction of a gothic ruin opposite a lake shows familiarity with picturesque tropes.
Syntax's adventures, wildly popular, led to two sequels; Austen even refers to the doctor in a letter in 1814 (Dow and Halsey 2010). Commercial products capitalized on the doctor's peregrinations, including plates, figurines, and printed cotton toile combining elements of eleven of Rowlandson's illustrations. Some of this cotton found its way to the United States, where it was made into a quilt by an unknown Virginia woman. It is logical to assume that she was in on the joke, recognized Dr. Syntax, and understood the trend being parodied when she chose Dr. Syntax's story for her quilt.
For more satire of the gothic, American readers could enjoy Northanger Abbey soon after its publication. Long before Carey & Lea produced the first authorized American edition in 1832, booksellers offered imported copies. In the Salem (Massachusetts) Gazette of 23 October 1821, John M. Ives used bold type to announce the arrival of the combined edition of Northanger and Persuasion at his "Essex Circulating Library and Bookstore" (3). His addition "by the author of 'Pride and Prejudice'" indicates that his customers knew and appreciated Austen's earlier work. It seems that there were pirated printings in the United States from an early date as well. Scarcely two months after Northanger Abbey was published in England, James Eastburn & Co. advertised in the New York Daily Advertiser for 23 February 1818 that he "will immediately put to press, Northanger Abbey and Persuasion, by the author of pride and prejudice, &c. &c." (3). Much is implicit here: the eagerness of his American customers to read the latest Austen novel, and their assumed appreciation of not only Pride and Prejudice but other works included in the "&c." A summary of a recent edition of the English Quarterly Review in the New York Spectator of 1 June 1821 went further when it devoted a paragraph to summing up an "Essay upon Modern Novels, with critical remarks upon the character and writings of Miss Austin," listing all six novels, presumably in expectation that many readers would recognize several titles. Not only is Austen named (albeit misspelled), but the Quarterly's reported approval of the "sense and judgment, combined with sound and healthful principles" seems to apply specifically to Austen's works as much as more generally to "Modern Novels" (2).3
American women also produced expressions of the age of sentiment. After stitching her simple marking sampler (such as the marking sampler stitched by Cassandra owned by Jane Austen's House Museum), a girl might—if her family valued and could afford further education—create a decorative needlework scene. These were stitched in silk on cream-colored silk taffeta with watercolor and inked and penciled details in the background and faces. Along with scenes from literature, mourning pictures were enormously popular. In the latter, a tomb overhung with weeping willows displays an inscription, such as "sacred to the memory of" one or more deceased. American girls produced numerous mourning scenes in honor of George Washington after his death in 1799 and of both Washingtons after Martha's death in 1802. In either personal or public mourning pictures, one or more women in fashionable neoclassical dress stand beside the tomb, drooping gracefully to indicate grief; sometimes a husband and children are included.4 These scenes were also painted on jewelry, worn to proclaim the owner's sensibility and grief for the departed. The needlework pictures were so popular that girls sometimes had to rack their family tree for a relative whom they might commemorate in a touching scene to be given pride of place on the parlor wall. That these artworks weren't entirely about showing actual grief is suggested by the author of the fictional memoir My Thimbles, who related her dilemma choosing a design for her final needlework at school. One "containing a monument and drooping willow. . . appealed strongly to the sentimental part of my nature. But unfortunately I had not lost any relations, and I did not wish to put 'Sacred to the memory of — ' unless I could fill the blank with some real name" (Hall 12–13).
Many girls and women kept copy books in which they wrote excerpts of poetry and other works, adding watercolors and sketches; one kept by Quaker Elizabeth Margaret Chandler, a published poet and an abolitionist, suggests that gothic topics had wide appeal. One sketch depicts a woman seated in a picturesque setting, including a blasted tree. Another copies the first stanzas of an 1820 poem by a fellow Quaker, Bernard Barton, illustrated with a picturesque ruin that resembles the real Leiston Abbey, though an illustrated edition of Barton's poetry that might have inspired Chandler cannot be located. Rebecca Rooker, a recent English immigrant to Maryland, made a masterful needlework copy of a print of a ruined church in about 1810. Prints of gothic scenes, too, would have hung on American walls.
Finally, let us consider gothic literature in the United States. At the time, the American novel barely existed. Scarcely thirty were published before 1800 (Blanck 64). Many were aimed at a female audience—the presumed demographic of novel-readers—and either told cautionary tales of seduction, outlined ideas of women's education, or both.
One American author, Charles Brockden Brown, published four gothic novels in the late 1790s. Wieland, Ormond, Edgar Huntly, or Memoirs of a Sleepwalker, and Arthur Mervyn are set in America. Like landscape artists, Brown found drama in the American wilderness, explaining in Edgar Huntly that "incidents of Indian hostility, and the perils of the Western wilderness, are far more suitable" than "[p]uerile superstition and exploded manners, gothic castles and chimeras" (4). Still, he used many other gothic tropes: mysterious characters with questionable identities abound, as do evocative landscapes, madness, secrets, and murders. The plots' settings—in, for example, the yellow fever epidemic of 1793 and on the frontier—give them an American flavor, as do their themes of religious mania, revolutions, and racial and ethnic tensions. Though mostly forgotten now, Brown influenced Cooper, Hawthorne, Poe, and others.
But if American readers had little home-grown gothic, they enjoyed the same English novels as Catherine Morland, through both imported and American editions. Booksellers' newspaper advertisements often mention gothic novels. Surviving book lists from circulating and "social" libraries5 include gothic authors as well as Richardson, Burney, Goldsmith, and other generally approved writers—though in far fewer numbers than non-fiction. Books were expensive: a two-volume novel cost a dollar fifty to two dollars (Winans 270); but as the Dedham, Massacusetts, Columbian Minerva noted in an article of 22 June 1802, "[s]ocial libraries, in most of our towns, have been established with much success" (1). According to Winans's source, 248 were established between 1771 and 1800 (273). Circulating libraries may have been less common; but even tiny Pawlet, Vermont—population 458 in the 1800 federal census—had one by 1799 (Haswell).6
So a literate readership existed, and gothic novels were readily available. More elusive is a sense of how American readers responded to them. Happily, Sylvia Lewis and Candace Roberts of Bristol, Connecticut kept diaries from the age of fifteen and commented on their reading. Sylvia, born in June 1785, was the daughter of a farmer, Royce Lewis, whose father was one of the first to settle in Bristol when it was a secondary parish of the adjacent township, Farmington. Candace was six months older than Sylvia; her father, Gideon Roberts, was the first wooden clockmaker in Bristol, which, later in the century, became a center for clockmaking and other industries in Connecticut. The girls began their diaries on the same day in 1801, after Sylvia and "considerable company," probably other peers, met at Candace's house after afternoon church services at the Baptist meeting house (Lewis, 1 March 1801).7 Sylvia kept her diary through 1821 and again sporadically 1829–1831, through marriage, a move to the Ohio frontier, and the birth, adoption, and temporary fostering of a combined nine children; she died in 1851 in Vienna, Ohio. Candace died in Bristol during an epidemic of typhus fever in December 1806, just before her twenty-second birthday.
In the tradition of New England work diaries, the girls mostly recorded chores, socializing, and their paid work. Typical early entries are: "Sowed [i.e., sewed] in the forenoon in the afternoon washed" (Roberts, 9 May 1801); "I did some house work and some sowing and some knitting and visited at Benjamin Hungerfords in the afternoon" (Lewis, 12 June 1801). Their comments about gothic novels, therefore, are unusual if subtle outbursts. Sylvia wrote she "read and heard the Children of the Abbey the most entertaineing books I ever read" (7 February 1806).8 The "read and heard" suggests one form of access to books: earlier that week (2 February 1806), her friend Lot Newell had been reading to her, and he seems to be the reader of Children on this day. It may have been his own copy, but Bristol also had a circulating library as early as 1792, to which Sylvia probably belonged.9 She also mentions borrowing a book from her friend Betsey Mitchell (29 January 1806), whose father was one of Bristol's three merchants and may have sold books or even offered a small circulating library himself. With a volume costing a dollar—Sylvia's approximate pay for a week of teaching10—borrowing and sharing would have been common.
Candace, too, found "the children of the Abbey . . . the most entertaining book I ever read in life There is the most beautiful characters and the most infamous characters I ever read of" (19 January 1804). The Romance of the Forest moved her to write a long, 164-word plot summary, whose lack of punctuation throughout lends it a breathless quality:
the most amiable of women struggling with adverse fortune . . . her enemy pursues carries her off and she escapes . . . finds her best friend, remains some time with him but an unfortunate accident happens which seperates them . . . Theodore condemned to death Adeline confined in an old Abbey La Mott hired to kill her . . . find [her lover] confined in a prison . . . but he was reprieved and finds her Fathers murderer marries Theodore. (3 March 1804)
This description suggests a strong emotional response.
Candace's diary entries after this one become more emotional, with bursts of flowery language. It is tempting to think that novel-reading influenced her style, which begins to feature passages like "[t]he airy visions of fancy serve to divert the mind from grief & render less poignant the bitter stings of misfortune" (2 September1805). Other Bristol girls also dabbled in romantic prose, suggestive of literary influence. Candace transcribed a friend's letter, reading in part: "stern Winter has usurped his iron rule & binds all nature fast in adamantine chains Yes while I write, my hand trembles his chilling blasts rattle the casements" (Roberts, November or December 1805). In other words, Connecticut was cold.
Sylvia, Sense to Candace's Sensibility, retained her straightforward prose, perhaps because she read comparatively little fiction. Lists kept in 1806 and 1808 show that she read seven novels (two were gothic) and the narrative poem Palemon and Lavinia.11 About thirteen titles were non-fiction, mostly history. Another seven were advice books, mostly with a religious bent. Twenty were overtly religious or spiritual: essays, letters, biographies, and extracts with titles like "Remedies for the Terror of Death." Hardly surprising that she found Roche's novel, her first gothic and perhaps her first novel of any kind, "entertaining."
Sylvia was not unmoved, however, by her reading of gothic novels: on the contrary, her response to one is the longest single entry in twenty years of journal-keeping, reading in full:
I finished my spencer read Newspaper taught school wrote some and it snowed all day. At noon I read the Dutchess of C—or Count of Belmire her lover and Duke of C—her husband Oh dreadful dreadful to relate, alas says she, "all my misfortunes are of my own creation" but still a gleam of hope appears, & in true contrition and sorrow there is something expiatory and healing, the remorse of guilt harrows up the soul, but in the repentance of voluntary working, there is nothing painful or severe These virtuous sentiments mark us for our faults and reconcile us to ourselves. Yes she had the comforts of Religion in her dark cavern to support her for nine long Years—but that happy day the 3rd of June when the Count of Belmire arrived was the happiest of her life, what a meeting—I cannot describe it the Count restored her to her liberty to light her Father Mother Daughter and all the comforts of life she being then twenty seven years of age and imagined her self fifty—the Count Married her Daughter she renewed her health, and was taught to praise God every day for the blessings she enjoyed and even for the miseries she had endured since they had expiated her faults, purified her heart and taught her the inestimable worth of the felicity that was restored to her—
She concludes, "I must needs shed a few tears upon it and begin school for afternoon and in the evening began to work a cap border for Mrs Nancy Lewis," with which she prosaically returns to the real world (Lewis, 28 February 1808).
Sylvia was describing The Affecting History of the Duchess of C***. Originally related in Stéphanie de Genlis's educational novel Adèle et Théodore (1782), its intended lesson was the danger of not confiding in one's parents: unaware that her daughter loved the Count, the Duchess's mother married her to the Duke. If this viewpoint seems to blame the victim, it was still "one of the earliest female-authored and feminocentric gothic tales in Europe" (Dow 34). Translated as part of Adelaide and Theodore and also printed as a stand-alone novel, the Duchess's story was hugely popular in England (Dow 35–36). English painter John Francis Rigaud executed a series of illustrations of the story, which were engraved and thus available to a wider audience. Out of context, the original moral is lost. Sylvia instead took more spiritual lessons from her reading, first commenting that "in true contrition and sorrow there is something expiatory and healing" and then reflecting that the Duchess "was taught to praise God every day . . . even for the miseries she had endured since they had expiated her faults."
Sylvia's commentary raises a larger question: what these Connecticut Yankees made of their gothic novels. Fiction was even more suspect in the United States than in England: "Many early Americans, dedicated to the ideals of classical republicanism, saw the popularity of fiction as a sign of modern degeneration: . . . [it] reflected the young Republic's distance from the virtuous republics of antiquity and served as a harbinger of its failure" (Koenigs 301). The heavy responsibility placed on American women for the virtue of the republic lent a uniquely American flavor to moralists' distaste for novels. In a republic that depended on the "virtue," civic and otherwise, of its citizens, fiction must be carefully chosen for its educational and moral merits. As it was assumed that women were the primary readers of novels, the matter of novels' merits (individually and as a class) became a highly gendered issue. These debates likely had little relevance to the average reader. We have seen how the Duchess's tale was parsed by Sylvia; moralists concerned that novels would have deleterious effects on their readers might have taken comfort from her reflections.
Scholars have discussed the ways that gothic novels and architecture express English nationalism, but this nuance probably escaped American readers. Some have also noted that novels set in Catholic (continental and Irish) countries suggest a subtext of anti-Catholic sentiment, and heavily imply the superiority of Protestant England, although Diane Long Hoeveler argues that "the issue of religion's uncanny presence in the period's literature is much more complex and conflicted" (139).12 Still, when Henry Tilney says, "'Remember that we are English, that we are Christians,'" he might as well say, "Protestants" (NA 197). It is notable that two of Sylvia's readings were overtly anti-Catholic. The Captive of Deerfield emphasizes the steadfastness of John Williams's resistance to pressure to convert to Catholicism. The French Convert's subtitle reveals its bias, promising a story of the conversion of A Noble French Lady, From the Errors and Superstitions of Popery. But the anti-Catholicism of gothic novels is more subtle; Sylvia and Candace may have been utterly deaf to what Beth Wallace has called, referring to Austen's works, "the ambient noise" of Catholicism (160). If anything, astute American readers—in which we may or may not include Sylvia and Candace—might instead have inferred evidence of a theme familiar from American essays and newspapers: the corruption and decay of monarchical and ancient European society that their country was rejecting in favor of "republican virtue." Equally possibly, the girls simply enjoyed the drama.
The girls' reading was closely linked to that of Austen and her characters. Candace, Sylvia, and Emma's Harriet Smith all read The Children of the Abbey and The Romance of the Forest (Lewis 12 January 1813; E 29). Perhaps they were so popular as to be iconic. It also seems appropriate that Sylvia and Emma's Robert Martin, both of middling farmer stock, read The Vicar of Wakefield, approved by even the strictest moralists (Lewis 10 November 1806; E 29). The Duchess of C*** is not specifically mentioned in Austen's novels, but Susan Allen Ford has discussed Austen's play in Emma on de Genlis's larger work Adelaide and Theodore, "adapting and transforming incidents, plot structures, and thematic concerns" (173). Gillian Dow has further argued that Northanger Abbey owes as much to de Genlis as it does to Radcliffe, noting that several plot points, including Catherine's notion that Mrs. Tilney, like the Duchess, might be not dead but imprisoned, tally with Catherine Morland's imaginings (36–37). Candace also read Camilla, and Sylvia, Evelina (Roberts 26 February 1804; Lewis 10 April 1806) by Austen's favorite Mrs. Burney, and they and their contemporaries performed The Busy-body by Susanna Centlivre, also known to Austen (Lewis 22 March 1804; Dow and Halsey).
Even the names of Sylvia's friends connect to Austen and indicate that the Puritans' Revolution-era descendants were imbibing fiction, if in carefully curated doses. Her cousin-in-law Isabinda Peck Lewis was named for a character in The Busy-body; her friend Charles Grandison Ives was named after Austen's favorite Samuel Richardson novel (he was one of two Charles Grandisons in Bristol at the time). Three Clarissas, presumably named for Richardson's heroine, populated federal-era Bristol, some of them known friends of Sylvia and Candace. Our diarists also knew several girls with variations on the name Lavinia, the heroine of Thomson's enormously popular poem Palemon and Lavinia, which Sylvia read in 1808 (7 September).13
Taken together, Sylvia's and Candace's diaries, with the evidence from the material culture—including schoolgirl artwork, decorative arts, and painting and architecture—demonstrate that Americans were keeping abreast of trends in English culture. Even non-elite Americans outside of major population centers were reading gothic novels and participating in other elements of the Romantic movement. Despite the competing goals of forming a new nation with its own culture and aspiring to European gentility, Americans were imbibing the English gothic literary and design trends and producing their own American Gothic.
NOTES
---

1The DAR Museum's collections are being put online at collections.dar.org; more information, including detailed descriptions and known history of each object, is available in the database.
2See the Winterthur Museum's online database ( http://www.winterthur.org/collections/online-collections/), especially 1965.0006, 1969.3846.001.
3This would seem to refer to the Quarterly Review published by John Murray in London, but its April 1821 edition does not contain any of the articles discussed in the Spectator article. It is uncertain, therefore, what publication is referred to.
4See, for example, the DAR Museum's silk needlework scenes: from Homer (67.244); from A Sentimental Journey (87.95.198). Some examples of mourning scenes include accession numbers 4312, 64.129, 72.72, and 82.40, and 83.2, as well as 64.223, a painting with the same iconography; others, and mourning jewelry, can also be found in the online collection database.
5Social libraries were "essentially joint stock companies formed to purchase and loan books to shareholders," whereas circulating libraries were "strictly commercial ventures, usually run by booksellers, and their selection of books was necessarily based on current popularity trends" (Winans 268–69).
6The library catalogs of historical societies of the New England states and the American Antiquarian Society's Early American Imprints database contain listings of extant catalogues of both social and circulating libraries. For this study, I omitted larger cities' catalogues to focus on tastes of less urban readers, as evidence of reading habits of a less elite population.
7Sylvia usually attended the Congregational church near her father's house but occasionally went to the Baptist church. If other girls in the "considerable company" at Candace's house were also inspired to begin diaries, these have not survived.
8Before 1806, Sylvia almost never recorded titles. She usually read on Saturday nights, the beginning of the Sabbath, when she would have read only spiritual works (confirmed in later years when she gives titles of her Saturday readings).
9This claim is strongly suggested by the fact that Sylvia read Rollins's Ancient History (4 November 1806), named by Roswell Atkins as an 8-volume set in the early library's holdings (378), which Sylvia surely borrowed rather than owned. I am grateful to Jay Manewitz of Bristol Public Library's Bristol History room for tracking down details of the library's early history not specified by Atkins, in various library records.
10For example, after teaching from May 21 through October 2, 1805, Sylvia received twenty dollars on October 4. Working at a local button manufactory, she might earn fifty cents in a day if she went significantly over her daily quota (1805, passim), but, at quota, this work's pay was similar to her teaching.
11In 1806 and 1808, she compiled lists at year's end in addition to naming titles throughout the year. The 1807 and 1809 volumes are lost.
12See, for example, Wein and Griffin.
13Naming patterns in this and other New England towns reveal a shift in the second half of the eighteenth century from biblical or spiritual names (such as Charity) to an increasing use of names from classical mythology and fiction. Friends and relations of Candace and Sylvia (her own name being an example) included Parthenia, Chloe, Almira, Phebe, Minerva, Clorinda, and others. The popularity of Palemon and Lavinia, including Lavinia's popularity as a name, is traced by Stevenson.