2000 Annual General Meeting, Oct. 13-15, Boston, MA, USA
Theme: "Pride and Prejudice: Past, Present, Future"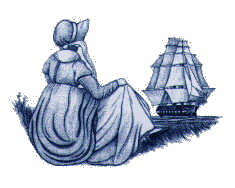 One of the most English of North American cities, Boston is an ideal place to consider Pride and Prejudice. To many visitors, Boston, with its gaslights, elegant townhouses, and charmingly haphazard street pattern, is reminiscent of the London where the Gardiners reside and the Bingley siblings settle for the winter. JASNA polls have consistently shown Boston to be the most requested site for an AGM, and we have set out to prove that JASNA members have been right all along.
The past, present, and future intertwine in Boston. Its past can be glimpsed through its historical landmarks, its present through its residents, visitors and fresh influx of students each fall, and its future through the development of technology in Cambridge and nearby Route 128. The year 2000 in Boston offers an ideal time and setting to reflect upon Jane Austen's best-known and best-loved work.
Mid-October is the peak of the fall tourist season in New England. AGM attendees will join tourists viewing the foliage, conventioners, and those attending parents' weekends at local colleges in converging upon Boston the weekend of October 13-15. And for good reason. If the weather cooperates, you will see Boston in its beauty. The play of sunlight and shadow is stunning, red and gold leaves blanket the sidewalks, and the crisp air is marvelous for strolling in this notably walkable city. Like Elizabeth Bennet, you may wish to "indulge your love of solitary walks."
We encourage you to add a few days before or after the AGM to explore Boston's offerings, but we advise that you make your plans soon. Fortunately, you will not need to concern yourself with the task of finding a centrally located hotel for the weekend of the conference. Our hotel, the Park Plaza, is superbly situated to take advantage of Boston's diversions. The Park Plaza is quite grand: we hope that you will find its "assembly rooms" to your liking. Within easy walking distance of the hotel are the Public Garden with its swan boats, Newbury Street shopping and restaurants, and Copley Square with its magnificent Boston Public Library, shopping malls, and historic churches. The theatre district is nearby, and trendy South End restaurants are a short cab ride away.
On the subject of transportation, we must issue a caveat: avoid driving if possible, as Boston traffic and drivers often live up to their unsavory reputations. We advise taking a cab or using public transportation (the MBTA—locals call it the "T"). The Arlington T stop on the MBTA's Green Line is only one block away from the hotel. A subway ride can easily take you to the Museum of Fine Arts, the Gardner Museum, or to Boston's waterfront where "Old Ironsides" is docked and throngs enjoy the colorful Quincy Market.
Of course, we promise to divert you with our program. There will be the customary welcome reception, book signing, guided tours, Saturday night banquet, and Sunday brunch. Our five outstanding major speakers include Ed Copeland (Pomona College), Ruth Perry (Massachusetts Institute of Technology), John Wiltshire (LaTrobe University), Julia Prewitt Brown (Boston University), and Marjorie Garber (Harvard University).
We have engaged Thomas Fowler, Director of the Massachusetts Historical Society, to talk about the &ldlquo;Austen-Boston connection" and early nineteenth-century Boston. The budding writers of the Young Writers Workshop will participate in a break-out session on Saturday, and British actress Kim Hicks will perform her one-woman show "Courtship" on Friday night and on Sunday afternoon at the Park Plaza (admission to this special event is $10.00).
Presentations
- click here for schedule -
Main speakers will be:
Ed Copeland, Professor of English at Pomona College
Ruth Perry, Professor of Literature at Massachusetts Institute of Technology
John Wiltshire, Reader of English at La Trobe University in Melbourne, Australia
Julia Prewitt Brown, Professor of English at Boston University
Marjorie Garber, William R. Kenan, Jr. Professor of English and Director of the Humanities Center at Harvard University
Breakout Session #1, "First Impressions"
Stephen Clarke of England: "Pemberley and the Visiting of Country Houses."
Published in Persuasions 22 (2000). "A Fine House Richly Furnished: Pemberley and the Visiting of Country Houses." Persuasions 22 (2000): 199-217.
Elvira Casal (Middle Tennessee State University): "Laughing at Mr. Darcy: Wit, Power, and Changing Times."
Sarah Emsley of Canada: "Practicing the Virtues of Amiability and Civility in Pride and Prejudice."
Published in Persuasions 22 (2000). "Practising the Virtues of Amiability and Civility in Pride and Prejudice." Persuasions 22 (2000): 187-198.
Clive Caplan: "The Redcoats are Coming! The Redcoats are Coming!"
Bruce Stovel of Canada: "Asking, Telling, and Conversation in Pride and Prejudice
Nancy Yee (Fitchburg State College): "Friendship in Jane Austen: The Equality Factor in Pride and Prejudice."
Kathleen Anderson and Susan Jones: "Reading Pride and Prejudice through Contemporary American Pop Culture."
Joan R. Vredenburgh: "Back to the Future—Jane Austen on Radio."

Breakout Session #2, "Second Thoughts"
Irene Collins (Liverpool University): "Lady Catherine De Bourgh and the Mysterious Workings of Patronage."
Donna Corbett: "Jane Austen in the Early American Republic."
Sarah Stafford (Campbellsville University): "The Present Past: Pride and Prejudice in Austen and Scott."
Lois Refkin, with the participation of the Young Writers: "'Perfectly Amiable': Teaching Pride and Prejudice in High School."
Margaret Merrell: "My Poor Nerves: Liberating Mrs. Bennet."
Peter Sabor (Laval University) and Emilie Sabor: "Mr. Bennet and His Daughters: A Father-Daughter Dialogue."
Published in Persuasions 22 (2000). "Mr. Bennet and His Daughters." Persuasions 22 (2000): 230-239.
Ann C. Morrissey: "What to Read after You Have Read All of Jane Austen!"
Myretta Robens and Amy Bellinger: "The Republic of Pemberley: Managing an Internet Bulletin Board."
Breakout Session #3, "Third Dimension"
Mary Jane Curry (Auburn University - Montgomery): "'Not a day went by without a solitary walk': Elizabeth's Pastoral World."
Published in Persuasions 22 (2000). "'Not a day went by without a solitary walk': Elizabeth's Pastoral World." Persuasions 22 (2000): 175-186.
Claire Foley and Sarah Morrison: "Johnsonian Exchanges in Austen's Dialogue in Pride and Prejudice."
Priscilla Gilman (Yale): "Disarming Reproof: Pride and Prejudice and the Power of Criticism."
Published in Persuasions 22 (2000). "'Disarming Reproof': Pride and Prejudice and the Power of Criticism." Persuasions 22 (2000): 218-229.
Elizabeth Jungerberg and others: "The Films of Pride and Prejudice."
John E. Rogers, Jr. (Shippensburg University, Pennsylvania): "Pride and Prejudice and Privacy."
Robert Allan Benson (Ball State University): "Jane Goes to Mars: Why I Would Take Pride and Prejudice on the First Expedition to the Red Planet."
Kathleen Glancy of Scotland: "More Husbands for Georgiana Darcy" (P&P sequels).
Sarah S.G. Frantz: "True Love's View of Past, Present and Future in Pride and Prejudice."
Entertainment
Actress Kim Hicks to Present Courtship
| | |
| --- | --- |
| | Actress Kim Hicks will present Courtship, a one-woman show of scenes from Jane Austen's novels. Performances will be held on Friday at 8:00 P.M. and Sunday at 1:00 PM. at the Park Plaza Hotel. Attired in Regency costume, Ms. Hicks traces the courtship narrative through selections from Pride and Prejudice, Northanger Abbey, Emma, and the Minor Works. The famous opening line and first chapter of Pride and Prejudice are highlights of the performance. According to a theatre review in Venue, Ms. Hicks is the "very personification of intelligent wit, using a range of voices and mannerisms from the giddy feminine ramblings of Miss Bates in Emma to the wryly amused masculine tones of Mr. Bennet in Pride and Prejudice." |
Saturday Evening Diversions
After the banquet on Saturday night, choose among the following diversions:
DaSalo Quartet: Music of Jane Austen's Day


Informal Conversations with Special Leaders
Julia Barrett, "More Austen: Why Not Dream?"
Diana Birchall, "Attorney or Exotic Dancer: The Bennet Sisters Today"
Zoe Kaplan, "Are You a Mary and Think You are an Elizabeth?"
Edith Lank, "In Defense of Mrs. Bennet and Mr. Collins"
Isa and Kara Schaff, "Mothers & Daughters Look at M&D in P&P"
Paula Schwartz, "The Films of Pride and Prejudice"
Our weekend promises to sparkle with erudition, liveliness, and wit. After the conference, it is our fondest wish that you will say, as did the eldest Miss Bennet: "The party seemed so well selected, so suitable one with the other. I hope we may often meet again."
---
In the meantime, learn more about our beautiful city at www.boston.com and www.bostonusa.com, and follow the links included in our description of the sights and tours available during your stay. We look forward to seeing you in the new millennium!
Conference Coordinators:
Marcia Folsom
Isa Schaff
Professor of Literature,
Wheelock College
200 The Riverway
424 East Street
Boston, MA 02215
Dedham, MA 02026
617-734-5200, extension 2192
781-326-3700, extension 350
email: mfolsom@wheelock.edu
email: isa_schaff@nobles.edu

Return to Home Page