Emporium
"I am sorry to tell you that I am getting very extravagant, and spending all my money, and, what is worse for you, I have been spending all of yours too."
Jane Austen, letter to Cassandra Austen, April 18, 1811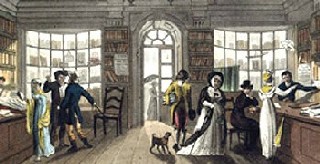 Shoppes of Bath
Gayle Simmons: Gayle Simmons will bring to life some of the most beautiful examples of Regency fashion plates, faithfully reproducing each garment on exhibition (see Regency Fashion Page.
Michael Ramsey: Master Taylor will be exhibiting some fine examples of Regency men's ware. In addition, Michael Ramsey will be available to take custom orders.
Lydia Fast of LG Studio: Lydia Fast will be delighting us with her high quality Regency bonnets and specially designed handmade jewelry.
The Custom Wig Company: Heather Fleming and her team will have ready-made real human hair wigs and hair pieces that can add style to your overall Regency look. Heather will also take custom orders.
Crowning Glory: Joy Melcher will have stunning vintage jewelry, laces, fabric, and veils.
Matti's Millinery: Matti Wangerin and Hannah Wagner, whose motto has always been "Making your Regency dreams come true," will have over 125 Regency ladies garments for sale. Their Regency stock includes: day gowns, balls gowns, vests, spencers and capes. They will also have a great selection in those hard to find sizes. On-site alterations offered.
Jane Austen Books: Beth Dean and Jennifer Weinbrecht are an AGM favorite. In addition to stocking a large selection books, Jane Austen Books will be selling Jane Austen/Regency-themed music, note cards and t-shirts. They will also be supplying books for our Author Signing.
Pure Hokum: Kathleen Stevans will be selling her original, beautiful designs that are hand painted on cups, saucers and tea pots. You'll not want to miss her watercolor art and hand-stamped silver plate.
The Ribbonry: Camela Nitschke creates and stocks the most exquisite handmade ribbon flowers and wristlets as well as ribbon for dress trims and sashes. Her shop in Perrysburg, Ohio is well worth the visit! She will have all the afore mentioned items ready for purchase at the AGM.
Bingley's Tea: Julia Matson, who has traveled the world to research and develop her special blends of tea, will be well-stocked with tea, tea salts, syrup and tea accessories.
Flying Hearts Millinery: Valerie Long will be selling her hand finished chemisettes, delicate ruffled caps, men's hats, and other haberdashery.
Shoppes of Meryton
Chawton House Library: Dr. Gillian Dow and Keith Arscott will be offering CHL gifts, souvenirs, books and cards. We recommend you stop by and visit the folks of CHL to find out what's new.
Puzzle Book for Readers: Carol Meisel has designed and published puzzle/crossword books based on the six major Jane Austen books. She will have a variety of her puzzle/crossword books for purchase.
JA Papers: Darby Walker will offer her fine greeting cards based on classic literature, note cards, and women's t-shirts featuring Jane Austen quotes.
Mary Not Martha: Suzi Oberman will be selling a plethora of lace trim, appliqués, lace fabric, millinery flowers, and feathers.
Shirley's Handicrafts: Evie Cotton will have beautifully packaged Jane Austen soaps and bath products.
One Garden at A Time: Carol Chernega will offer a special treat! Gifts from Jane Austen's House and Gift Shop in England, including mugs, tote bags, stationery, book marks, key rings, etc.
Travellers' Tales: John and Jill Hill, travelers from Canada, will be delighting us with their eclectic selection of books, stoneware, shawls, and fabric.
Jane Austen's Regency World: Tim Bullamore and Lisa McCormick, another AGM favorite, will be displaying past issues and selling Jane Austen's Regency World subscriptions.
Wax Portraits: Donna Weaver, Indiana artisan, who divides her time between sculpting wax portraits, gallery exhibits, commissioned work, and participating in living history events, will be offering her wax portraits for sale at the AGM. Donna's wax portraits have been judged to be of museum quality.
In addition to these exhibitors, eight JASNA Regions will be setting up shop in the Shoppes of Meryton Emporium with a wide array of Jane Austen themed merchandise:
Louisville: cookbooks, mugs, Christmas ornaments, jewelry, stamped teaspoons, tea towels, fascinators, and one-of-a-kind reticules
Southern California (Hosting the 2017 AGM): promotional items
Washington DC (Hosting the 2016 AGM): auction items, jewelry and bumper stickers
Dayton: lapel pins, mug rugs, tea cozies, and teaspoon rests
Idaho: mugs, stamps and jewelry
Mississippi: T-shirts, dish towels, jewelry and Christmas ornaments
Wisconsin: 2016 Jane Austen calendars and bracelets
Indiana: note cards, wristlets and sachets