Tours
We have asked Destination Louisville to bring you tours you will enjoy before and after the AGM as well as special tours for your companions during the AGM. Tour registration will be handled directly by Destination Louisville. The tour registration deadline is September 1, 2015. After this date, registrations will be accepted only if spaces are available.
To register for a tour, print this form and mail it:

or
Call Destination Louisville at 1-800-368-4052. Office hours are Monday through Friday, 8:45 AM - 4:45 PM EDT.
Welcome to Louisville
(Wednesday, 12:30 pm to 3:30 pm)
Cost: $44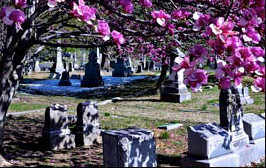 Cave Hill Cemetery
The Welcome to Louisville tour will showcase the outstanding attractions and architecture providing a glimpse into both the heritage and quality of life in the Derby City. The tour begins with a 30-minute multimedia show which shows unique views of Kentucy. Highlights of this tour include the downtown area featuring the award-winning Humana building, the Kentucky Center for the Performing Arts, Aegon Center and the Ohio River. The tour also goes by Churchill Downs and dozens of other landmarks including the Olmsted Parks, Cherokee Triangle, and Cave Hill Cemetery.
… And They're Off!
(Thursday, 8:15 am to 4:00 pm)
Cost: $142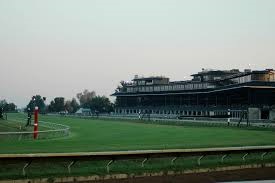 Keeneland Racetrack
And you're off to an exciting day of horses at a Thoroughbred horse farm and Keeneland Racetrack!
The first stop is at Claiborne Farm, the world-renowned Kentucky Thoroughbred horse farm, which has bred such Triple Crown winners as Whirlaway, Gallant Fox, and Secretariat.
We'll continue on to Keeneland. Located in the heart of Kentucky's famed Bluegrass region, Keeneland plays an important role in both Thoroughbred racing and breeding. Each April and October, the nation's best Thoroughbred owners, trainers and jockeys converge at Keeneland to compete for some of North America's richest purse money. We will attend Keeneland's Fall Race Meeting featuring nine graded stakes which serve as a springboard to success for many horses in the Breeders' Cup World Championships. Keeneland also features beautifully landscaped grounds. Lunch will be included and will be served on the 4th floor of the track building with a view of the racetrack.
Kentucky Derby Museum and Locust Grove
(Thursday, 8:30 am to 1 pm) Canceled (Thursday only)
(Sunday, 1:00 pm to 5 pm)
Cost: $60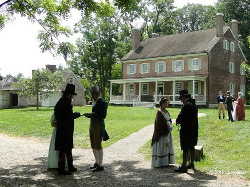 Locust Grove
The Kentucky Derby Museum features exciting exhibits dedicated to the "greatest two minutes in sports." Three floors of hands-on displays, artifacts and memorabilia takes visitors through the excitement of the first Saturday in May.
Locust Grove is a farm established by William and Lucy Clark Croghan in 1790. William Croghan was the brother-in-law and surveying partner of George Rogers Clark, founder of Louisville and Revolutionary War hero. Locust Grove also hosted three U.S. Presidents (Monroe, Jackson, Taylor) and was a stopping point for famed explorers Meriwether Lewis and William Clark upon their return from their expedition to the Pacific.
Historic New Albany
(Thursday, 9:30 am to 3:30 pm)
Cost: $59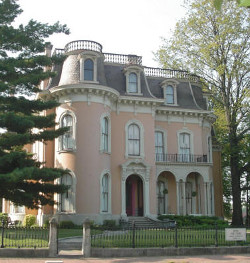 Culbertson Mansion
In 1867, William S. Culbertson spent about $120,000 to build his grand home, the Culbertson Mansion, in New Albany, Indiana, just minutes across the Ohio River from Louisville. The three-story French, Second-Empire mansion encompasses more than 20,000 square feet and contains 25 rooms.
Lunch will be on your own in the annual street festival known as Harvest Homecoming. Food booths, craft vendors, and all things harvest related will be on display at this fun event.
After lunch we will visit the Scribner House, the oldest surviving building in New Albany. Joel Scribner, one of the city's founders, built it in 1814 and it was the first frame house built in the new river town. Joel Scribner and two of his brothers arrived at the Falls of Ohio in 1813 after a journey that began in their native state of New York. The brothers went past the Falls and located their new town on the heavily wooded north shore. They named it New Albany to honor the capital of their home state.
Historic Bardstown
(Thursday, 12:30 pm to 5:00 pm) Canceled

Cost: $55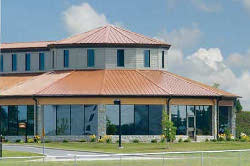 Heaven Hill Distillery
This tour of Historic Bardstown, founded 1780, will take you over the rolling hills of the Bluegrass into the heart of Kentucky's early settlements. Heaven Hill Distillery Bourbon Heritage Center is one of Kentucky's premier attractions. The Center is made out of the same materials used in bourbon making and offers visitors interactive exhibits on the birth of bourbon, the role of whiskey throughout history, and the process by which bourbon is prepared.
The tour will continue with a drive by Kentucky's best known plantation, My Old Kentucky Home at Federal Hill, immortalized in a song by Stephen Foster. This plantation portrays an image of the South's gentle and leisurely home life before the Civil War. Stephen Foster wrote the song after visiting here in 1852.
Bats and Boats
(Friday, 8:30 am to 12:15 pm)
Cost: $62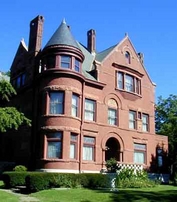 Howard Steamboat Museum
The tour begins with a visit to the Howard Steamboat Museum. This beautiful 1894 home—built by premier steamboat builders, the Howards of Jeffersonville, Indiana— features original furnishings, brass chandeliers, stained-glass windows, and intricate carvings throughout. Master craftsmen from the shipyard created much of the decor in the mansion.
Louisville Slugger Museum & Factory welcomes visitors with an impressive 120-foot tall baseball bat. Watch as bats are handcrafted much as they were when the first Louisville Slugger was turned in 1884. The priceless bat used by Babe Ruth is on display and a breathtaking interactive display lets you stand at home plate receiving 90 mile-per-hour fastballs. Before leaving the plant, spend time in the tour center browsing the history of "merica's Pastime" featuring mementos from Babe Ruth to Ken Griffey, Jr.
Walk through Louisville
(Companions only, Friday, 2:00 pm to 4:00 pm)
(Monday, 9:00 am to 11:00 am)
Cost: $25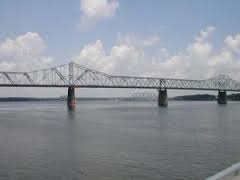 George Rogers Clark Memorial Bridge
Take a stroll along Main Street during your two-hour walking tour. A guide will meet you in the lobby of the Galt House Hotel and lead the group through the many sights of downtown.
Featured buildings and sites include the KFC Yum! Center, the George Rogers Clark Memorial Bridge, the Actors Theatre of Louisville, the Belvedere, the Kentucky Center for the Performing Arts, the Kentucky Science Center, 21C Museum Hotel, and the Frazier History Museum.
Home and Garden Tour
(Saturday, 8:30 am to 12:30 pm) Canceled
Cost: $62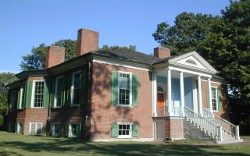 Farmington House
Farmington is a 14-room Federal-style home that was the center of the 19th-century hemp plantation of John and Lucy Speed. Designed from a plan by Thomas Jefferson and completed in 1816 using slave labor, the house is newly restored with original paint colors, historic wallpaper and carpets, and furnished with Kentucky furniture and other antiques from the period. Abraham Lincoln, a close friend of John Speed's son Joshua, spent about three weeks at Farmington in 1841. The property has an informal English garden that is typical of the early nineteenth century with its combination of flowers, vegetables, fruits and herbs.
Built in 1865, Whitehall was originally an eight-room two story red brick house that was transformed into a fifteen-room Classical Revival antebellum mansion in 1910. Ten acres of peace, serenity and the beauty of a formal Florentine style garden with fountains complement this residence.
Shaker Village
(Monday, 8:30 am to 3:30 pm)
Cost: $100
The Shakers were nineteenth-century America's largest and best-known communal society. Their movement began in New York shortly after the American Revolution and by the 1840s, nearly 3,500 Shakers lived in communities from Maine to Kentucky. The Shakers chose a peaceful way of life. They were celibate, believed in equality of race and sex and freedom from prejudice. A quest for simplicity and perfection is reflected in their fine designs and craftsmanship, and today the term Shaker-made is synonymous with excellence around the world.
In 1805, a group of Shakers came to central Kentucky and established a village they named Pleasant Hill. Although the population peaked at almost 500 in the 1820s, the community thrived well past the mid-nineteenth century, acquiring over 4,000 acres of farmland. However, after the 1860s, changing social attitudes and the Industrial Revolution signaled the community's decline. Kentucky Shakers no longer exist and only one community is active in New England, yet their lasting influence is a legacy to all who visit Shaker Village of Pleasant Hill.
Meet the men, women and children who called this place home for over 100 years. These every day Kentuckians designed architectural marvels, harvested the fruits of the earth, and built a village grounded in the principles of community, ingenuity and sustainability.&nbsp The lessons learned upon this land have resonated through generations. Commitment to family, equality and sacrifice; a resourceful and inventive spirit; thoughtful stewardship and cultivation of the land.
These powerful Shaker gifts are shared throughout the Village today. Come and learn what this place meant to them and what it can mean to you.
We will enjoy lunch in the Trustees House before returning to Louisville.
"John and I highly recommend you extend your stay and visit Shaker Village," Jill Hill, Travellers' Tales Books.