Host City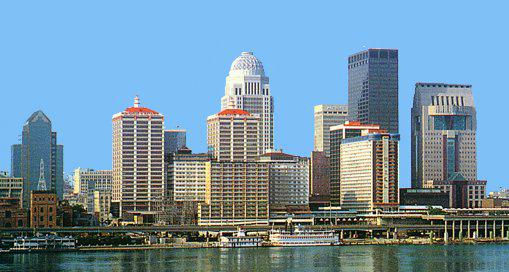 Image courtesy of www.greaterlouisville.com
Louisville's greatest natural resource, the Ohio River, is the reason for the city's existence. When early settlers began the westward expansion, the Ohio River was the primary water link between the West and Northeast. A series of rapids along the route, however, forced settlers to disembark and portage around the falls. This stopping point became a strategic area for distribution and eventually grew into the city of Louisville, which was named in honor of King Louis XVI of France. Revolutionary War hero General George Rogers Clark founded Louisville in 1778.
Captain Meriwether Lewis, leader of the Lewis & Clark Expedition, met Captain William Clark, brother of George Rogers Clark and co-commander of the Expedition, in Louisville on October 14, 1803. William Clark and Meriwether Lewis stayed in Louisville and Clarksville, Indiana (across the river) for twelve days, setting sail with the Corps of Discovery on this epic journey to explore the West on October 26, 1803. Area attractions such as
Churchill Downs
, the
Falls of Ohio State Park
and
Locust Grove
have connections to these historically significant men.
Notable residents have included naturalist John James Audubon, inventor Thomas Edison, U.S. Supreme Court Justice Louis Brandeis, boxing legend Muhammad Ali, newscaster Diane Sawyer, actor Tom Cruise, the Speed family (including U.S. Attorney General James Speed and Abraham Lincoln's close friend Joshua Fry Speed), the Bingham family, and writers Hunter S. Thompson and Sue Grafton. For the "juvenilia" Louisville is home to the band, My Morning Jacket and to actress Jennifer Lawrence.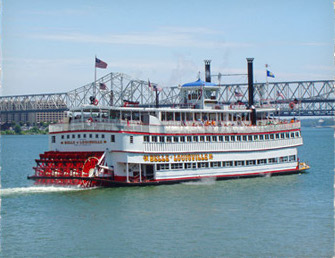 Belle of Louisville
If you have not been to Louisville you probably know we are famous for the home of the Kentucky Derby, probably that Kentucky Fried Chicken is headquartered here and possibly that the Louisville Slugger baseball bat is made here, but did you know that Louisville has an Urban Bourbon Trail with more than 20 stops? Or that the
Belle of Louisville
(celebrating its centennial in 2014) is the oldest Mississippi-style riverboat still operating in existence?
Louisville is a foodie lovers' city! Look and ask for these unique foods and drink while you are in town: Hot Brown sandwich, Benedictine, Modjeska, Henry Bain Sauce, Bourbon Balls, Derby Pie & a Mint Julep. These are all beloved Louisville originals. USA Today recently touted Louisville for having the second most locally owned restaurants in the country.
Of the Trip Advisor Top 25 attractions, many are in walking distance or will be on one of the many tours planned, such as: Kentucky Derby Museum, Louisville Slugger Museum & Factory, Cave Hill Cemetery, Locust Grove, Churchill Downs, Frazier History Museum, Muhammad Ali Center, and Old Louisville.
Come join us for "Living in Jane Austen's World," and take time to enjoy Louisville and all it has to offer!