Hotel
Hotel Reservations Update (May 13, 2015): The Galt House hotel is currently sold-out for all conference nights. However, please continue to try for rooms in the JASNA block as we expect cancellations to occur throughout the spring and summer. The Galt House is maintaining a wait list and a representative from the hotel will call the people on the list when rooms become available.
If you wish to reserve a room now at a regular rate, click here to see nearby hotels.
Our conference hotel for the 2015 JASNA AGM is The Galt House. You will be able to look out over the Ohio River from the expansive windows of The Galt House. It is newly refurbished and has the JASNA-Greater Louisville seal of approval!
The Galt House is located in the heart of downtown so you can walk, trolley hop or catch a two minute cab ride to main attractions, fabulous restaurants, museums and live entertainment. Hotel services and amenities range from a state-of-the-art rooftop fitness center, in-room safes, security, business center, six restaurants and lounges including RIVUE on the 25th floor that offers fantastic views, massages, valet parking and many more services and amenities.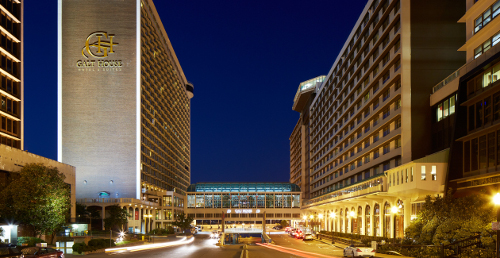 Image courtesy of www.galthouse.com
Please review these tips before making a reservation:
JASNA Conference Hotel Room Reservation Tips
Book your room(s) early. The 2015 Ironman Louisville Triathlon will be held October 11 while JASNA holds the AGM, and we expect the hotel to fill up earlier than usual.
Rooms are situated in two towers in The Galt House Hotel, the Suite Tower and the RIVUE Tower. All conference activities will take place in the Suite Tower. Note: The RIVUE Tower is across the street from the Suite Tower and connected by a pedestrian walkway at the third floor level.
Reservations made through iPads or phones, instead of desktop or laptop computers, occasionally experience problems.
Confirmation notices will be sent through email by The Galt House. Be certain that your email provider settings are set to allow receipt of this email. Add groupcampaigns@pkghlrss.com and tracking@pkghlrss.com to your safe list.
Check all your incoming mail folders, not just your Inbox, for notices from The Galt House. For example, check "Junk" if your provider is Hotmail.com, "Spam" if your provider is Yahoo!, etc.
IMPORTANT: Please cancel your room reservation as soon as possible if you are unable to register for the JASNA AGM or must cancel at a later date.
Make a Reservation
The group rate is available until September 16th or until the JASNA block sells out.
Be sure to specify your preference for a king bed or two double beds when making reservations by phone or through the web site.
Please note that JASNA has discontinued Roommate Matching.
Make your own reservations and get the JASNA rate by using this link.
Or call 800-843-4258 or 502-589-5200 to make reservations. Ask for the conference rate for the Jane Austen Society of North America (JASNA).
When you register, you will be asked to give a credit card number. Your card will be billed for one night only upon registration. This will either be refunded if you cancel (within 48 hours prior to scheduled arrival), or applied to your bill at the end of your stay.