Author Signing
Join us on Friday evening from 6:00 PM to 7:30 PM during the Social Hour to meet the authors attending the AGM. Speakers from the Plenary sessions, Special sessions, and Breakout sessions, as well as other JASNA authors, will be present to sign and discuss their books. Many will have additional book titles available for purchase and signing as well. The following authors will be present:
Plenary Session Speakers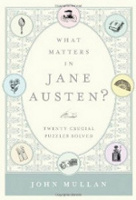 John Mullan
What Matters in Jane Austen?
Which important Austen characters never speak? Is there any sex in Austen? What do the characters call one another, and why? What are the right and wrong ways to propose marriage? In What Matters in Jane Austen?: Twenty Crucial Puzzles Solved, John Mullan shows that we can best appreciate Austen's brilliance by looking at the intriguing quirks and intricacies of her fiction. Asking and answering some very specific questions about what goes on in her novels, he reveals the inner workings of their greatness.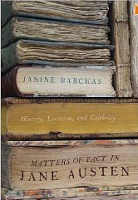 Janine Barchas
Matters of Fact in Jane Austen
In Matters of Fact in Jane Austen: History, Location, and Celebrity, Janine Barchas makes the bold assertion that Jane Austen's novels allude to actual high-profile politicians and contemporary celebrities as well as to famous historical figures and landed estates. Barchas is the first scholar to conduct extensive research into the names and locations in Austen"s fiction by taking full advantage of the explosion of archival materials now available online.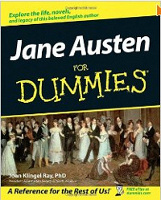 Joan Klingel Ray
Jane Austen For Dummies
Want to know more about Jane Austen? This friendly guide gives the scoop on her life, works, and lasting impact on our culture. It chronicles the events of her brief life, examines each of her novels, and looks at why her stories—of women and marriage, class and money, scandal and hypocrisy, emotion and satire—still have meaning for us today.
Special Session Speakers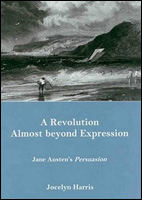 Jocelyn Harris
A Revolution Almost Beyond Expression: Jane Austen's Persuasion
To praise Jane Austen's novels only as stylistic masterpieces is to strip them of the historical, cultural, and literary contexts that might otherwise illuminate them. By focusing primarily on the political, historical, satiric, actively intertextual, and deeply sexualized text of Persuasion, Jocelyn Harris seeks to reconcile the so-called insignificance of her content with her high canonical status, for Austen's interactions with real and imagined worlds prove her to be innovative, even revolutionary.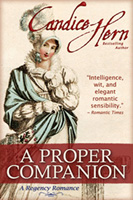 Candice Hern
A Proper Companion
A wealthy earl recently betrothed to a beautiful young girl he hardly knows falls for the impoverished spinster hired as a companion to his grandmother in this traditional Regency romance. New York Times and Amazon bestselling author Candice Hern has won the National Readers' Choice Award, the Booksellers' Best Award, the HOLT Medallion of Excellence, the Golden Quill Award, the Write Touch Readers Award, and more. "An author to cherish." – Romantic Times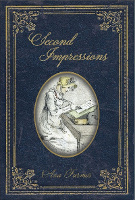 Sandy Lerner (writing as Ava Farmer)
Second Impressions
This sequel to Pride and Prejudice tells the story of the Darcy family, their friends, and their relations in the 10 years since the day Mrs. Bennet got rid of her two most deserving daughters. Drawing its history from the novels, maps, and other volumes comprising the Chawton House Library at the Center for the Study of Early English Women's Writing, the novel explores questions of the characters' potential lives beyond the close of the original masterpiece.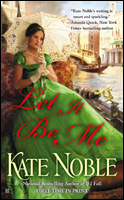 Kate Noble (aka Kate Rorick of the Lizzie Bennet Diaries)
Let It Be Me
The latest book in bestselling author Kate Noble's Blue Raven series is a sweeping story of romance, music, Venice, and finding one's true self. "The story's prologue literally gave me goosebumps – goosebumps that never went away throughout the whole book. This is the kind of deep, touching read that romance fans search for." – Romantic Times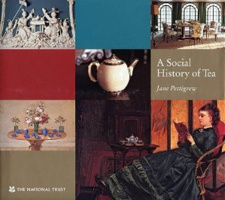 Bruce Richardson
A Social History of Tea

Jane Pettigrew's classic treatise on the history of British tea has been expanded and updated with the inclusion of the American tea story told by Bruce Richardson. Follow the story of tea as it traveled from the ports of Canton to London, Boston and beyond.
These two tea historians have included all their favorite stories of how tea shaped British and American culture, politics, fashion and commerce for three centuries. This National Trust of England publication has been thoroughly updated with new research and illustrations. No student of tea should be without this important reference book.
Breakout Session Speakers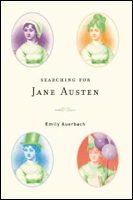 Emily Auerbach
Searching for Jane Austen
In this beautifully illustrated and lively work, Auerbach surveys two centuries of editing, censoring, and distorting Austen's life and writings. Auerbach samples Austen's flamboyant, risqué adolescent works featuring heroines who get drunk, lie, steal, raise armies, and throw rivals out of windows. She demonstrates that Austen constantly tested and improved her skills by setting herself a new challenge in each of her six novels.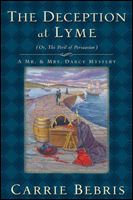 Carrie Bebris
The Deception at Lyme, or the Peril of Persuasion (A Mr. and Mrs. Darcy Mystery)
In the Darcys' latest adventure, our favorite Regency couple enters the world of Austen's Persuasion, where their seaside holiday is disrupted by two suspicious deaths: those of an unknown woman they discover at the base of Lyme's famous seawall, and of a young naval lieutenant—Mr. Darcy's cousin—allegedly killed in action aboard a ship fraught with conspiracy. Aided by newlyweds Captain Wentworth and Anne Elliot, the Darcys uncover secrets that many in Lyme would prefer remain hidden … while Mr. Darcy's sister, Georgiana, finally finds romance.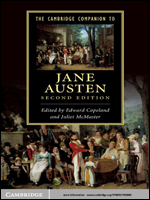 Juliet McMaster
The Cambridge Companion to Jane Austen
This fully updated edition of the acclaimed Cambridge Companion offers clear, accessible coverage of the intricacies of Austen's works in their historical context, with biographical information and suggestions for further reading. Major scholars address Austen's six novels, the letters and other works, in terms accessible to students and the many general readers, as well as to academics. With seven new essays, the Companion now covers topics that have become central to recent Austen studies, for example, gender, sociability, economics, and the increasing number of screen adaptations of the novels.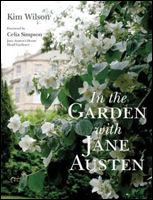 Kim Wilson
In the Garden with Jane Austen
This book strolls through the sorts of gardens that Jane Austen would have known and visited: the gardens of the great estates, cottage gardens, gardens in town, and public gardens and parks. Some of the gardens she owned or knew exist still in some form today; among the gardens highlighted is the restored garden at Jane Austen's House Museum in Chawton, England.
Other Authors
Kathleen Anderson
Lindsay Ashford
Marilyn Brant
Carol Chernega
Karen Doornebos
Elizabeth Famous
Phyllis Ferguson Bottomer
Donna Fletcher
Lauren Gilbert
Maria Grace
Bonnie Herron
Syrie James
Susan Jones
Julie Klassen
Sharon Lathan
Kara Louise
Susan Mason-Milks
Jennifer Petkus
C. Allyn Pierson
Tess Quinn
Abigail Reynolds
Inez Ross
Joan Strasbaugh
Shannon Winslow
Deborah Yaffe