Pride and Prejudice Fashion Show and Afternoon Tea
Thursday September 26, 3:30 PM - 5:30 PM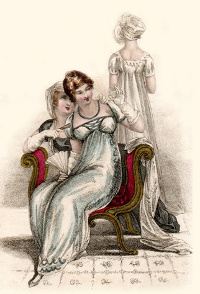 We have planned a wonderful event with guest speaker DJ Gramann II, an accomplished costumer who has worked in London, Amsterdam and across the U.S. He recently created the costumes for a production of Pride and Prejudice at the Guthrie Theater in Minneapolis. In his "spare time," he is a teaching artist in the College of Theatre Arts and Dance at the University of Minnesota. DJ will describe the process of taking designs from the production off the page and into reality, as well as historical relevance of Jane Austen's period. Costumed mannequins showing day and evening wear will be on display.
A fashion show will follow the speaker. Since many of you bring beautiful period costumes to the AGM, we thought this would be a perfect venue to showcase your creations. A few models will start the show, but you are also welcome to "walk the runway" in your day or evening Regency finery.&nbsp When you register for this optional tea, you will be asked if you wish to participate in the fashion show.
A full tea will be served following the fashion show. Costumes are encouraged, but not required. There is an additional fee of $50 for this event, and pre-registration is required.