Host City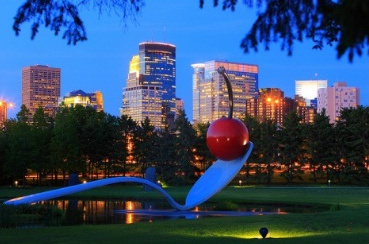 Walker Art Center's Spoonbridge and Cherry
Early fall in Minneapolis usually brings daytime highs in the 60s to 70s with very little rainfall – perfect weather for exploring the city and its many attractions.
Museums and Cultural Organizations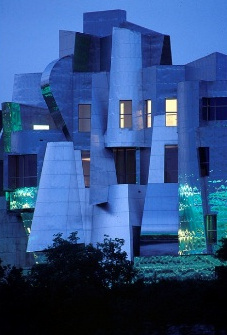 Frederick R. Weisman Art Museum
As JASNA members will find, Minneapolis is home to many museums and cultural institutions. The Frederick R. Weisman Art Museum, the Mill City Museum, the Walker Art Center, the Minneapolis Institute of Arts, and the Bell Museum of Natural History are but a few of the many institutions that offer art, sculpture, ceramics, and special exhibits that will delight AGM attendees on their northern tour.
Books and Printing
Minneapolis is the third most literate city in the United States and a center for printing and publishing. Book stores and libraries abound. Open Book, comprised of the Loft Literary Center, the Minnesota Center for Book Arts, and Milkweed Editions, was created by literary artists. The center teaches traditional crafts of papermaking, writing, letterpress printing, and bookbinding. Open Book often stages exhibits related to the art of printing, which are sure to be of interest to those who love books.
Theater
Minneapolis is second only to Manhattan in live theater per capita. If you enjoy the theater, attending a production before or after the AGM at one of the following venues may be just the thing: The Guthrie Theater, the beautifully renovated Orpheum Theatre, the Cowles Center for Dance and the Performing Arts, Brave New Workshop, or In the Heart of the Beast Puppet and Mask Theatre to name a few.
Architecture
And to all this, a city must add something in its landmarks and architectural delights. The Stone Arch Bridge, the Basilica of St. Mary, the Henry Neils House and the Malcolm Willey House, both designed by Frank Lloyd Wright, are among the many buildings and structures that, while not necessarily situated on rising ground, can be appreciated for their own beauty. In nearby St. Paul you can explore Summit Avenue, the longest street of Victorian homes in the United States. The street runs 4.5 miles from the edge of the city of St. Paul to the Mississippi River.
Parks and Nature Trails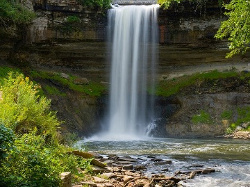 Minnehaha Falls
Like Elizabeth Bennet, many JASNA members are fond of nature and long walks. The host city provides an extensive park system and sights that inspire. There are over twenty lakes and wetlands—hence the "City of Lakes" nickname—as well as waterfalls, creeks, and parkways. The Chain of Lakes and the Grand Rounds National Scenic Byway are geographical landmarks that are easily accessible by way of parkways, bikeways, and walkways. The Eloise Butler Wildflower Garden and Bird Sanctuary, the country's oldest public wildflower garden, is located within Theodore Wirth Park.
Photo Credit: All photographs courtesy of meetminneapolis.com.